Hello from Coastal Maine & Boston!
April 21, 2010
The title of this blog is a bit misleading. To be honest, I sort of forgot to document our travels from the last part of our road trip across Canada. Recall that we started by heading north through Buffalo, New York to visit Niagara Falls, then headed east through Toronto and Ottawa en route to Montreal. From Montreal we traveled to Quebec City, then down to Coastal Maine. Our plan was traverse I-95 down to Providence, Rhode Island, stopping in Maine just long enough for Jessica to have some delicious and relatively inexpensive lobster. However, Nature had different plans for us. Epic flooding closed most of I-95 for days and left much of Rhode Island and surroundings under water.
Faced with such calamities, we adjusted our itinerary to travel from Quebec City to Portland, Maine, spending a night in Portland's historic downtown waterfront. From there we would hit the Kennebunks on our way to Boston, then from Boston on back to New York.
The drive from Quebec City to Portland was a bit long (about 5 hours) but easy, and boy was it desolate. At one point we went about 90 minutes before even seeing another car on the road. Do ensure you have a full tank of gas as there's no place to stop for hundreds of miles and there's scarcely any cell service.
We crossed the border into the US about 9PM. It never occurred to us that the border might not be open at such an hour, but thankfully that was not the case. If any nefarious character had designs to illegally enter the US via one of the smaller border checkpoints, that person should reconsider. Border agents everywhere seem to discharge their duties professionally and with great care. However, I would characterize the work at a smaller checkpoint as that of sheer, utter, mind-numbing boredom. The border agents looked relieved, almost giddy to see us before adopting their characteristic stoic and humorless dispositions. There's very little "please" or "thank you" in these conversations. "Turn off the car, give me the keys and don't move." For the next 5 minutes they searched every inch of the car and asked a number of questions. Compared to the ordeal of entering Canada, this exchange was brief and we were on our way in minutes.
We arranged a hotel via phone and stayed in Portland that evening. Portland is a smallish city, but one of the larger ones in Maine. The President was in town rallying his faithful in support of his healthcare plans, but we didn't see him or his entourage. We spent the morning wandering the cobblestone streets of the old waterfront, then retired to a Dunkin Donuts so Jessica could catch up on some work.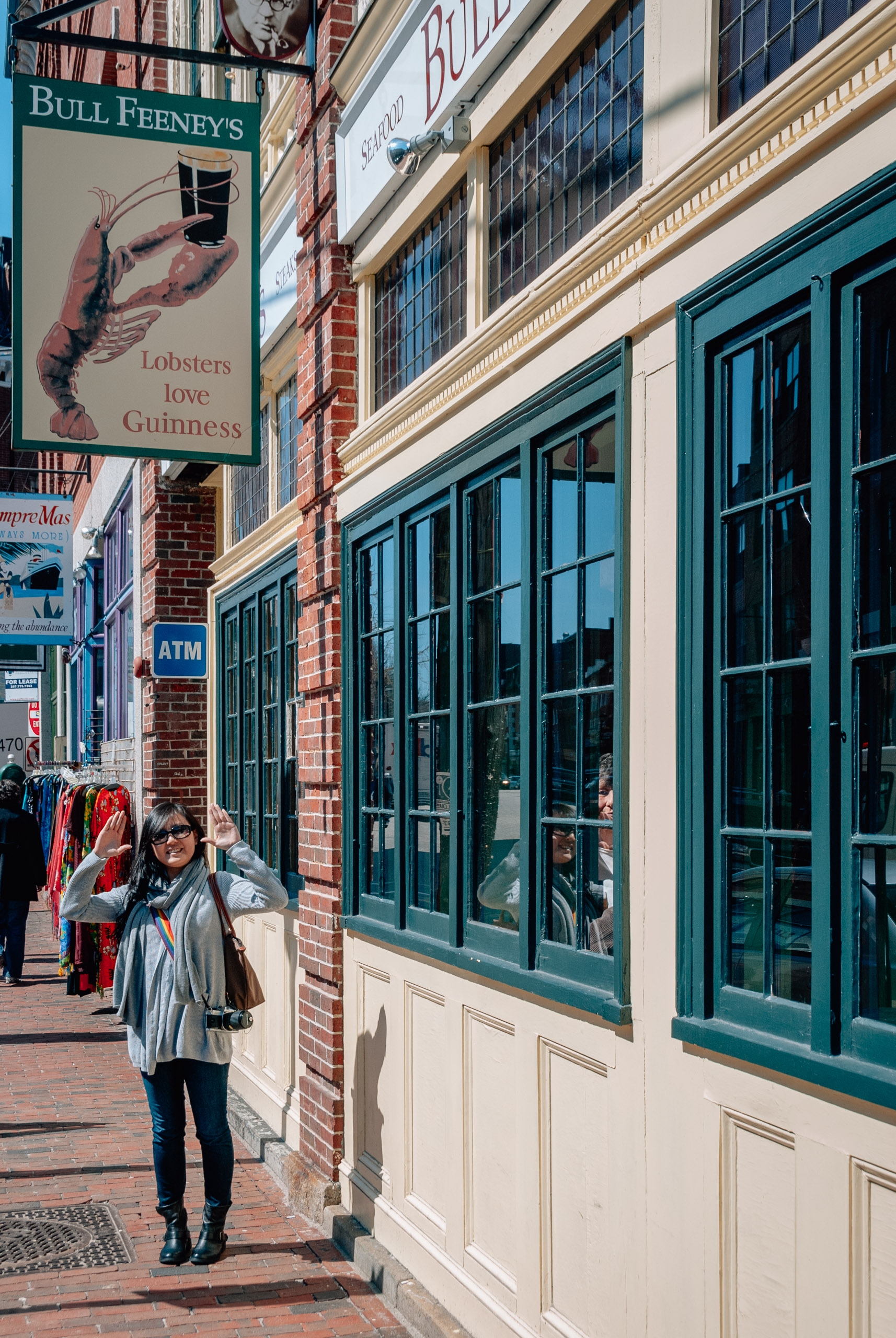 Jessica's two passions: lobster and Guinness
The downtown is a few blocks of stylish restaurants, bars and boutiques. It was nice, but I'm not sure I would make it much of destination beyond the stay we had. People come to Maine for the seafood, so we focused our efforts on finding a great an inexpensive lobster dish. The two best recommended were the Portland Lobster Company, right on the City's waterfront, and the Lobster Shack at Cape Elizabeth on the coast. Portland Lobster Company was not yet open for the season, so we packed up the car and headed southeast.
The Lobster Shack is a pretty amazing place. Perched atop a rocky outcropping in Cape Elizabeth, the restaurant, literally a shack, is surrounded by the pounding surf of the Atlantic on three sides. The setting is amazing. I'm not a seafood person, so I can't really comment on the quality of the lobster aside from saying that it indeed is inexpensive. Jessica got the clam chowder, the lobster dinner, two cokes and my ill-fated cheeseburger for $30. She loved it and had no trouble finishing her meal. I say ill-fated because not unexpectedly, this was easily the worst cheeseburger I've ever eaten in my life, and that includes my grade school and junior high days. Come to the Lobster Shack for the view, the lobster and the ambiance, but avoid the cheeseburger at ALL COSTS. The Lobster Shack is BYOB, by the way which we only learned when we got there.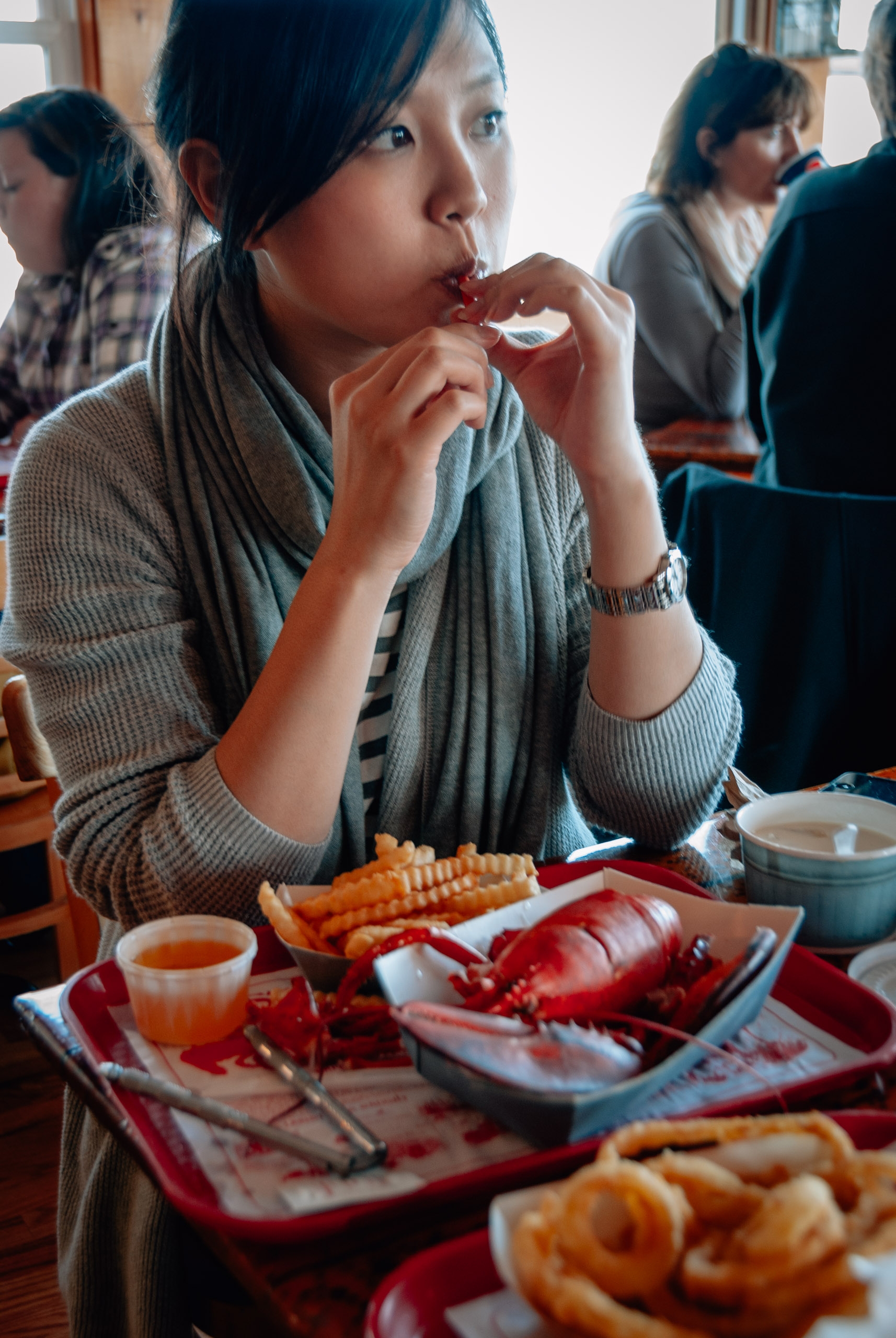 Jessica hard at work at the Lobster Shack.
After lunch, we stopped by one of the most photographed sites in New England, the Portland Head lighthouse. Commissioned by George Washington, two Portland masons started work on the lighthouse in 1787. Work lingered, and it took an appropriation from the newly-formed United States congress in 1790 to finish the structure. Beyond its beginning, the history of the lighthouse isn't terribly remarkable, but the immaculately maintained buildings in such an ideally-situated locale make it one of the most picturesque settings in New England.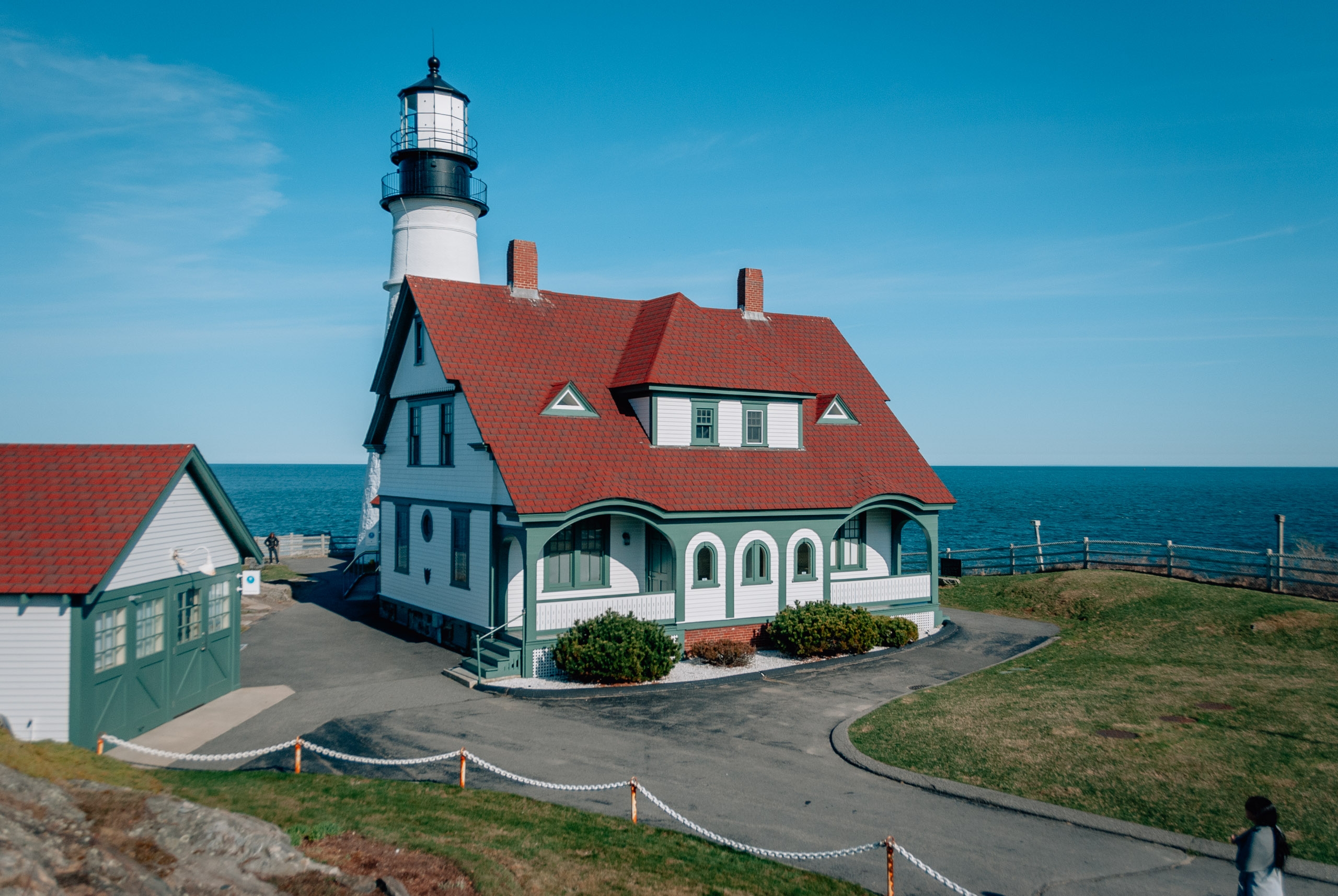 The Portland Head Lighthouse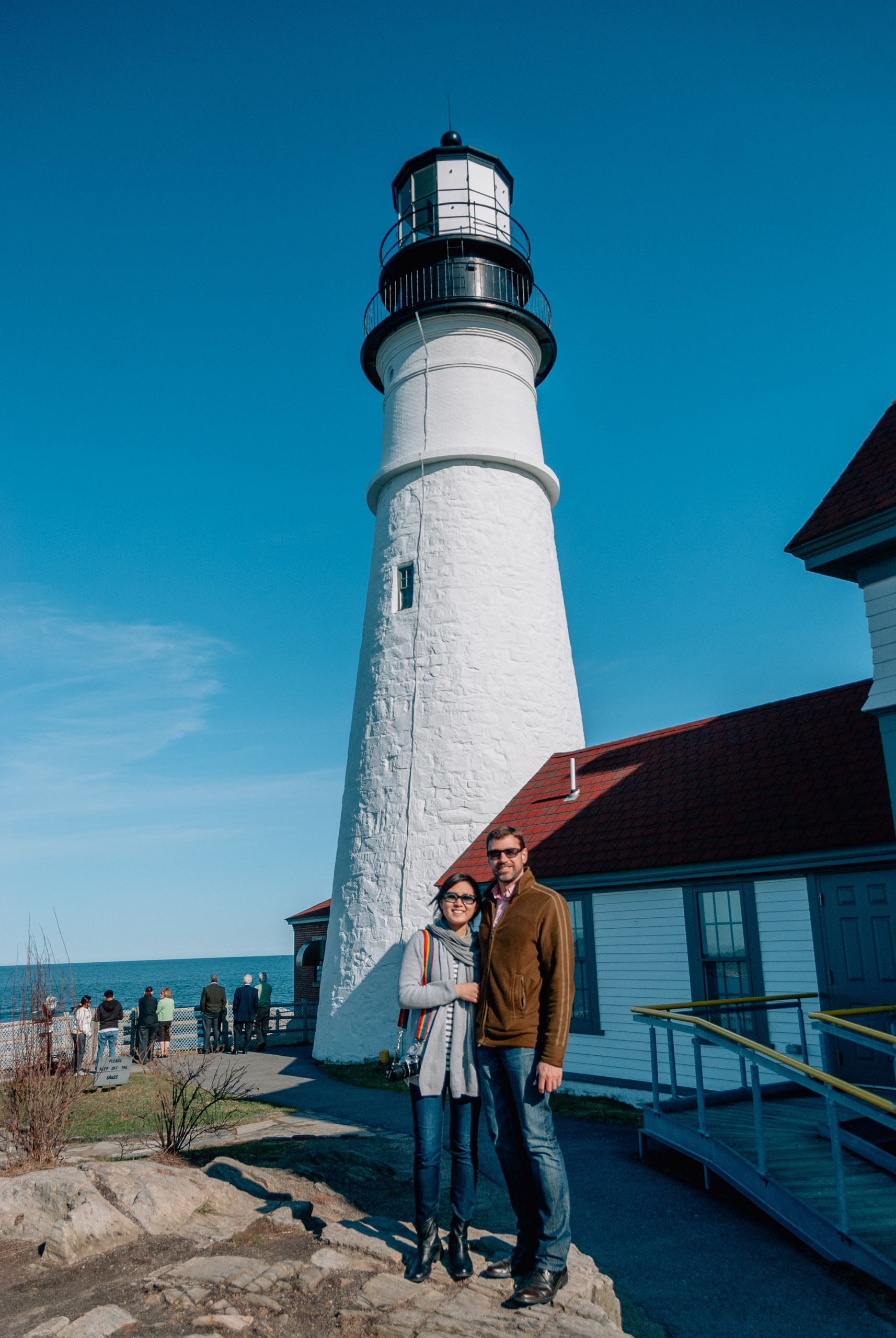 Jessica and I at the Portland Head Lighthouse.
Our next stop was the twin seaside communities of Kennebunk and Kennebunkport. Most people have heard of Kennebunkport as the vacation home of the Bush family. George HW Bush and George W. Bush both vacationed there during their presidencies. That the Kennebunks are fabulously expensive vacation destinations for the rich should be no surprise, and it doesn't disappoint. We did a quick driving tour around the coastal area and admired the enormous sea-facing mansions, resorts and restaurants.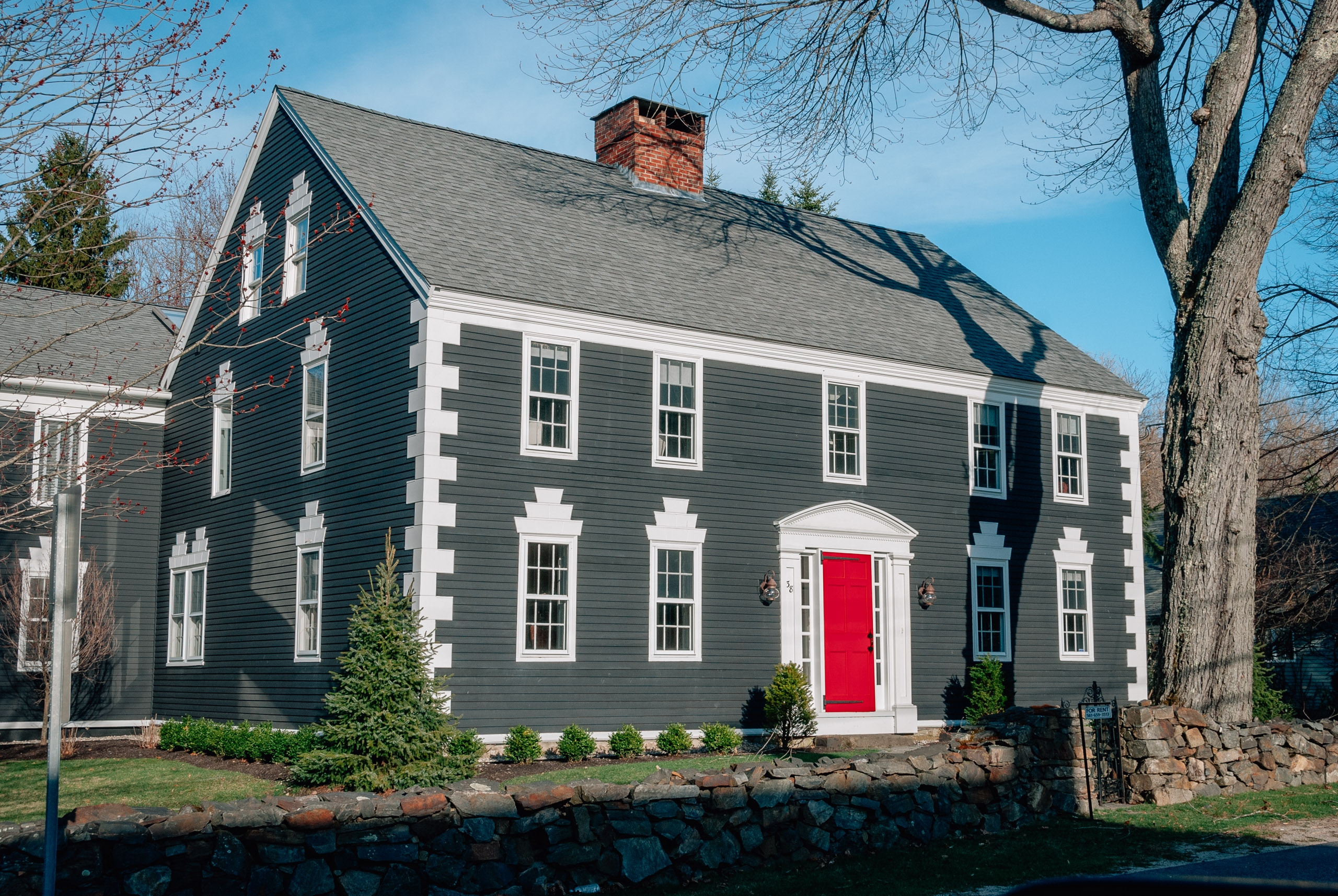 The tony New England town of Kennebunk
We did drive right by the Bush compound. In the photo you can see they're getting some roofing done, proof once again they're just like us. If the family is present, you can't get anywhere near the vantage point pictured. Understandably, security is tight.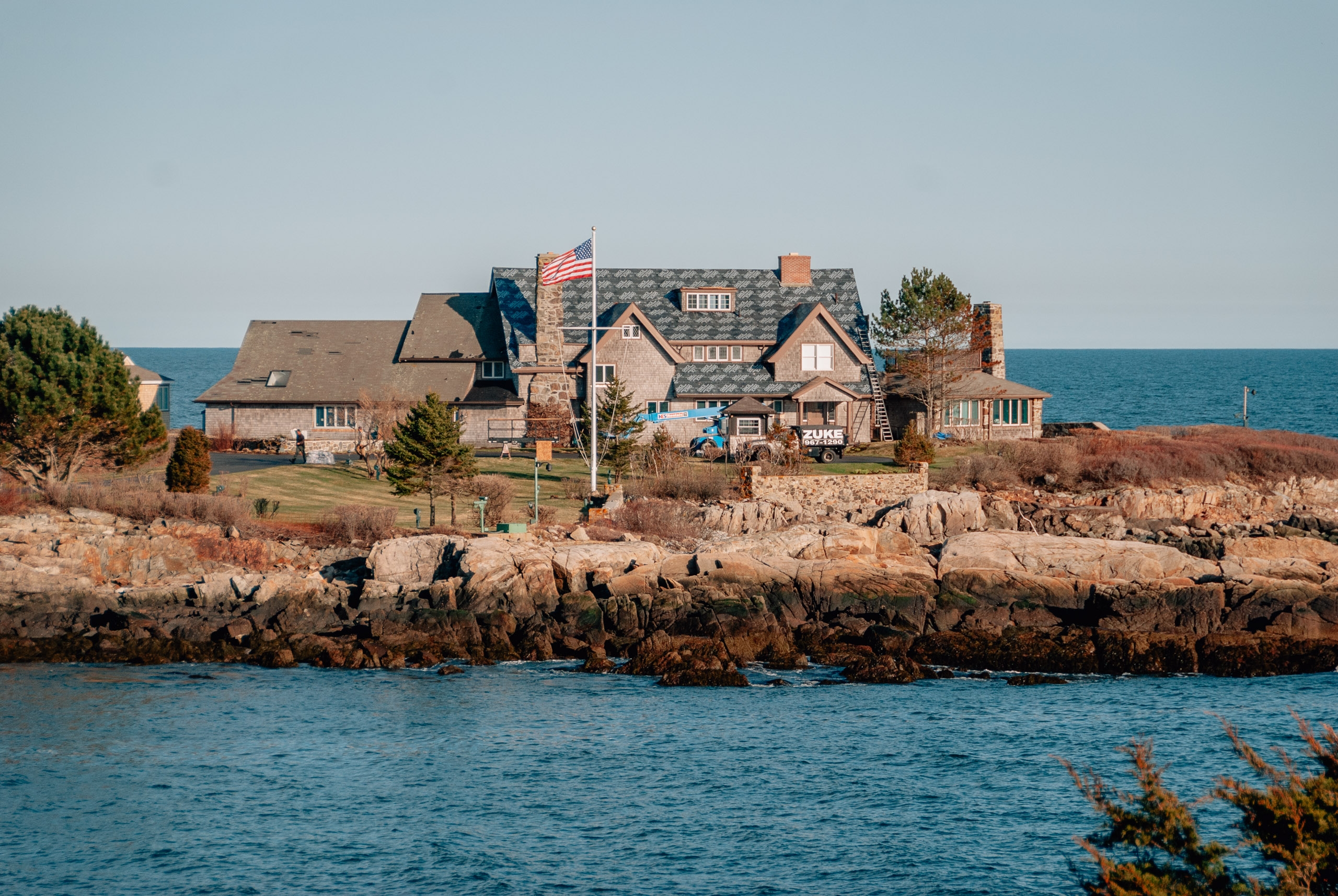 The Bush Family compound in Kennebunkport
From Kennebunk, we drove down to Boston about 2 hours to the South. I've been to Boston a few times in the past for work, but never really had the time or opportunity to see much of the City. We stayed downtown at the shiny new Ames Hotel (part of the Morgans Group). The next morning was spent on a wild goose chase in pursuit of Peet's Coffee. There are a few Peet's in the Boston area, and after nearly a month out of California I was really aching for good cup of coffee. It was not to be, however, as the Peet's in the Financial District was closed on Saturdays. Sigh.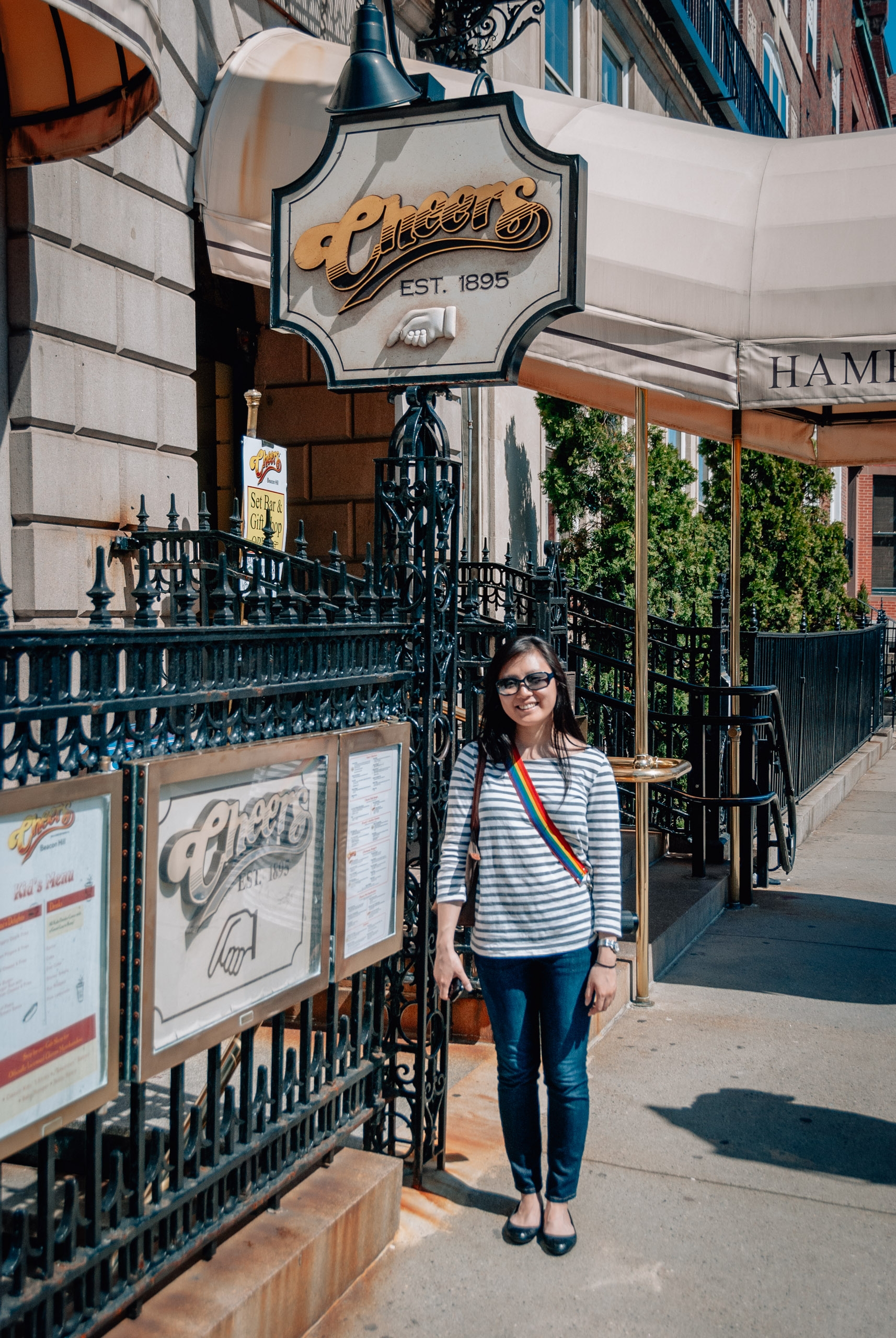 Boston is rich with important history
We spent the rest of the day doing one walking tour from our Frommer's guide, then after getting Jessica a suitable pair of walking shoes at Banana Republic, we walked the length of Boston's Freedom Trail, a well-put together string of important sites critical to the American Revolution and founding days of the Untied States. That tour takes about 3-4 hours, but doesn't actually cover that much mileage. In the afternoon we took the subway out to Cambridge to see Harvard Square, and I finally got a cup of Peet's coffee.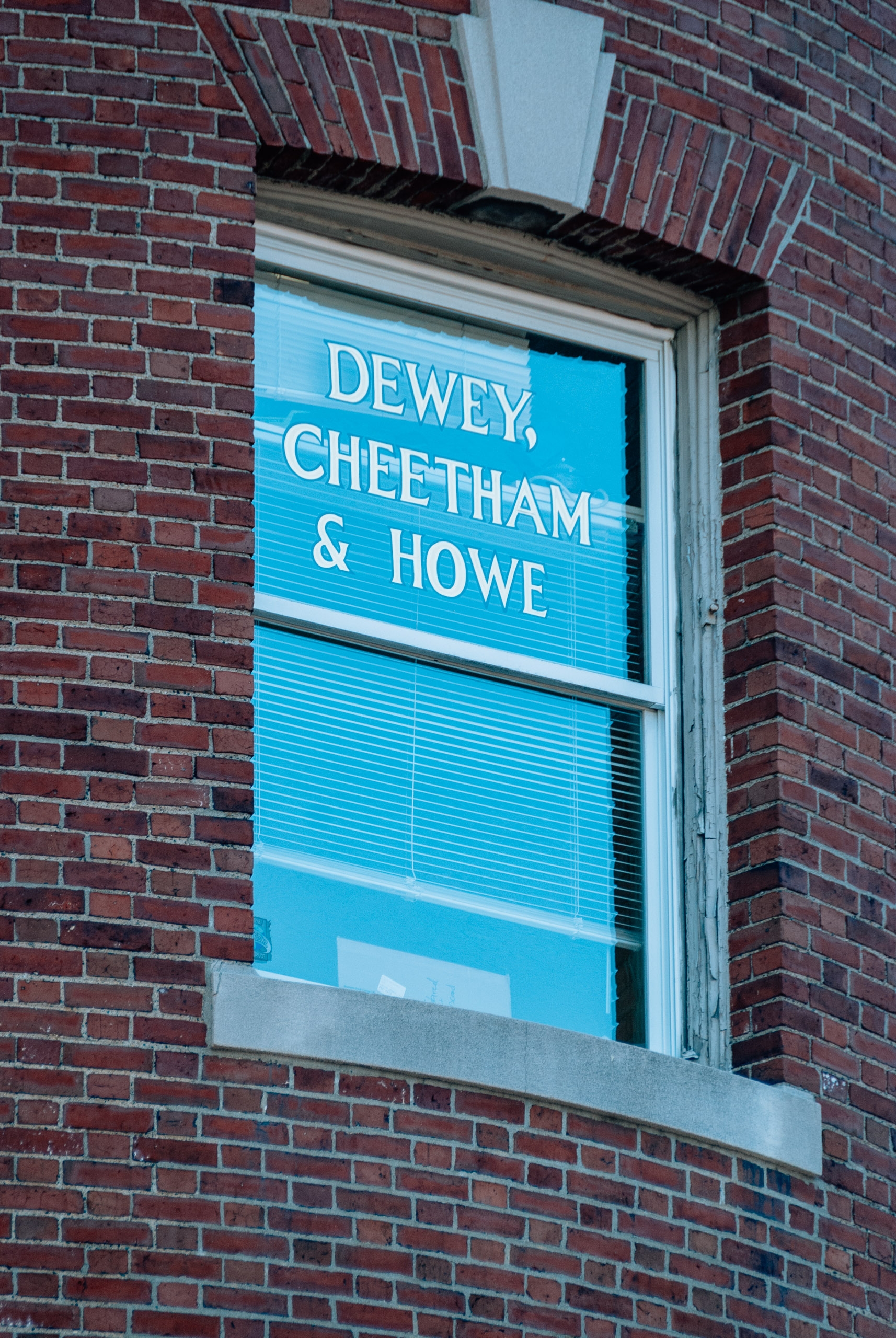 Just off Harvard Square is the fictional law firm of Dewey, Cheetham & Howe, actually home to NPR's Car Talk.
If you're a history buff, Boston is a must. We'll likely continue our history tour in Philadelphia later this summer, and Washington DC some time later. We were fortunate that the day we spent in Boston was sunny and about 75-80 degrees. The Common was jammed with locals eager to get some sun after a decidedly long winter and many weeks of rain.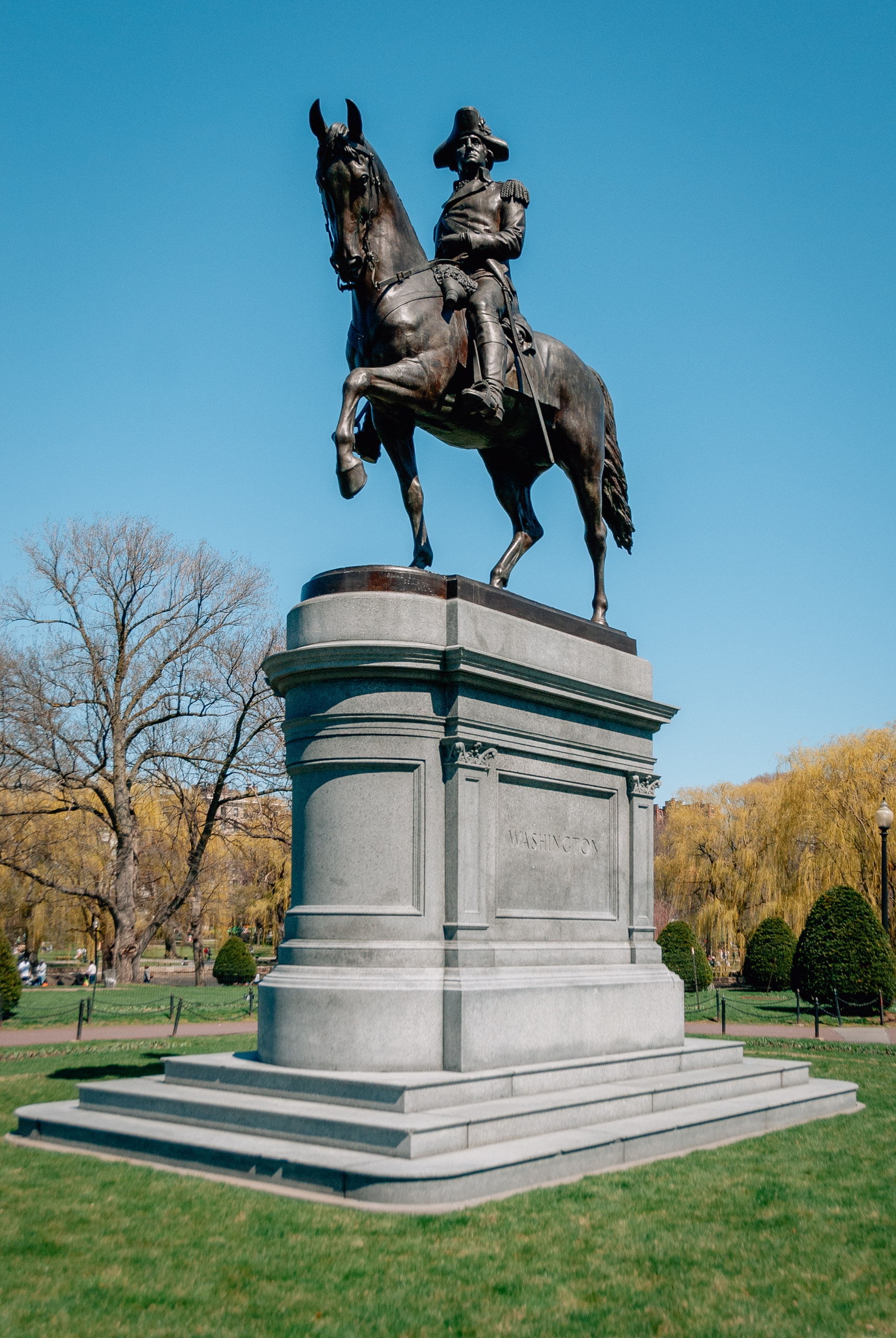 Statue of George Washington in Boston Common. Amazing weather.
That night we dined on prime shabu, then drove about 3 hours back to New York to drop off the Chiang Family CR-V. We had a great trip, and I highly recommend a leisurely road trip if you have the time and don't want to fly. If you're in the Northeast, Quebec is a must. The rest of New England, well that's unfinished business for now.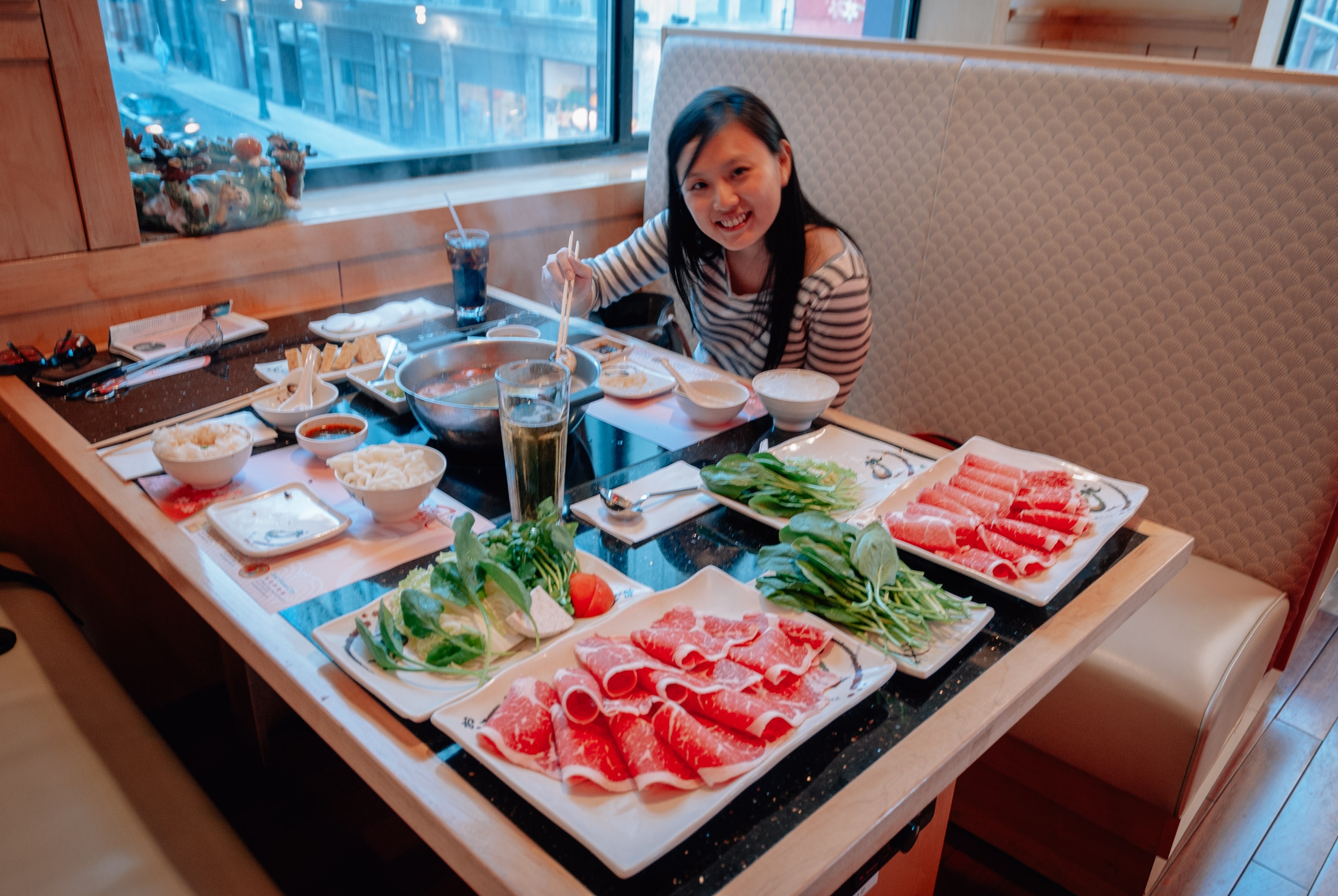 Enough with the White People Food
Saturday we travel to Japan for two weeks in Tokyo, Kyoto and beyond. John McDermott (star of ABC's LOST) will be joining us. We'll be sending more updates from the road. That's all for now. Oh, this blog was created entirely on an iPad.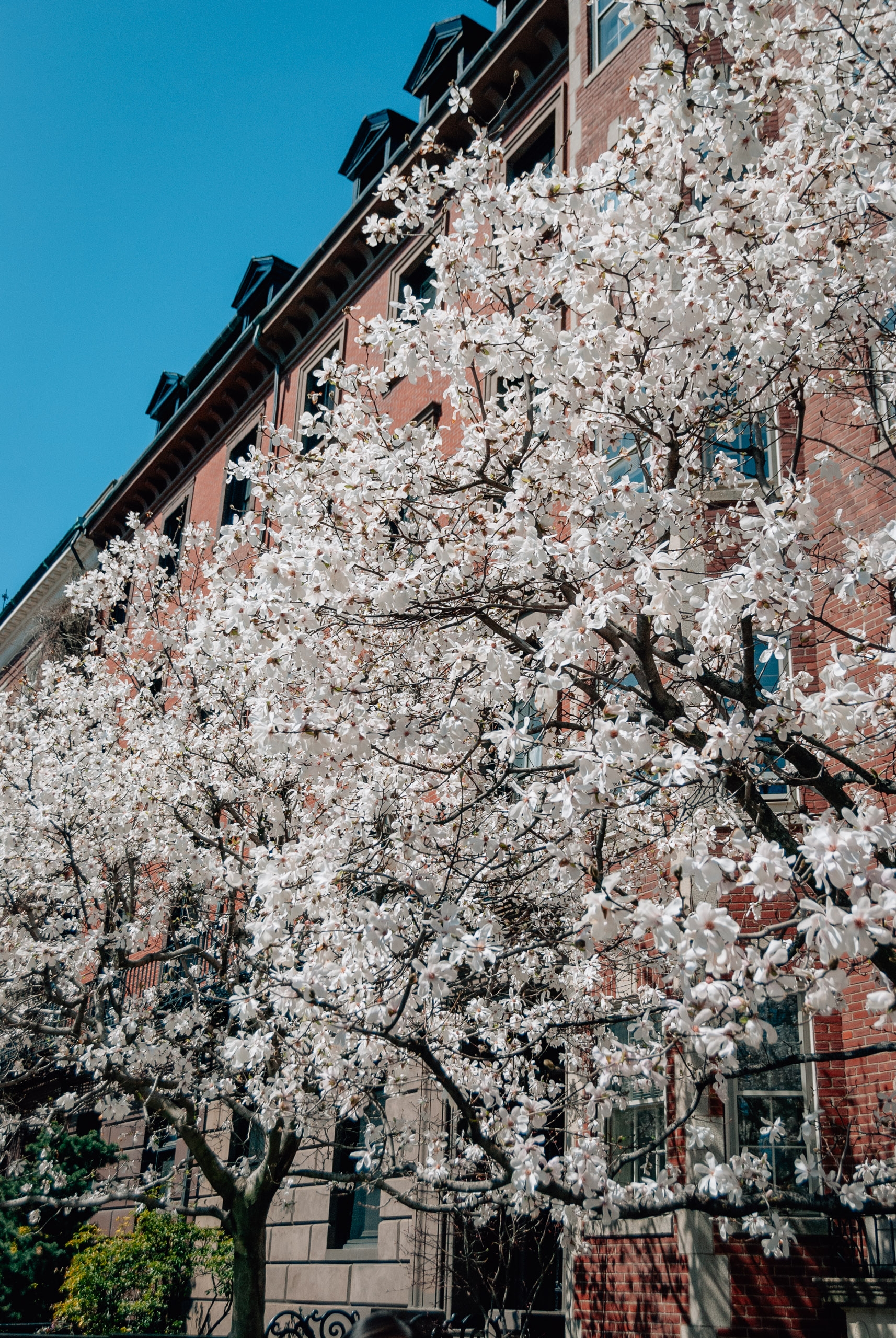 Spring in full bloom, as were the allergies.