Travels to Japan: Three Days in Tokyo
May 11, 2010
We spent the past two weeks in Japan, touring its cities, eating its food, advancing its commerce and improving reputation of American travelers abroad worldwide. I'll let you choose which of those objectives was either intended or accomplished, but nonetheless we had a great time.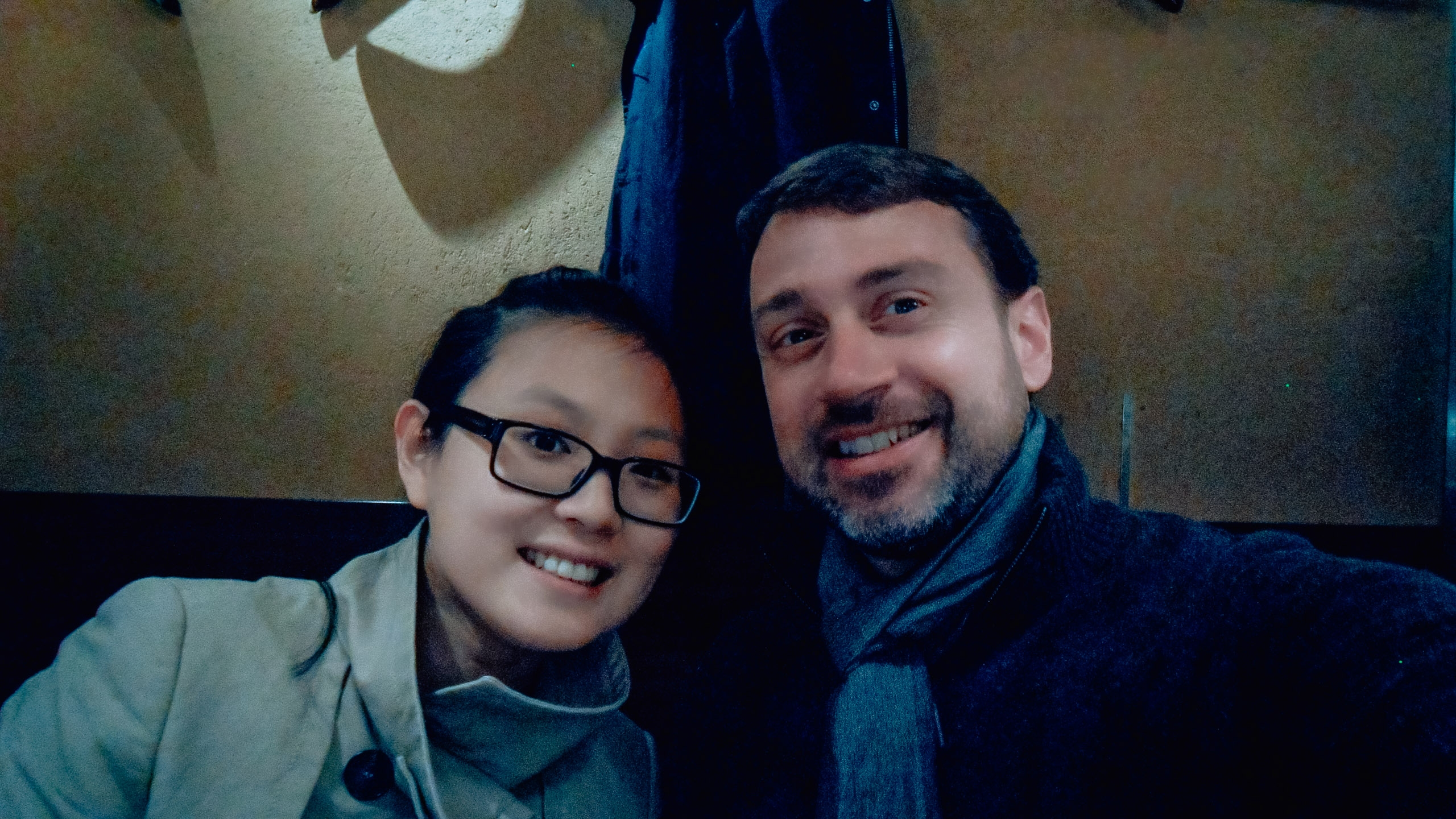 Late night ramen our first night in Tokyo.
We in this case was myself, Jessica and our friend
John McDermott from Hawaii, and star of ABC's hit series, LOST
. John was able to take a break from his casting for Pirates of the Caribbean 4 (true story) to join us for the latter 10 days in Japan. This was John's first visit to Japan and to Asia, although living in Hawaii may qualify him for prior experience.
The true intention of this trip was work-related for Jessica. She traveled to Tokyo to meet with the Japanese design teams and to build the merchandise assortment for Gap China. This will be a quarterly trip for her, but I decided to tag along on this jaunt and capitalize on the company-paid hotel, and frankly, take advantage of even the flimsiest of pretense to travel abroad.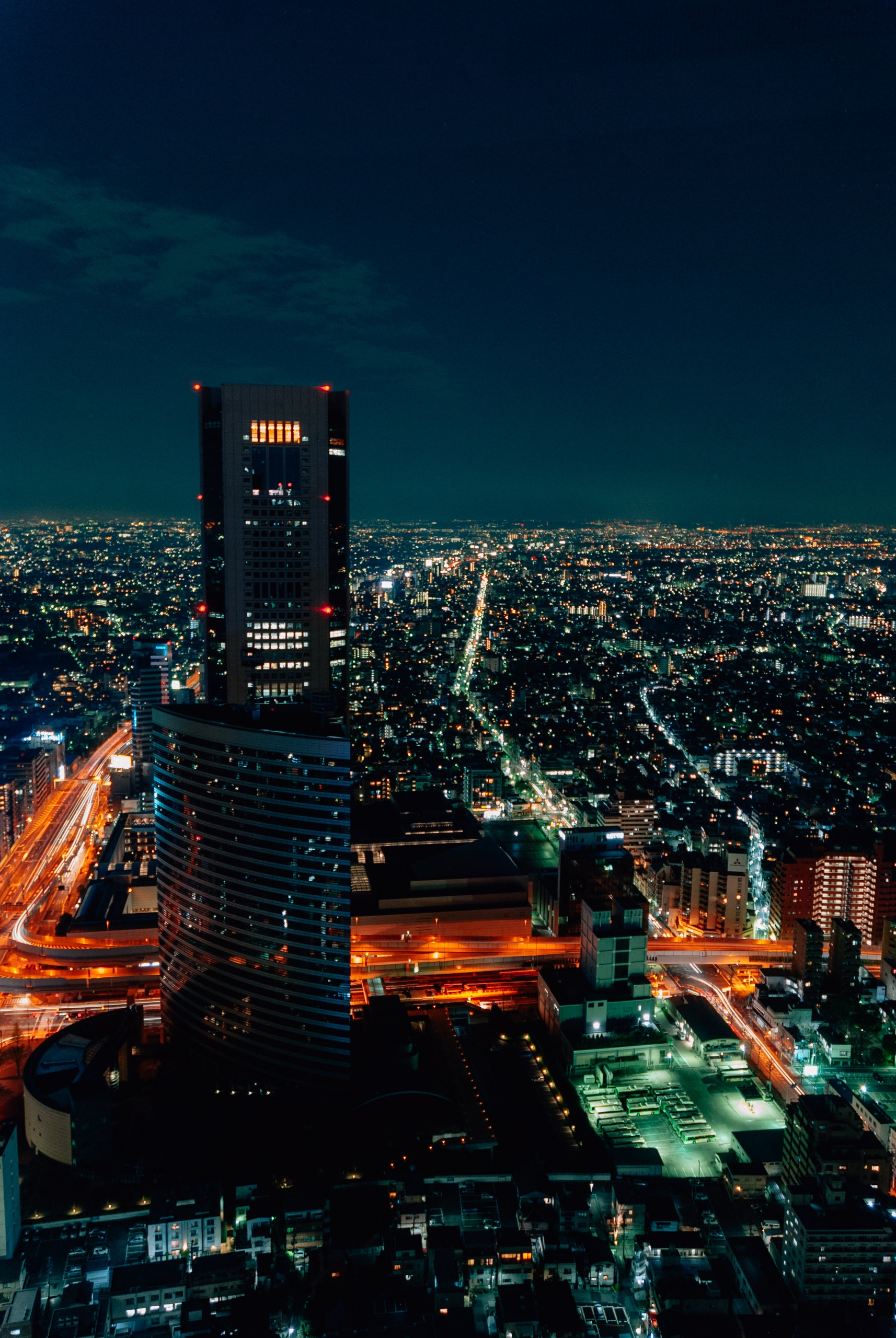 Tokyo at night from our hotel room.
Jessica's work assignment started Friday, April 30 so we came out a week early to do some sightseeing ahead of her work. We arrived in Tokyo on Sunday, April 25; me traveling from San Francisco and Jessica from New York. Despite leaving many hours and thousands of miles apart, we arrived in Narita at nearly the same time. Before anyone asks, Suki stayed with friends in New York and was not left home alone, nor did she travel with us to Japan. She's not that worldly.
If you've been to Tokyo, you know that the main airport is practically in Taiwan. By direct non-stop rail, the journey is still over an hour into the City. We opted for the popular limousine bus service that goes direct to your hotel. Its more bus than limousine, but still quite comfortable. You simply tell them which hotel you're in, buy your $20 ticket and you'll be at your hotel about 90 minutes later. Its not a bad option as they handle your luggage and its fairly idiot-proof assuming you know at which hotel you're staying. On a Sunday afternoon with some traffic, it took us a little over 90 minutes to arrive at our hotel. After a 12 hour flight for me, and a 15 hour flight for Jessica, that last half hour on the bus was pretty mind (and butt) numbing.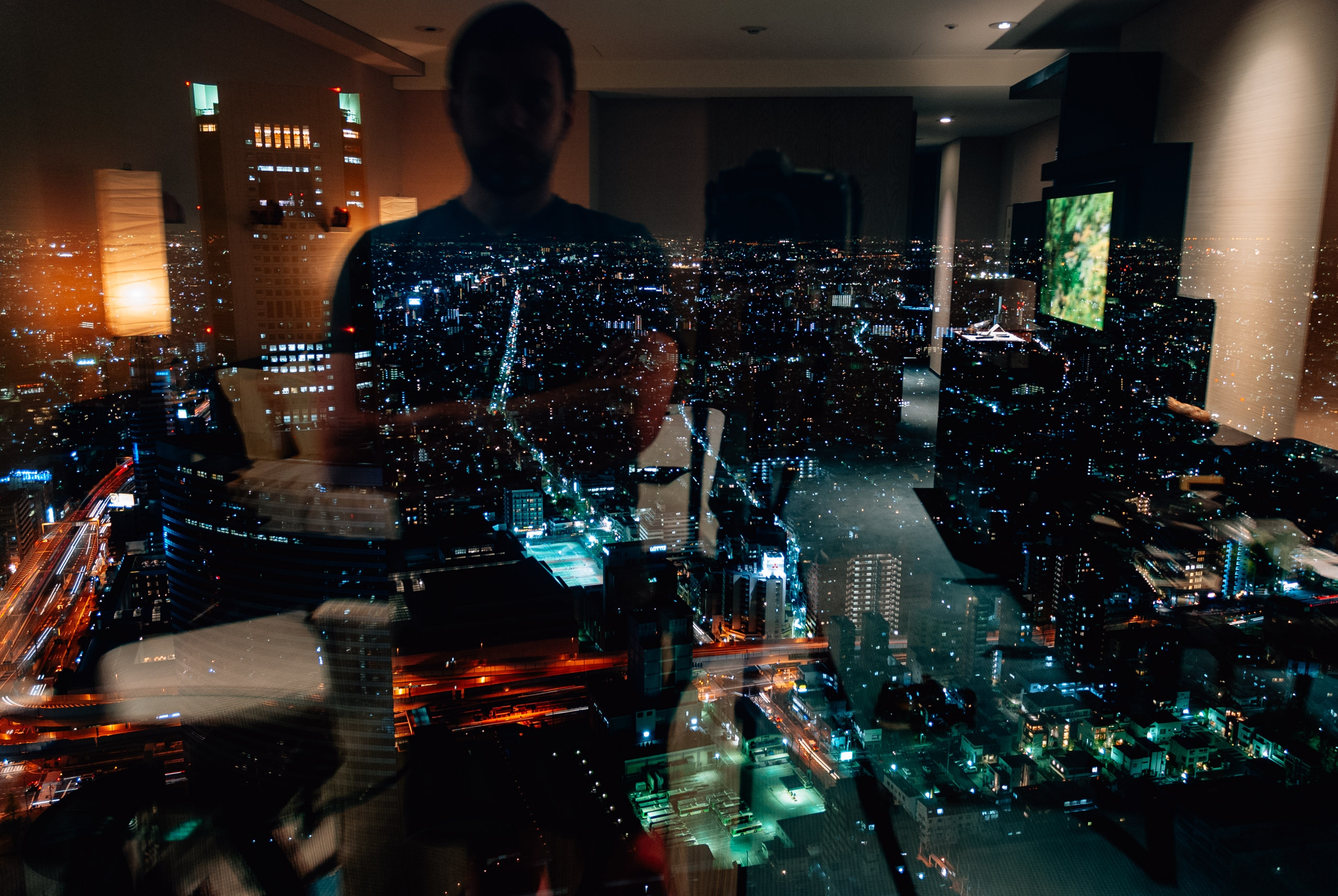 If you're going to take photos out the window at night, you really should turn off all the lights...
The first three nights in Tokyo we stayed at the Park Hyatt Tokyo. If you've seen Lost in Translation (which is a good primer ahead of a trip to Tokyo), you'll recognize this hotel. Since its opening it has appeared on nearly every list of the top 5-10 hotels in the world, and its a deserved reputation. Despite this stature, its not particularly expensive, especially compared to the other 5 star hotels in Tokyo (namely, the Ritz Carlton, the Peninsula, the Four Seasons and the Mandarin Oriental). The hotel spans the top floors of three adjoining skyscrapers above Shinjuku, with its lobby on the 42nd floor and up from there. We checked into our room on the 47th floor and enjoyed sweeping views toward the coast and Mt. Fuji, weather permitting.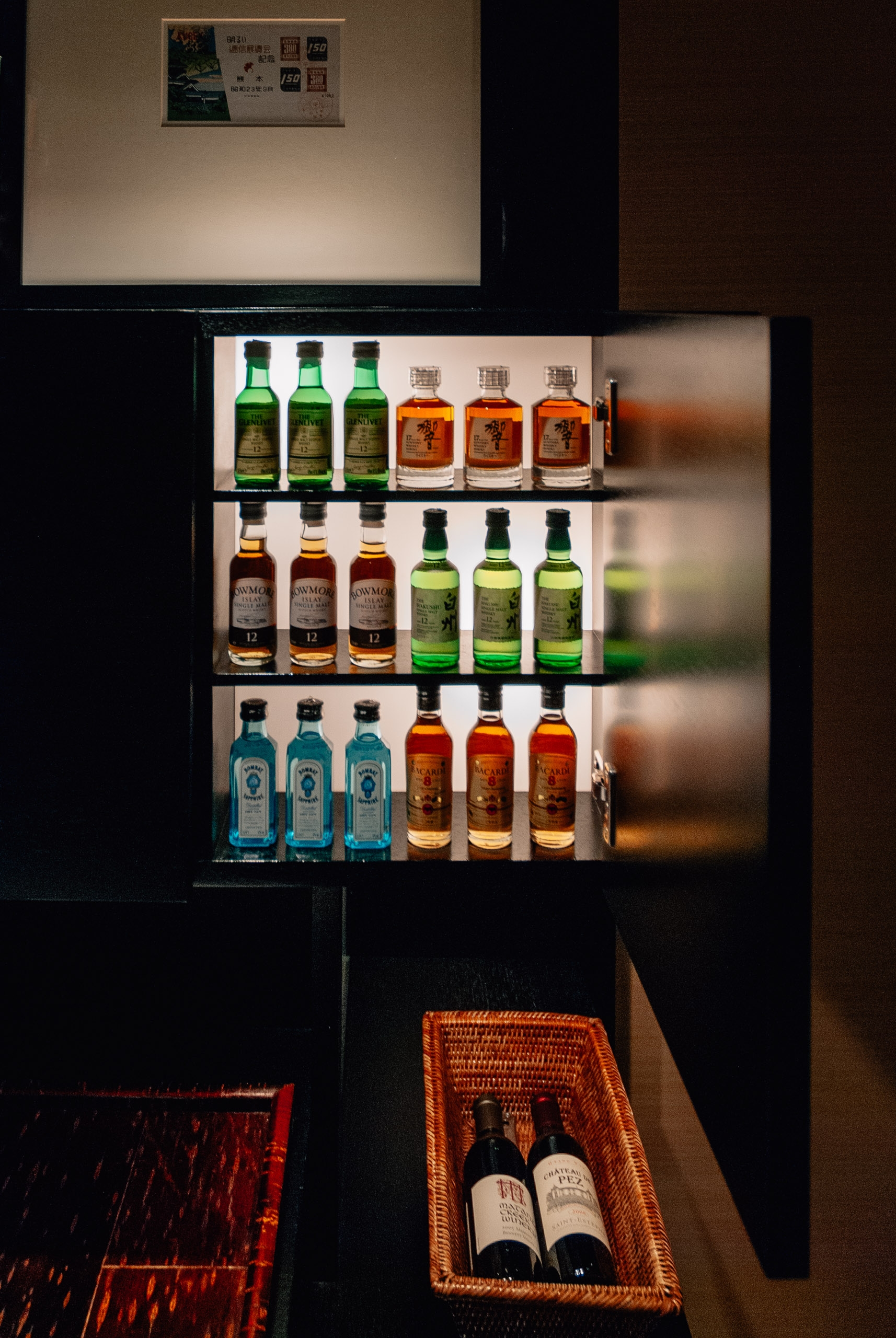 The mini bar is just like...its just like...a mini...bar.
Shinjuku is a great location from which to see Tokyo. Many of the popular sites and neighborhoods can be easily accessed from Shinjuku Station, about 10 minute's walk from our hotel. Shinjuku station is one of the main hubs for the Tokyo Metro (subway), the Tokyo JR (Japan Rail), Narita Express (airport train) and one of the rail hubs for the Shinkansen (Japan's ultra-fast high speed train, though they politely refrain from calling it a "bullet train" as that's too violent of a metaphor).
Because of its many rail options, it should be no surprise that Shinjuku station is the busiest in Tokyo, and in fact is the busiest rail terminus in the world. In 2008, Shinjuku station was frequented by 3.9 million people per day, a staggering number (maybe not considering there are 25 million people in Tokyo). The station also has over 200 exits, and we got lost on our way out on more than one occasion. If you want to experience the crush of humanity that is Tokyo, visit Shinjuku station during rush hour, or, frankly, any hour of the day.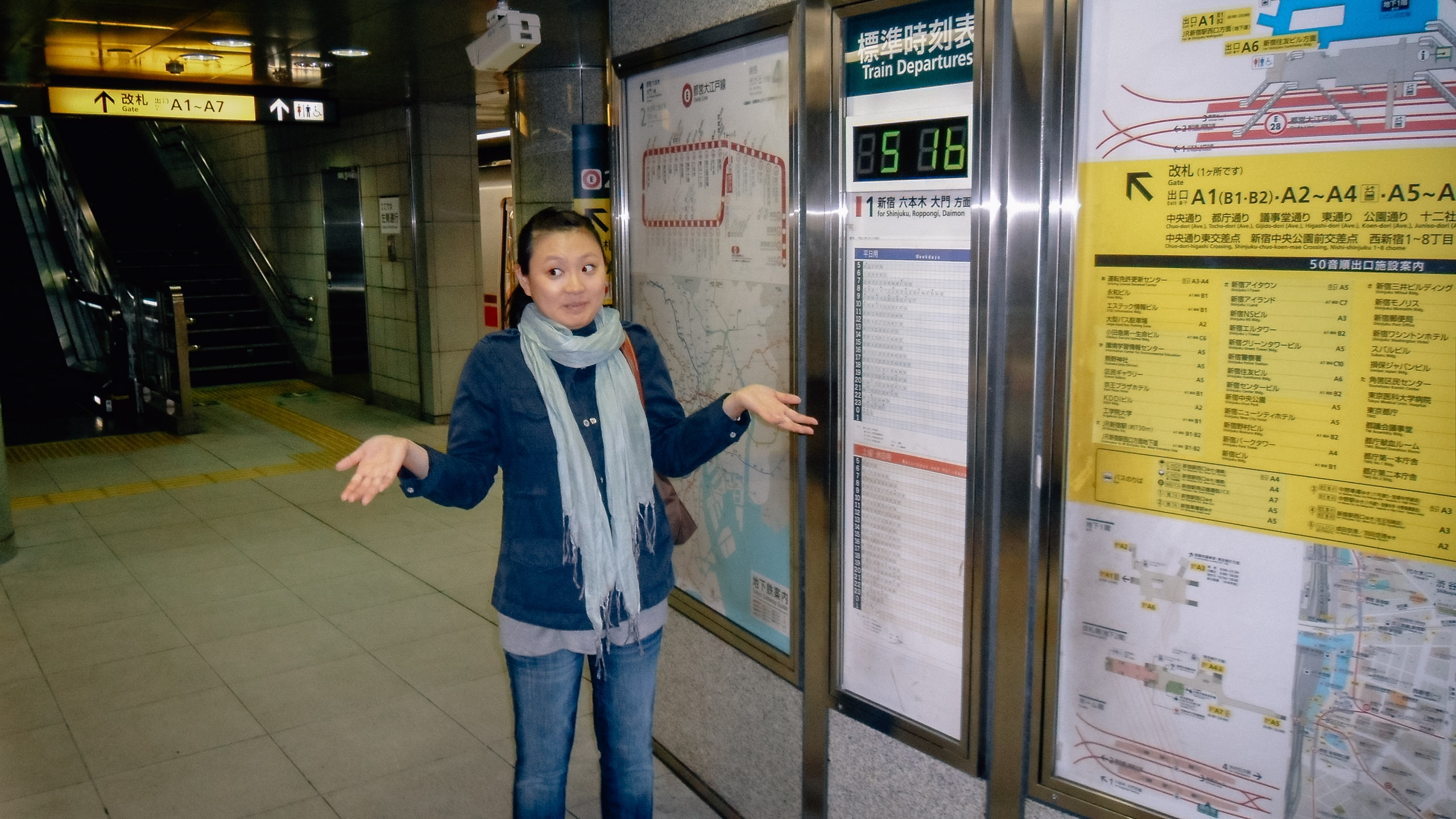 Never lost on the Tokyo subway.
Every day began or ended at the Station, often with several visits in between. By the end of the two weeks, we got to know the station and the Tokyo transit system well. Its easy to navigate, affordably priced, stunningly clean and unsurprisingly efficient. We were only occasionally challenged by a lack of English on some of the maps, so we learned to memorize the kanji symbols for each station. Those minor challenges aside, I have a renewed disdain for San Francisco's MUNI.
The first day in Tokyo we got up around 4:30AM and headed to the famous Tsukiji Fish Market. A good way to leverage your probable jet lag is to do this your first day. Getting up at that hour sounds awful, but it was 1:30 in the afternoon my time.
The Tsukiji Fish Market is the largest wholesale fish market in the world. Starting each day around 3AM, boats, trucks and planes from around the world arrive to deliver fresh seafood for stores and restaurants across Japan. The market is immense, covering several acres. Fish is bought, either directly or at auction, cleaned, butchered and resold in hundreds of stalls around the market. To appreciate the size and scale of this market, a few figures of note: the Tsukiji Fish Market processes about 700,000 metric tons of fish per year at value of of about $5.5B.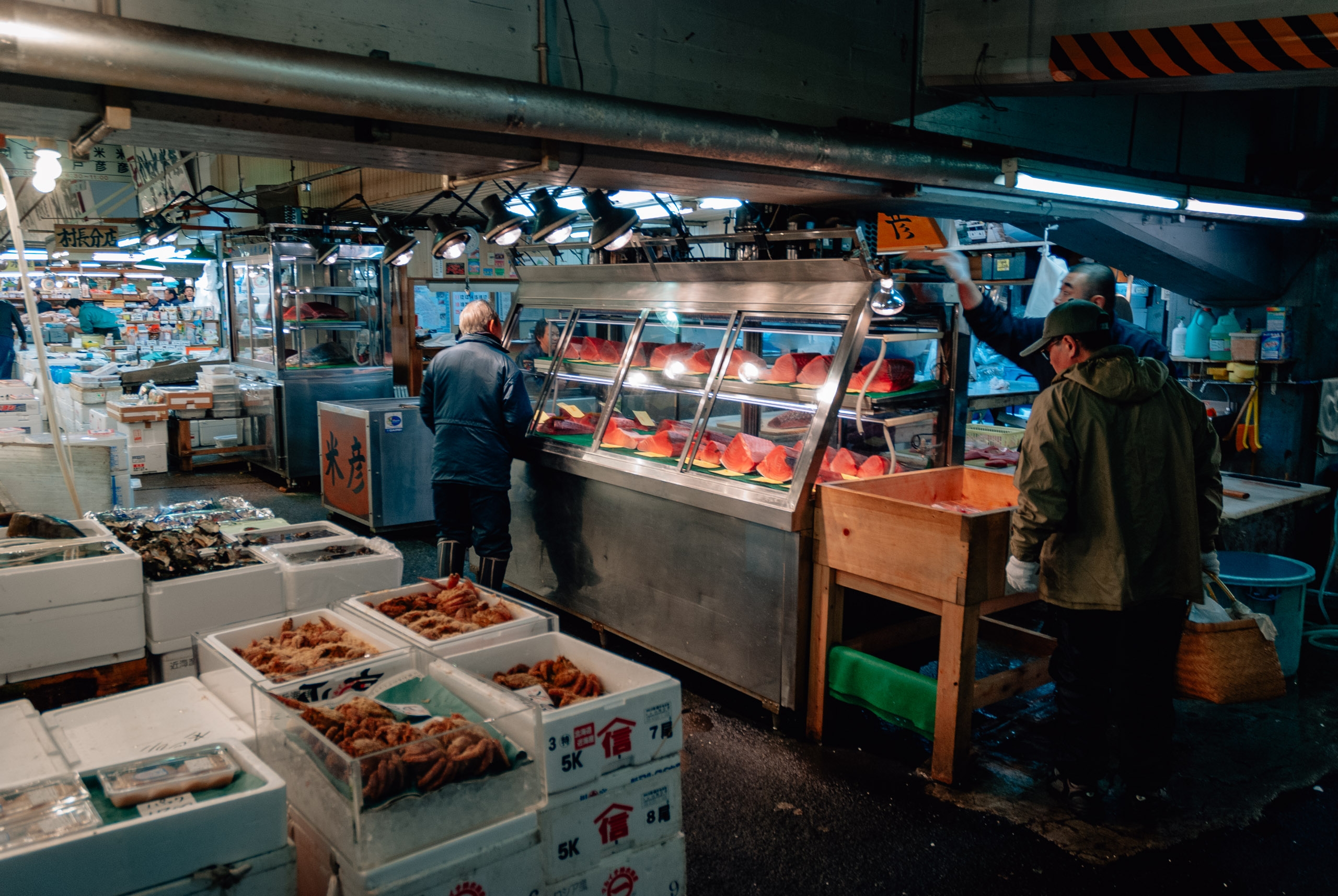 Inside the fish market, a tuna is carved for sale.
The big draw here is the tuna auction, where enormous bluefin tuna, caught deep at sea, are auctioned to restaurants and resellers. These are enormous fish, caught far out at sea. To preserve their freshness, they are flash-frozen in liquid nitrogen and lugged around the market like blocks of stone or concrete. These big fish are big business. A single tuna can easily fetch well over $10,000, with the record for a single fish fetching ¥9.63M (about $100,000). Prices have come down since the financial crisis, but tuna is still considered prize eats.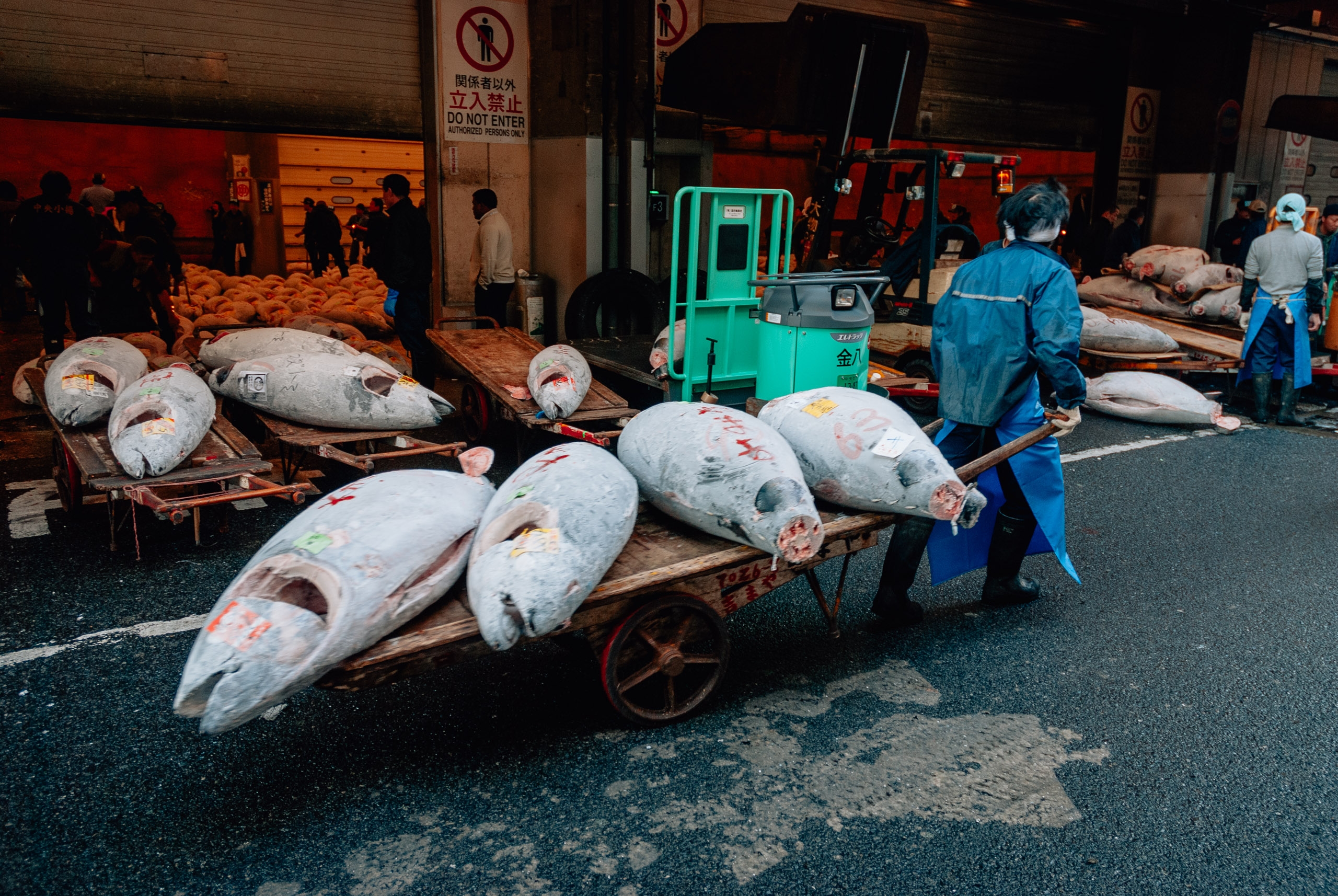 Four large tuna bought at auction.
We weren't able to watch the actual auction, however. Because the market has become such a popular tourist draw, daily crowds were starting to interfere with the conduct of commerce. Flash photography was interfering with the intricate hand gestures used by auction participants, and curious tourists would sometimes touch, or even kick, the valuable product. As such, the market is closed to tourists. There is a very limited viewing area far from the action, but you will be hurried along by security if you stop too long or try to take pictures. I was surprised that tourists were allowed at all. Its a bustling commerce center, full of knives, whizzing carts, slick surfaces, raw food and other and hazards. In the US, this scene would be considered an OSHA nightmare and a litigator's dream.
We spent some time poking around the various seafood stalls, mostly trying to figure out what we were looking at. After a while looking at all the wares, we spent the next hour trying to find Building 6 where the on-site restaurants are located.
A handful of sushi restaurants have opened up just inside the market to take advantage of the remarkably fresh fish available. We were recommended to try Sushi Dai, a small sushi counter with only 10 seats. The wait was about an hour, but since it was only 6:15AM we had nowhere else to go. You don't necessarily order here; you choose the 7 item meal or the 10 item meal and chef prepares what he thinks is the best among his offerings.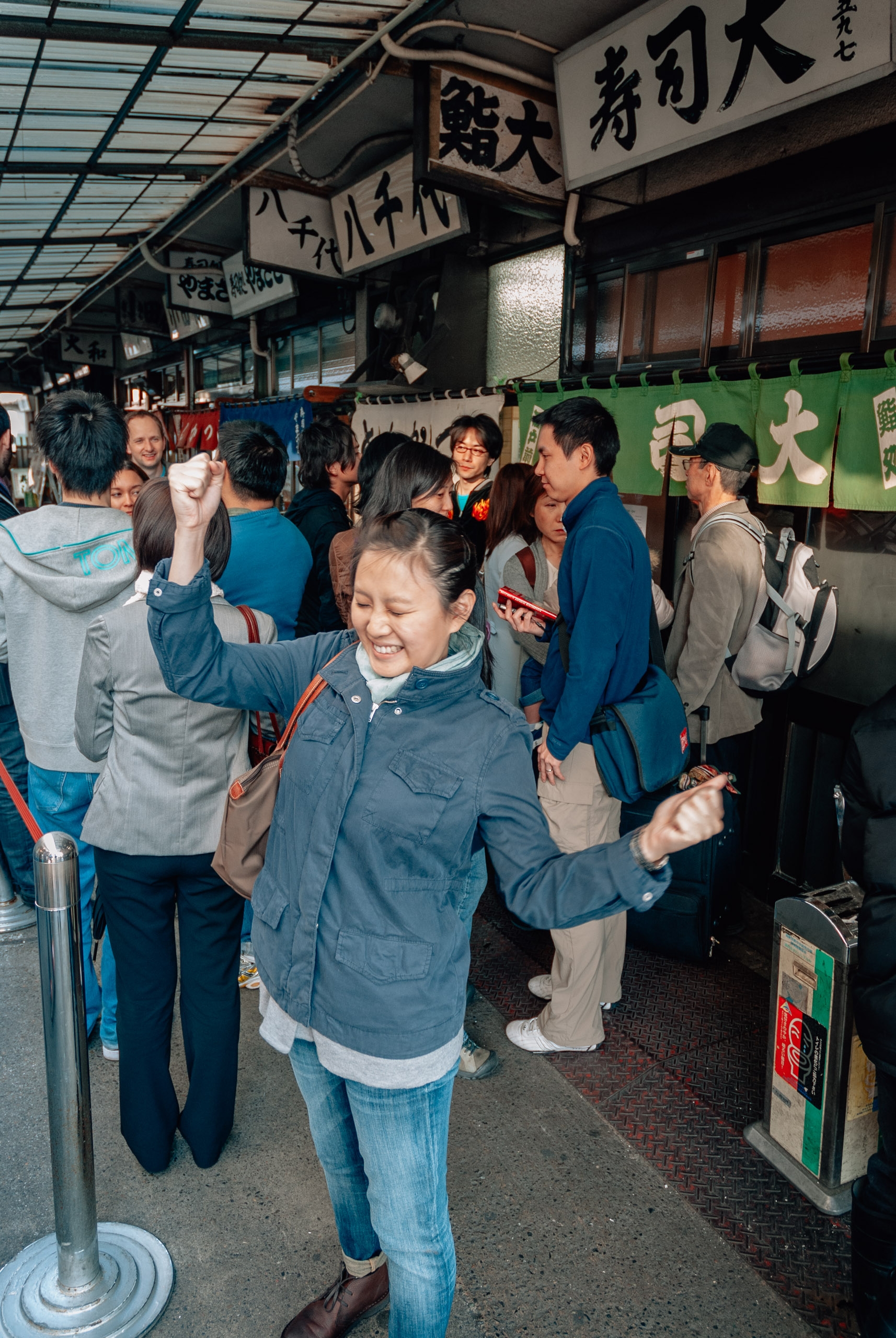 Success at finally finding the restaurant!
The food was excellent, a credit I'm sure to both skill of the chef and the locale. We had many sushi staples like tuna, fatty tuna, salmon, rolls and some excellent miso soup. I didn't care for some items such as the live crab, the sea urchin, the roe or the baby squid roll (imagine a ring of seaweed with three whole baby squid that burst with a pop in your mouth). Although I tried each, they were a bit too "Fear Factor" for my taste.
Kris eats sushi (gasp!)
We went back to the hotel for a shower and much needed nap, and that afternoon went to tour the Studio Ghibili Museum, a tribute to the works of Studio Ghibili, the Japanese animation house headed by Hayao Miyazaki. Miyazaki is the Walt Disney of Japan, though sadly most Americans aren't familiar with his work (his film Spirited Away won the Oscar in 2002 for best animated film). His most popular work is My Neighbor Totoro, and characters from that film are as big in Japan as Hello Kitty and Mickey Mouse. A stuffed likeness of Totoro came home with us, but has been keep out of reach of Suki.
That night we met up with a few former colleagues of mine from Gap, Sam Matalka, who's been living in Tokyo for the past few weeks, and Lina Lee who just moved to Tokyo from New York a few weeks ago. We met at Onyasai in Ebisu for the famed all-you-can-eat, all-you-can-drink shabu shabu. Shabu shabu is a meal of vegetables and meat that are cooked at your table in an enormous pot of water, broth or soup. Its quite fun, very sociable and very tasty. The dinner was terrific and was fun to catch up. So sorry that Michelle McKee was unable to join us at the last minute.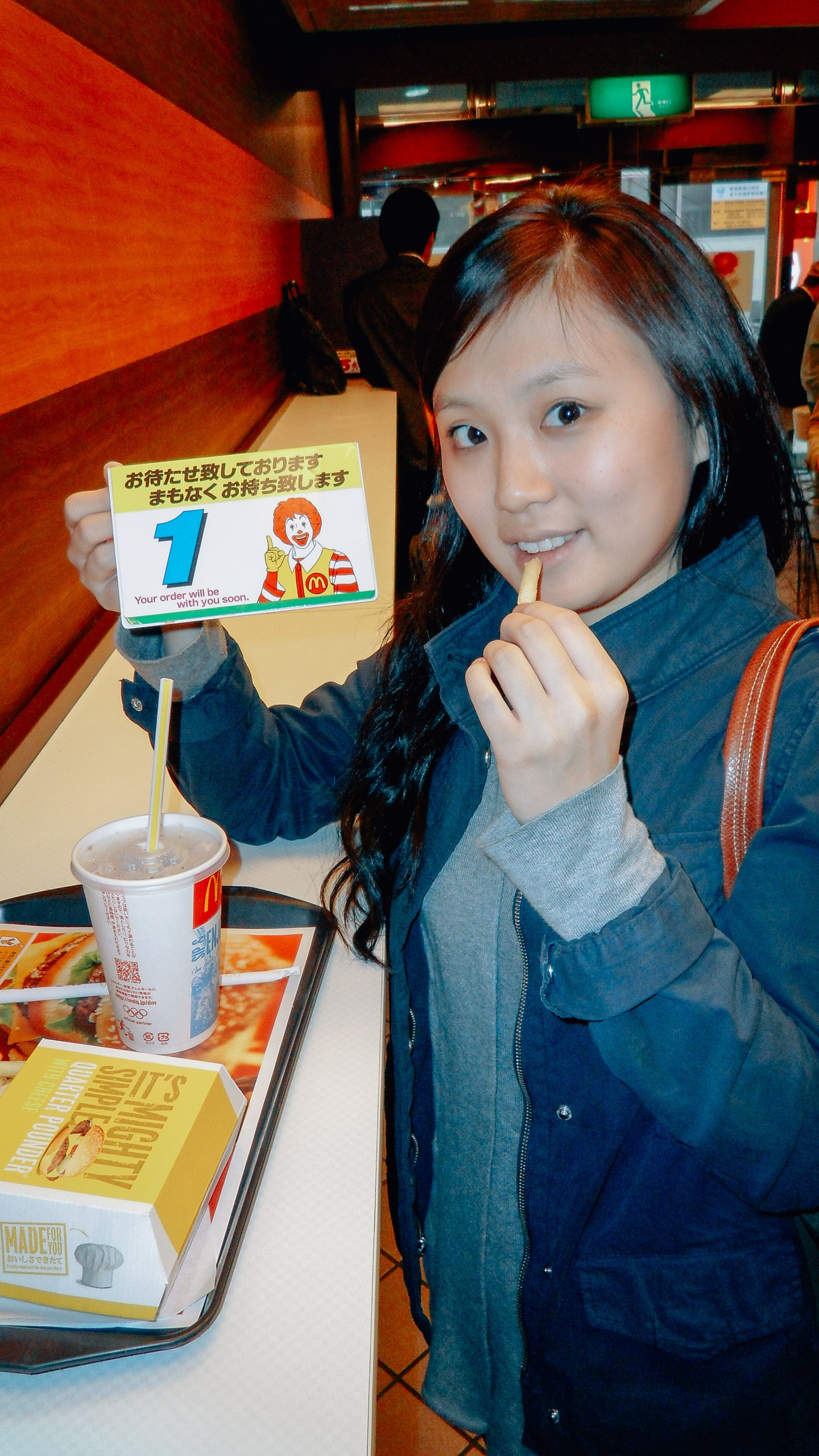 A ritual: Chicken McNuggets and a Big Mac
Tuesday was a bit more laid back, we started with a lengthy Japanese breakfast at the hotel and pretty much toured a few neighborhoods, Shibuya, Harajuku and a bit of Shinjuku. That night we sought out Japanese curry at CoCo Curry (a fast food chain specializing in katsu curry; a large cutlet of chicken or pork covered in curry and served over rice). Later we went for drinks at the famous New York Bar at the top of our hotel. The bar is on the 52nd floor and has some of the best views in all of Tokyo. Predictably, the drinks are priced to match, as is the $25 per person seating charge (thankfully waived as we were guests in the hotel). For hotel bars in Tokyo, a round of two drinks is about a dollar per floor, exclusive of seating charge.
One thing you'll notice going into a bar or restaurant in Tokyo is the smoking. This was the first time I was asked, "smoking or non-smoking" in about 10 years. What's ironic is that its unlawful in Tokyo to smoke on the streets or on the sidewalk, you have to move to a designated outdoor smoking section. However, you're free to smoke at most bars and restaurants, and boy do they. Japan is one of the few growing markets for tobacco companies.
Coming up:
Three Days in Kyoto!