Travels to Canada: Five Days in Quebec
April 05, 2010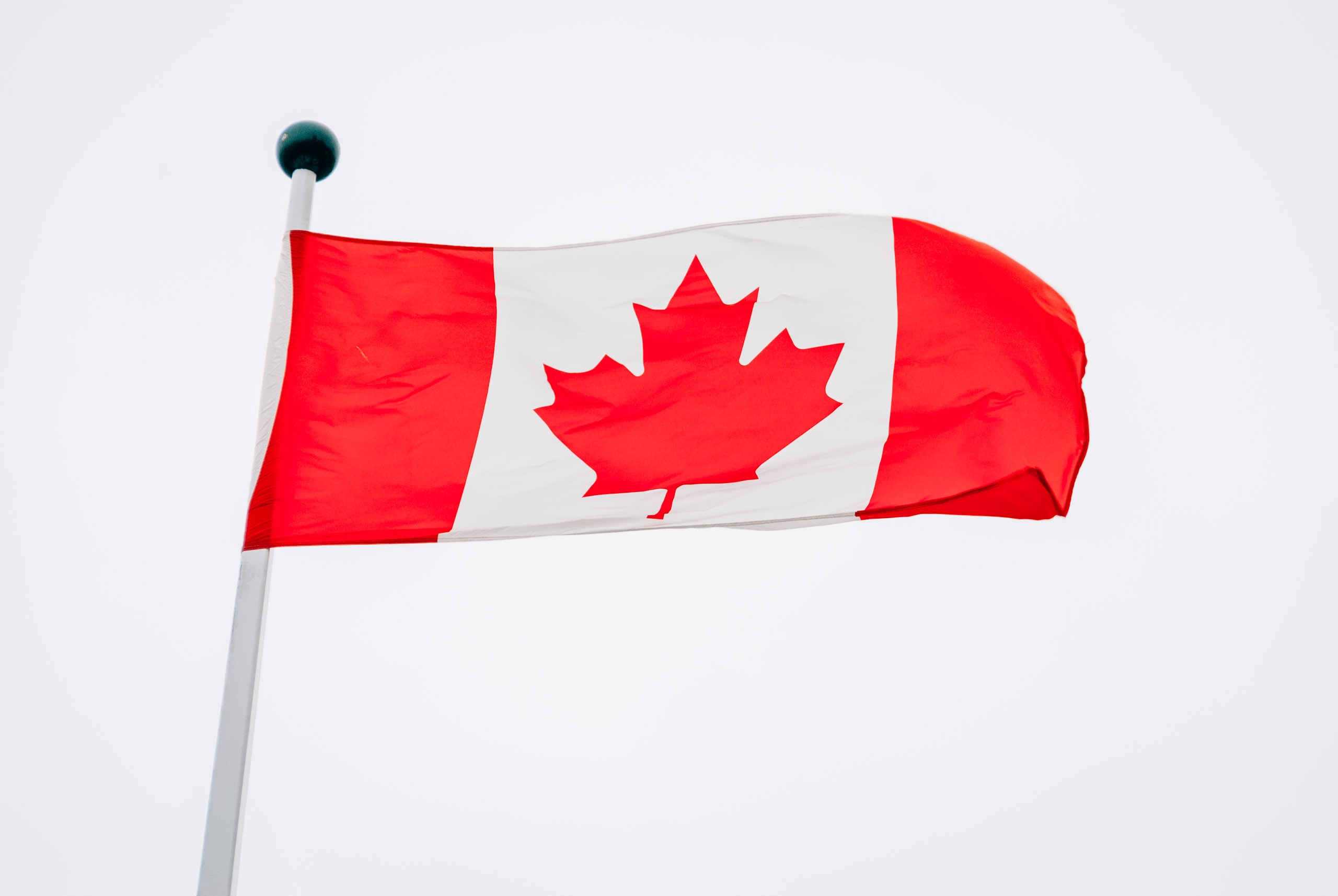 After Niagara Falls, we got onto the business of Canada, the original intent of our trip.  We made a conscious decision to forgo a lengthy stay in Toronto and Ottawa, as frankly we weren't that interested in seeing Ontario, although it is a beautiful province.  Our next two steps were Quebec's largest cities, Montreal and Quebec City.
Quebec is a truly unique place to visit in North America.  Since all the New World colonies eventually ended up in the hands of the Spanish and the British, its remarkable to see so much preserved from the Old New France.  Quebec has a bit of a rocky past with secession referendums and a once-violent separatist movement, and today remains the only province to not to sign the current Canadian constitution.  Much of this discord stems from the province's (I believe) well intended effort to preserve its uniquely French culture.  Surrounded by English speaking provinces on both sides and the US to the south, the pressure on the Quebecois culture must be immense.  I don't think there's an immediate threat to this way of life, but see it sooner than later.
I've been to Montreal a few times, but this is a first for Jessica.  My first two visits were over the Thanksgiving holiday so in both cases it was cold and snowy.  Although it didn't snow while there, it was quite cold, wet and very much as one would expect a Canadian destination to be this time of year.  You already read about dinner at Pied de Cochon the night prior (thanks to Genesa and Adrian for the recommendation!). 
Another popular food in Quebec (and surroundings) is poutine.  Described in my earlier blog, poutine is a plate of cheese curds topped with french fries then both smothered in gravy. Its as terrific as it sounds (unless it doesn't sound appetizing, in which case there's something wrong with you).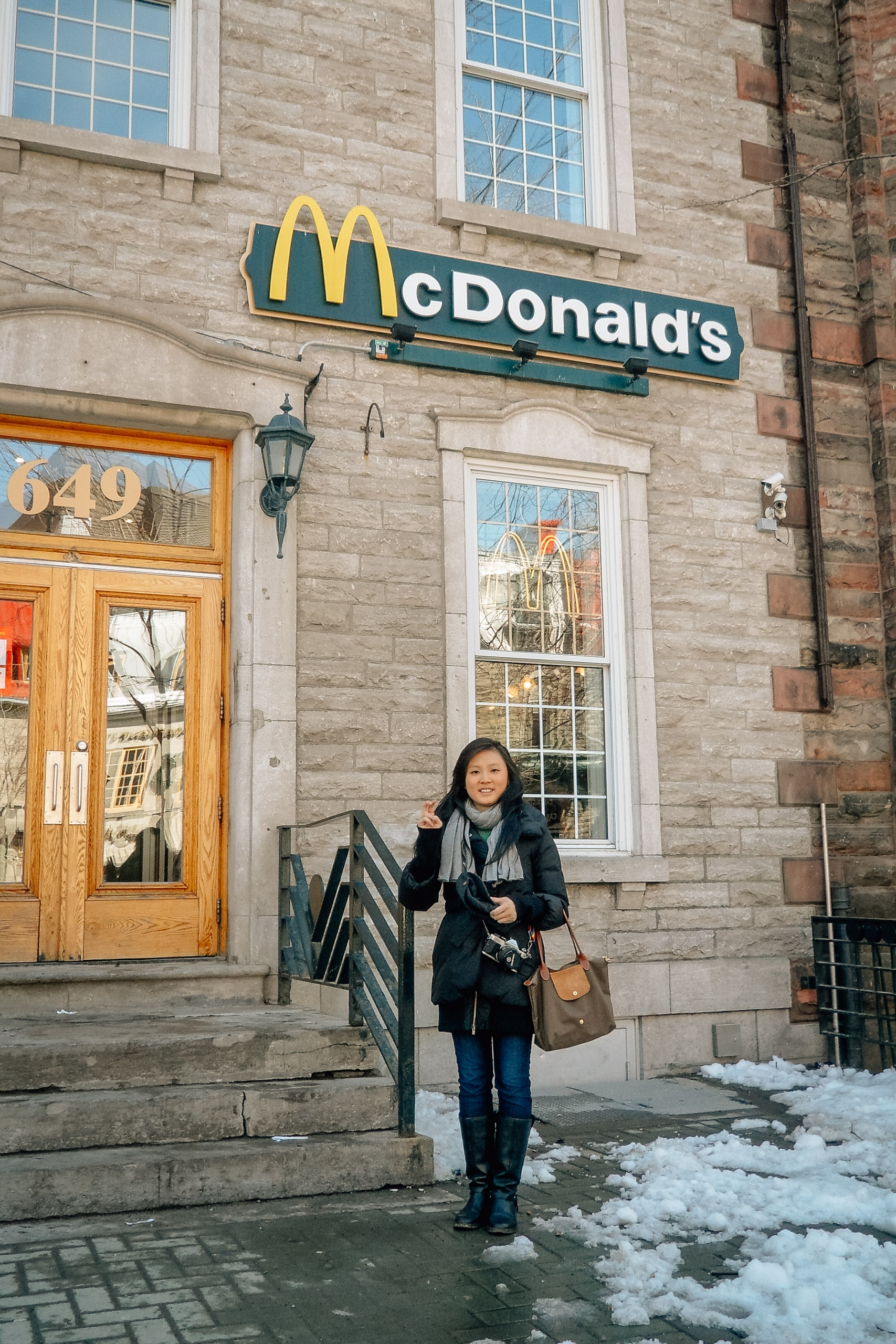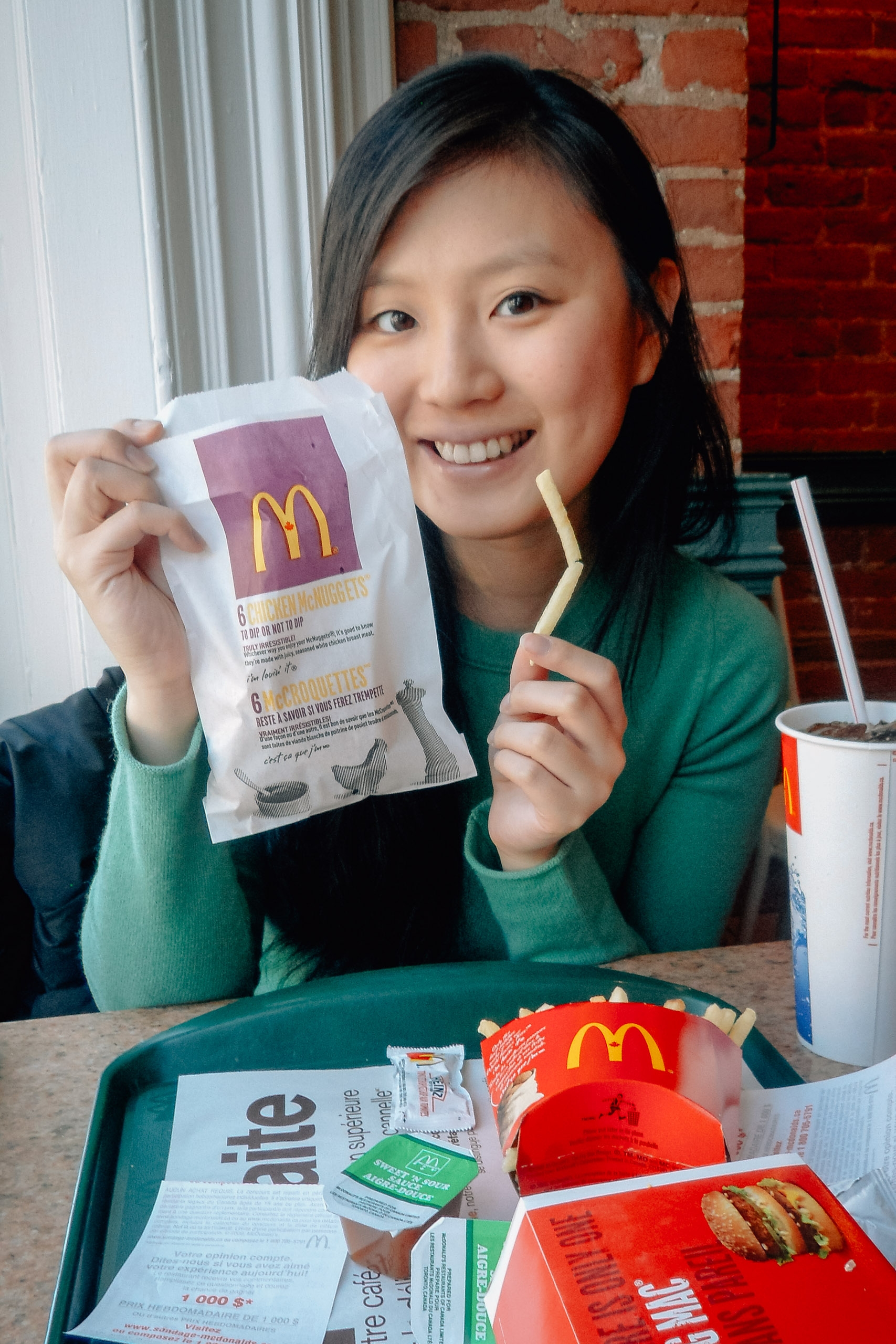 It wouldn't be travel "abroad" without a trip to McDonald's, pictured here in Quebec City.  Also, poutine!
The next few days we spent touring Montreal, doing a walking tour of the old city and meeting up with Jessica's childhood friend Nina who's attending school at McGill.  The walking tour was interesting and gave a nice overview of the old city, with its cobblestone streets and historic feel.  Given the vibe and omnipresent French culture, it does have a distinct European feel.  For this reason Montreal is a nice way for New Yorkers to do Paris on the cheap, although admittedly the comparison is a bit unfair (to Paris).
The walking tour was found in the online Frommer's guide to Montreal, which is a pretty reliable source of interesting things to do in any city.  In describing the tour, the guide established two conditions under which one should not do the walking tour: 1) if its raining and 2) if its cold.  It was cold and raining, but we had a good time nonetheless.  The hotel furnished us with some sizable and sturdy umbrellas which was adequate shielding from the weather.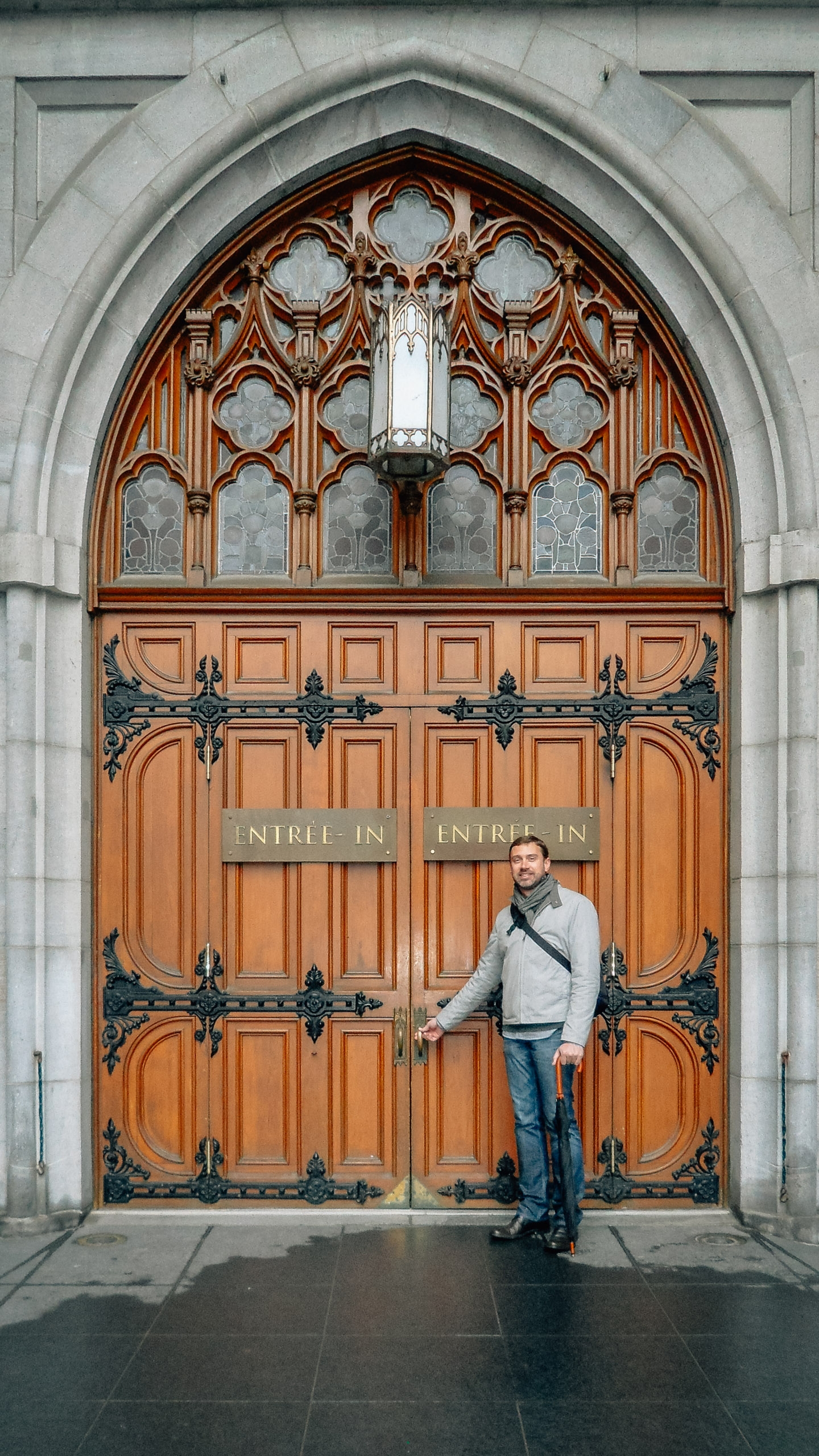 Part of our tour included a visit to the Notre Dame church.  Neither me nor the church burst into flames upon my entrance.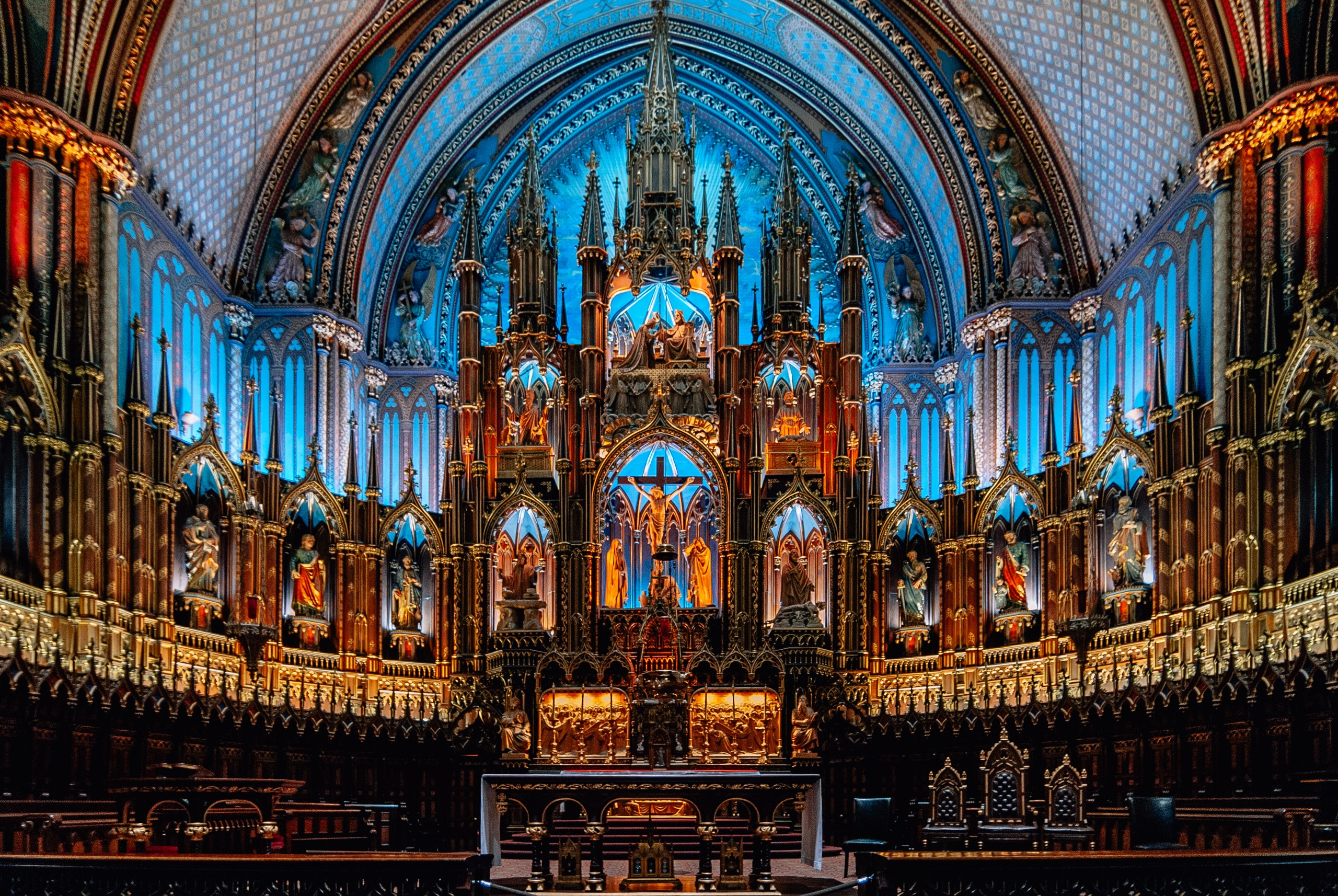 Inside the cathedral.
While in Montreal we also caught up with Jessica's friend Nina and her boyfriend Harry.  Nina joined us for dinner, Mongolian Hot Pot in Montreal's vibrant Chinatown.  Hot pot is an ideal dish for a cold and rainy night in Montreal.  The next day we met up with Nina and Harry again for beers and for another Montreal favorite, "smoked meat" which is analogous to pastrami and served piled high on rye bread with a side of poutine.  Not for those with a heart condition, but very tasty and inexpensive.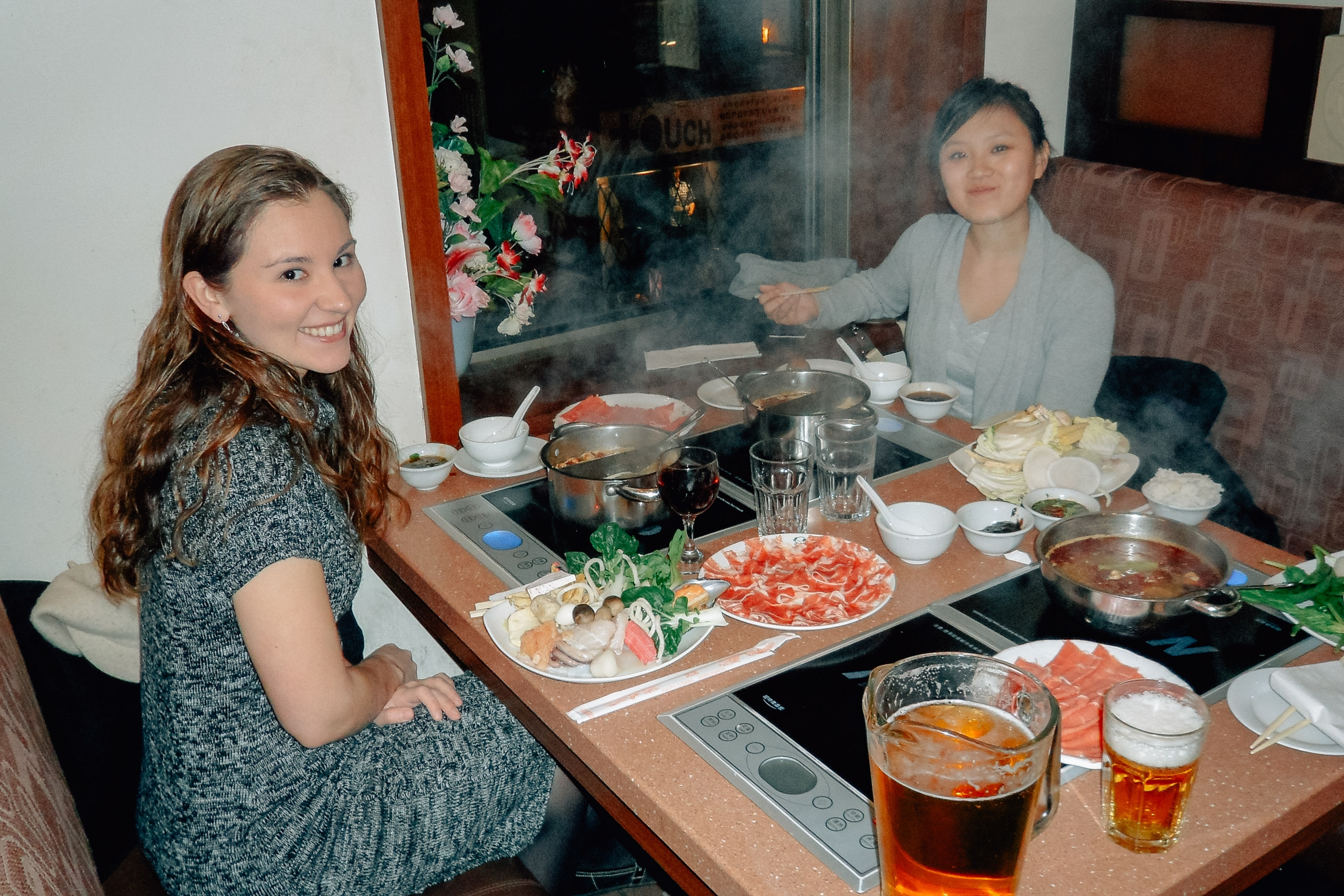 Nina and Jessica enjoying hot pot.  The beer is mine. Harry joined us later and pretended not to eat from our buffet.
Our visit to Montreal was short and enjoyable, and we're determined to return during the summer months to see more of the surroundings, and to enjoy the parks, outdoor cafes and try re-attempt our walking tour.
The next night we drove about two hours to Quebec's second largest city, Quebec City.  Quebec City is truly a remarkable place, a one of a kind in North America.  First visited by the French in the 1520s, Quebec City is among the oldest European settlements in the New World.  The city itself was established 1608 and celebrated its 400th anniversary in 2008.  What's most remarkable is that despite its age and the extent to which the surroundings have been developed, much of the original city exists today as it did 350+ years ago.  Our walking tour of Quebec City included a stroll down what is believed to be the oldest paved street on the North American continent.  As a testament to the city's preservation efforts, whether they were intended or otherwise, the United Nations has established Quebec City as a World Heritage site, the only in North America.
The streets of Old Town.
Much of the old city's history centers around the formative years of the colony, and the struggles of the British and the French to keep control over the province.  With the American Revolution in full-swing down south, the British, perhaps seeking to hedge their bets on that outcome, eyed Quebec as the key to all provinces to the West (and their vast resources) as fair game.  The British made a few half-hearted attempts to take control of Quebec, once sending an armada of naval vessels under the command of Phipps to persuade surrender from Quebec's Governor, Lord Frontenac.  That exchange went something like this:
Phipps:             Give us Quebec.
Frontenac:      No.
Phipps:             Ok (sails back to Britain).
Predictably, the French were eventually defeated in their attempts to secure Quebec as a truly New France,  but were successful in firmly implanting their culture and language that vibrantly persist to this day.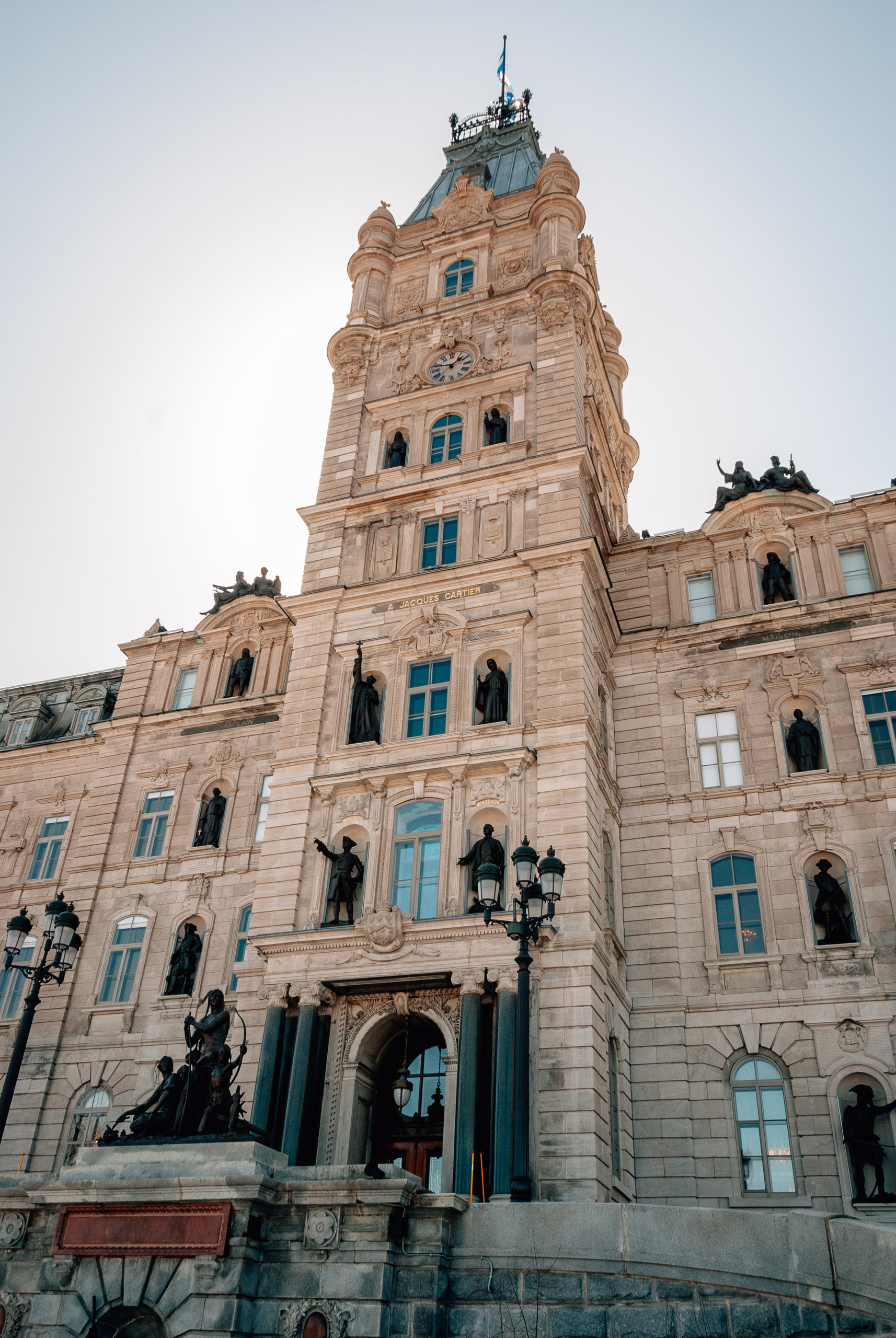 The Quebec Parliament Building with statues of notable Quebecois.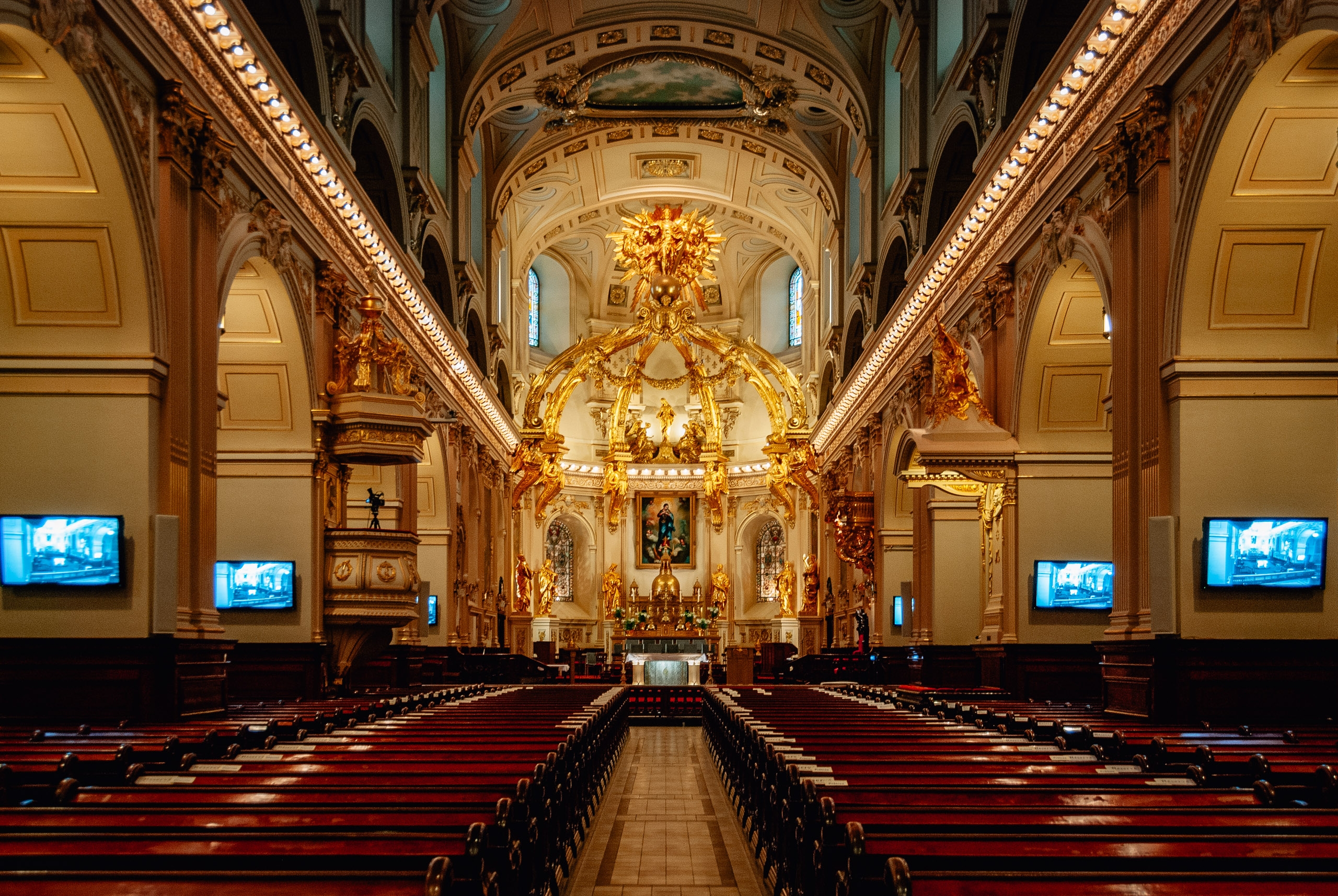 Inside the Notre Dame of Quebec City.  Some guy was totally jamming on the pipe organ when we stopped by.
Named for Frontenac, the famous Chateau Frontenac, now a Fairmont Hotel, dominates the Quebec City skyline.  The Canadian Pacific Railroad, under its mandate to link the provinces  by rail, built the hotel as a fashionable and luxurious destination for travelers along their journey.  Similarly, the same company built the Banff Springs Hotel in Alberta as part of this same program.  The hotel looks very different today than when it was first built, but its unique castle-like architecture make it a popular tourist draw.  We stayed in the hotel for two nights in the tall, tower part.  I was saddened we didn't have actually turrets in our room, but the view was amazing.  The accommodations themselves, while certainly nice, weren't particularly remarkable but not expensive either.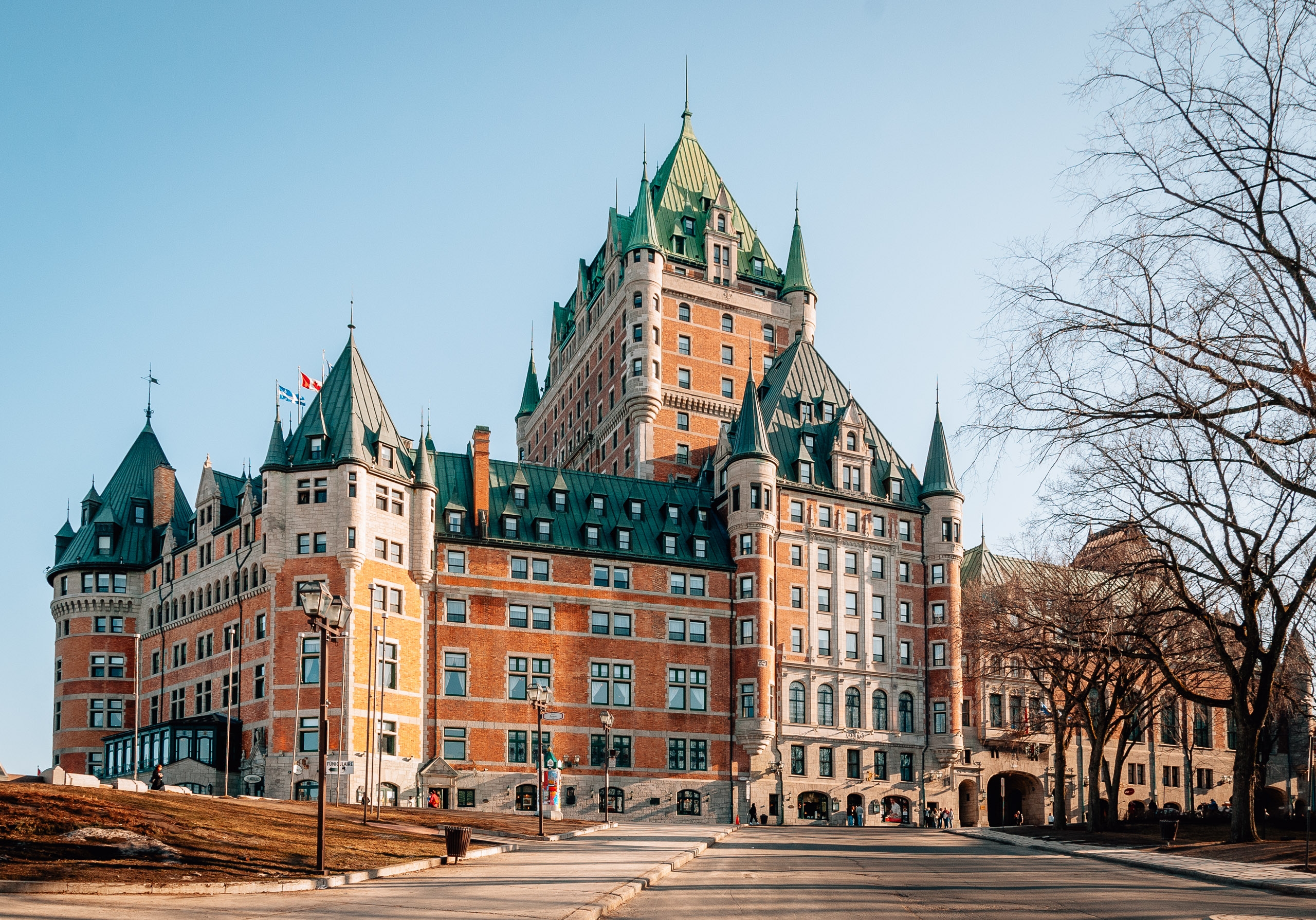 The Chateau Frontenac from Old Town.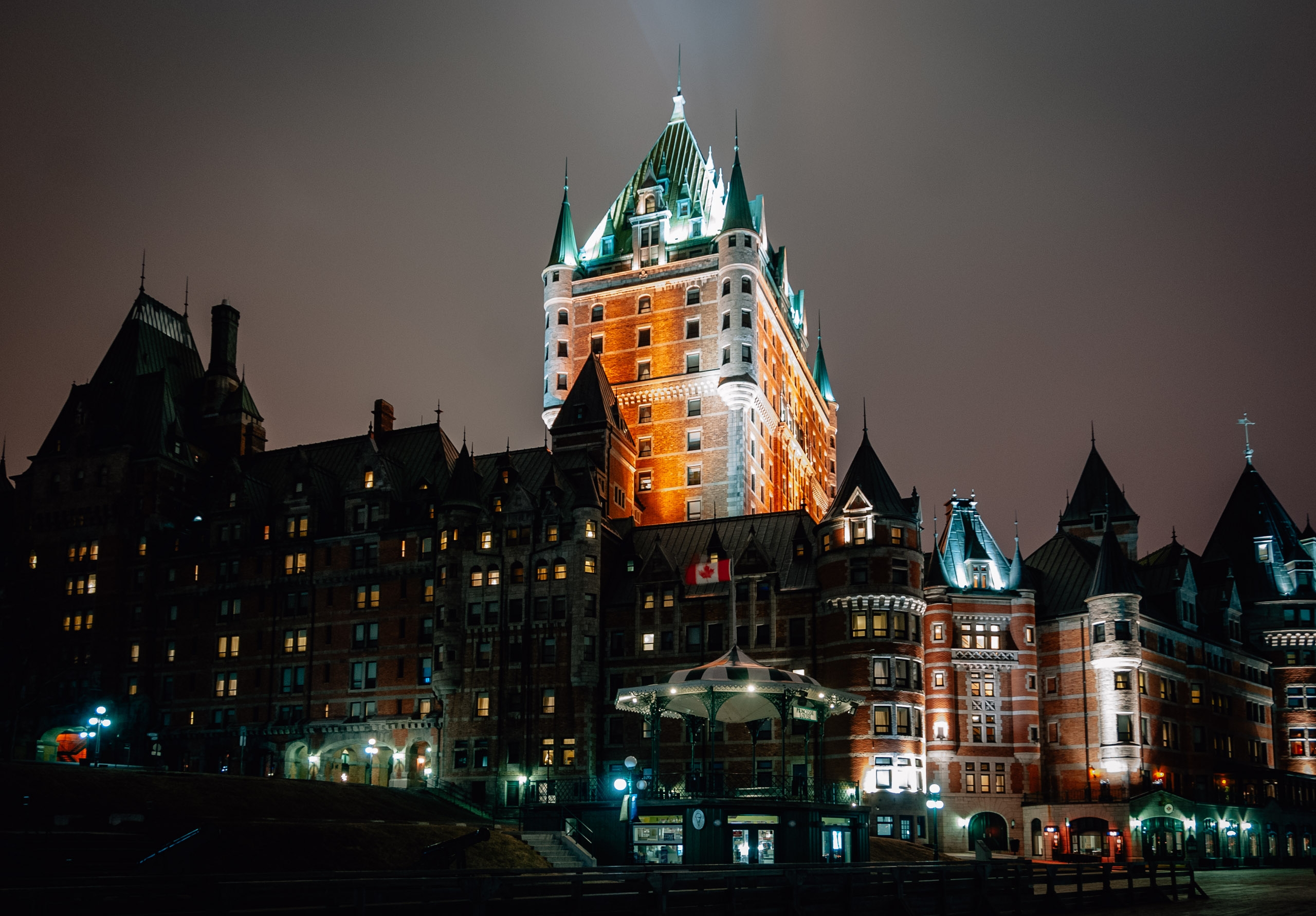 The Chateau Frontenac at night.  I finally bought a good travel tripod and had to try it out.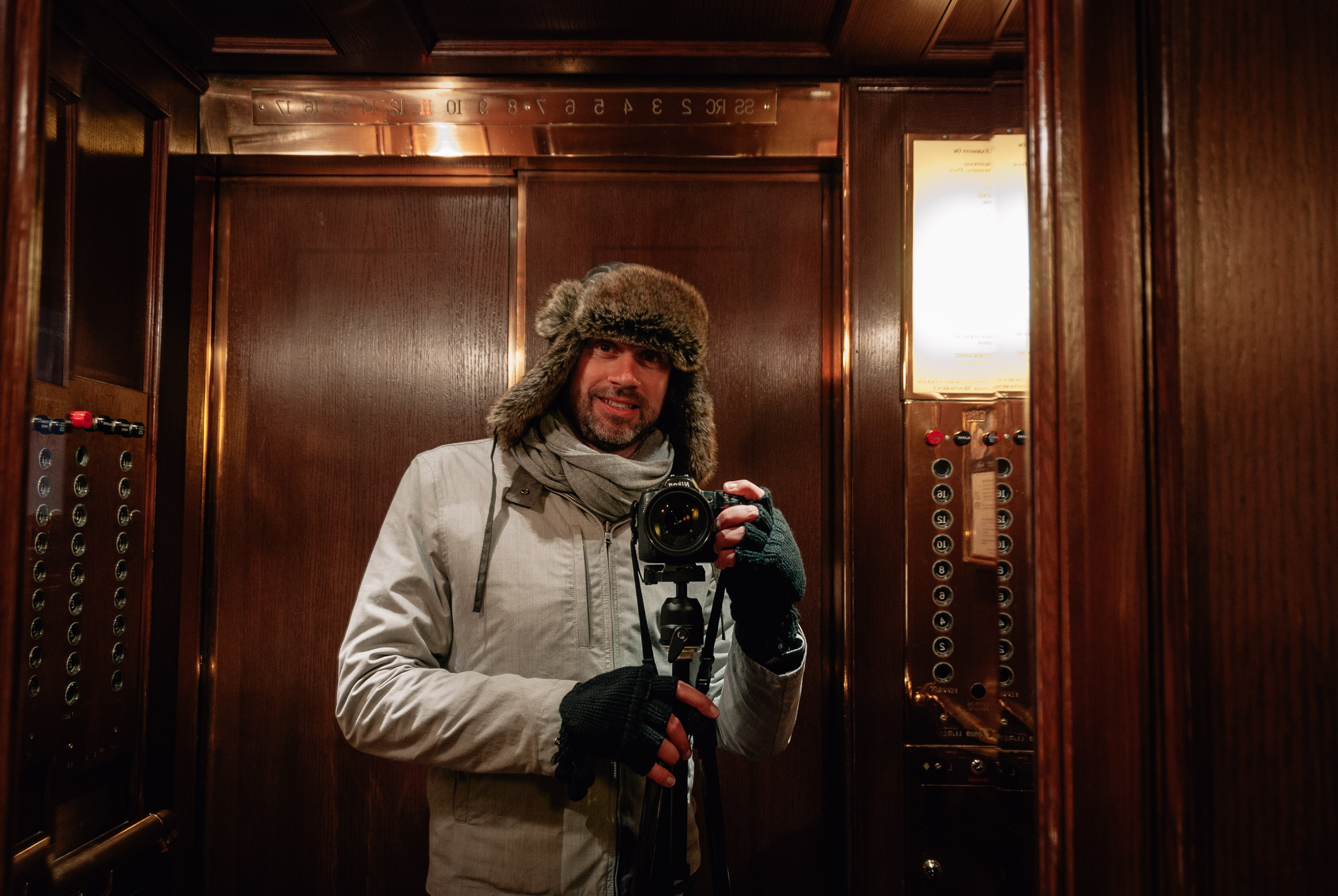 Self portrait in the elevator of going out for night photos.  Did I mention it was cold there?
Like Montreal, we did a few walking tours of Quebec City and pretty much saw the main sights in about a day and a half.  Despite it being nearly April, it was dreadfully cold and extremely windy.  The first day the high was about 35 and the wind was gusting to about 50 miles per hour.  The second day it was sunny and the temperatures creeped up to near 50 degrees.  This was a relative heatwave I suppose as the sidewalk cafes were setting up outdoor tables and kids were walking around in shorts.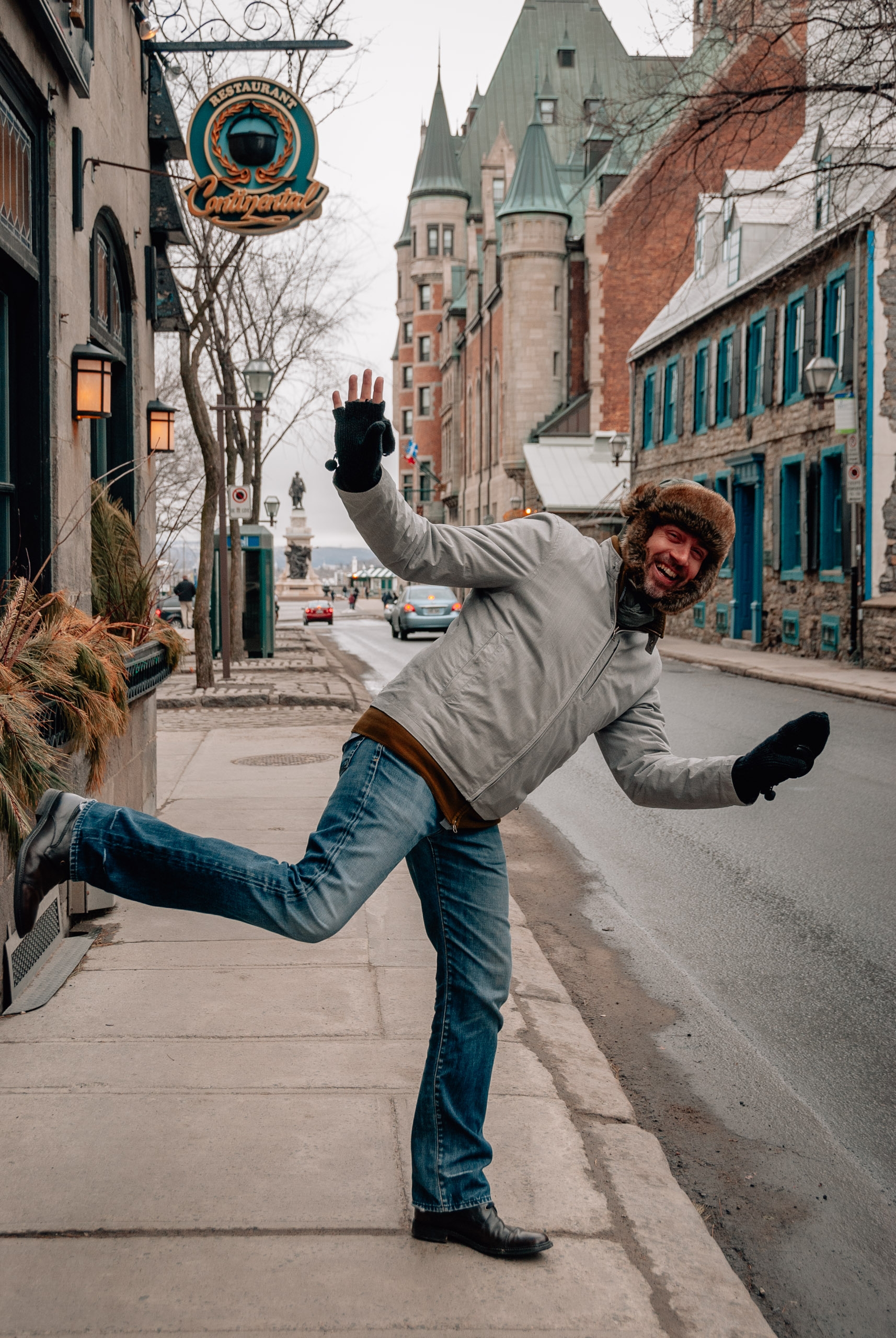 I'm wearing two jackets, two shirts a sweater, scarf, Jessica's mittens and a rather ridiculous, Canadian-looking hat that was in fact awesome.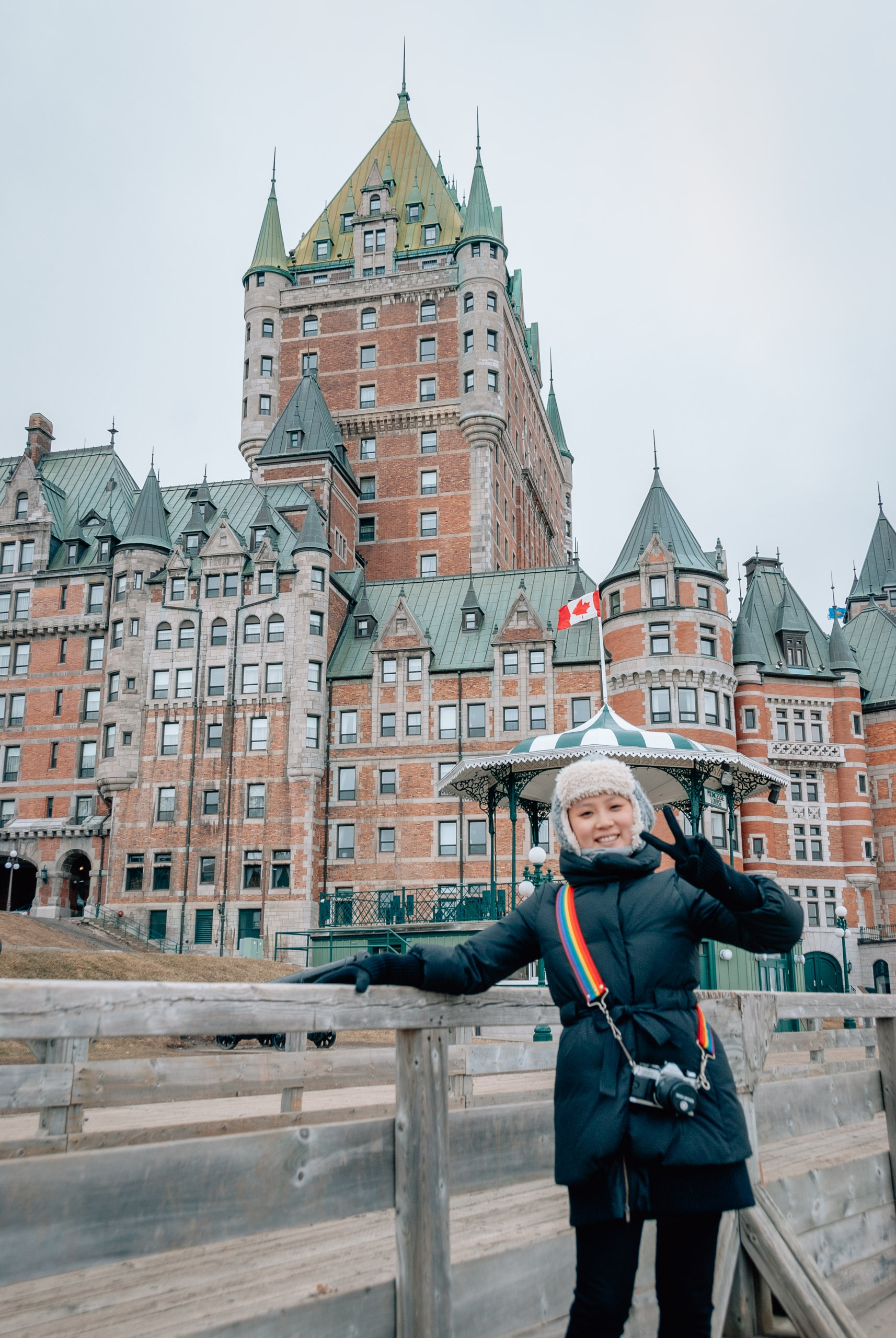 Jessica is far better prepared for the cold than me.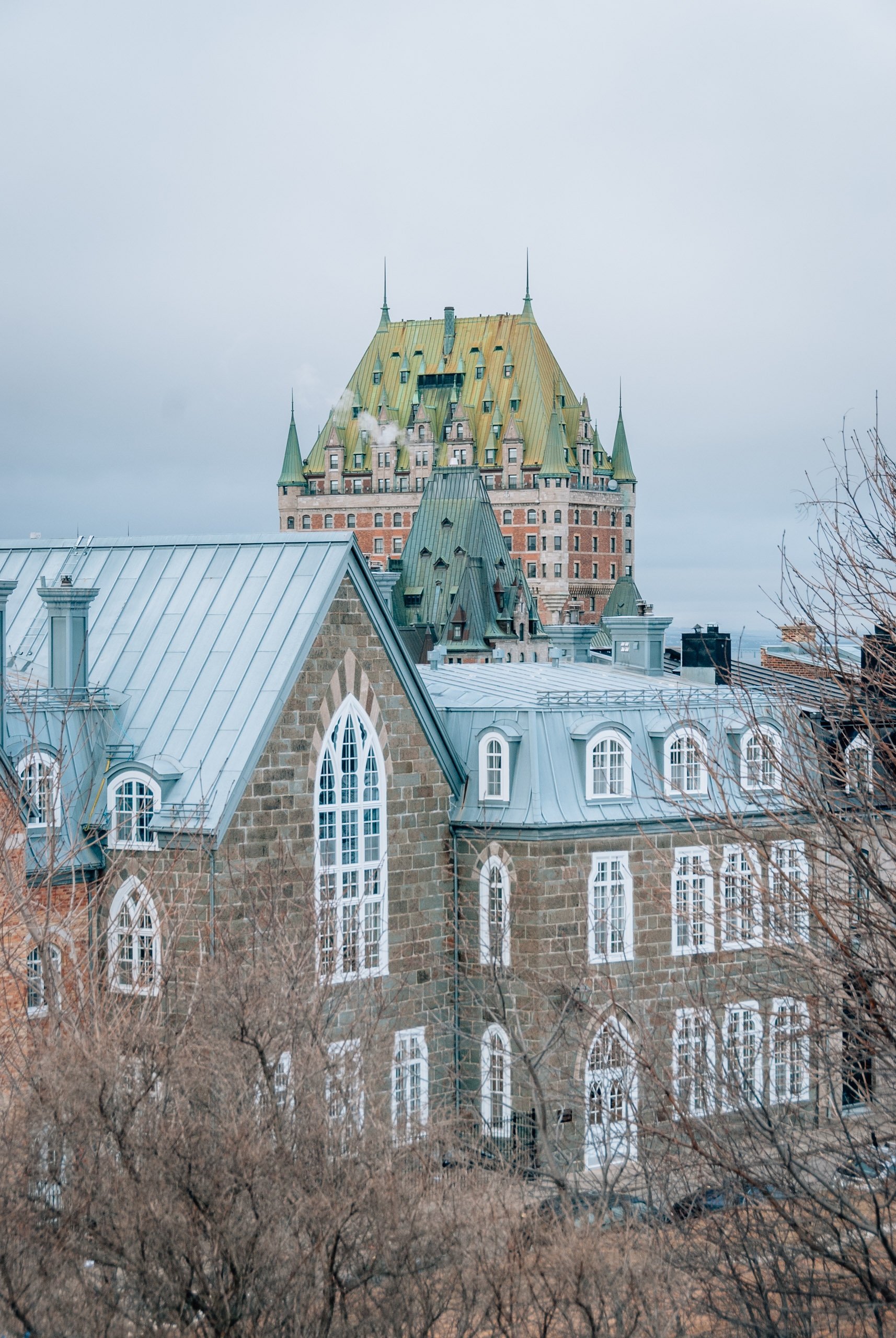 The view down to Old Town from the ridge above.
Despite its popularity and tourist draw, Quebec City isn't exactly what I would consider touristy (yet).  The shops and restaurants were constrained and somewhat refined, if a bit expensive.  Because it was the off-season, we didn't have some of our better meals in Quebec City, but if we willing to spend the money, there are some terrific French and Quebecois restaurants in Old Town.  (Quebecois tends to be a lot of fatty game with an emphasis on sauces, similar to French).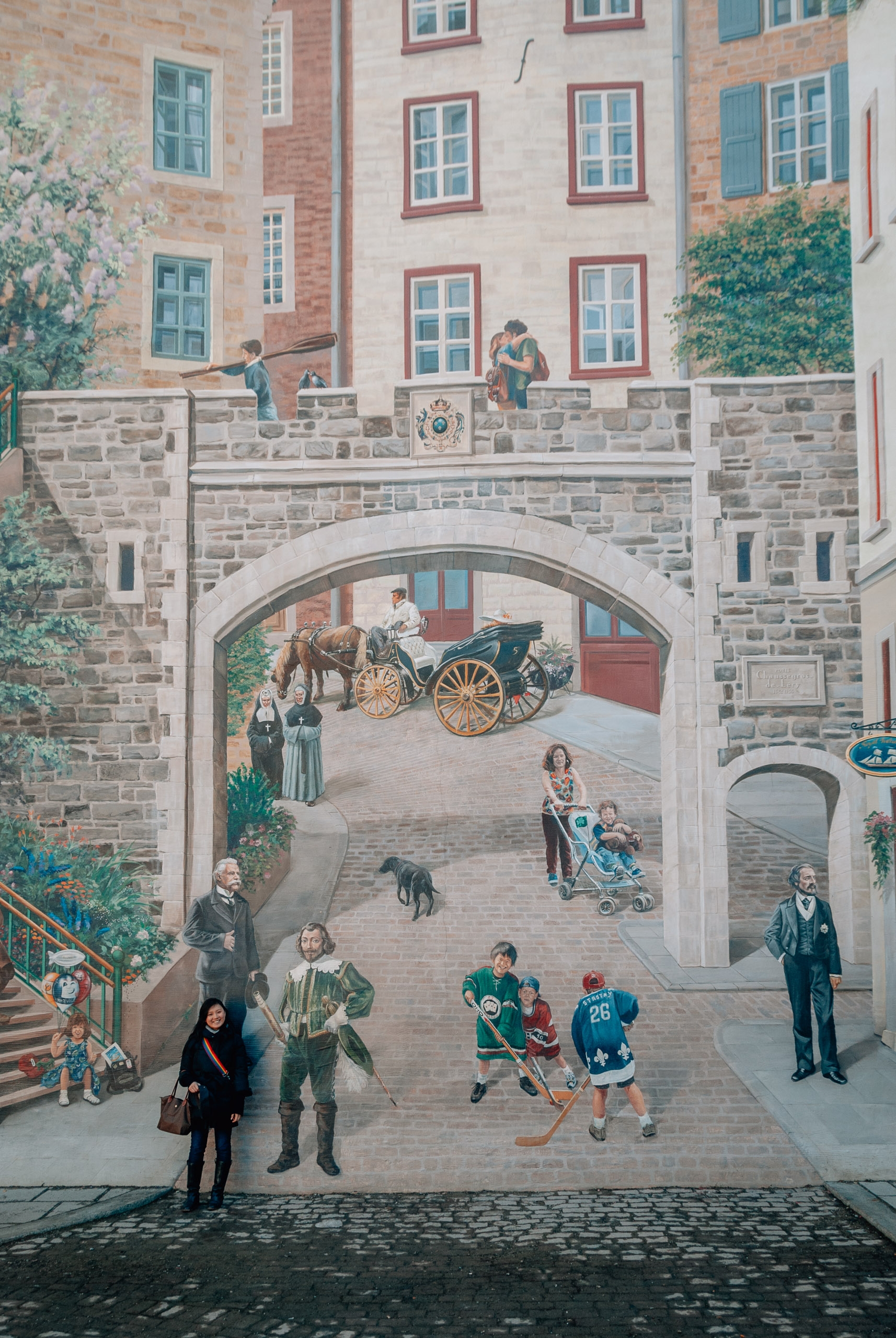 This mural in Old Town isn't touristy at all, and is in fact an authentic 16th century work depicting the contemporary lives of Shakespeare and hockey players.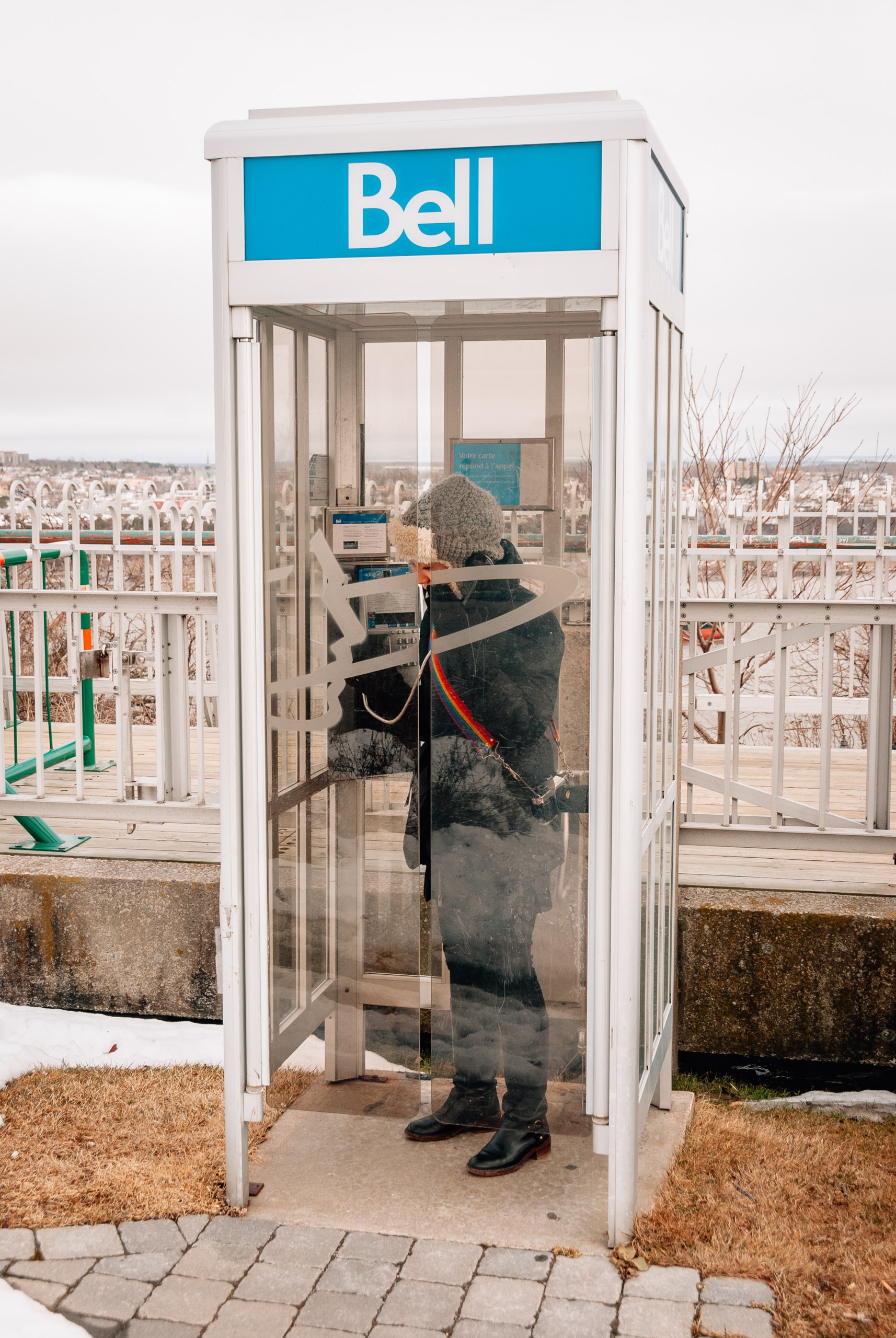 When's the last time you saw a phone booth?
Our time in Quebec was quite enjoyable.  Its an easy drive from New York City (about 7 hours), but you really get the feeling you've journeyed far.  Today the Canadian Dollar is nearly on par with the US, but even so prices aren't expensive. Since this was a road trip, we did spend a lot on gas, which is pretty expensive in Canada (around $5 a gallon). Luckily, we were driving a Honda and once we reached the hotels, we pretty much left the car parked. 
If you do travel to Quebec, brush up on your high school French or get a French phrase book.  Almost everyone speaks English in cosmopolitan Montreal, but much of the road signs and other instructions are solely in French.  Outside of the larger cities, English is more sparse and and you shouldn't always assume that everyone understands you fully.  But all of that aside, I highly recommend Quebec as a destination, and more than just an aside if you're already in the area.