Dinner at Au Pied de Cochon in Montreal, Quebec
March 30, 2010
Any visitor to Quebec with an even mild interest in food and gluttony has to add dinner at Au Pied de Cochon to his itinerary.  This is true eating for sport, where the diner is challenged to take his notion of "rich" or "excessive" or "fatty" foods to a whole other level.  Translated literally as, "The Foot of the Pig", Au PIed de Cochon (PDC for short) focuses on Quebecois cuisine centered on two things: pork (or pig, to be less precise) and fois gras. What follows is a fairly detailed description of our meal. You'll read this and either be sickened by it, or swiftly make travel arrangements to Quebec.
There are 9 fois gras dishes on the menu, including fois gras burger (not a burger with fois gras, but a burger made with a patty of giant, friend duck liver), a fois gras pizza, a fois gras tart (fois gras with bechamel on puff pastry) and the grand daddy of them all, fois gras poutine (a bed of cheese curds, covered with french fries, a fried slab of fois gras and topped with a bechamel cream sauce and a fois gras-based butter sauce).  You get the picture, this is extreme dining.
The pork dishes are equally indulgent.  They focused on pig's feet, but also serve pig shank, pork chops, pig's feet stuffed with fois gras (of course) and pig's head for two, which is exactly what that is: a roasted pig's head for two people, a rare admission that some portions may be too much for one diner.
A quick note on fois gras.  Fois gras is a luxury food.  Is a terribly expensive ingredient, and its negative health impacts cannot be underestimated (it is nearly pure, concentrated fat). Fois gras is the liver of a duck or goose fattened by force feeding the animal corn and other high-calorie feed.  It's recent controversy has focused on these feeding practices, and concerns over animal welfare.  If you're interested, do your own research on whether you feel this is acceptable.  I would caution that based on recent trends, many states and cities have banned fois gras on the basis of animal cruelty.  I would recommend you enjoy now as it may be widely unavailable in the near future.  For me, I enjoy steaks and sausage, so I deliberately avoid learning more about how they get from the farm to the table. 
The restaurant is immensely popular for locals and travelers alike.  As such, we emailed our hotel, the fabulous Le St. James, whose dedicated concierge worked the phones for about a week before securing bar seating for two, prime viewing for the goings on in the kitchen. We arrived at 6:30PM after a lengthy drive from Niagara Falls and about a half hour spent looking for parking.
We selected four items for our dinner: the French onion soup, the tomato tart, the roasted pig's shank in maple syrup glaze (that night's special) and the famed Duck in a Can.  The soup was stellar.  The broth, typically made with beef stock, was in this case made with bacon stock.  I had never heard of bacon stock before, and it is as amazing as it sounds.  Further, the giant chunks of fatty roasted bacon also made this a must-try soup. 
The tomato tart was a nice puff pastry with bechamel, roasted tomatoes and olive oil.  In any other setting, this would be considered a rich dish, but it was surprisingly the lightest thing we had that night.  Almost refreshing.
The roasted pig shank was drenched in a maple syrup-based sauce and roasted in a brick oven for what must have been days.  The meat was so tender it fell off the bone.  It may sound sweet, but it was perfectly balanced and sat high upon a mountain of sauteed onion mashed potatoes.  As the photo indicates, this was a fatty dish.  We finished about half of it. For scale, that's a beer glass behind the plate, which is about a foot across.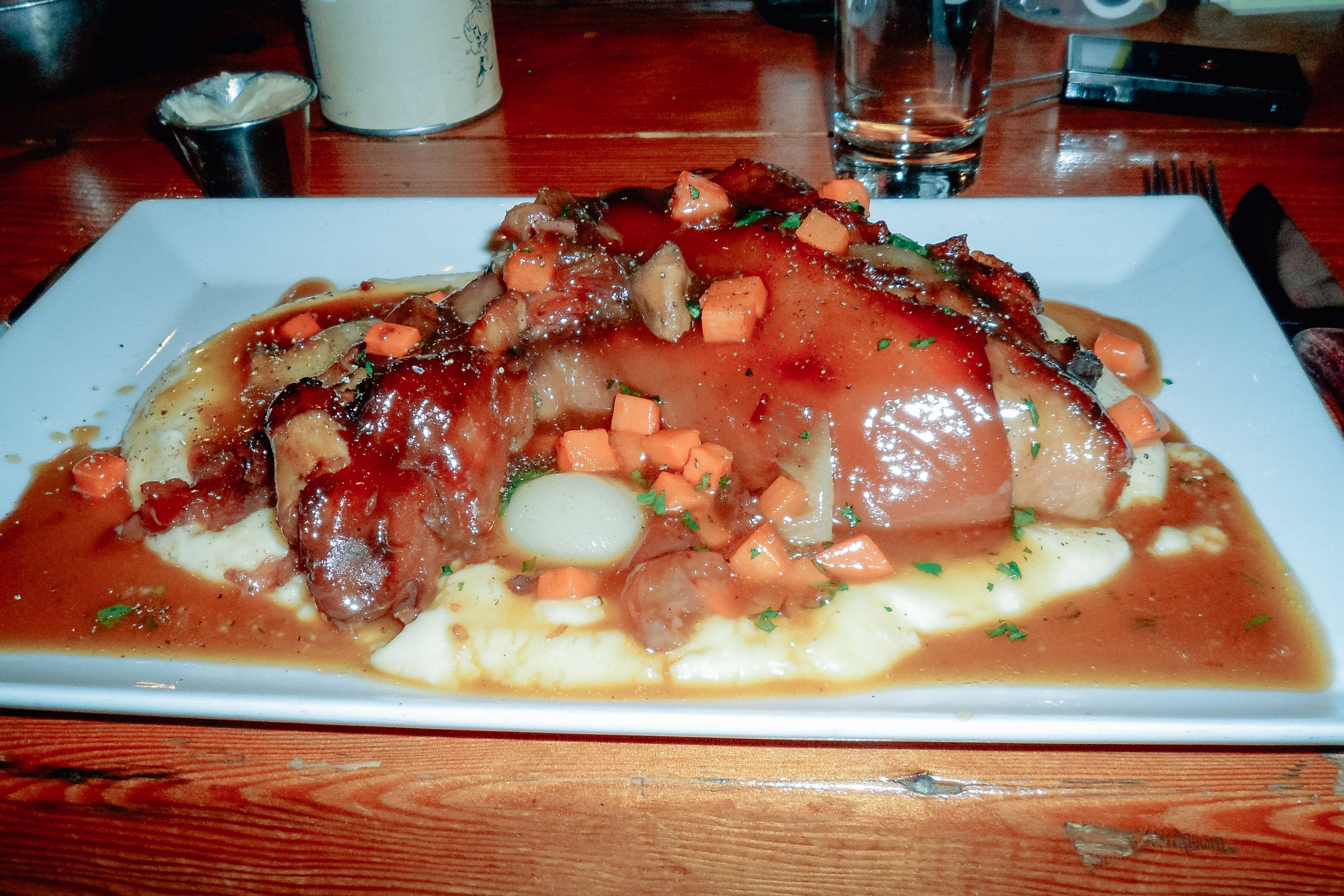 The roasted pig shank and maple syrup glaze
Finally, we had to try one of PDC's most famous dishes, duck in a can.  The preparation is fairly straightforward.  An immense duck breast is filleted open and a giant slab of fois gras is inserted between the breast meet and the fat cap.  Those two items, a balsamic glaze, cabbage, thyme and I'm sure other fats and oils are sealed inside a soup can.  The can is then cooked in boiling water for exactly 27 minutes.  Once removed, a label is applied and the can is brought to your table and opened (rather unceremoniously) atop a giant slap of country bread mashed potatoes.  Plop! Duck in a can.
Here's picture of the can, and short video of the serving.  I've also included a before and after picture of Jessica's conquest of Duck in a Can.  Enjoy!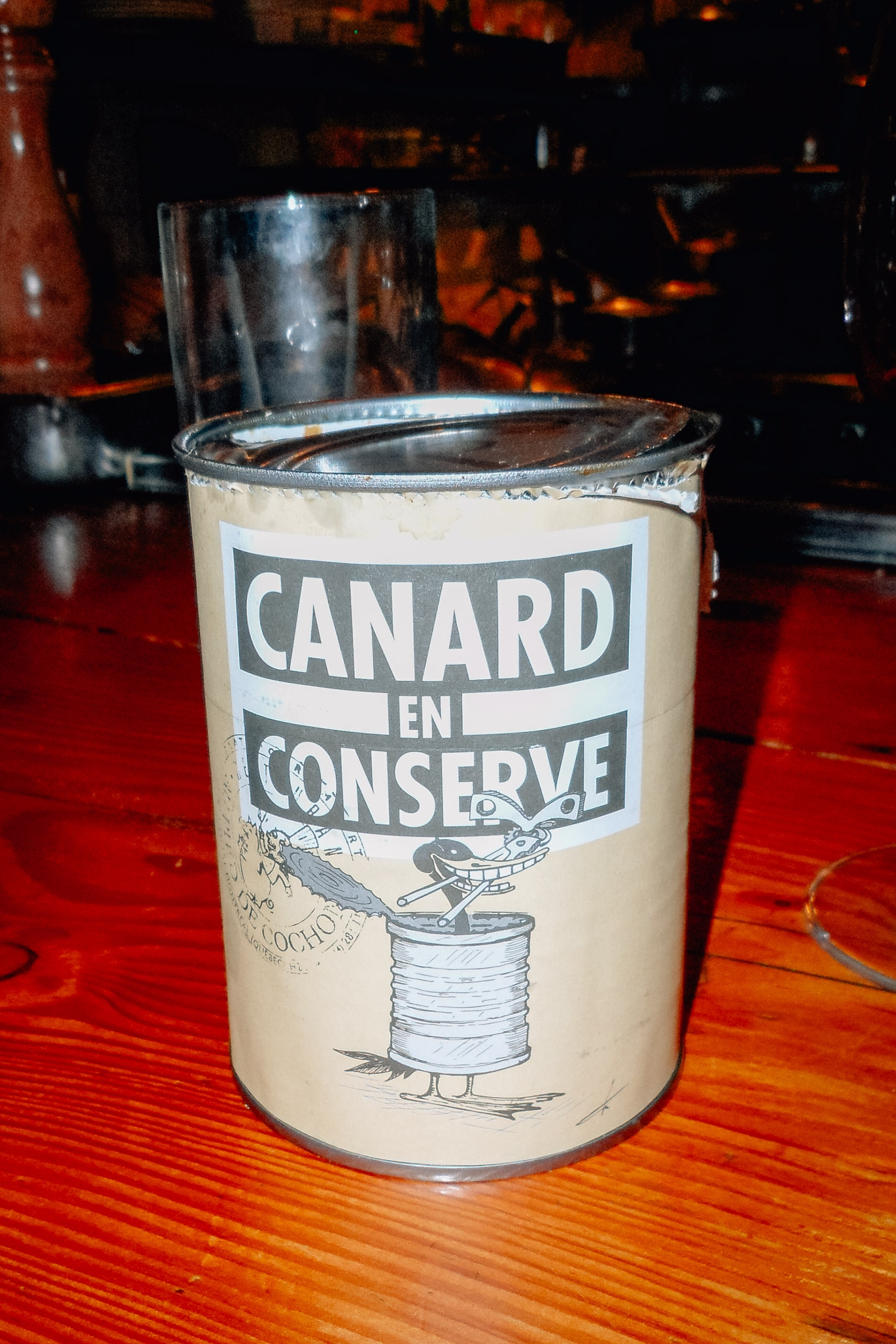 The Duck in a Can
Serving the Duck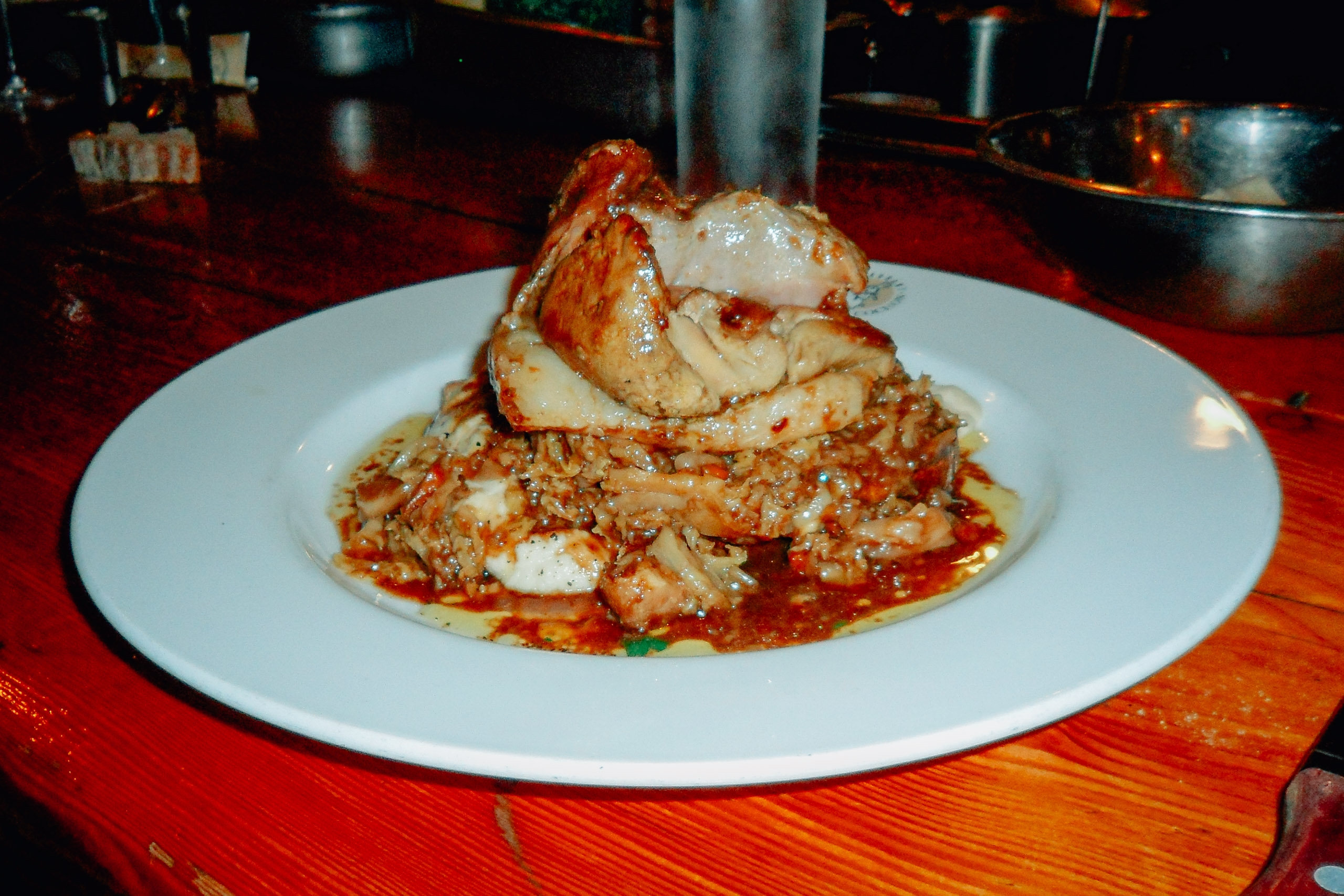 The entree unveiled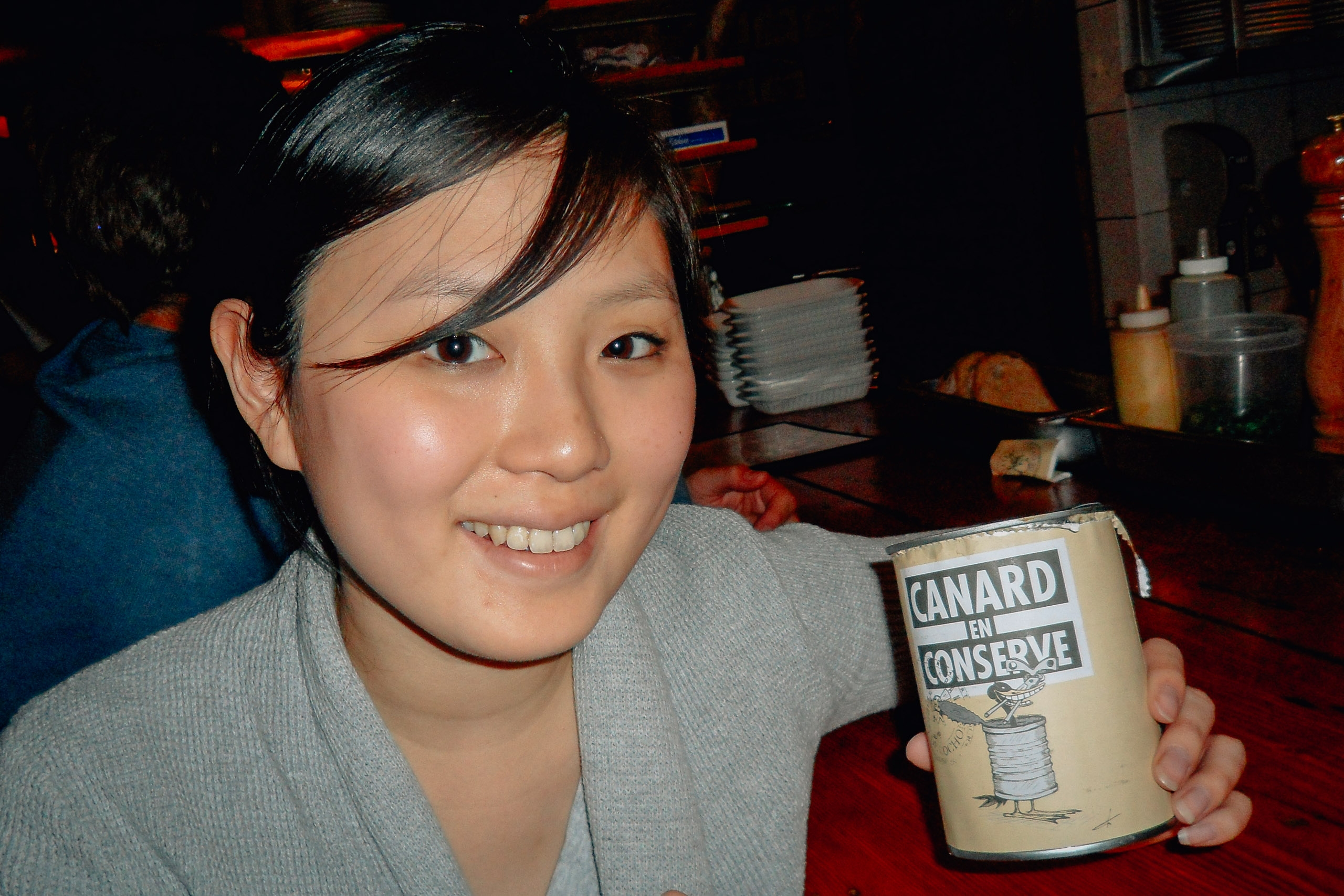 Duck in a Can: Before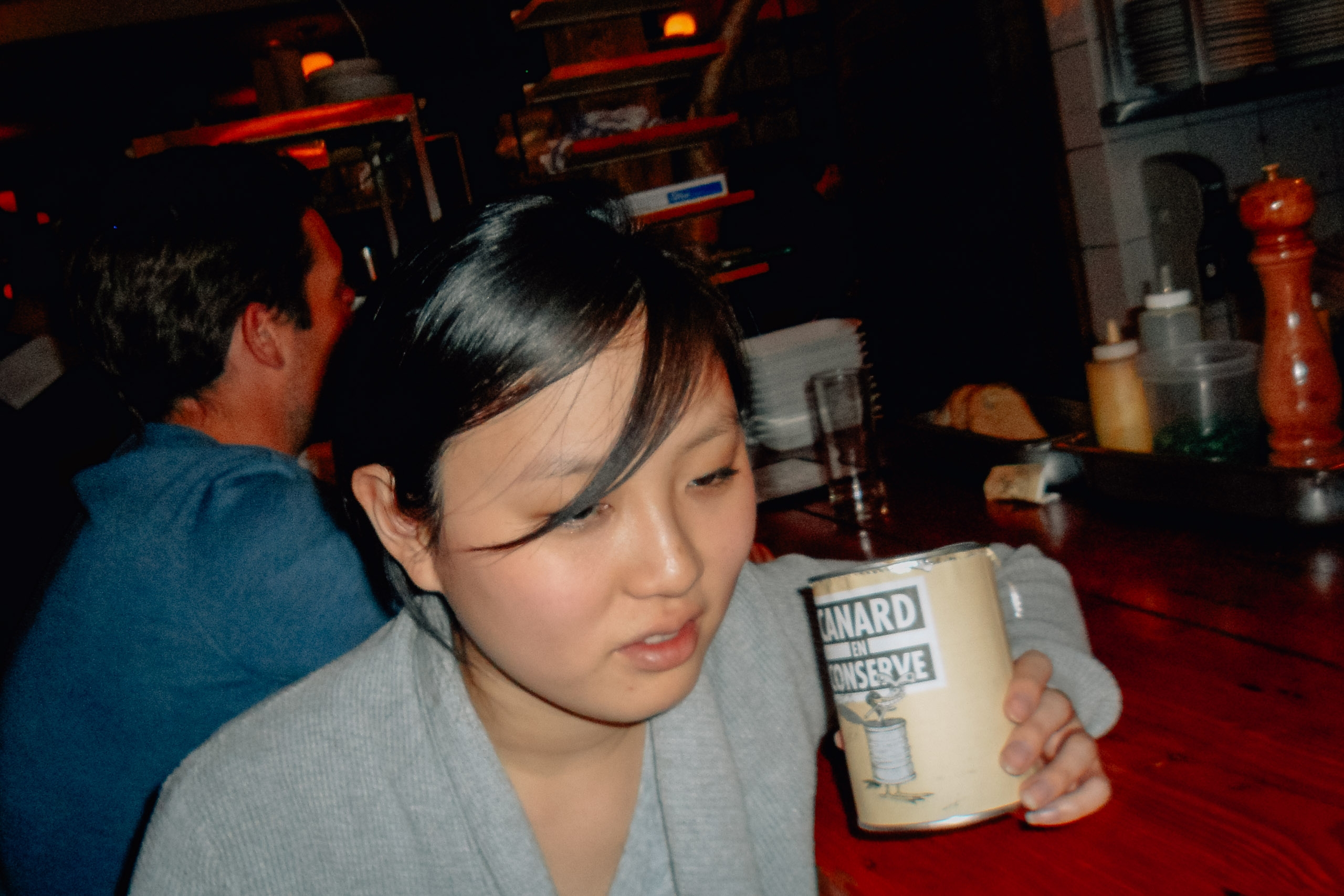 Duck in a Can: After
Editor's note: The before and after photos are a dramatic recreation of the night's events.