The Veuve Clicquot Polo Classic
June 03, 2012
This past Saturday we attended the
Veuve Clicquot Polo Classic
on Liberty Island off Manhattan. I don't know much about the sport of Polo. Any sport that includes owning a horse among its prerequisites is likely not one I did much as a kid (and I thought going to tennis camp was fancy). The Polo Classic is a exhibition to promote the sport, but its also an event to promote drinking champagne in the sun, and for getting dressed up in fancy weekend clothes, big crazy hats and looking like you're attending the Derby. From a sartorial point of view, this event rivals the
Governor's Island Jazz-Age Lawn Party
as a see and be-seen fashion event.
Bill Cunningham
was on hand to photograph matchgoers as they boarded the ferry from Battery Park.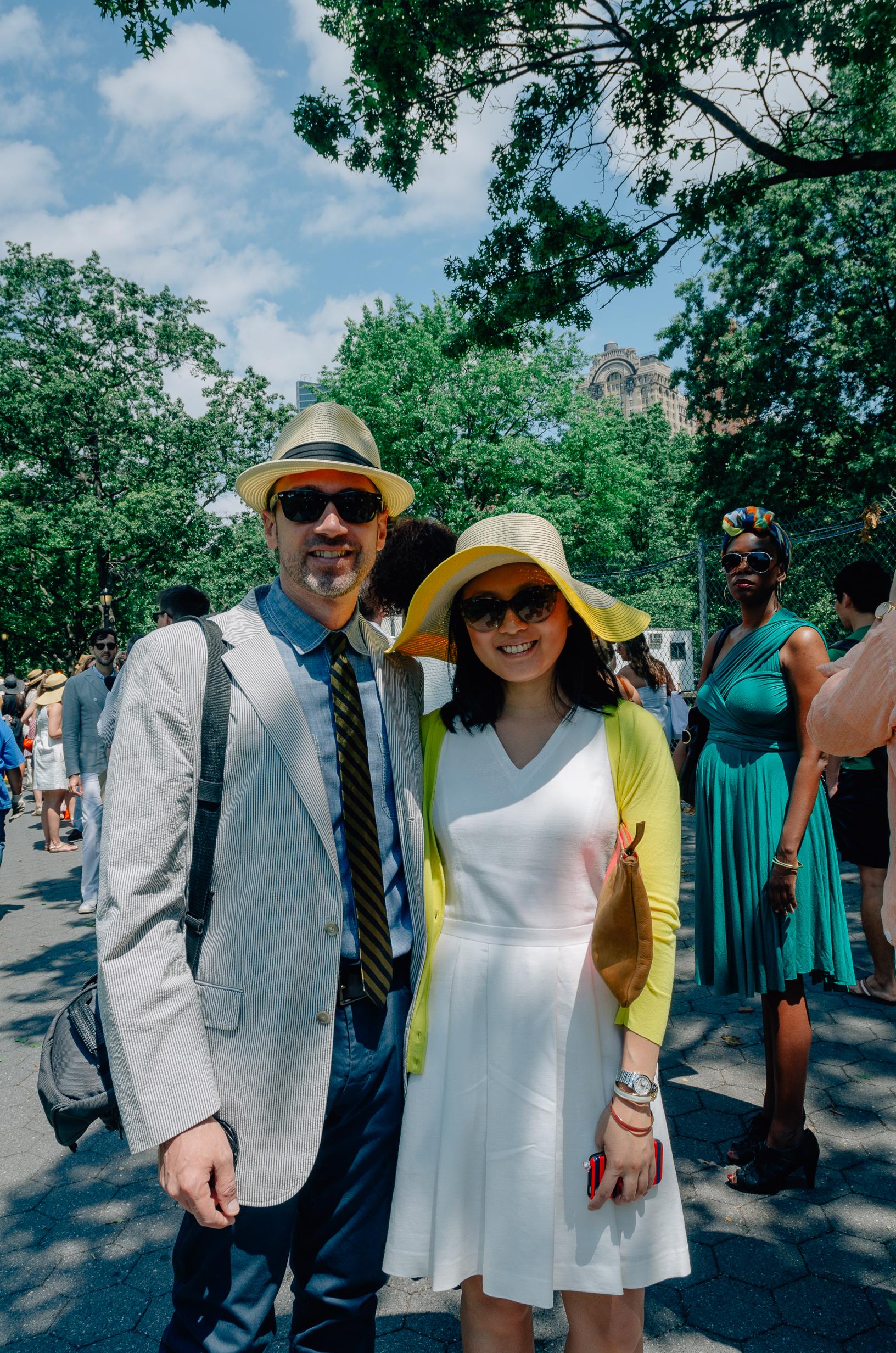 Waiting for the Ferry in Battery Park. Photo not by Bill Cunningham
Arriving on Liberty Island, between Ellis Island and New Jersey, you walk about a mile from the ferry dock to the polo grounds. As the event's main sponsor, Veuve is on hand selling champagne, food and lots of Veuve-branded novelty items. We bought a picnic blanket, because we needed one, a picnic lunch and a bottle of champagne to enjoy before the match.
Jessica pours some champagne
There are stars in the sport of polo, and none bigger than Argentinian Nacho Figueras. I'm not sure if he's the top-ranked polo player in the world, but he's among the top three for certain. He's probably more famous among non-polo circles for being the
face of Ralph Lauren's Polo collection
(fittingly). He's quite good at working the crowd, and also quite good at polo, having scored nearly all of his team's goals to win Saturday's match. At one point, the announcer simply repeated, "Nacho...Nacho...Nacho..."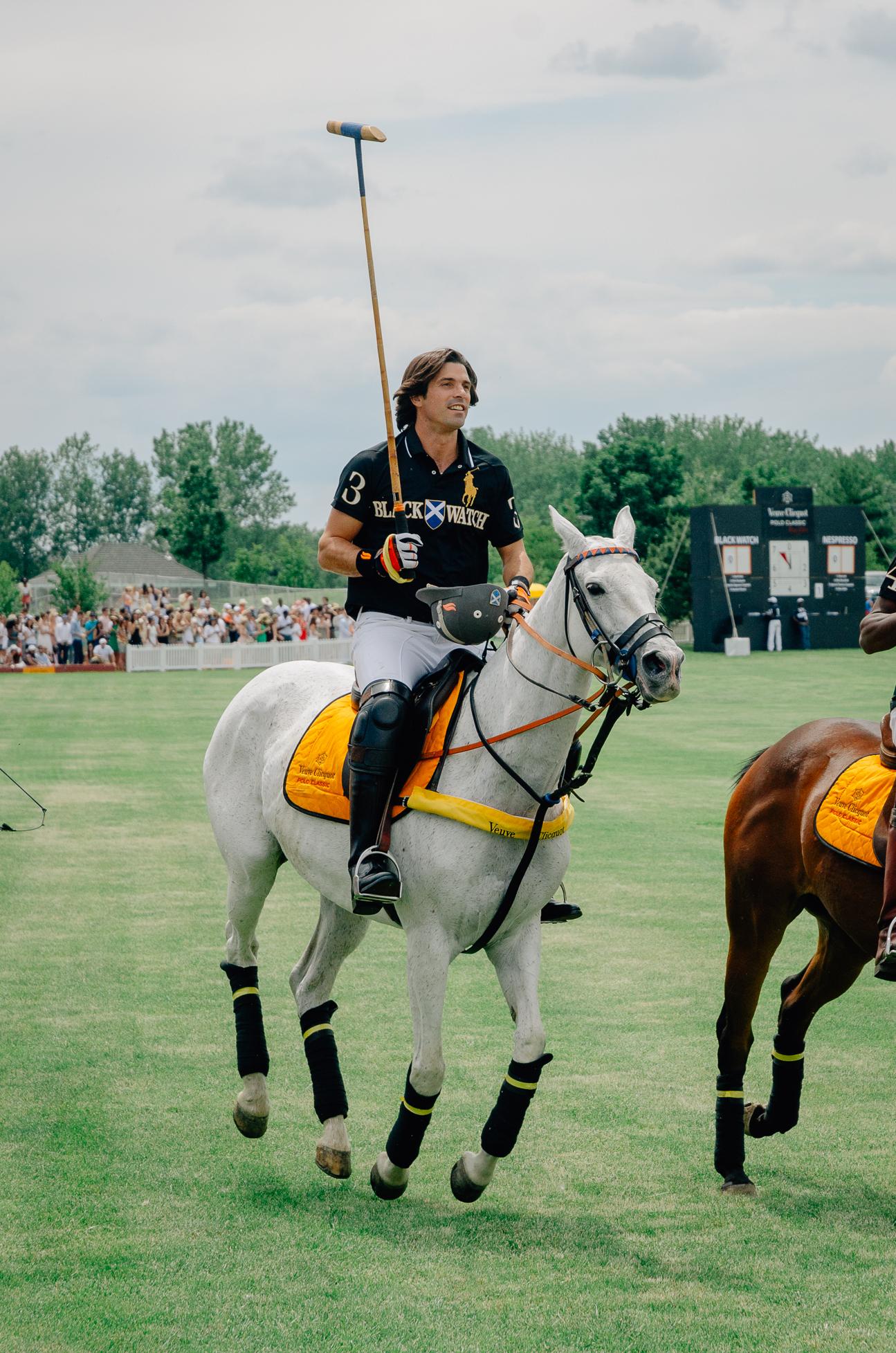 Nacho Figueras during the team introductions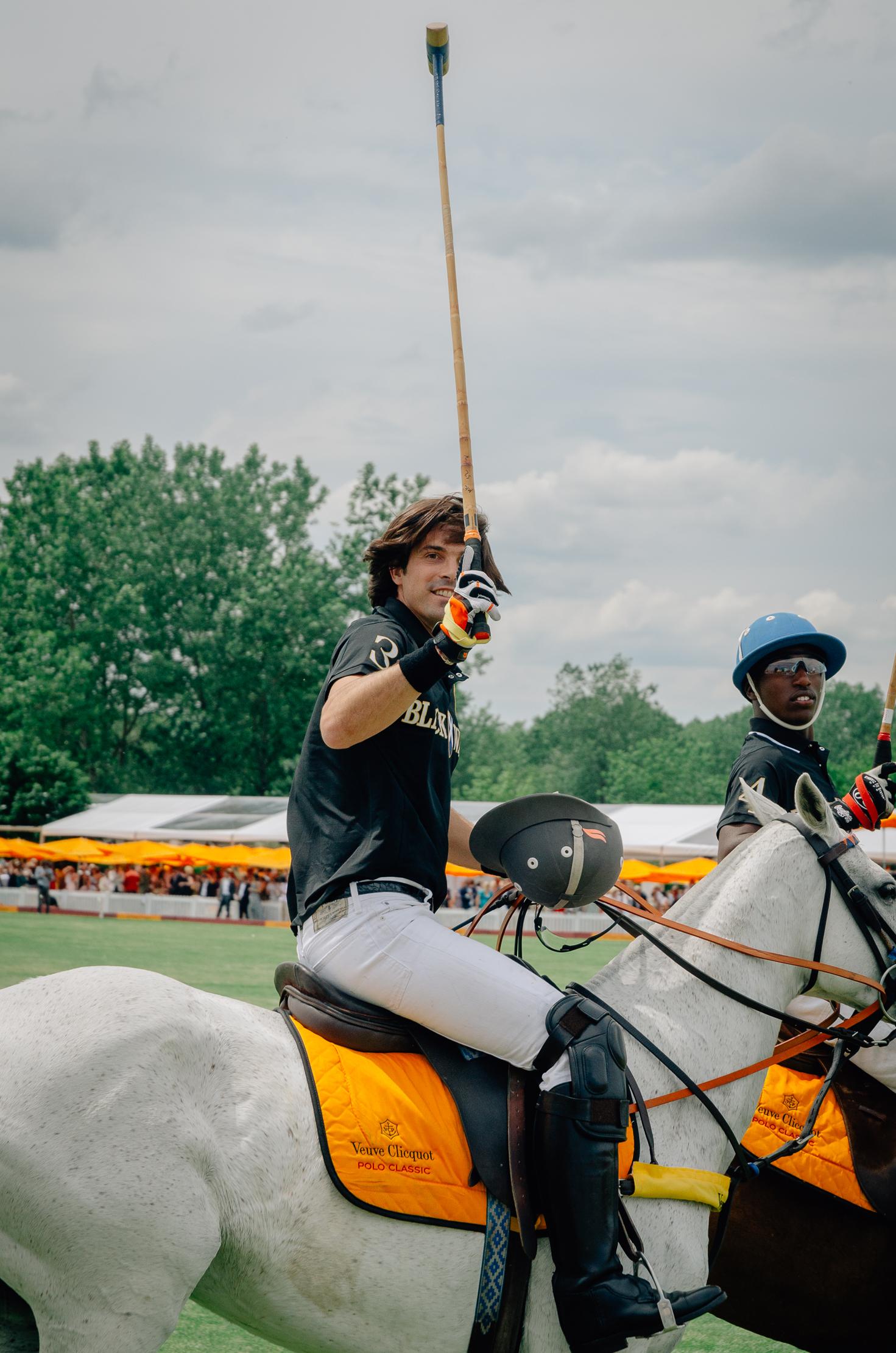 Nacho Figueras during the team introductions
This is the first polo match I've ever watched in person. Jessica has attended this event in the past when it was held in the Hamptons, and back then it was sponsored by Moet, so depending your tastes the move to Veuve is a good one. The teams consist of four players each who whack a ball through a goal using a wooden mallet while riding on horseback. Pretty straightforward. Rules require you must play right-handed (you can be left-handed, but you must hold the mallet in your right hand).
After scoring a goal, both teams meet mid-field to resume play
I had always assumed that this would be clumsy and awkward, but given these are among the world's best players, they made it look fluid and skillful, and incredibly fast. The field is large, but at full gallop those horses can go from one end to the other in an instant.
Chasing the ball at full gallop
Liberty Island is thusly named due to its proximity to the Statue of Liberty nearby. Lesser known than Ellis Island, Liberty Island was also a point of entry for millions of immigrants.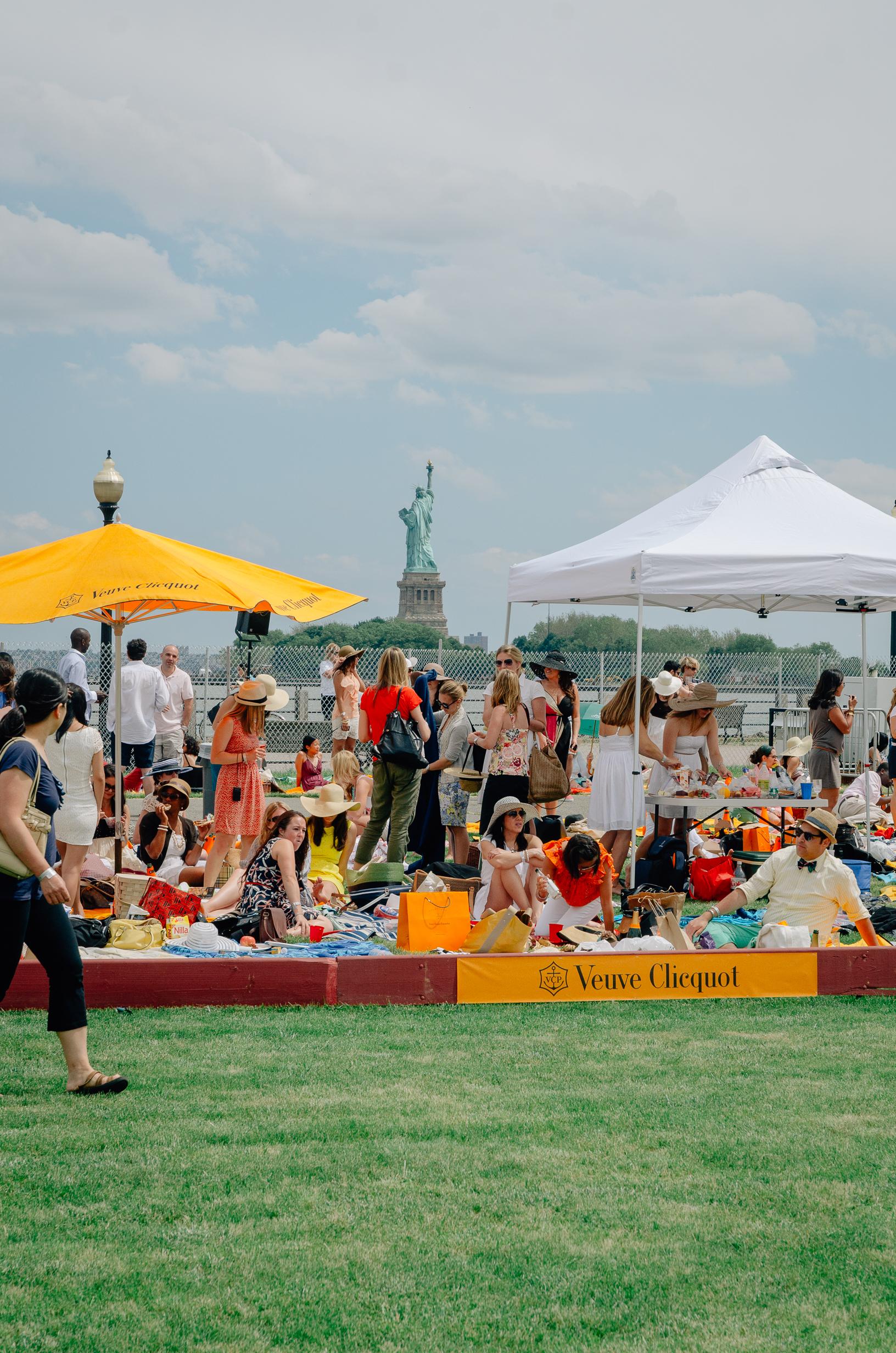 The back of the Statue of Liberty
At half time, the crowd was let onto the polo field to stamp out divots made by the horses. At least that's what the announcer said. Essentially everyone ran onto the field for the pleasure of being on the field and there were very few divots to be had.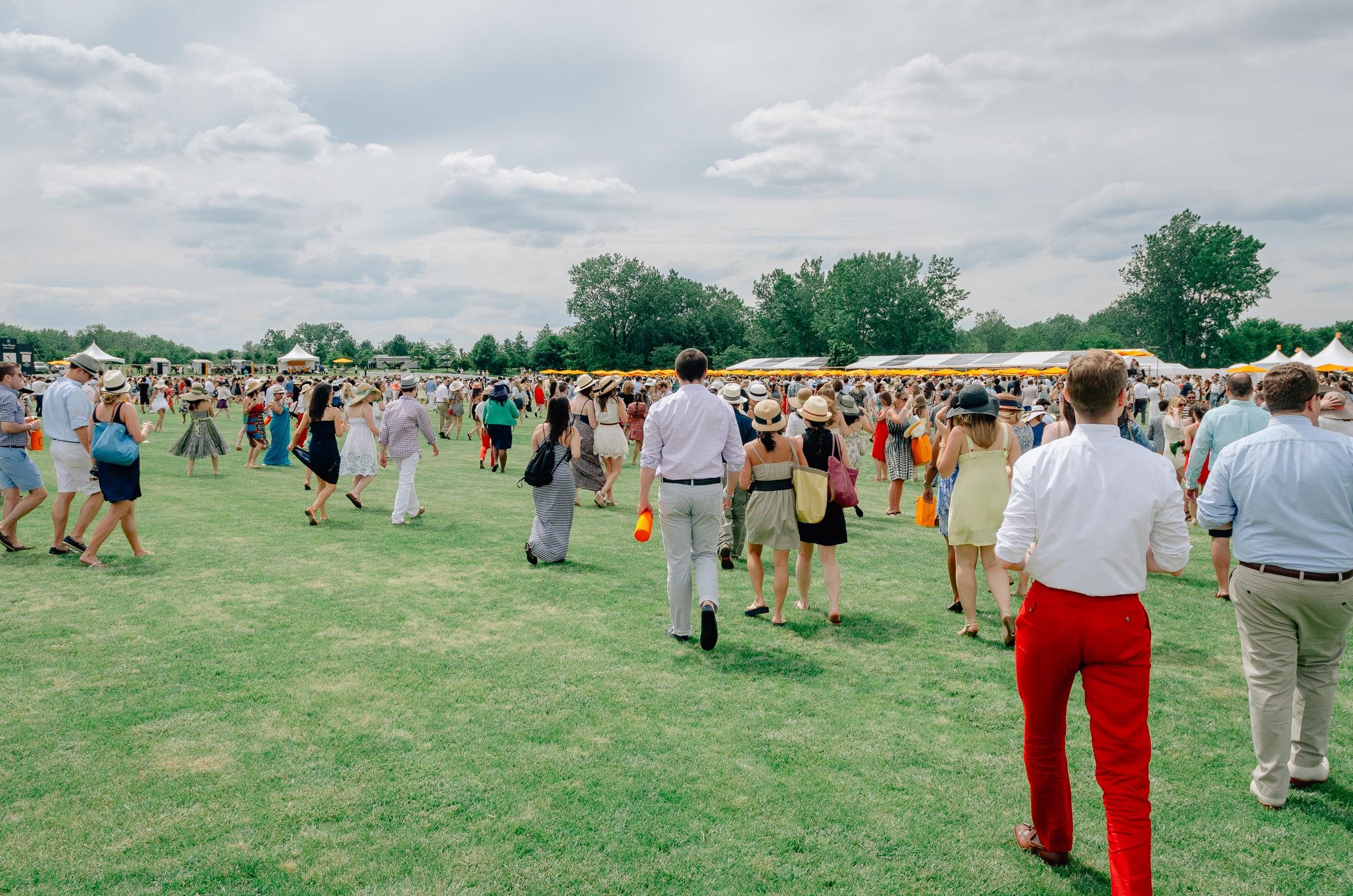 The revelry during the divot stomp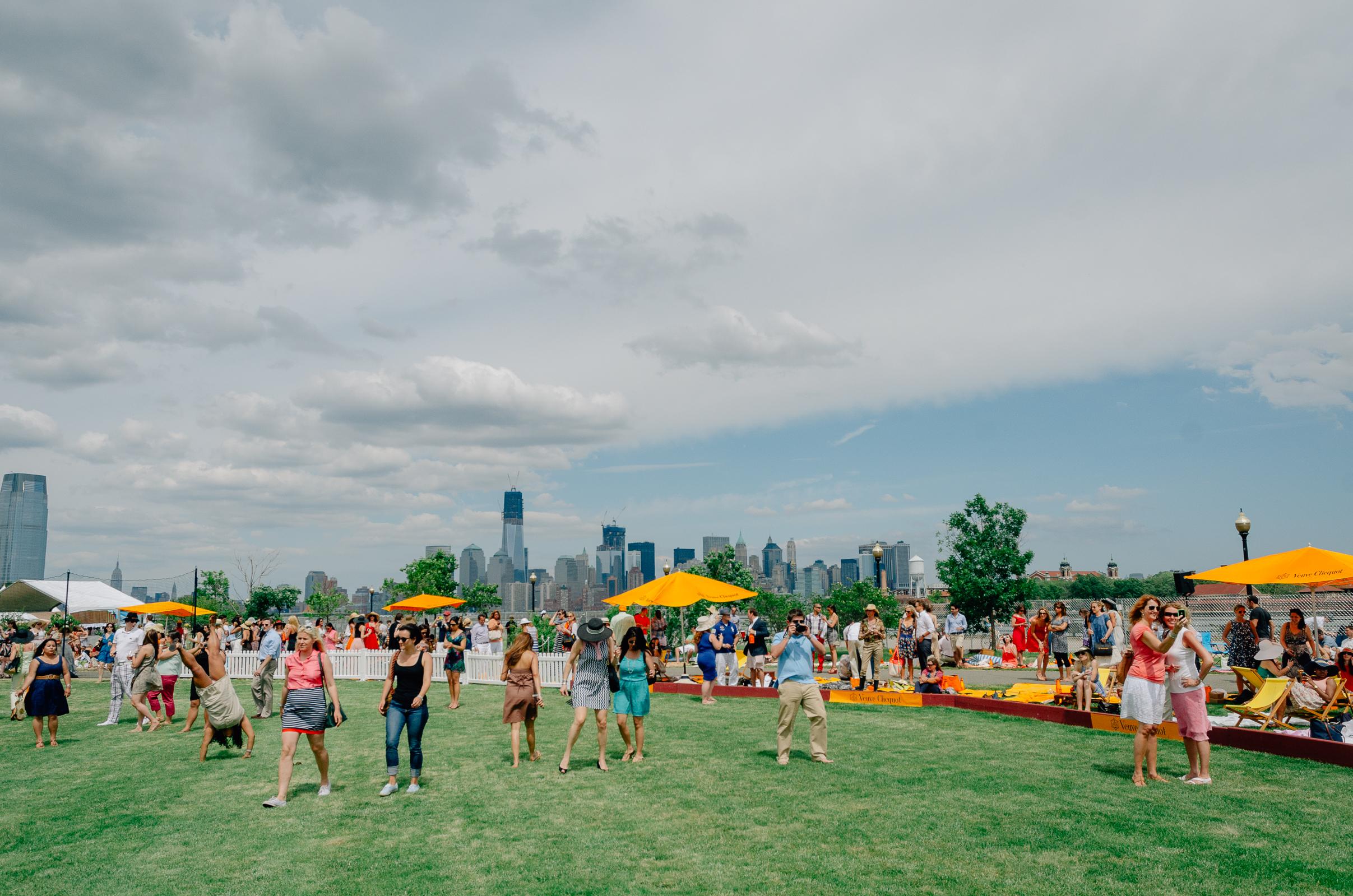 There is something very strange happening in this photo. Can you see what it is?
Liberty Island also affords great views of Lower Manhattan as seen below. One World Trade Center (thankfully no longer called the Freedom Tower) recently surpassed the Empire State Building as the tallest building in New York City, on its way to 1,776 feet in height. I'm sure you'll recognize the significance of that number.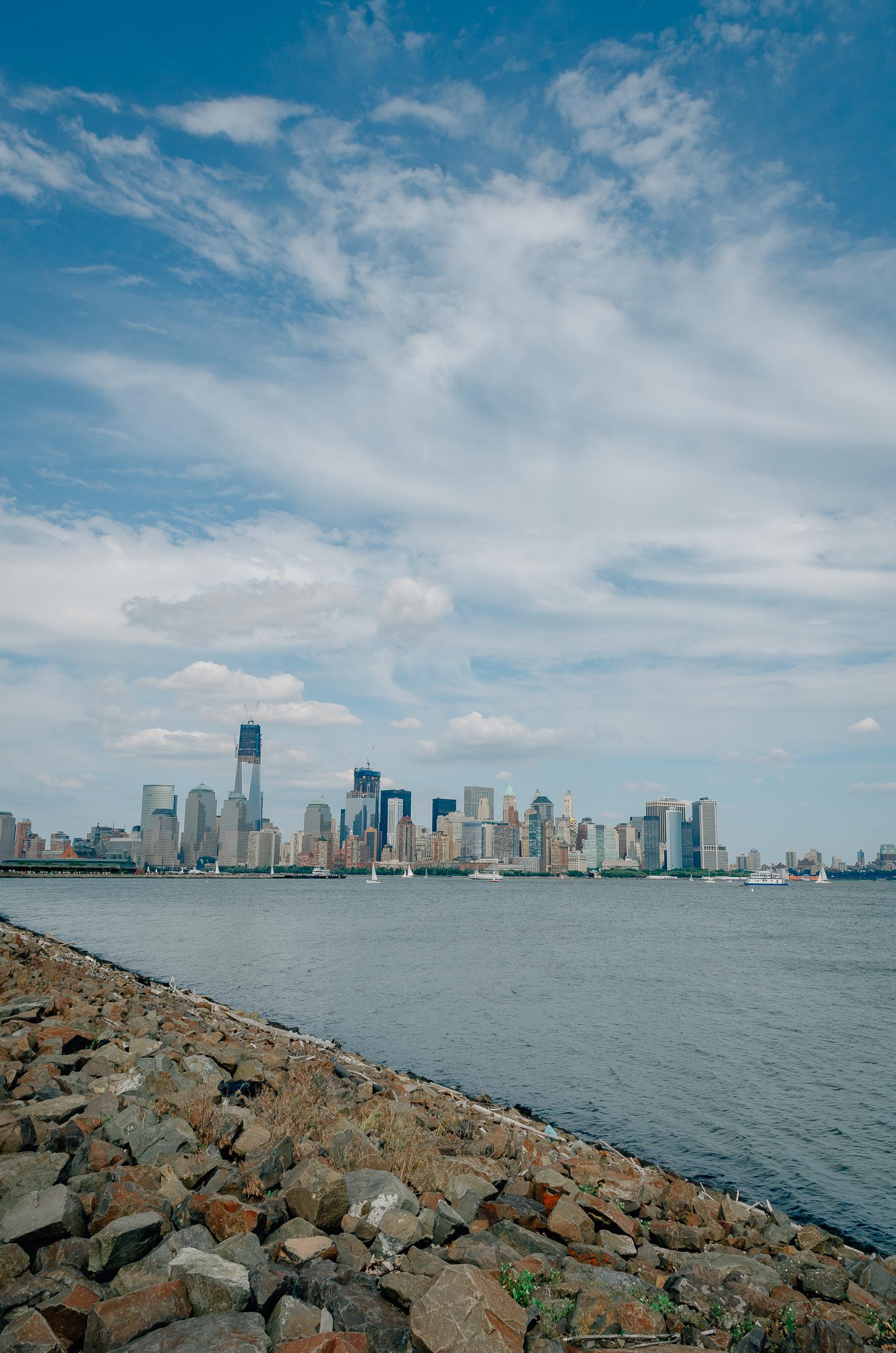 Lower Manhattan from Liberty Island
Like anything in New York, this event included lines. Lines to board the ferry, lines to buy champagne, lines to return the ferry. I guess in a city of eight million people, things do always happen at once.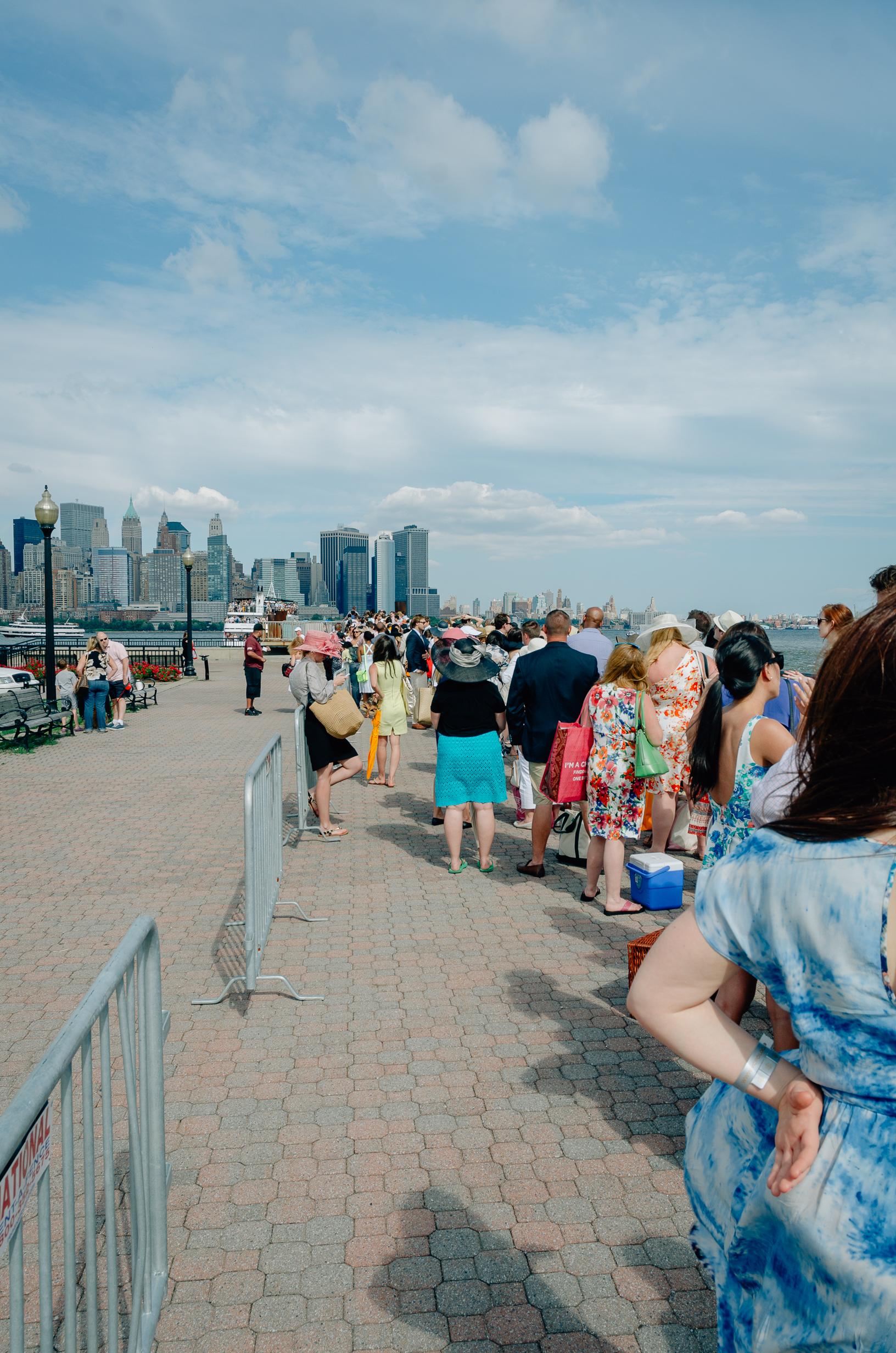 Waiting to board our return ferry
By the time we returned to Manhattan, the clouds and threat of rain had almost entirely dissipated. I now have a watchtan to prove this point. The event was a fun one, and one I suspect we'll see again next year. I'm not much into polo, but I'm very much into champagne picnics and afternoons spent lying around in the park.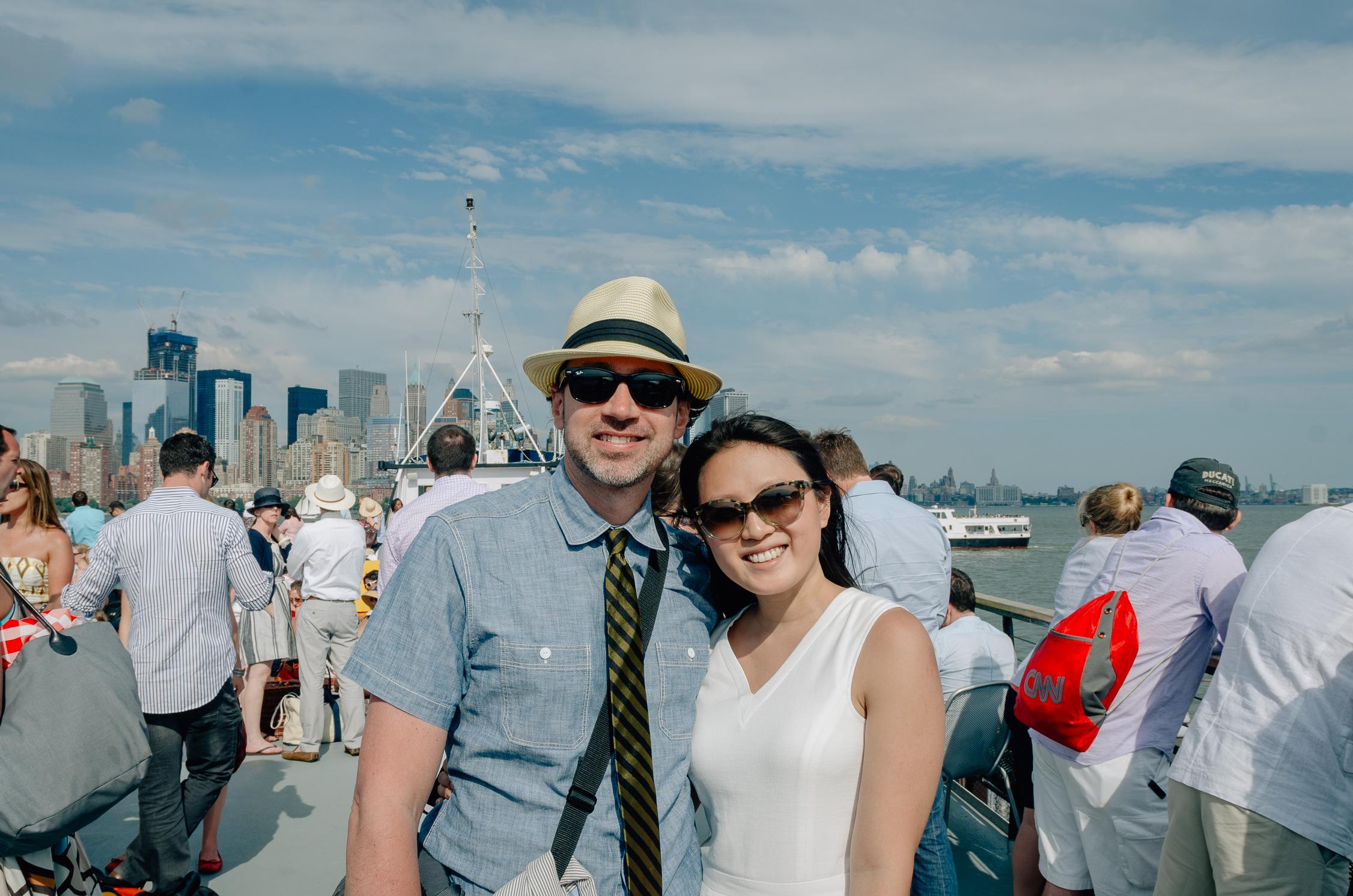 On the ferry back to New York. Photo not by Bill Cunningham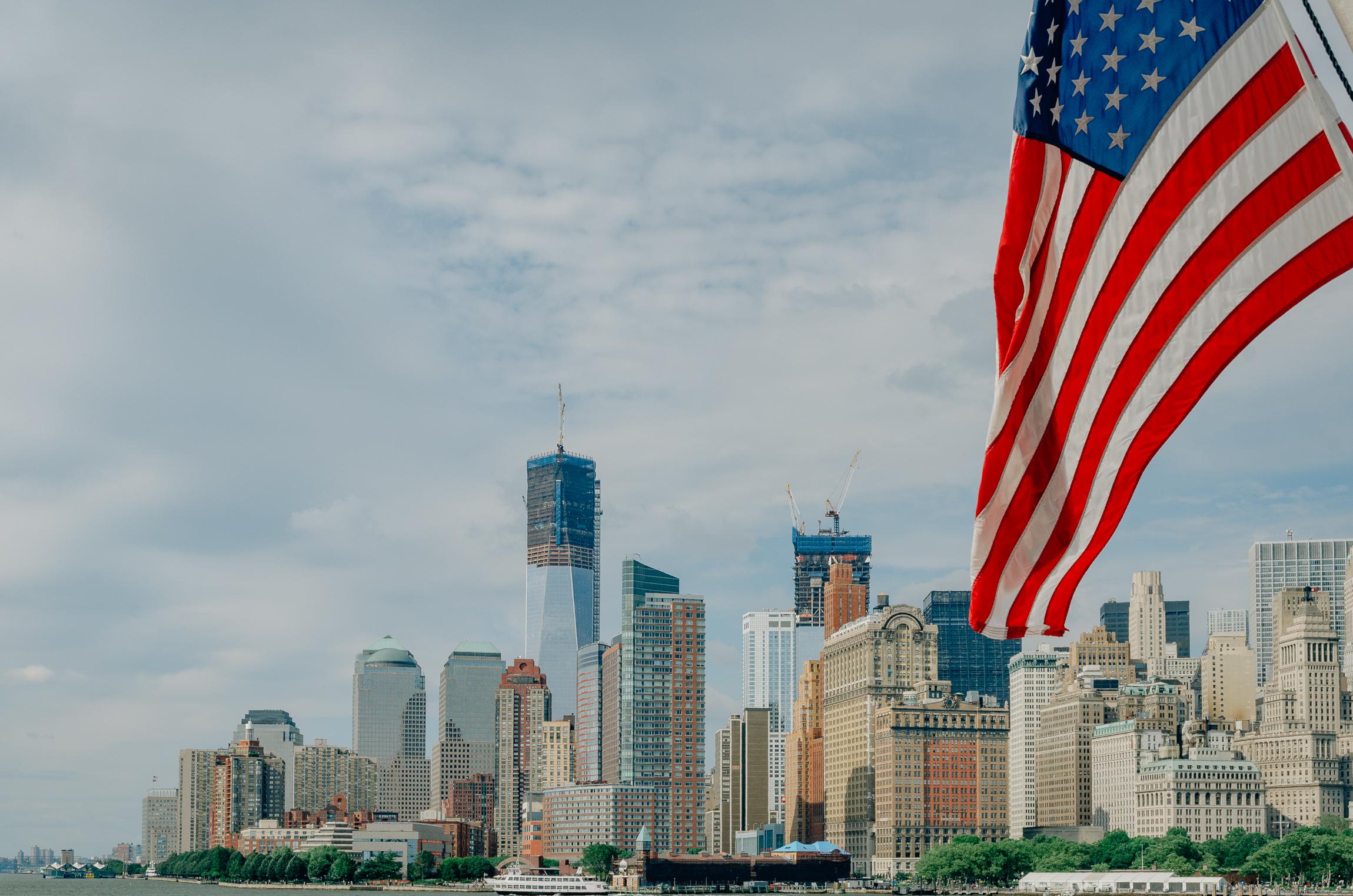 Lower Manhattan from the ferry
Photographer's note: one of these photos was taken with an iPhone. Can you tell which one?