A Day at the US Open
September 06, 2011
Yesterday we spent the entirety of our Labor Day Holiday attending the US Open in nearby Flushing Meadows outside of Queens. Jessica is a die-hard tennis fan and has gone for years, but this was my first time attending. The tournament lasts two weeks and features the best players in the world competing in an enormous single-elmination bracket for singles, doubles and juniors. Once the seeding is announced before the tournament, its impossible to know in advance who will be playing on what day, so buying your tickets can be a bit of a gamble.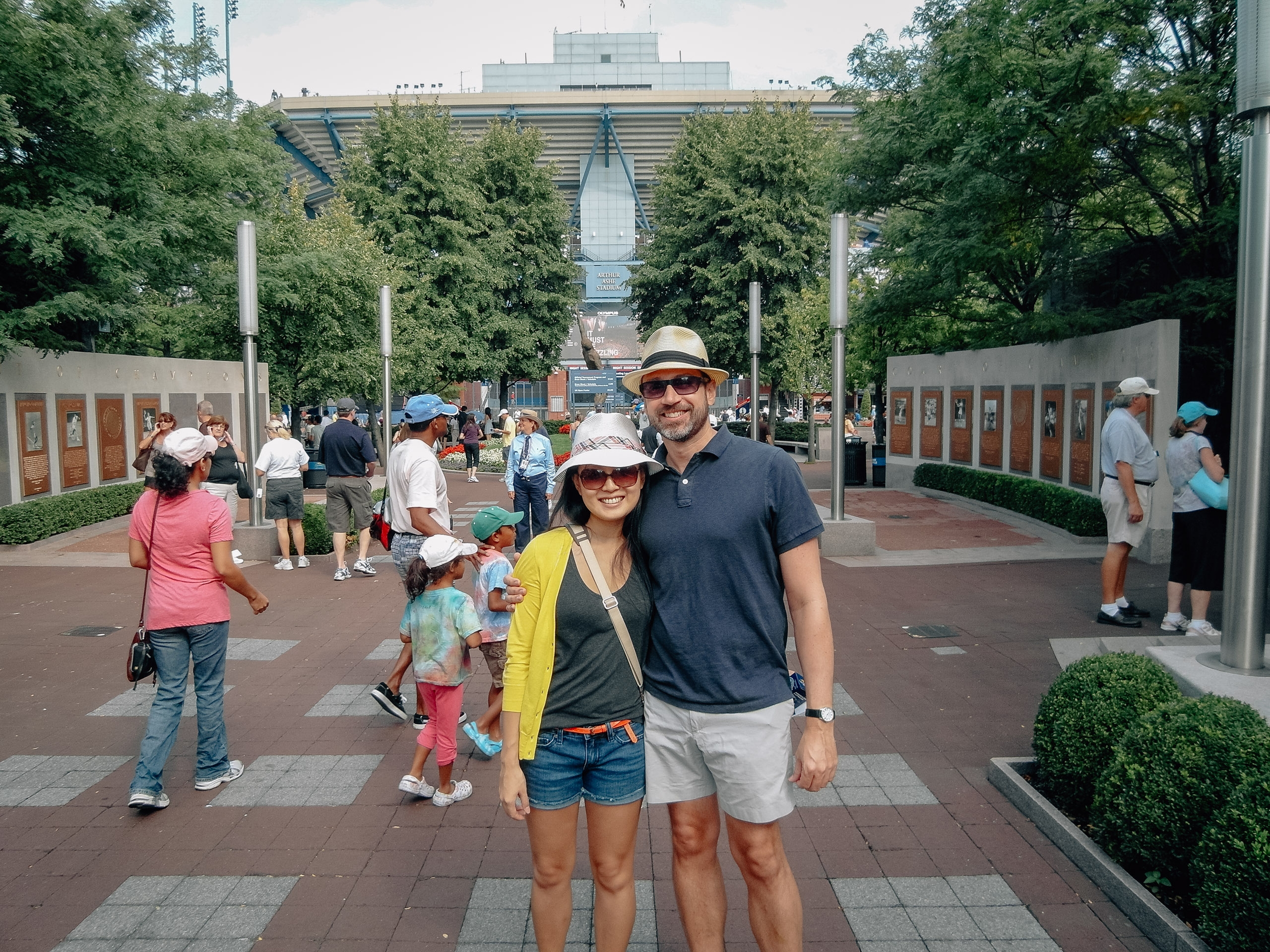 Jessica and I just inside the gate. I'm glad I wore that sun hat
Tickets aren't terribly expensive, but they can be if you choose to see a night match at the main court, Ashe Stadium. Typically the best players play in the evening at this court, and its the only venue in the US Open grounds that isn't open to general admission ticket holders.
Tickets were selling out quickly, so we bought general admission grounds passes for Labor Day, and hoped for a good schedule once it was announced on Sunday night, and for great weather the following day. To our luck, and against convention, Djokovic was scheduled to play at Louis Armstrong Stadium at 1:00PM; a rare opportunity to see the top-ranked player in the world compete for a spot in the quarter-finals in pursuit of the Grand Slam. We were also fortunate that the forecasted rains never came, nor was it dreadfully hot as it can be in early September.
We read the USTA's extensive FAQ and determined we pretty much couldn't bring anything. A camera with an interchangeable lens is considered "professional equipment" so we opted to bring our little Samsung point & shoot. It takes fine pictures, but I saw hundreds of people with cameras fancier than my Nikon so I was a little bummed I didn't bring it along (although thankful for not having to carry it around).
We met up with our friend Roger and left the apartment around 9AM, took the N/R subway to Times Square where we transferred to the 7 Line for the 30 minute ride to Queens. The US Open courts share a parking lot with CitiField, home of the oft-beleaguered Mets. After clearing security, we got inside the gate around 10:30 and headed straight to Armstrong Stadium. Because Djokovic was playing at 1, we knew the stadium would fill up quickly with general admission ticket holders such as ourselves. In fact, many of the premium ticket holders at Ashe Stadium left that match to try to see Djokovic play.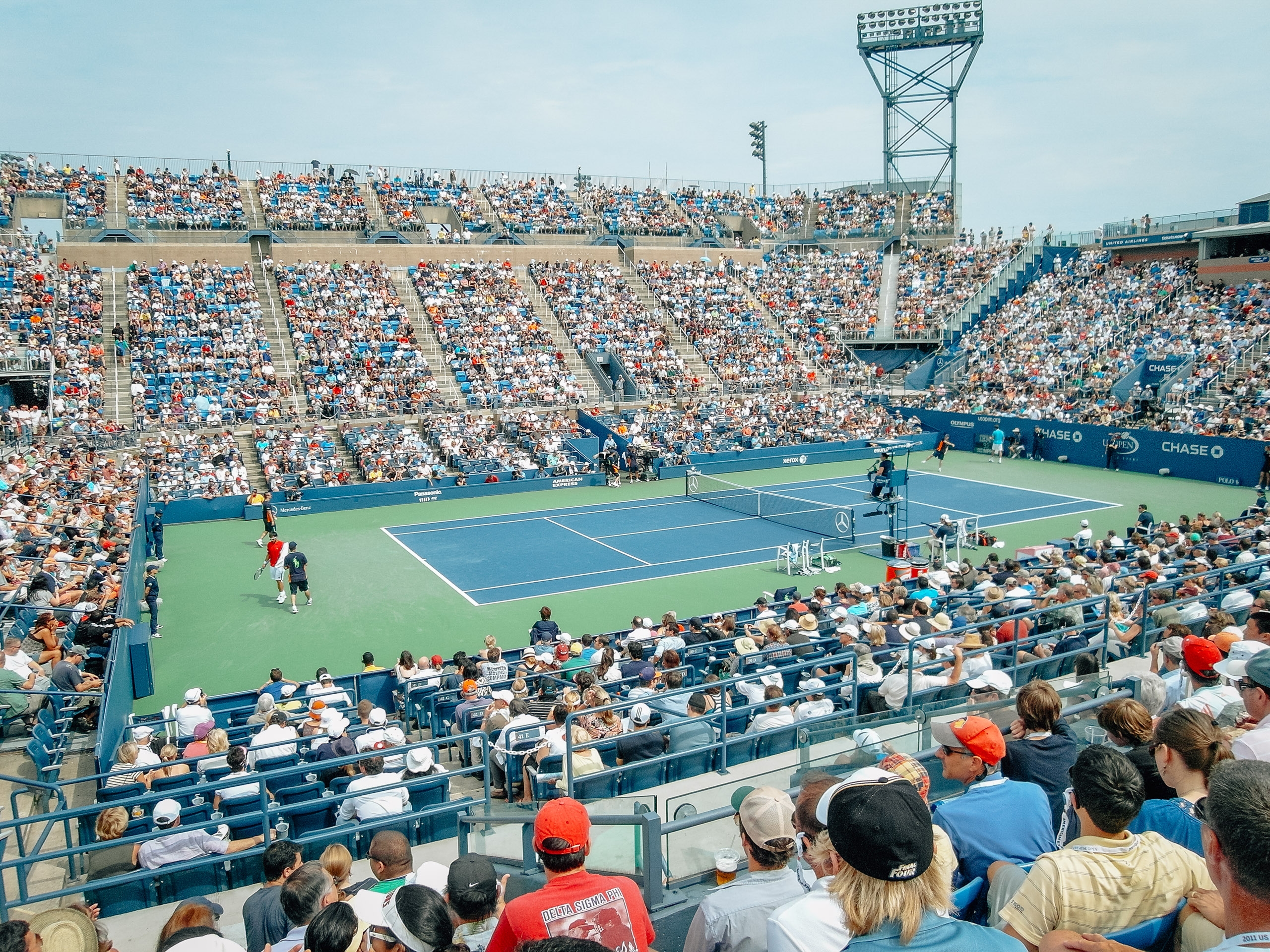 Great seats on a mostly sunny day in Armstrong Stadium
We got great seats and settled in to watch an 11AM match between Serbian Janko Tipsarevic and Spaniard Juan Carlos Ferrero. Our plan was to wait out this match ahead of the Djokovic/Dolgopolov match later. I've not watched a lot of tennis, but I've never seen two more perfectly matched players than Tipsarevic and Ferrero. I can't recall either player scoring more than one consecutive point. They went point for point, game for game and set for set for over three hours forty five minutes. Because their seeding was so lopsided, we figured this would be quick but it was one of the longest matches I've ever sat through. Thankfully it wasn't terribly hot, but we missed lunch because if you left to get food you risked not being allowed back in as huge lines were queueing to watch Djokovic play (the lines were approaching two hours).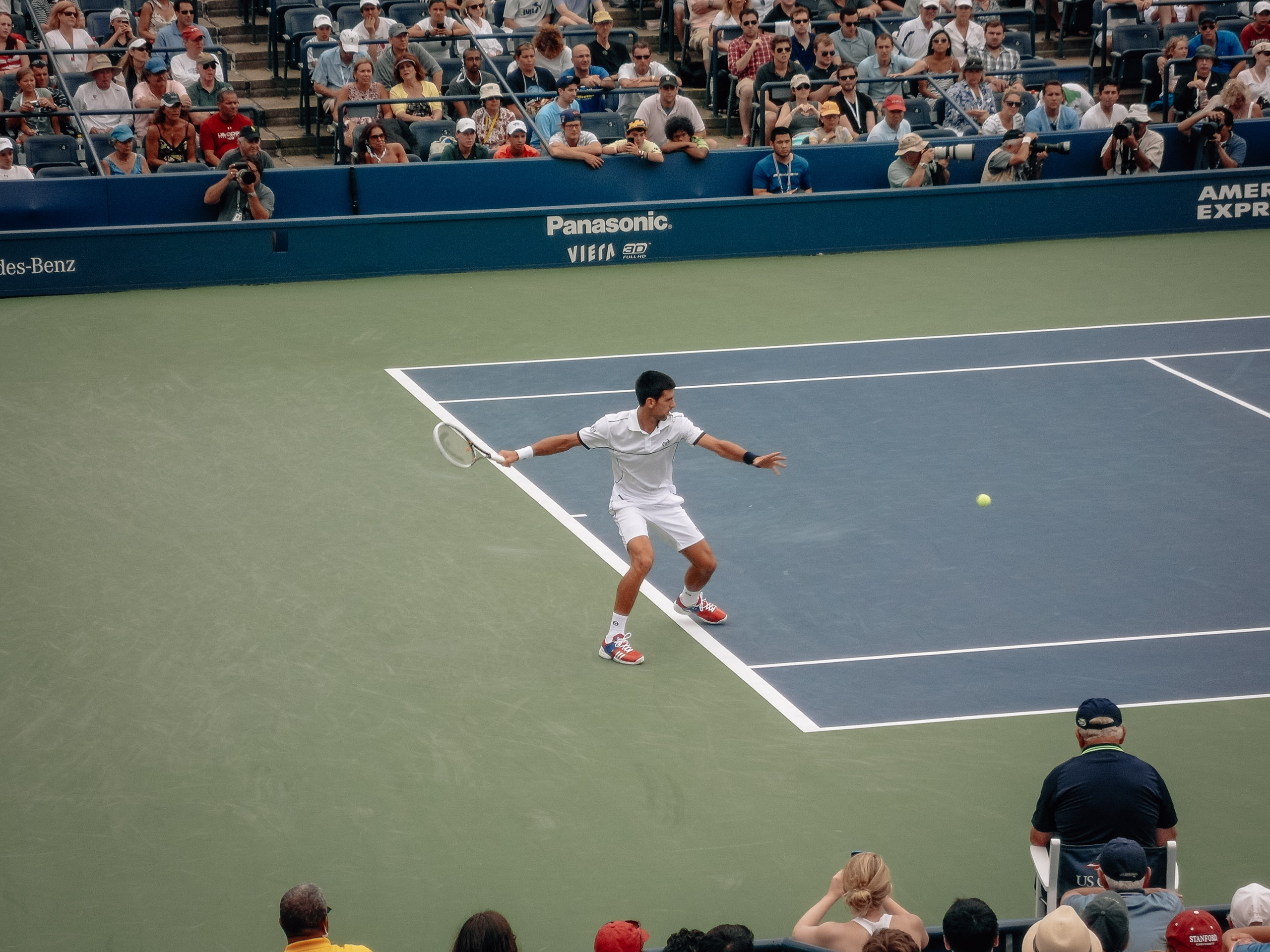 Djokovic returning a serve
Tiebreak point number 24. Somebody please win already
The Djokovic match started out very exciting. Like the previous match, both players seemed equally matched and the play was furious and fast-paced. They went to tiebreak at the end of the first set; players alternate serves and the first to score 7 points (by a margin of 2) wins. The tiebreak went a half hour with a total of 30 points scored, before Djokovic eventually won 16-14. The next two sets went handily to Djokovic and we finally left the stadium around 5:30 to get some much-needed lunch.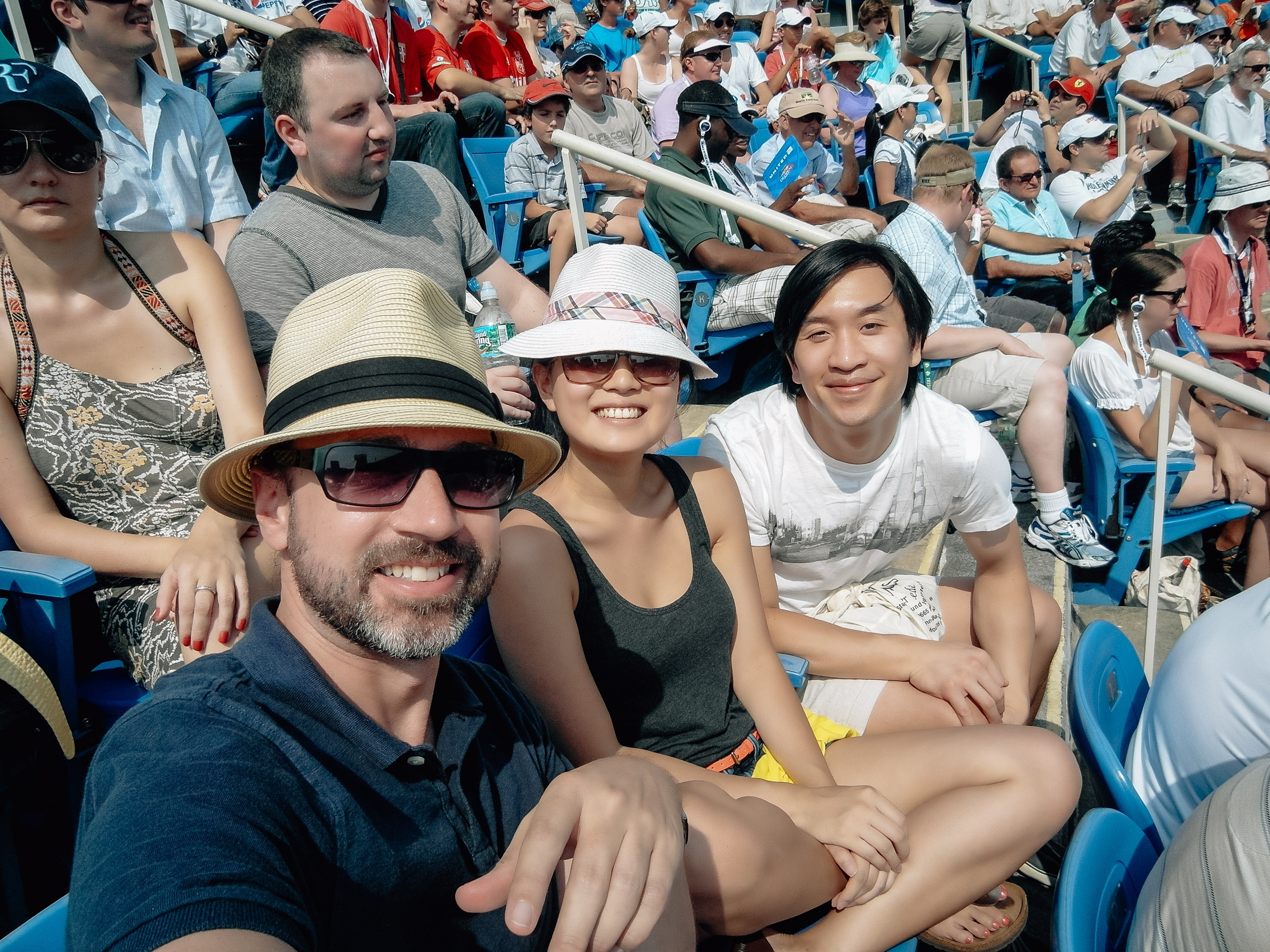 Me, Jessica and Roger (delirious from a lack of waffle fries) cooking in the sun
The grounds of the US open consist one main stage, Ashe Stadium, and a lesser stage, Louis Armstrong Stadium, then a bunch of other courts, surrounded by expensive shops, pricy beverage stands and a run-of-the-mill food court not unlike any amusement park or sports stadium. That said, after several hours in the sun with no food, the meal we had, despite the chicken being dangerously undercooked, was delicious.
We stuck around for a while into the evening, watching some doubles matches and a few juniors events before deciding to head home. The evening matches went really late, and Federer didn't start his late game until 11:50PM.
Overall, the US Open experience was a blast and one I highly recommend. I haven't bent to too many professional sporting events in the past year, and it was great to see some of the world's best players in person. The past few years we've been traveling during this time, but going forward I think we'll make this an annual tradition. If anyone is interested in going with, feel free to drop me a line.