Lightning over New York
August 19, 2011
This past week has seen scattered thunderstorms all around New York City. Thursday night around 10PM, I decided to go up to the roof to try to photograph the storms. It was windy, but the most inclement weather was far to the north and to the west. It wasn't raining, so I set up my tripod and went about my first attempt at photographing lightning.
A lightning strike over northern Manhattan (click to enlarge)
There are numerous challenges to photographing lightning. Its usually pouring down rain, hailing, gusting wind and so forth. Funny how that works. Weather conditions aside, the trick is to have your shutter open during that rare instance when a brilliant lightning flash occurs. I used to think this meant getting everything set up, then waiting to press the butting at just the right moment. However:
"
A bolt of lightning! Unfortunately, you never know when or where it's ever going to strike!"
- Dr. Emmett Brown
To back up, its actually not that hard. You'll need a camera whose controls you can set manually, a tripod, a lot of patience and a little bit of luck. Set up your camera in the position where you think the storms will be. Set the camera to a full manual mode (except focus), and choose a long, 15-30 second exposure time. If there's a great deal of ambient light around you, for example if you are in New York City, you'll need to set a very small aperture to keep from over-exposing the frame. The gist of the drill is to open the shutter for 15-30 seconds and hope some spectacular lightning happens during that time. Do this over and over until you capture some great lightning strikes, or storm moves on.
Practically, there are some limitations to this approach. Last night, without fail, the sky would light up just after the shutter had closed or just before the shutter had opened. This happened at least 10 times and was very frustrating. I have dozens of unremarkable night photos of the city with no weather.
To improve my chances, I used the camera's intervalometer to take a 30 second photo every second, repeating 10 times. After the tenth shot, I might re-point the camera, zoom, etc., but this approach assured the shutter was never closed for more than a second and greatly increased the odds of getting a great photo.
The photo below is one of the last I shot, and is my favorite of the evening. The storms were dying down north of Manhattan, but really lighting up over New Jersey. After downloading the photo, I applied some unsharp mask and noise reduction in Acorn, but otherwise this is pretty much as taken, and I'm quite happy with the result.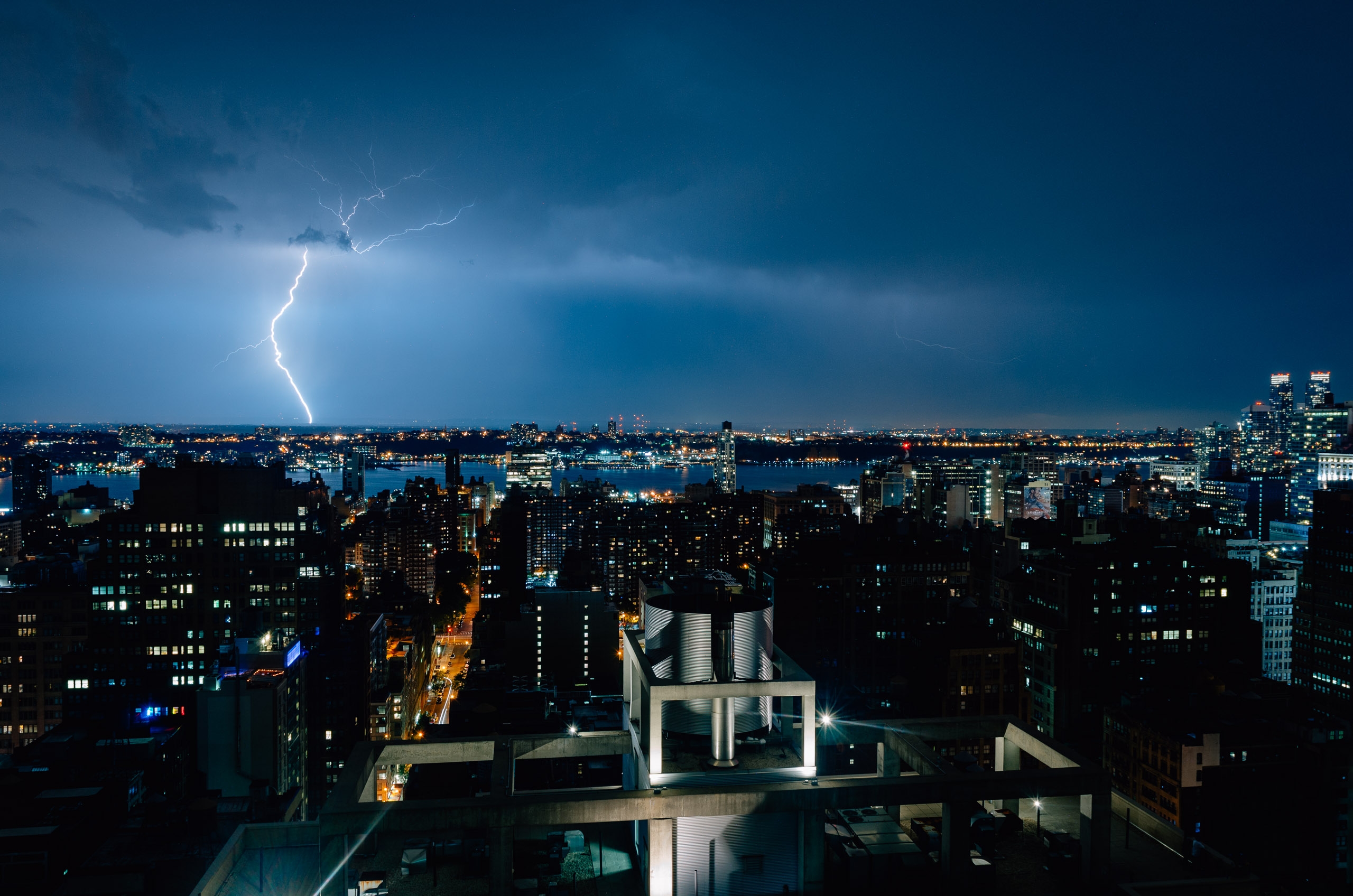 A lightning strike over eastern New Jersey (click to enlarge)
As I mentioned, I spent about 45 minutes shooting dozens of frames and only got a few that even had lightning in them. If you can spend the time, its totally worth it and I'm already looking forward to the next big storm.
Painting of Dr. Emmett Brown ©
Rafi Ben Aharon
(his artwork is pretty amazing).