Tour of the Tuthilltown Spirits Distillery
August 16, 2011
This is the final entry about our last stop during our big Hudson Valley tour about a month ago. Earlier that day we visited the
Vanderbilt Mansion Historic Site
, the
Val-Kil Cottage and Roosevelt Homes in Hyde Park
and finally the Tuthilltown Spirits Distillery in Gardiner, New York. Tuthilltown Spirits makes small-batch, artisanal whiskeys and vodkas on a historic form about 2 hours north of New York City. If you live in the Northeast, you've probably seen
their whiskey products, sold under the Hudson Whiskey label
. Hudson Whiskey is a premium product, and priced to match. Their small, medicinal bottles of whiskey range in price from $42-55.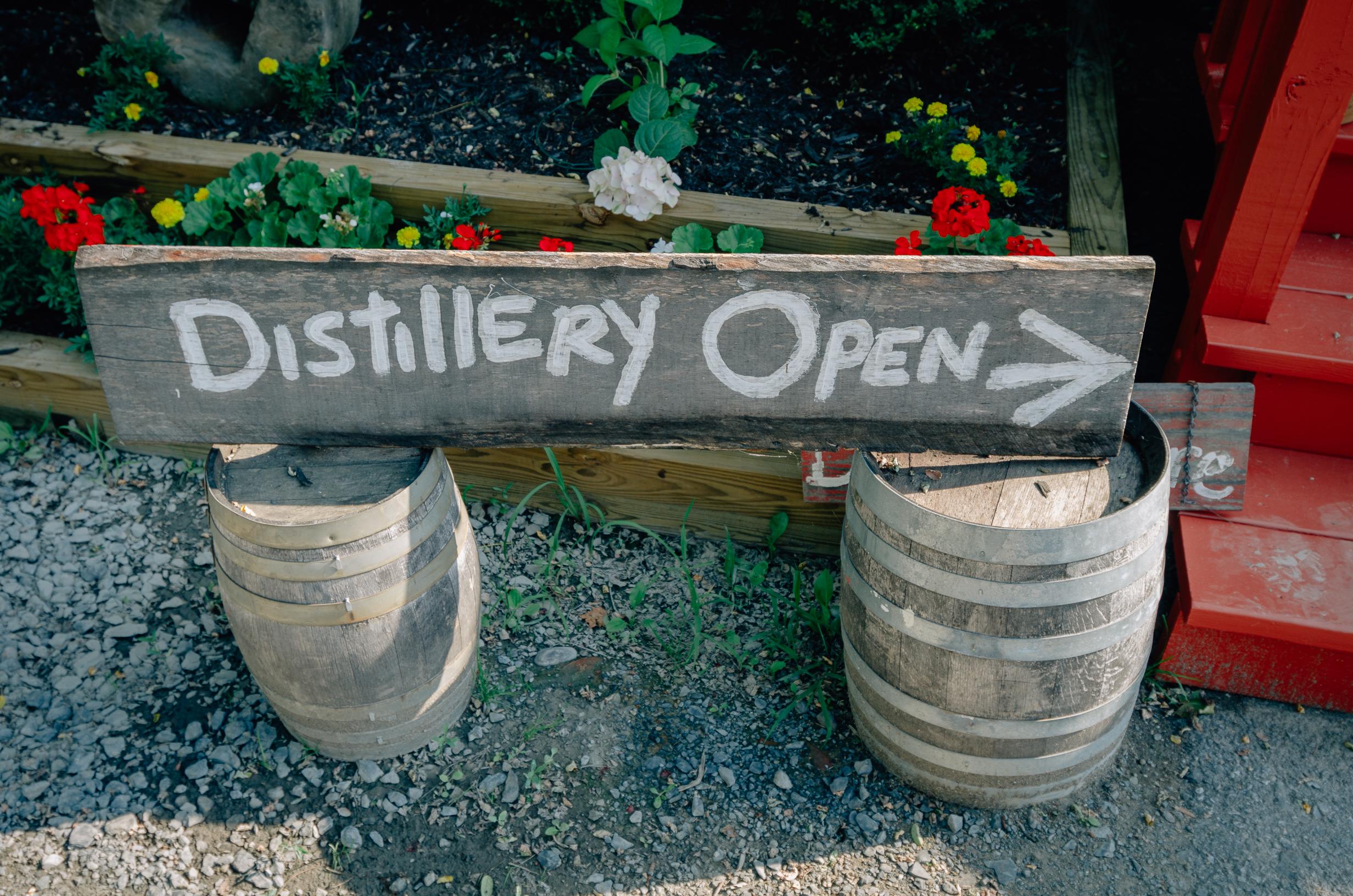 The Entrance to the Tuthilltown Spirits Distillery
The Tuthilltown Grist Mill, a 220-year-old flour mill listed on the National Register of Historic Places, sat unused for a number of years before it and the surrounding land was purchased in 2001 by entrepreneurs Ralph Erenzo and Vicky Morgan. Their intent was to build a bed & breakfast-type hostel to house climbers that flock to the area to scale the sheer rock faces along the nearby river. Local farmers and other residents were wary of this plan and its intended clientele, and blocked Erenzo from getting the necessary permits to build his hostel. Discouraged, he began to look for other ways to hopefully turn a profit on his otherwise unproductive land.
About that time the State of New York, eager to stimulate new businesses, relaxed the previously daunting licensing requirements for distilleries operating in the state. The cost of a license was dropped from $65,000 to $1,500, and Erenzo, with business partner Brian Lee, had the idea of creating a small, artisan distillery using locally grown ingredients. After much trial and error, the first batches of whiskey rolled off the lines a few years later and the business has been a runaway success since. Known for its whiskeys, the distillery also produces small batches of vodkas and other spirits that have a much faster cash-to-cash cycle (whiskey has to sit unproductively in those barrels for quite some time).
The business started small, but has grown explosively in the past few years.
They've won numerous awards
, and recently secured distribution deals to take their whiskeys around the world. Today the historic grist mill is a restaurant, called The Grist Mill, focusing on locally-sourced, farm-raised ingredients. We didn't eat at the restaurant, but the reviews have been terrific. Locals take pride in the Distillery's use of locally-sourced ingredients (everything is grown within 10 miles), and the fact this is the first distillery to open in New York since the end of Prohibition.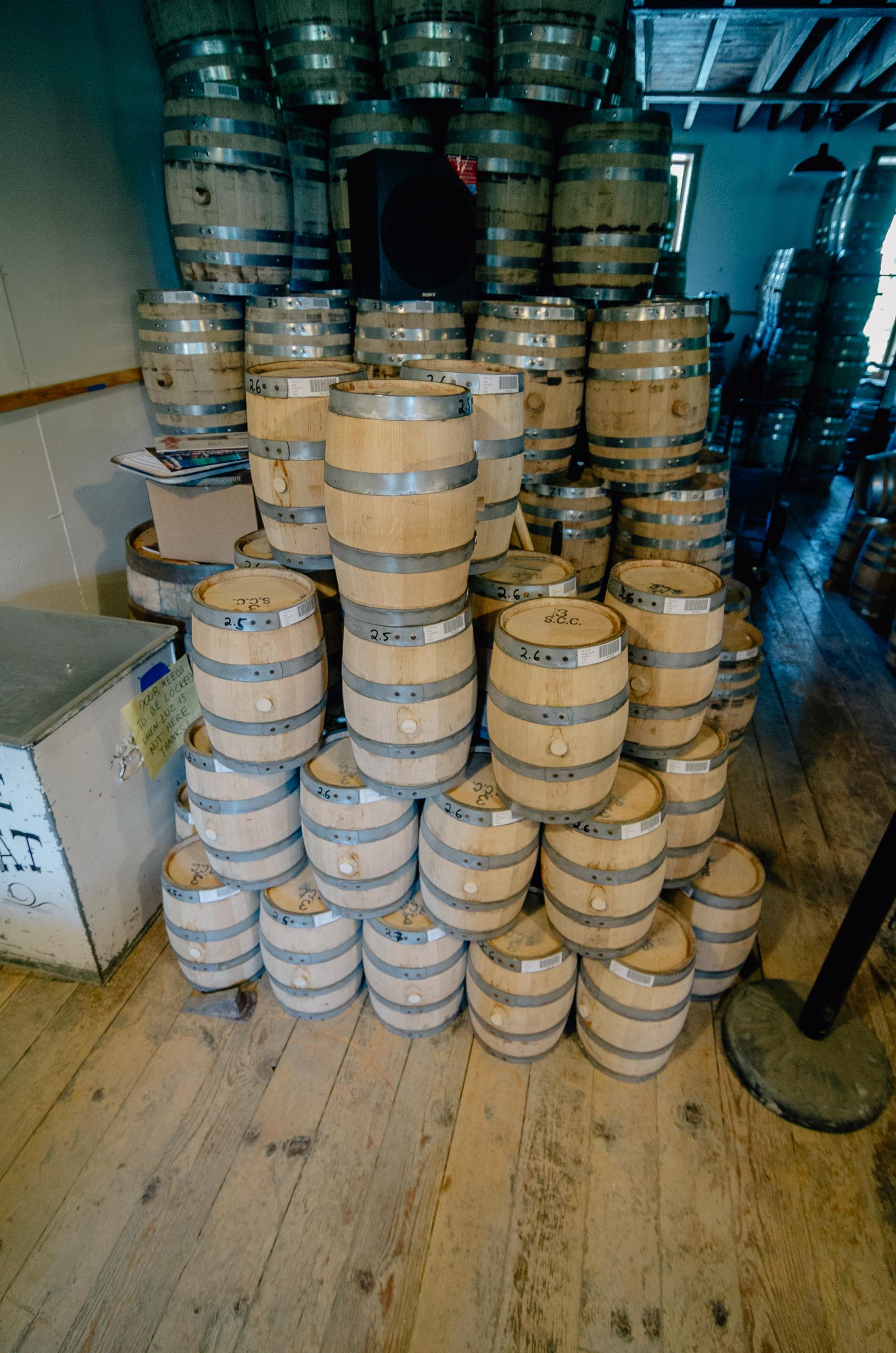 Used whiskey barrels for aging whiskeys
Since we were already in the Hudson Valley for our other tours, we made an appointment to go on the distillery tour, followed by a whiskey tasting. We booked our tour online, which is recommended as weekend tours often sell out. The tour is $15, lasts bout 90 minutes and includes a tasting of three of their whiskeys and keepsake whiskey tasting glass. Unlike wine tasting, the State of New York places strict restrictions on the number and quantity of whiskey you're permitted to taste - sensible restrictions given the strength of their spirits.
Our tour guide Cordell waits for our group to assemble in the Distillery Tasting Room
Jessica and I have been to countless breweries and wineries, but only one other distillery -
the Jameson Distillery in Dublin, Ireland
. That tour also included a tasting, but the Irish authorities seemed unconcerned about the quantity of liquor consumed before, during and after the tour.
I won't explain the distillation process here, but basically corn goes in and whiskey comes out. Take the tour and they'll bring it all to life. What I found most interesting is that both owners are self-taught and had no previous experience making whiskey (one owned a climbing gym in Manhattan, and the other was an electrical engineer). You can read an interesting article about the owners and their struggles to start the business on a
blog called Whiskey-Pages
.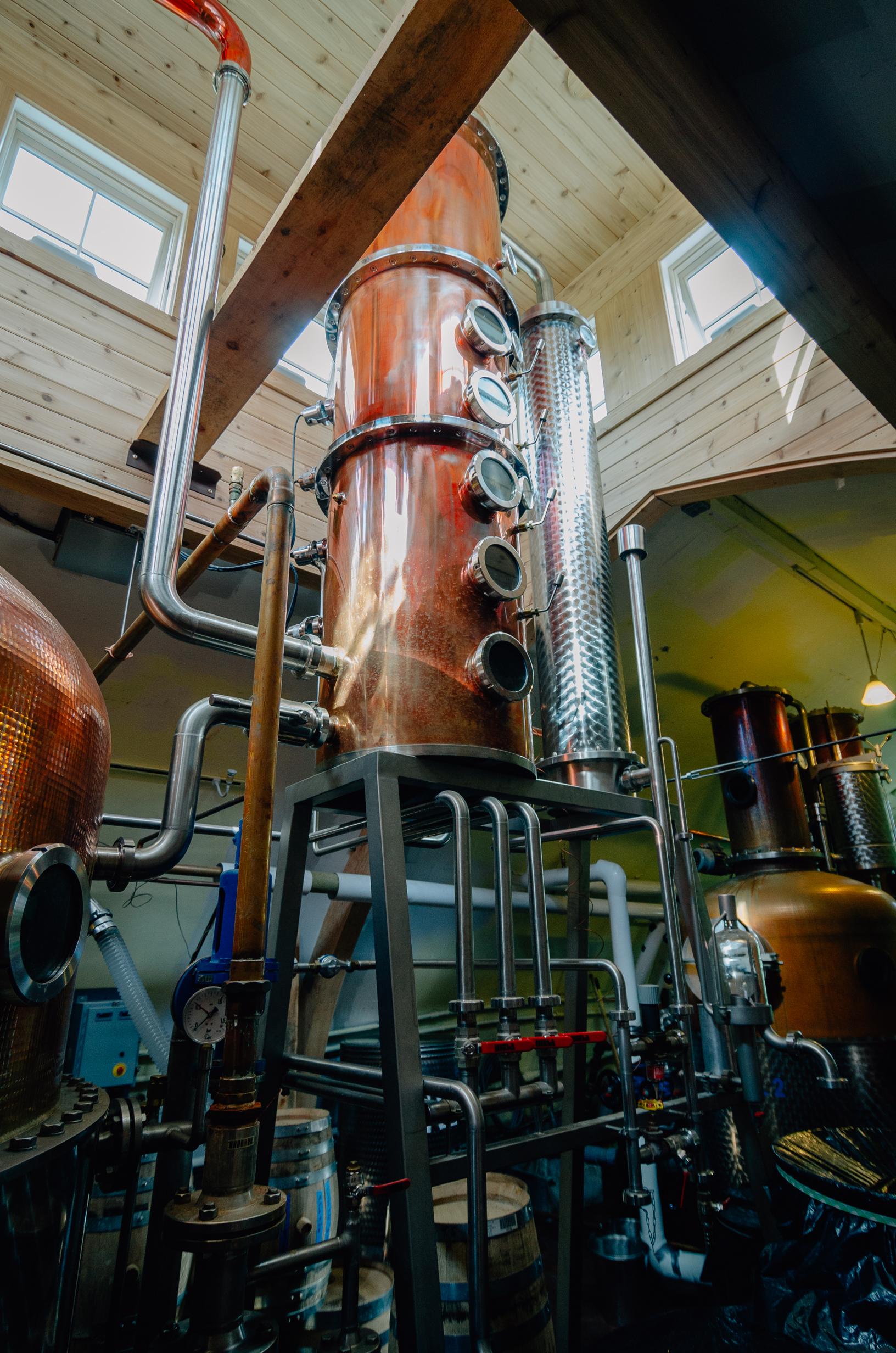 The Jules Verne-esque still
Of course, all of their goods are for sale in their Distillery Shop, including a used whiskey barrels, t-shirts and an interesting assortment of bitters. We ended up buying a bottle of the Four Grain Whiskey accompanied with a bottle of chocolate bitters. That night we enjoyed some fancy-pants Manhattans, some of the best we've ever made.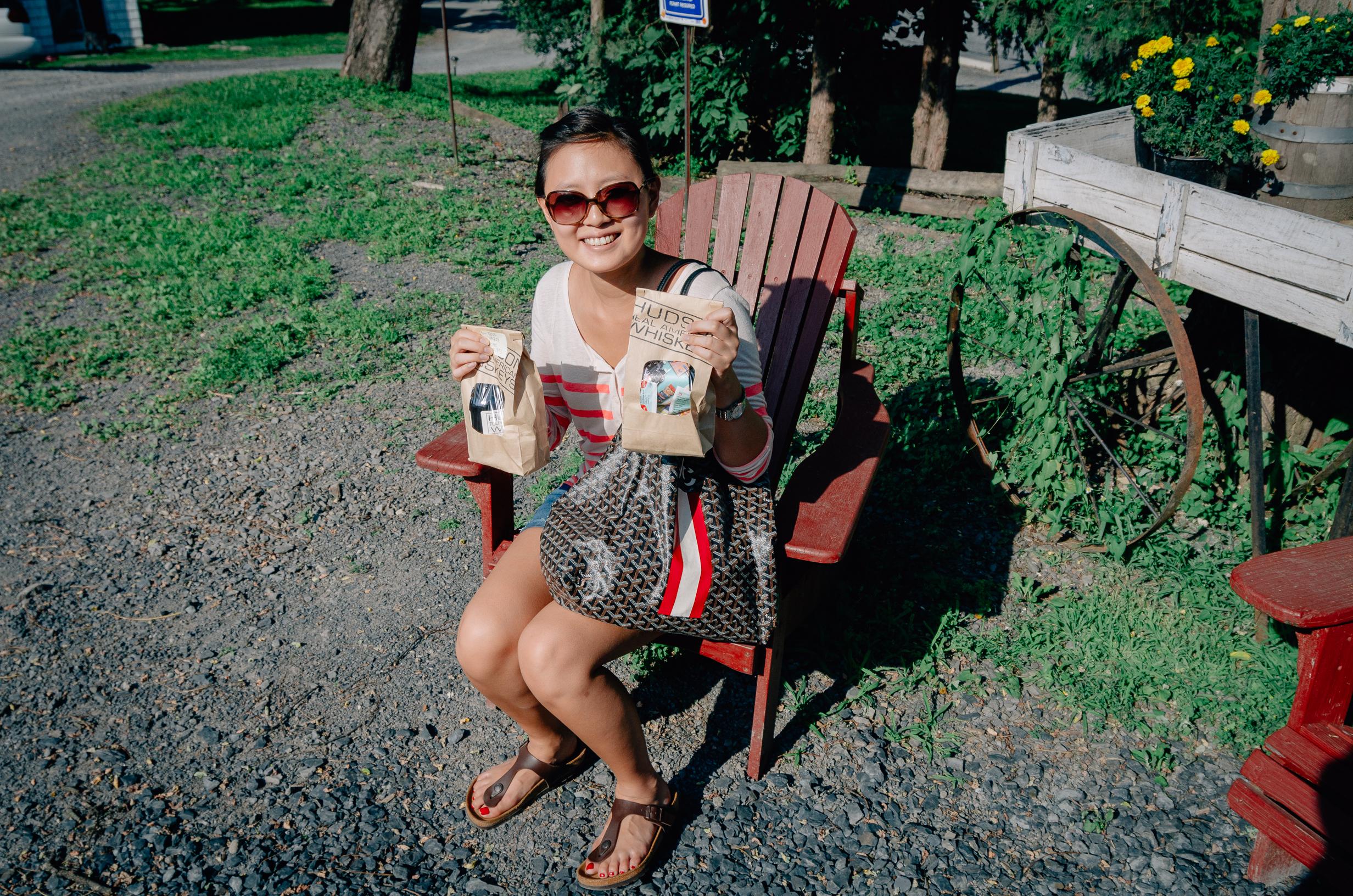 Jessica shows off our purchases of 4 Grain Whiskey & Chocolate Bitters
Related posts:
Tour of the Vanderbilt Mansion Historic Site
Tour of the Roosevelt Homes in Hyde Park, New York
Weekend Excursions from New York City
The Tuthilltown Spirits Distillery