Weekend in Yosemite and Climbing Half Dome
July 13, 2011
This past weekend we celebrated 12 years of Yosemite with our annual trip to California's most famous and most visited National Park. Attendance was lighter this year with around 20 in total, but great weather, great friends, great food and the most incredible water falls I've seen in years made for a terrific weekend trip.
Jessica and I flew in from New York on Thursday to pick up the car, grab our camping gear and collect provisions for the trip. According to the Google, we traveled 2,458 miles (as the crow flies) to arrive at our campground in Hodgdon Meadows. John and Carey had the slight edge, however, traveling 2,521 miles from Kailua, Hawaii to arrive at the same place. Remarkably similar distances, so we'll just call it even. Last year we had a camper travel from Shanghai so we didn't bother to measure with such precision. Before anyone asks, Suki stayed with the Chiangs.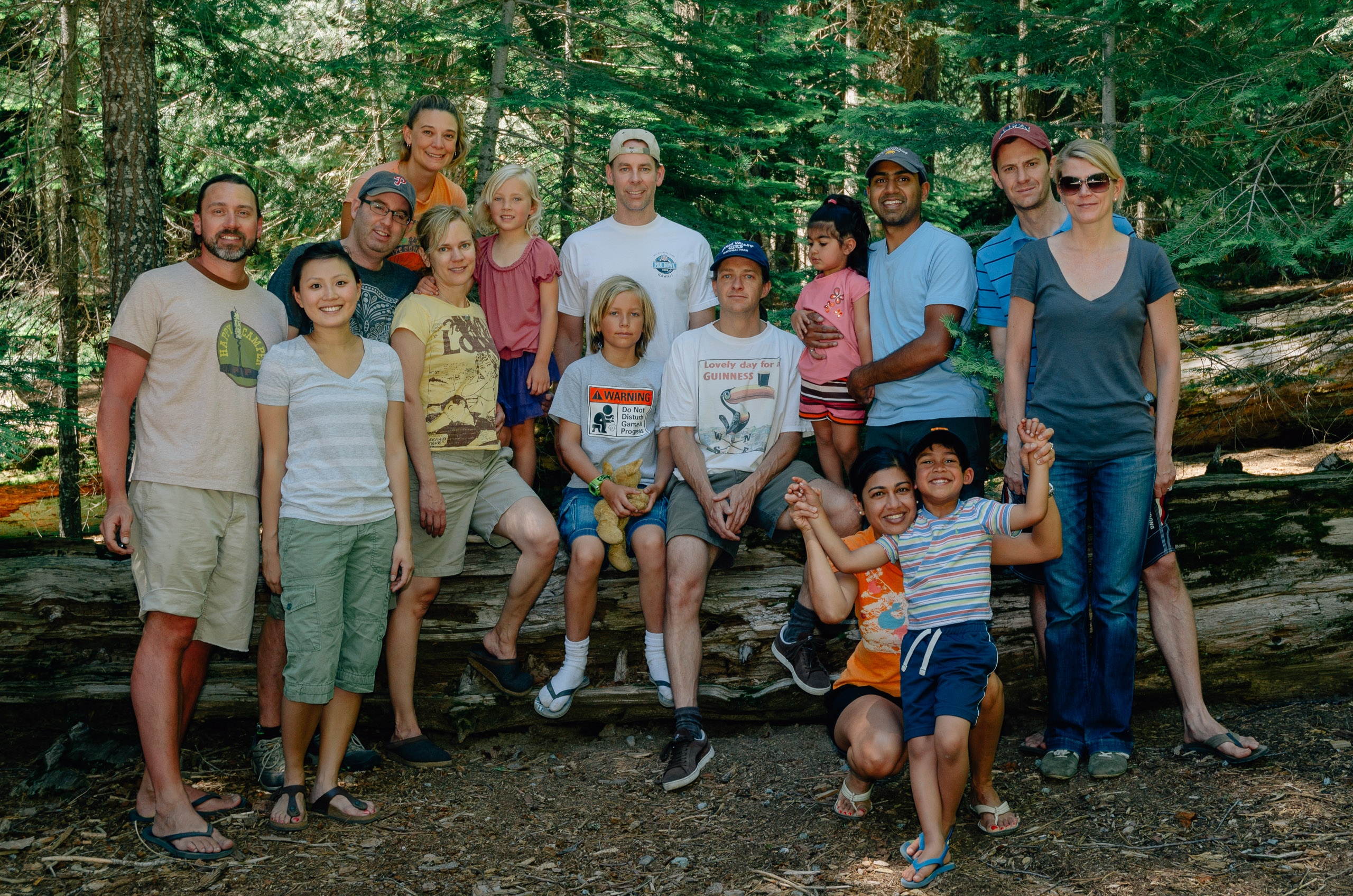 Yosemite 12 attendees: Kris, Jessica, Mark, Carey, Christine, Nola, John, Evan, Jay, Allesandra, Alison, Irv, Ethan, Jason and Alison (not pictured: Ingrid, Mimi & Cyrus. Click to enlarge)
Each Yosemite trip has a theme, which is mostly meaningless. This year's theme was, "Half Dome or Die!" - the point being I wanted to climb Half Dome. After doing so, I realized I had the theme right but the wrong conjunction. "Half Dome AND Die!" would have been more appropriate, as afterward I felt quite deathly. More on Half Dome in a bit.
Starting last year we permanently moved the Yosemite event to July rather than May. The weather is much better and it tends to be easier on vacation schedules since so many attendees are now
saddled
blessed with children. The waterfalls are typically better earlier in the season, but up until a few weeks ago it was still snowing in the Sierras and the summer heat only recently began to warm the enormous 2010-2011 snowpack. The rivers, streams and waterfalls were the most voluminous I've seen, and I've been to Yosemite at least 25 times over the past 15 years. The amount of water was truly remarkable.
We drove up Friday morning and setup camp in the afternoon. Campers trickled in throughout the afternoon and evening, and the last group, the Gabbards, arrived around 9PM (the first time we all arrived so early). We made a big dinner, followed by beers, s'mores and many tall tales around the campfire.
Four of us, myself, Mimi, Ingrid and Cyrus, had the necessary permits to do the Half Dome hike on Saturday, so it was an early night for us and an even earlier morning. We awoke by 6AM and were off to start our hike by 6:30.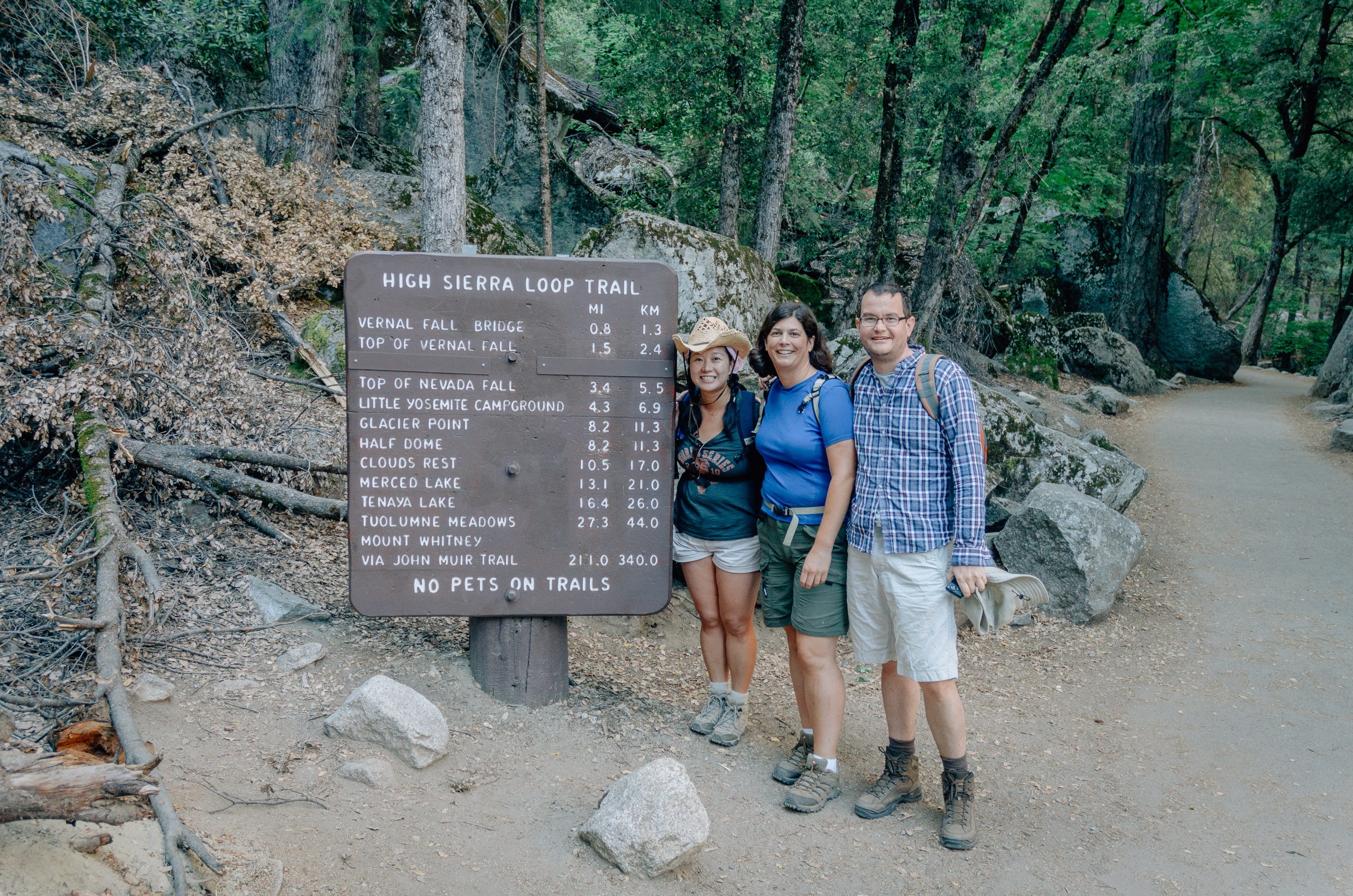 Ingrid, Mimi & Cyrus during happier times before the hike (click to enlarge)
Half Dome is the most most famous peak in Yosemite (the park's logo is the peak's iconic profile). Hiking to the summit of Half Dome is an arduous 16.4 mile hike that rises 5,000 feet in vertical elevation, and is capped by a harrowing ascent up a series of cables affixed to the rock to aid climbers. The hike is long and tiring and the cable ascent is short but terrifying, thus making the time spent on the summit all that more gratifying. The view is quite nice, too. Most people allot around 12 hours get up and down the mountain, and we were at the trailhead by 7:30 to ensure a safe return before sundown.
Half Dome from a distance (click to enlarge)
I first did Half Dome in 1996, and last did it in 1999. Since then, I've gotten 12 years older and Half Dome hasn't gotten any easier. In fact, the National Park Service is implemented some much-needed changes to the Half Dome ascent. Permits are required and are limited to 300 per day. Last time I did Half Dome the wait at the base of the cable climb was about 2 hours and there were hundreds of unskilled climbers clogging the path. This time there was no waiting, and only a few dozen unskilled climbers clogging the path.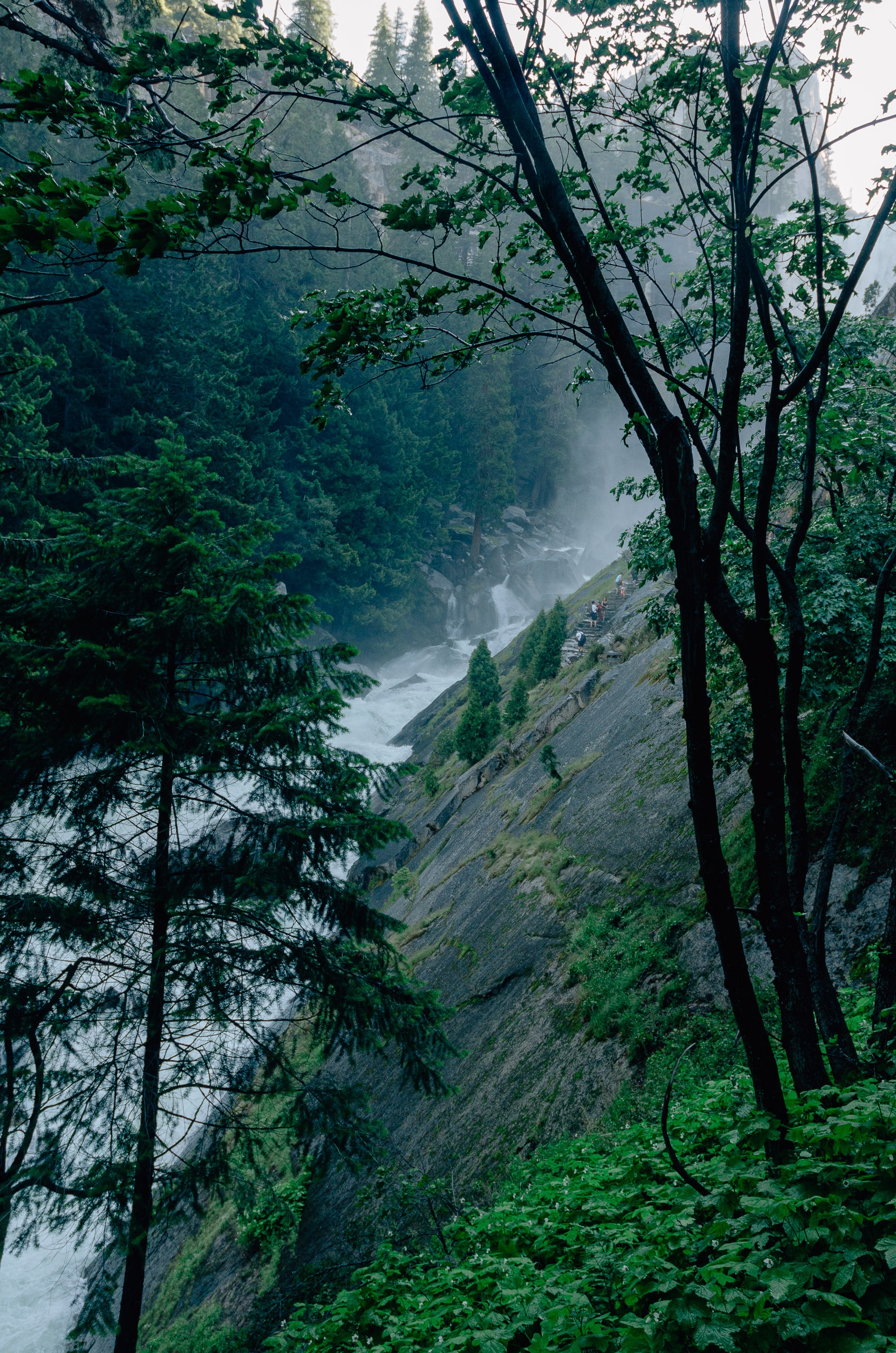 Hiking Along the Mist Trail
The hike to the top is terrific. You walk along the river for most of the hike, passing Nevada Falls, Vernal Falls and the famous Mist Trail (so named as you get soaked along the way).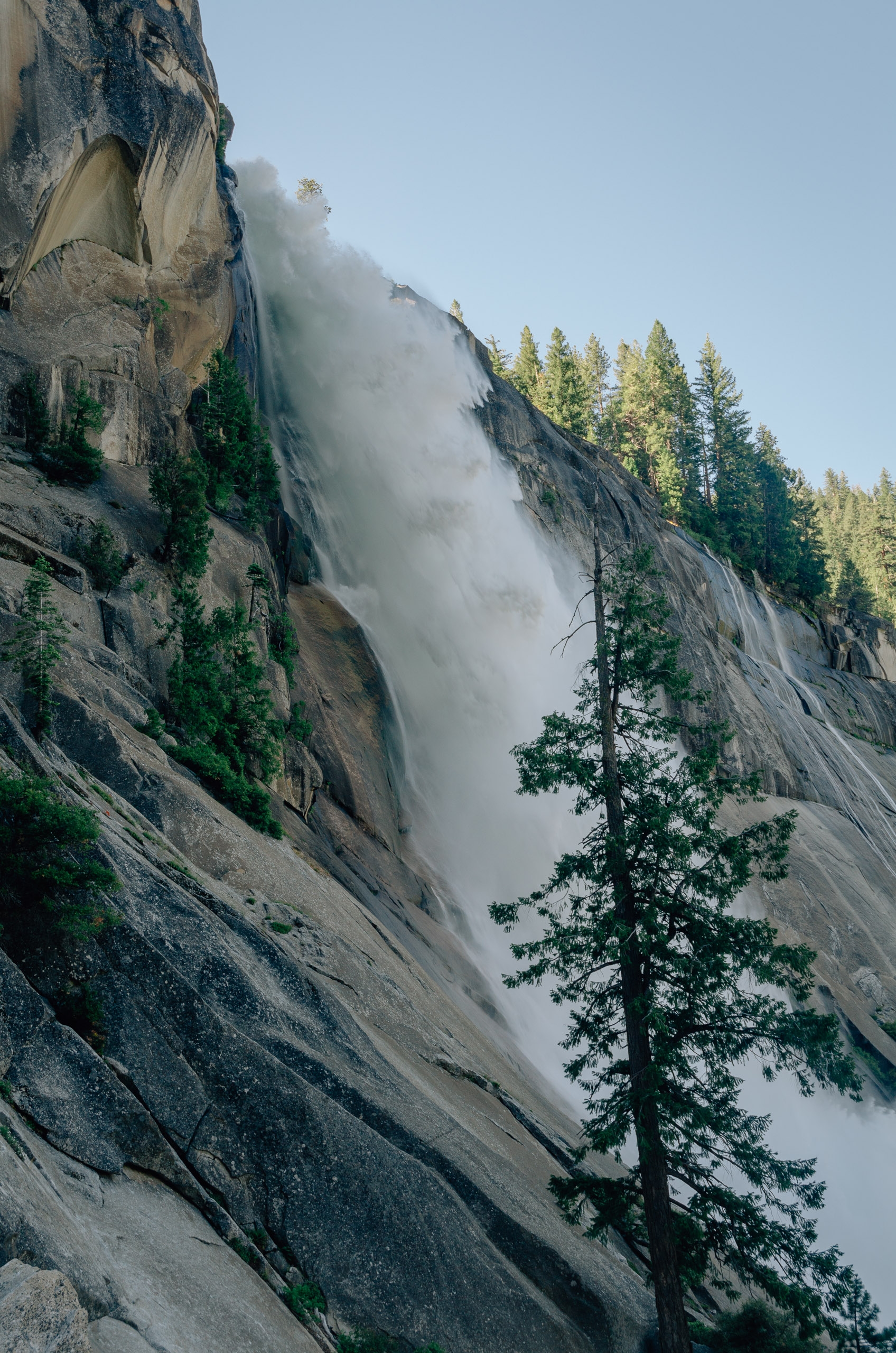 Nevada Falls
Once you get atop Nevada Falls, the second higher falls, you're just past the halfway point. I've done this portion of the hike many times, as turning around now would be a pretty exhausting 8 mile hike full of racing rivers, gushing waterfalls and incredible views. Half Dome climbers must soldier on for another 4 miles; 2 miles across lumpy sand and craggy rocks, and the last two miles nearly straight up vertically. Imagine climbing an endless set of stairs, and each stair was 18 inches high.
As you approach Sub Dome, the peak before Half Dome, you rise above the surrounding hills and can start to see the valley below and the snow-capped peaks of the Sierras around. Despite the views improving, you really should keep you eyes on your footholds as they have become increasingly treacherous and by now you're probably really, really tired. Just before Sub Dome, you'll need to show the ranger a printed copy of your permit. Each person making the summit must have a copy of the permit, and there's no way you're going to charm your way around this guy. Often a party shows up incomplete and offers extra permits to those who need one. This strikes me as an extraordinary gamble to come all this way hoping to get to the top. There were about a half dozen hikers looking for permits, but by the time I headed up it appeared many of them had picked up an extra pass.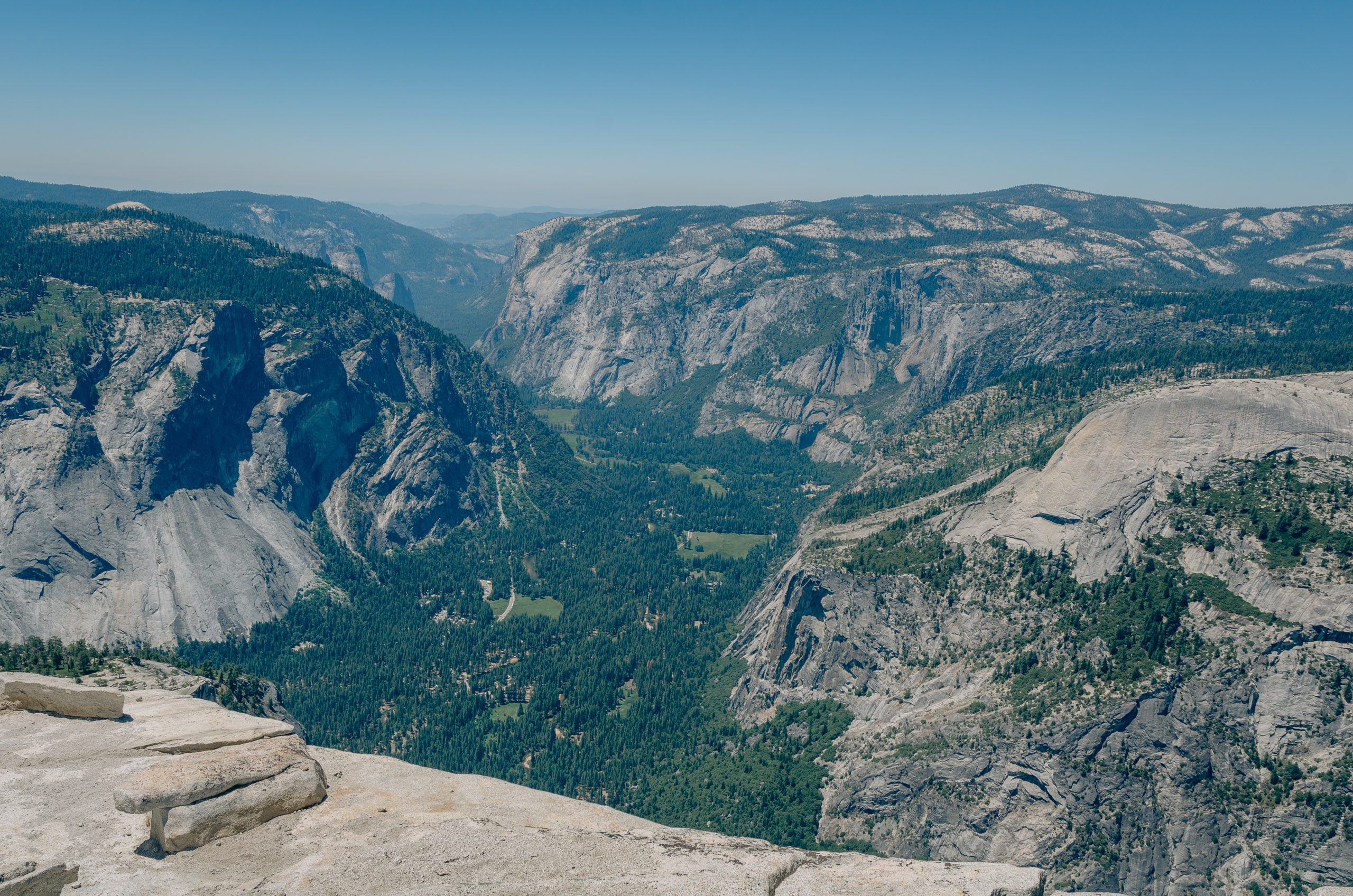 The views of the High Sierra from the trail (click to enlarge)
More views of the High Sierra
After about 5 hours of hiking and climbing nearly 4,000 feet, you approach the cable climb to the summit.
The final push to the summit: approaching the cable climb
The cables were first installed in 1920 and haven't changed since. They consist of two steel cables run through a series of aluminum poles spaced about four feet across and about 10 feet vertically apart. Between each pole is a wooden plank on which you can rest for a few moments on your way up the peak. About two-thirds up the cables, the rock face is nearly vertical. I'm not scared of heights, but I had to make a conscious effort not to look down. It really can freak you out.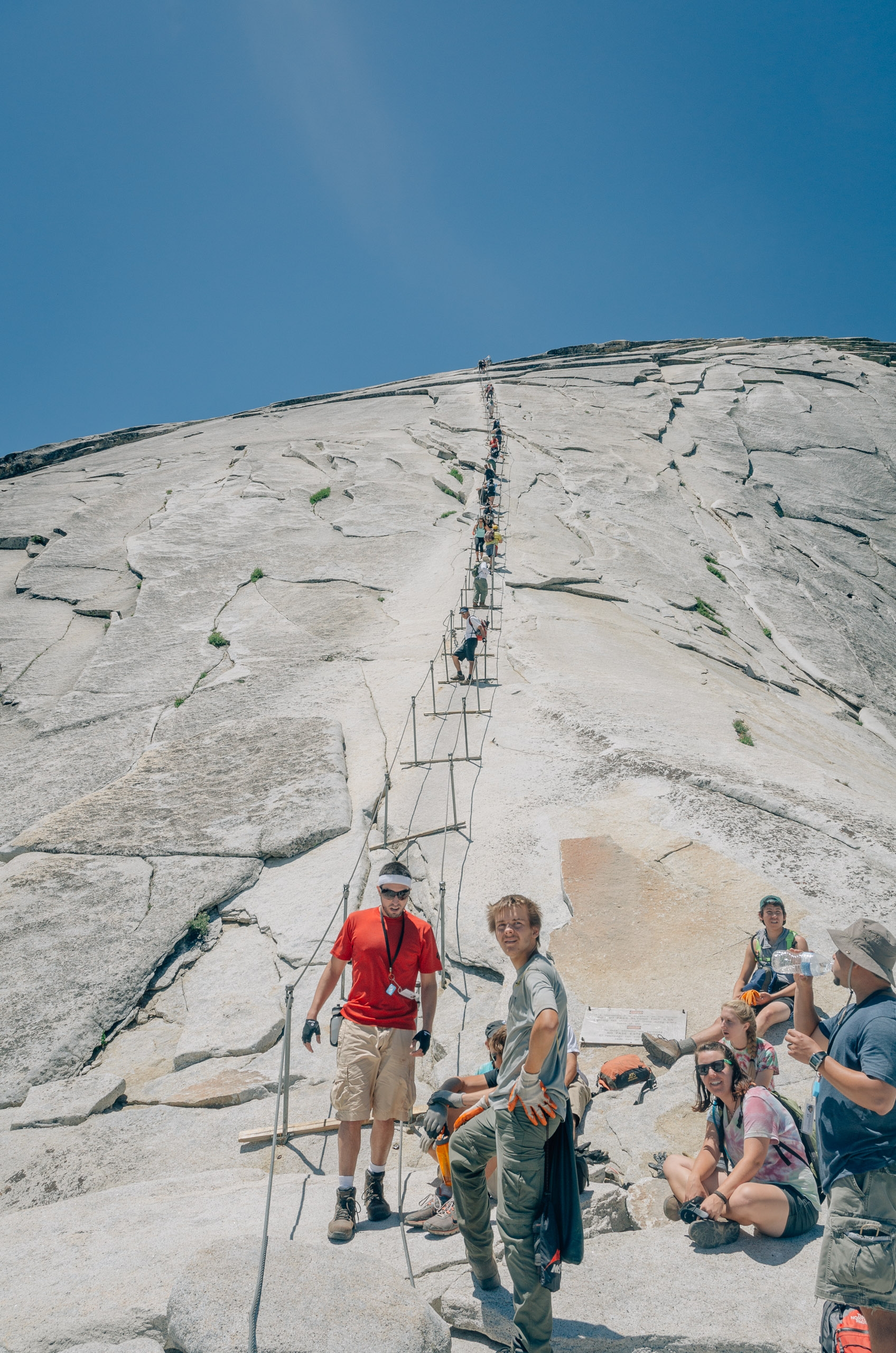 Preparing to climb the cable ladder (click to enlarge)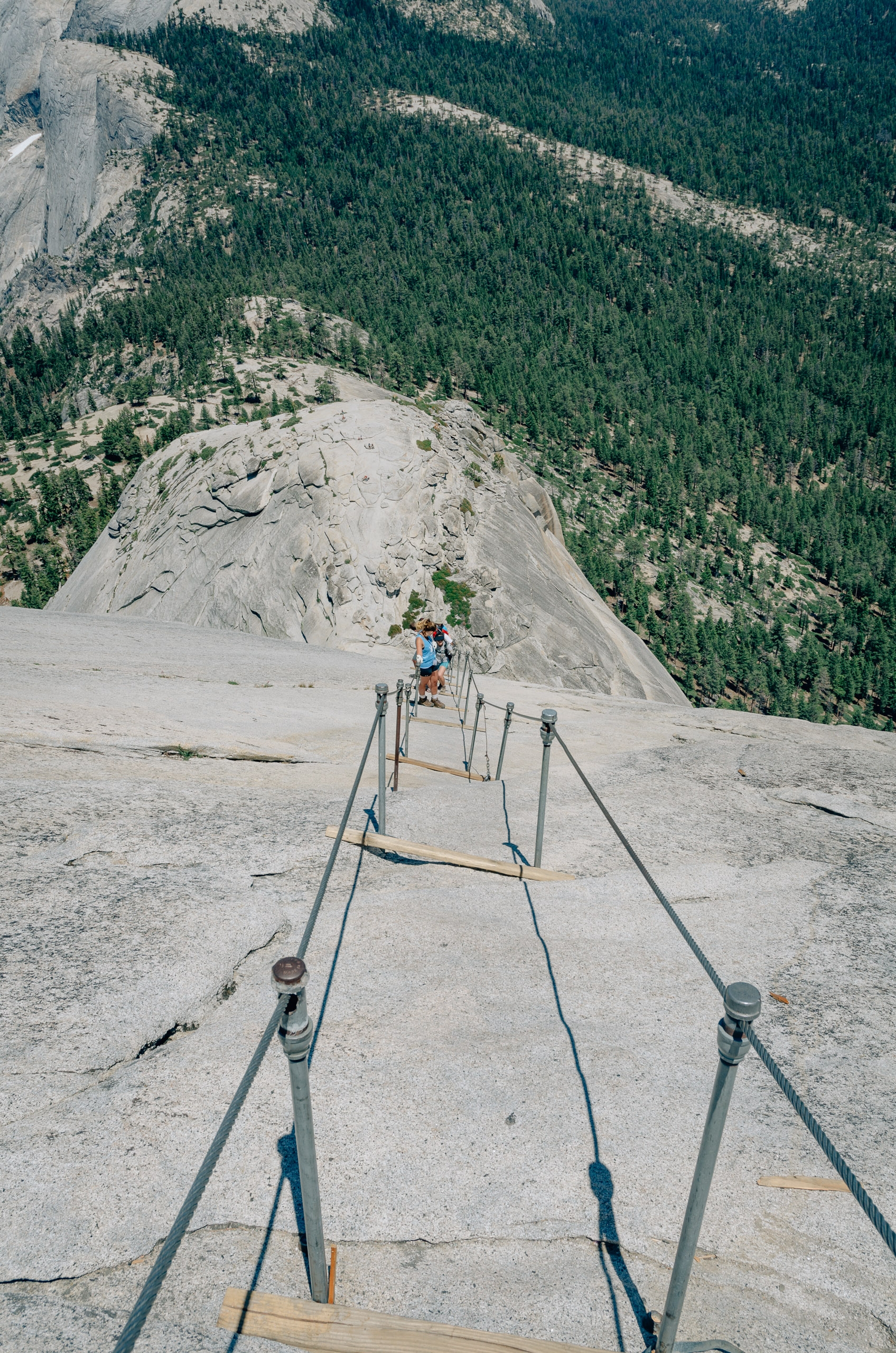 Taking a break at the halfway point looking down (click to enlarge)
It should be evident from the photos that this is risky business. Living in a litigious society as we do, I'm amazed that people are still allowed to attempt this. Most people on the cables have zero previous mountaineering experience and are in a low-level state of terror the entire time. During my descent, two women had full-on panic attacks and couldn't move. They were eventually "rescued" by good samaritans, but we were stuck waiting halfway down the cables for about 40 minutes perched on that little strip of wood. There are no rangers or safety personnel assigned to the cable ascent. You're entirely on your own here.
I think most people probably use poor judgement when deciding to ascend as there's enormous peer pressure from friends other climbers to make it to the top despite what might otherwise be a pragmatic assessment of one's own abilities. So many people push ahead and make the climb successfully that it would be easy to assume that climbing the cables is safe. Well, it isn't. In fact, its extremely dangerous with very little margin for error. Falling on either side of the cable path would result in certain death. Every few minutes a wayward water bottle or hat would go whizzing by to serve a as useful reminder of just how steep the rock face is. The climb to the start of the cables is challenging enough and should be considered a worthy achievement. All of this said, I scurried up to the summit in about 25 minutes.
The view from the top is incredible. There's a perilous rock ledge called the Diving Board that everyone must venture out onto for a photo. Recall my earlier remarks about poor judgement and then view this series of photos of me on that ledge.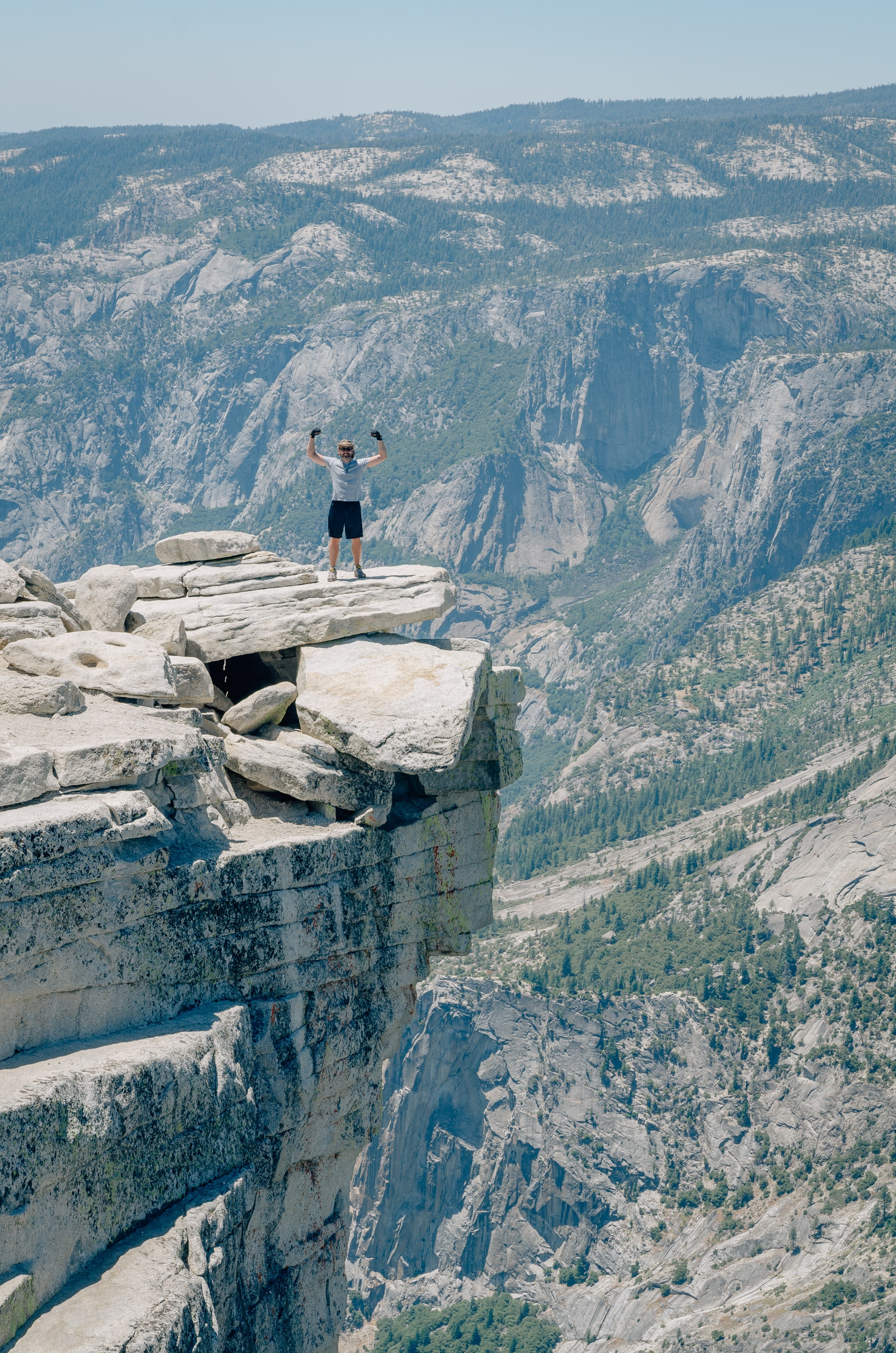 That's me on the Diving Board about a mile above the Yosemite Valley Floor (click to enlarge)
I spent about an hour on the top of Half Dome, mostly resting, eating, taking pictures and waiting for my fellow hikers. Ultimately I decided that they may have turned back (recall my earlier comments about exercising good judgment). I changed my shirt, my socks and made my way back to the cables for the 8.4 mile, 4 hour return hike. There was a group of men in their mid 40s celebrating their ascent by downing an entire bottle of Jack Daniels. I was determined to be on and off the cable ladder way ahead of them (finally, a good decision!).
As exhilarating as it is atop Half Dome, emotions are mixed as there's so much hiking left to do. The descent, with wobbly tired legs, is not any easier. Many feel the return is far more challenging. You're also in the direct sun during much of the return as my sunburned arms can attest. For me, slow and steady was the rule and I took my sweet time getting back down, taking pictures along the way and refilling my hydration pack twice (I drank about 350 ounces of water on this roundtrip hike making a water filter a must. You simply cannot carry enough water).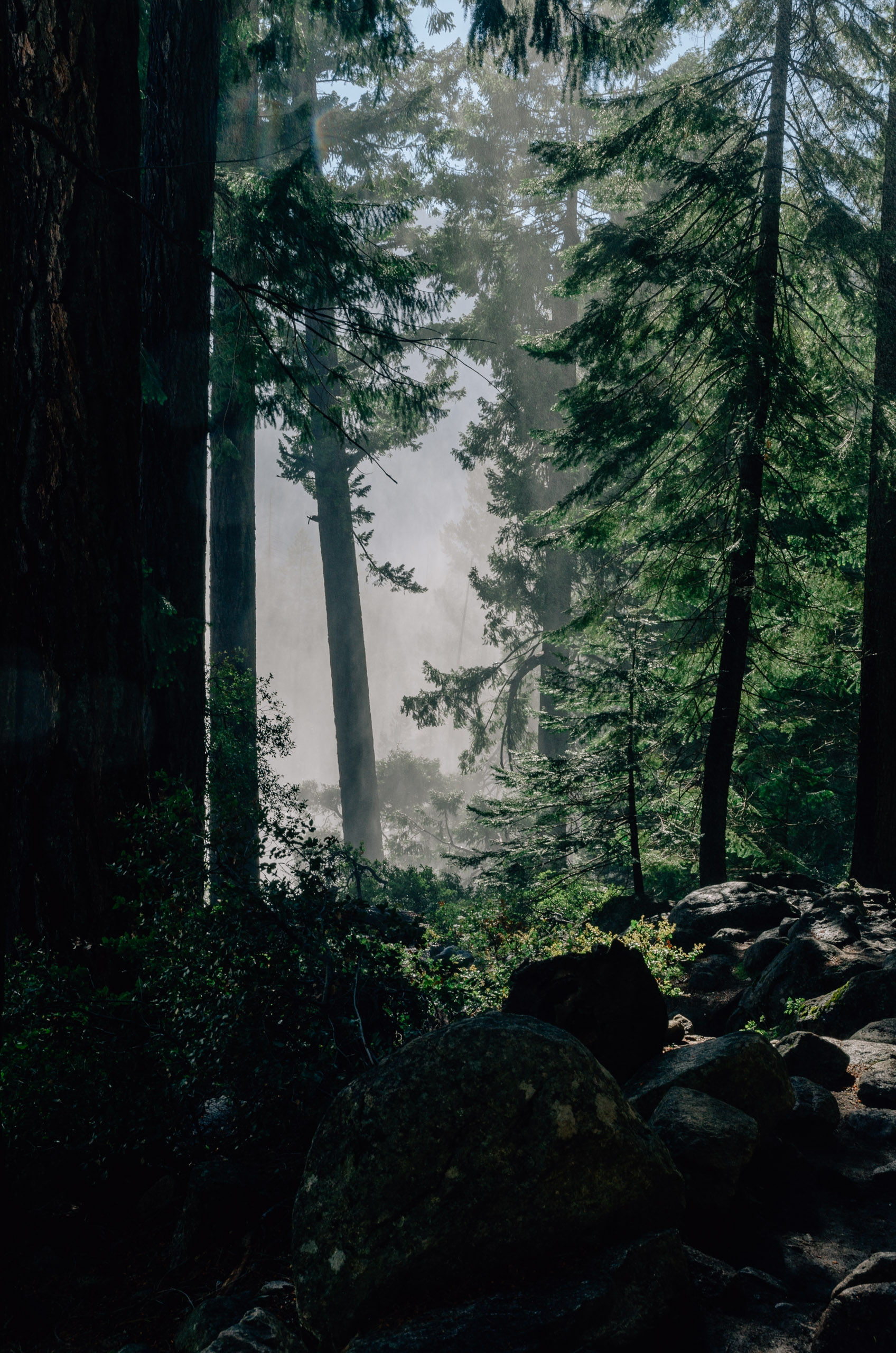 Approaching the Mist Trail on the return hike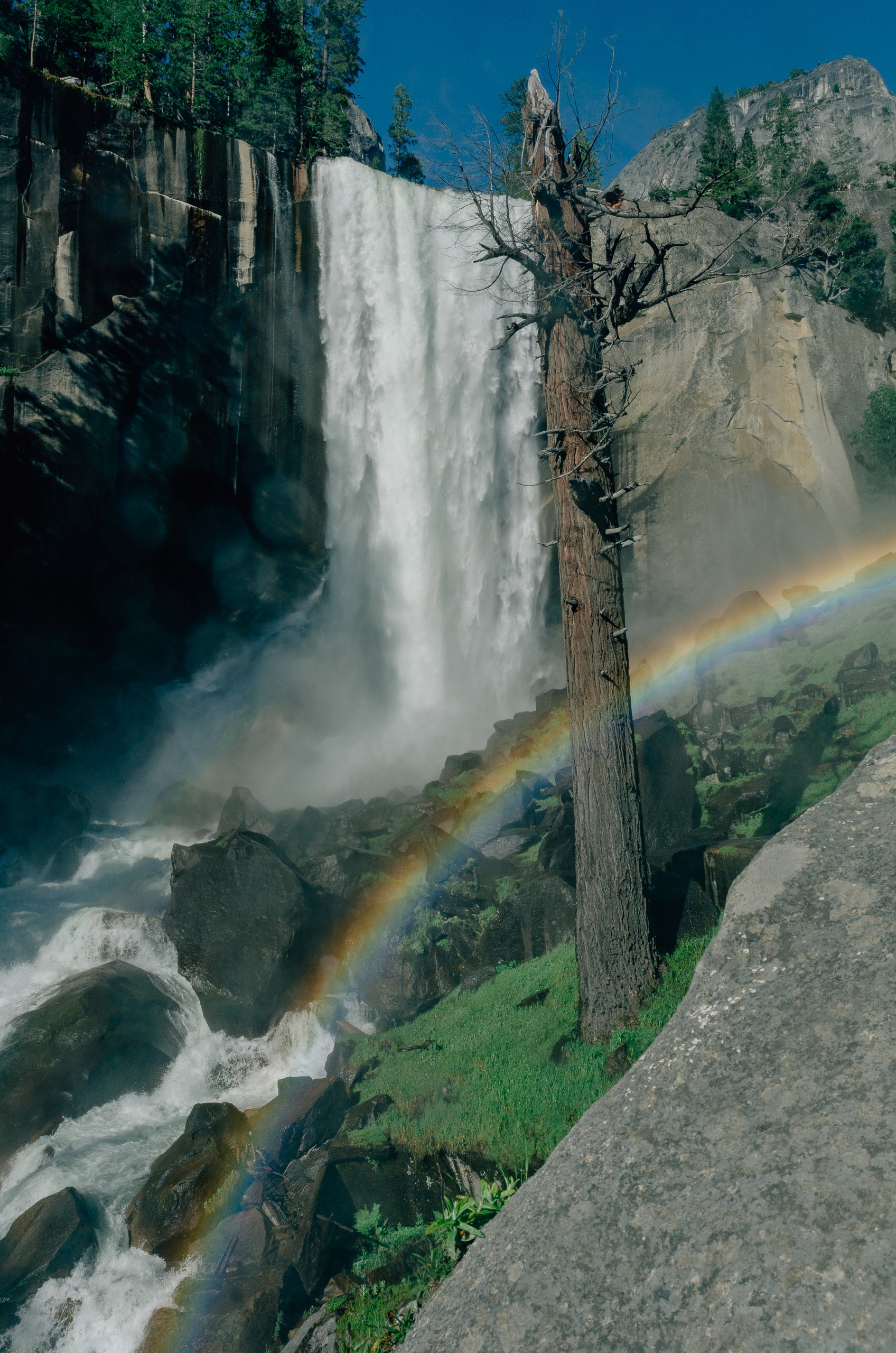 A Mist Trail rainbow just past the falls (click to enlarge)
I made it back to the trailhead around 6:15PM, for a total round trip time of about 10 hours and 45 minutes. I took my time getting back down, but I've gone much faster in the past. I've also returned in the dark and can attest that is no fun. I waited at the bottom for Ingrid, Mimi and Cyrus who showed up a while later. We were exhausted and walked in silence to the car, and made idle conversation during the 30 minute drive back to the campsite mostly to ensure the driver was awake. As I write this a few days later, I'm surprisingly not sore and felt I fared pretty well on the hike. To my credit, I spent a few days a week in the gym getting ready but could have done more to prepare.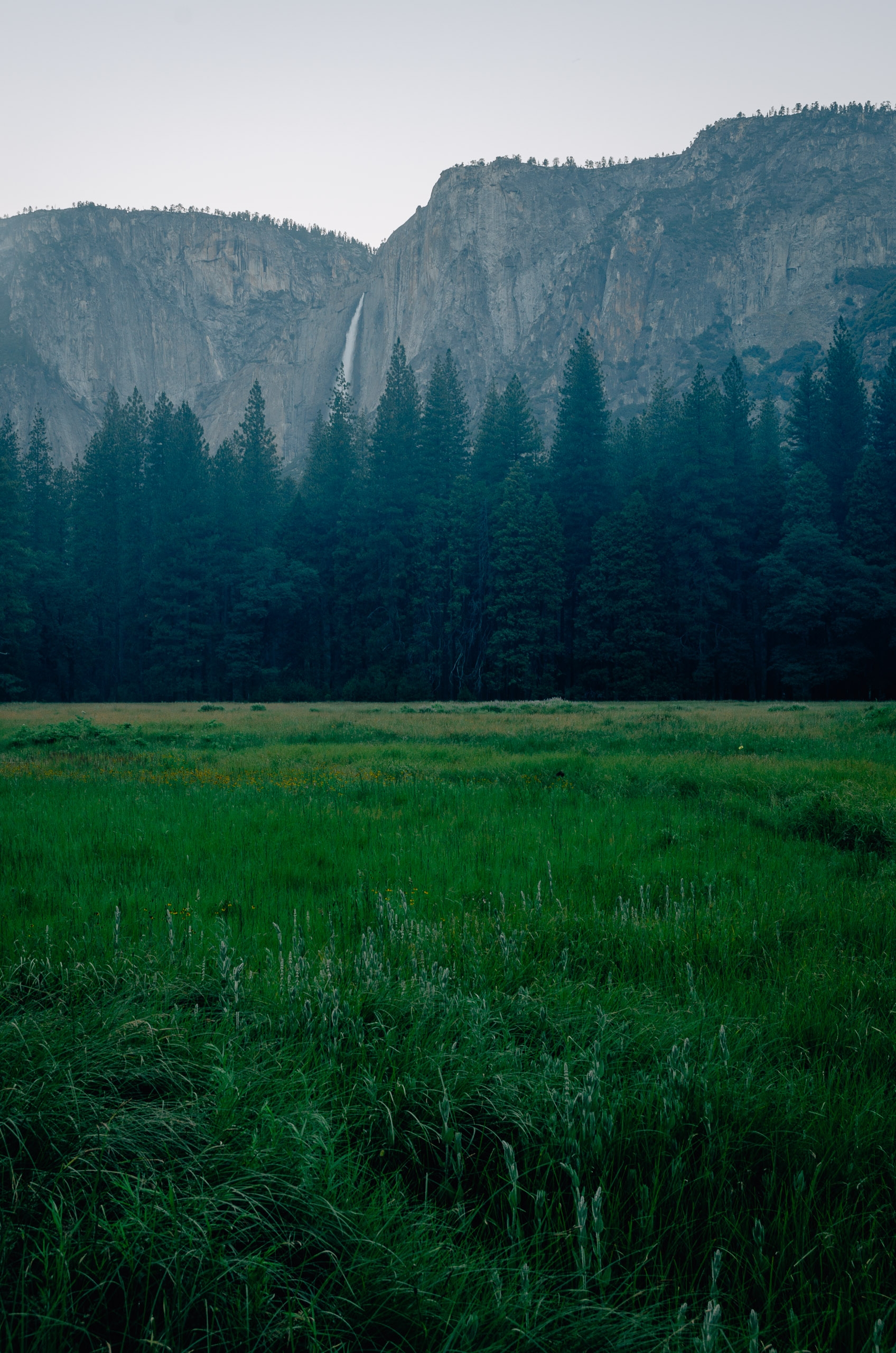 The valley floor just after sunset (click to enlarge)
That night we had an incredible barbecue with burgers, hot dogs, hot links, grilled corn, baked potatoes and cases of iced beer. After some food and a few Cokes, I rallied and stayed up with the late night crew drinking beer, telling more tall tales and burning through an immeasurable amount of firewood. These are the best parts of the annual Yosemite trip, and as great as the hike was, it was so time-consuming that I was little bummed about not getting to spend more time with friends. I had no trouble sleeping that night.
The next morning we had a terrific breakfast and slowly broke down the camp. As usual, we took our group photo which you saw earlier in this post. A few outtakes are listed below.
Living in New York, the annual Yosemite trip is a little trickier to plan and attend, but we've proved over the past two years that its more than doable and still a blast. Thanks to all who attended, and consider this an open invite to next year's event in which I will not be climbing anything!
Until then, Happy Camping!
I shot a bunch of video clips of the waterfalls which I've compiled and included here. There's not much to say about this clip other than you may need to pee afterward.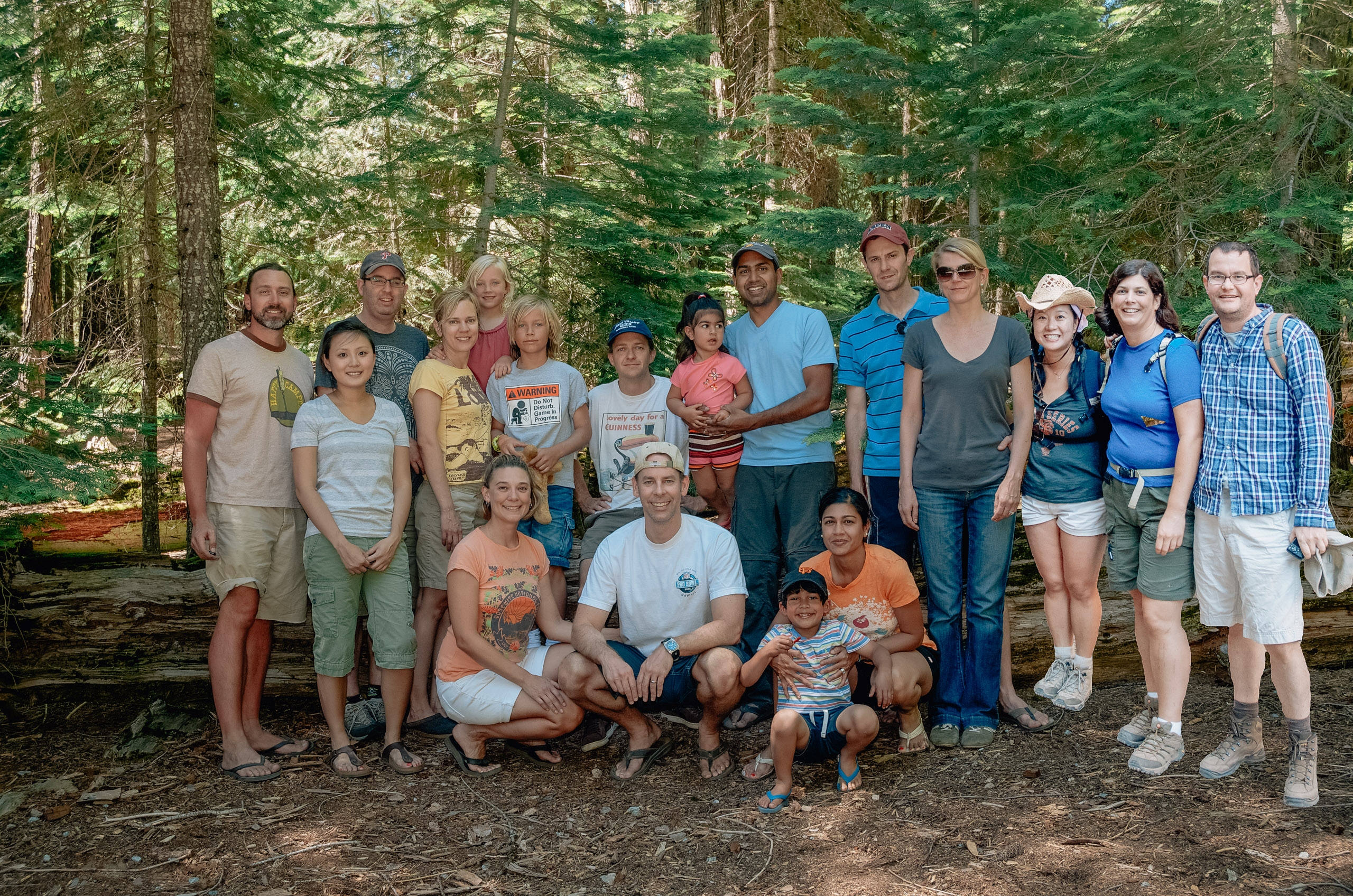 There's nothing unusual about this photo. Ingrid, Mimi and Cyrus did not leave before the group photo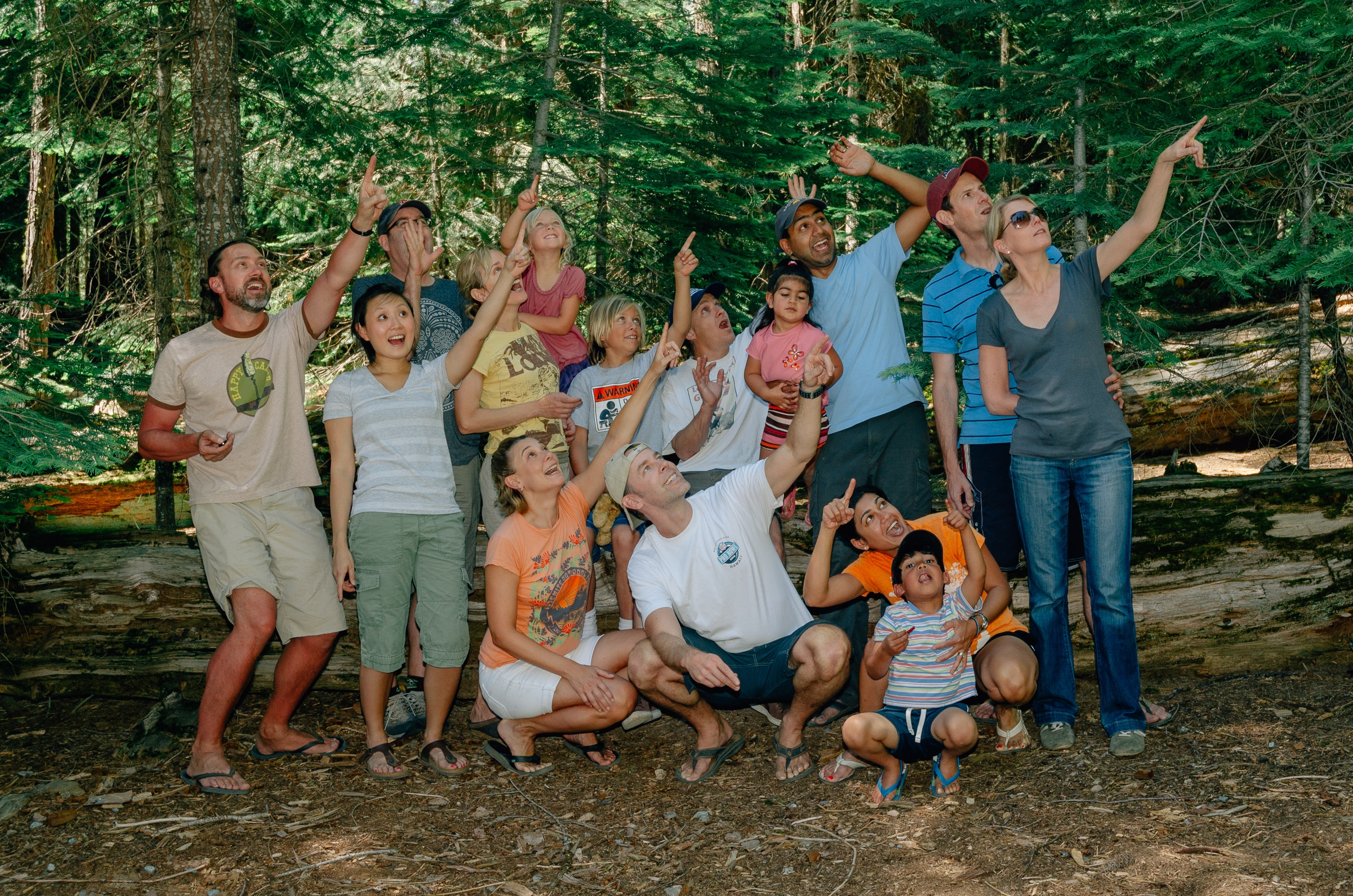 We spotted something interesting (click to enlarge)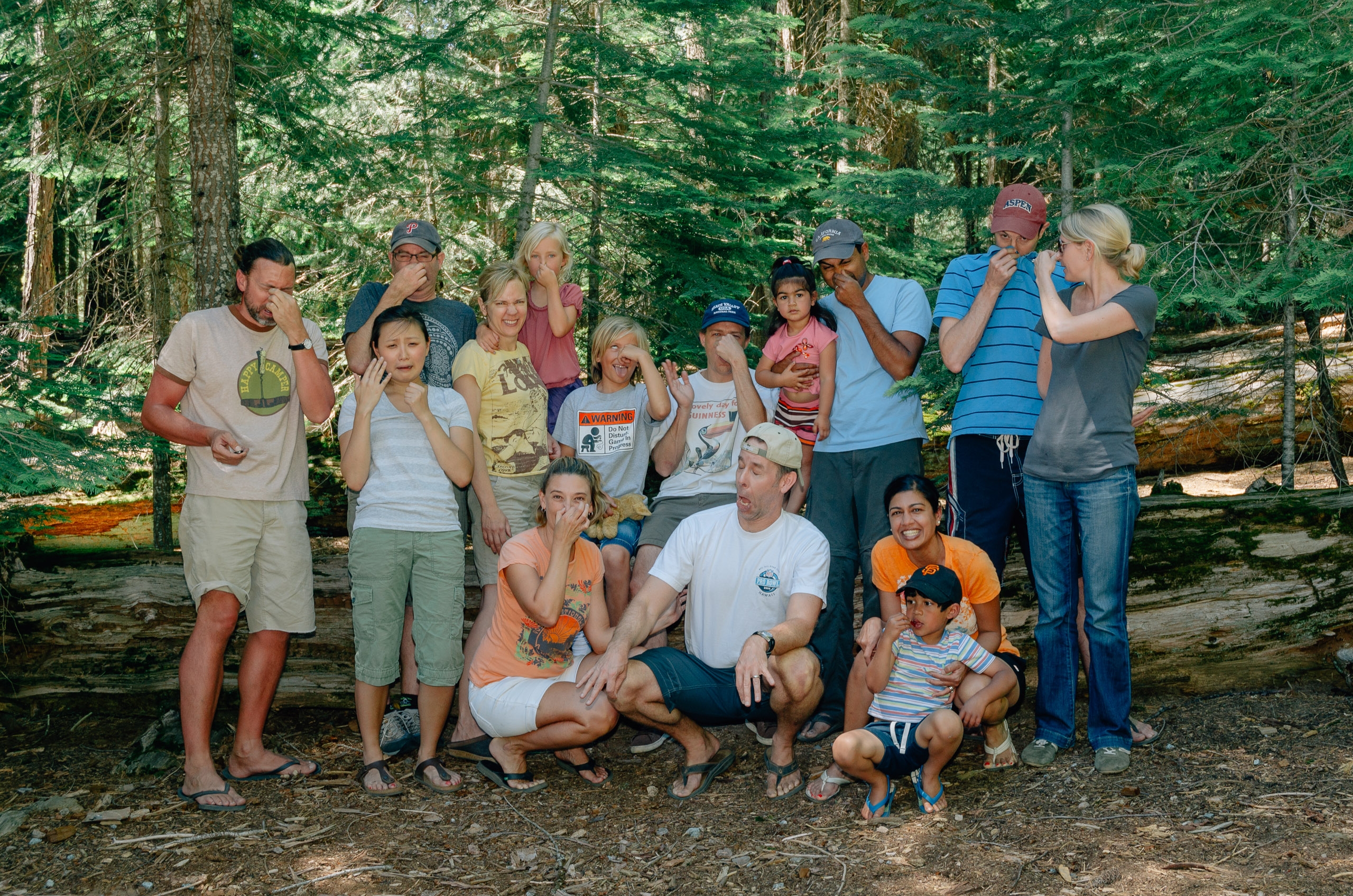 Evan chose this year's photo spot, right next to the malodorous bathrooms (click to enlarge)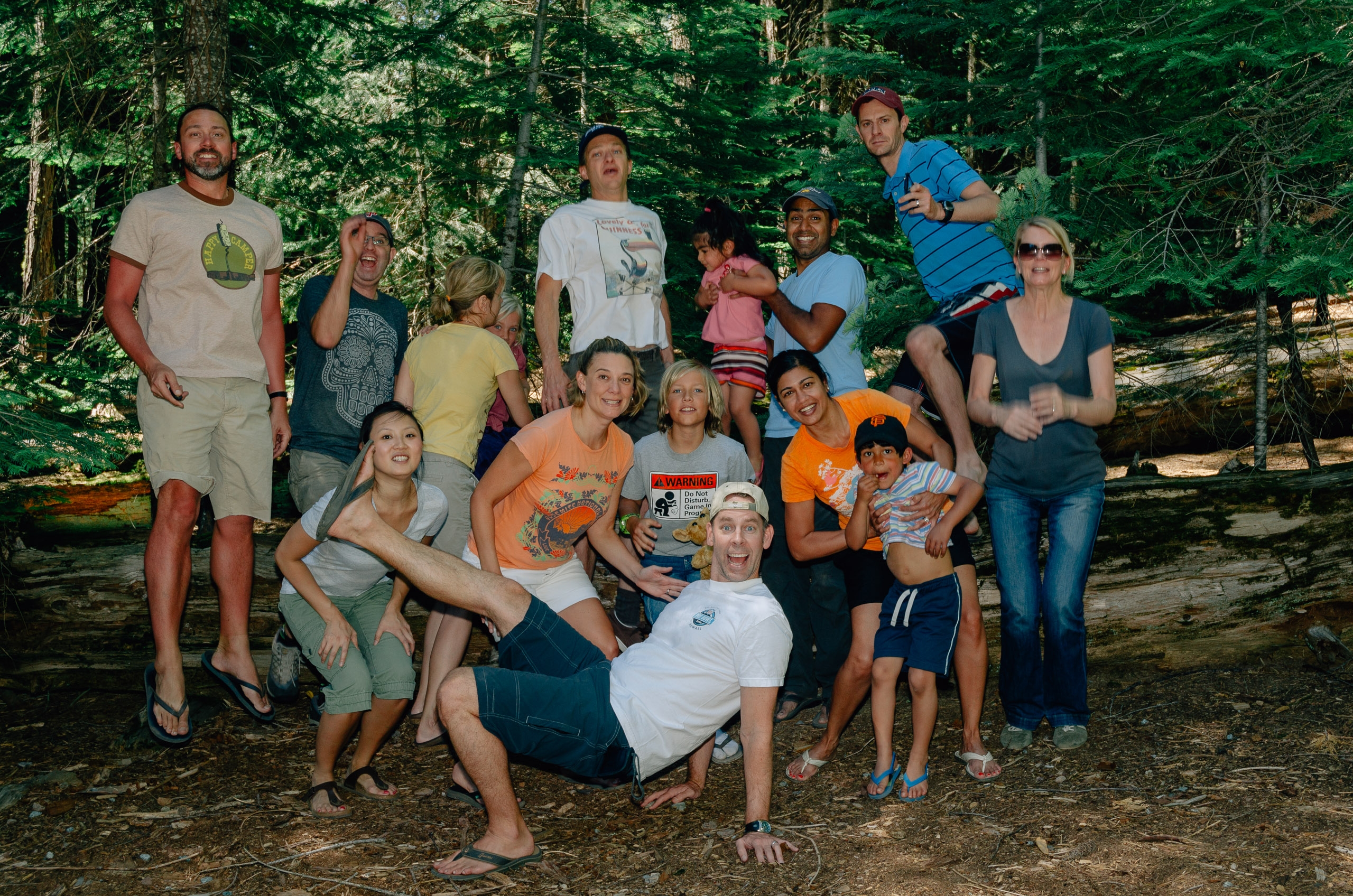 1-2-3 everyone jump! Ok, just me (click to enlarge)