4th of July Fireworks High Above New York City
July 05, 2011
Last night we hosted a few friends for drinks and dinner, followed by a roof-top viewing of the annual Macy's fireworks display along the Hudson River. In the recent past, the fireworks had been shot over the East River for the benefit of Brooklynites, but this year the festivities were moved back to the Hudson, thus affording us a front-row view.
Starting about 25th street, there were six barges with synchronized fireworks displays going up the Hudson toward mid-town. Although it was hazy and partly cloudy most of the day, the evening was clear, calm, warm and ideal for summer fireworks.
Sunset over the Hudson as fireworks time neared
Our building has a rooftop terrace that sits on the 40th floor facing west. We went up around 8:45PM and elbowed our way among the crowd of hundreds to get a prime view along the western ledge overlooking 6th Avenue. As the sun was setting, you could see crowds gathered atop all the adjacent buildings in the neighborhood.
The Empire State Building lit up in red, white and blue for Independence Day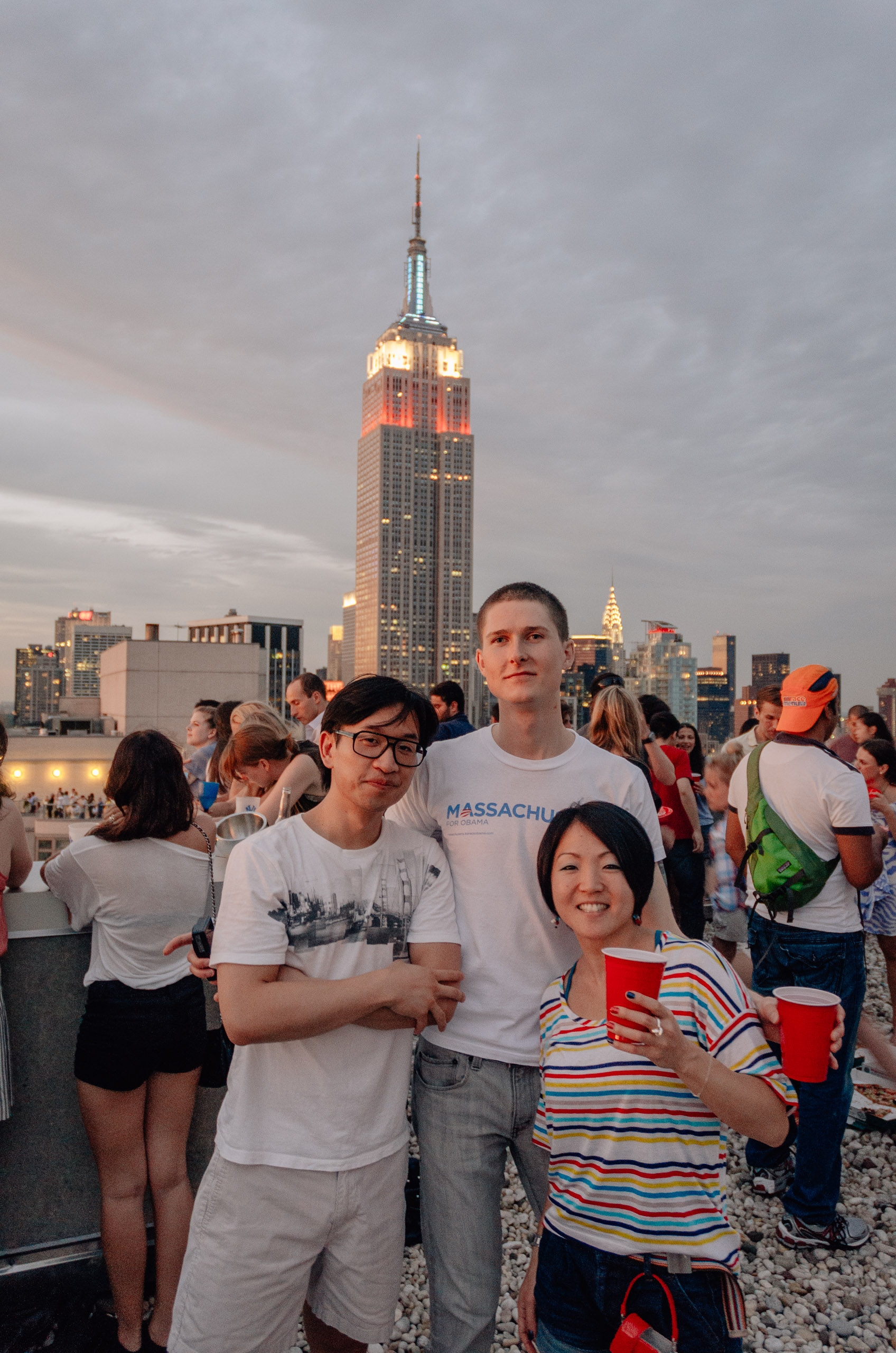 July 4 Fireworks - 2011 - 2011-0704-KPK_8303
July 4 Fireworks - 2011 - 2011-0704-KPK_8310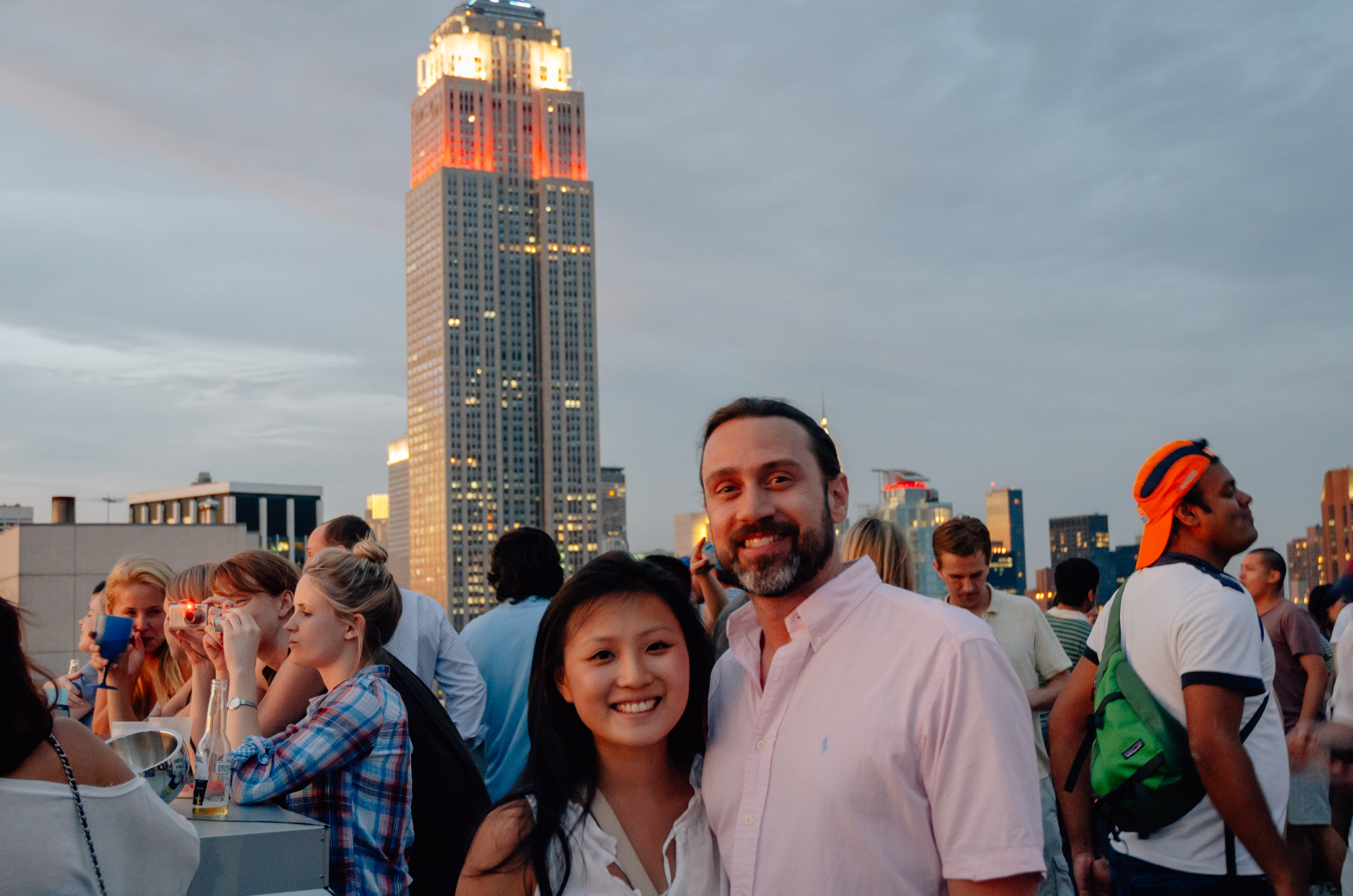 July 4 Fireworks - 2011 - 2011-0704-KPK_8320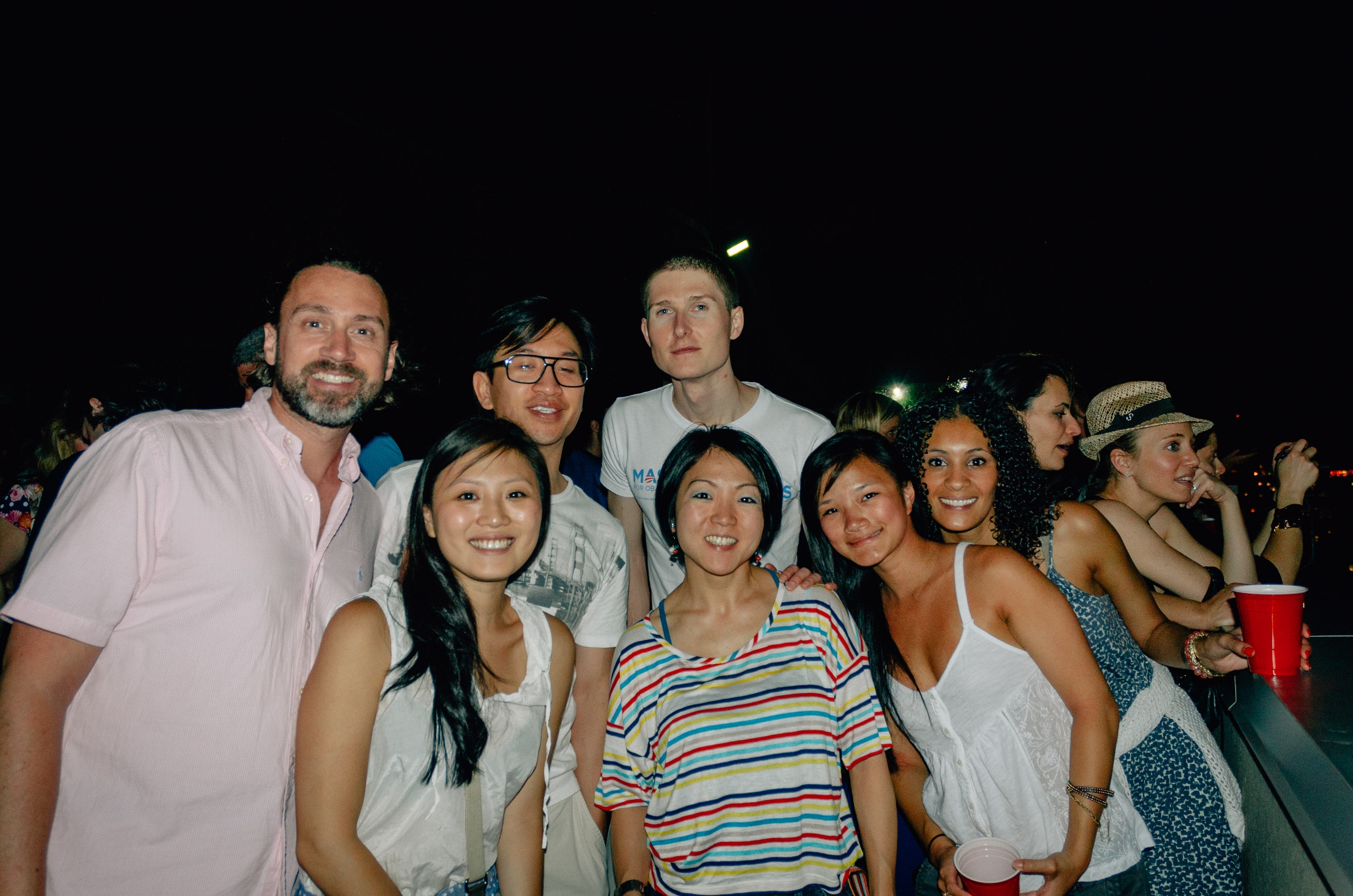 July 4 Fireworks - 2011 - 2011-0704-KPK_8464
The first rule of photographing fireworks is "Use a Tripod". I did not, and could not, because of the crowds so I did my best to take some hand-held photos but out of the hundreds taken, only a few were usable. These are intended to be more illustrative to synchronized display of 6 simultaneous fireworks shows as seen in this photo.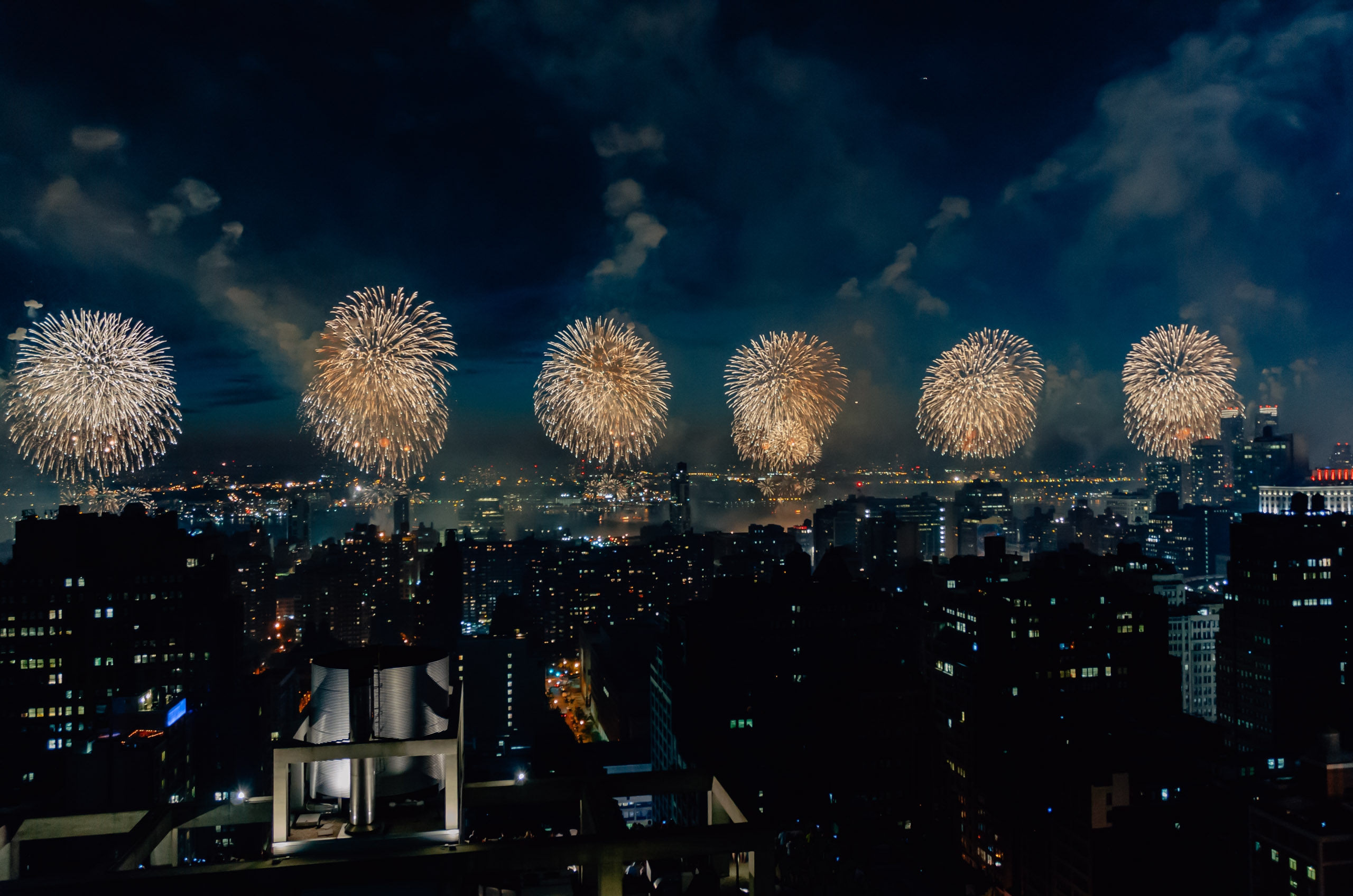 July 4 Fireworks - 2011 - 2011-0704-KPK_8448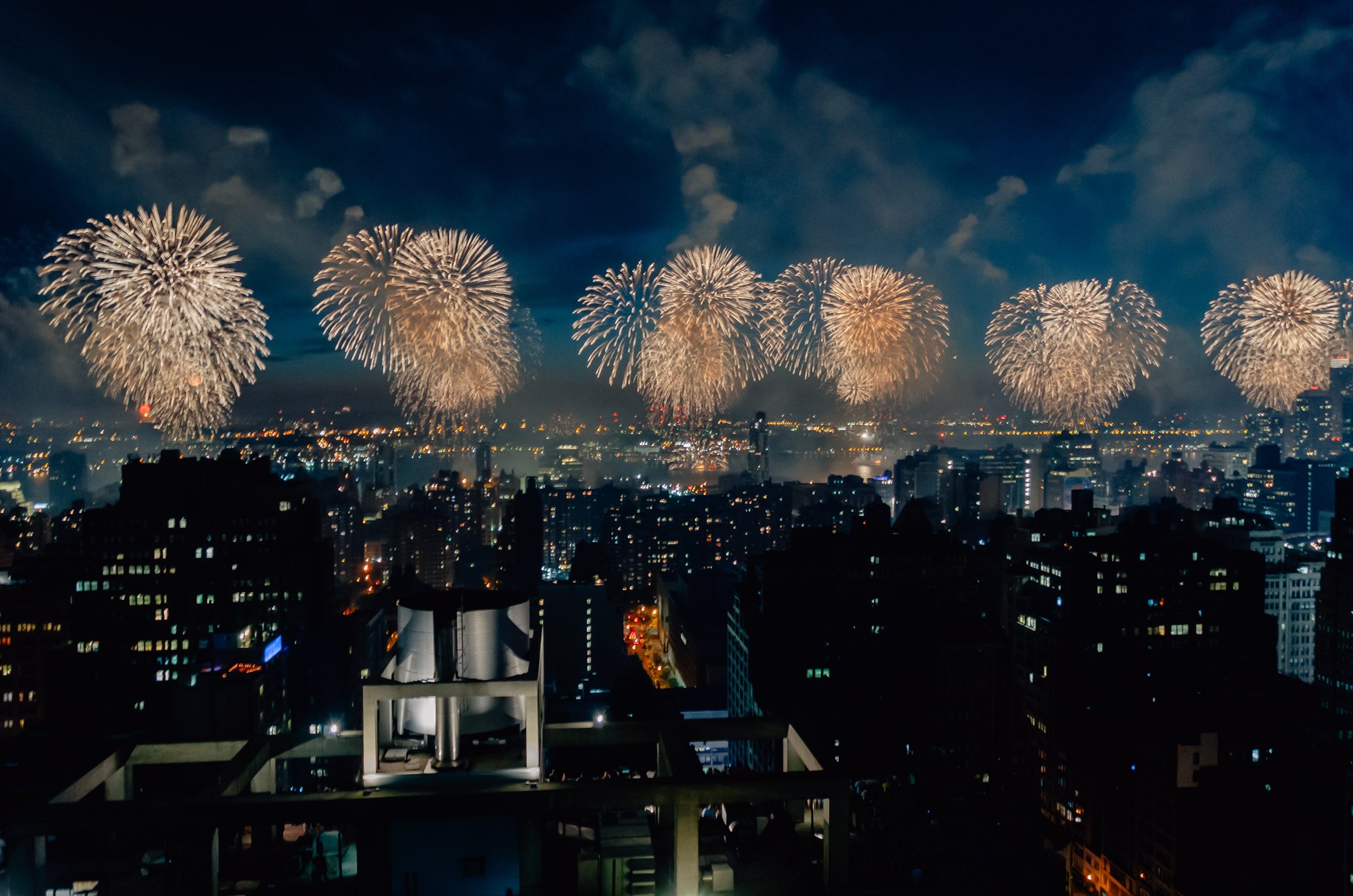 July 4 Fireworks - 2011 - 2011-0704-KPK_8440
I also shot some grainy, shaky handheld HD video with my Nikon which is included below. Independence Day is the terrifically quintessential American, non-Hallmark holiday: there's no gift-giving, the food is gluttonous, its largely outside on a warm summer evening and it features numerous explosions. Assuming the fireworks remain on the Hudson, I could easily see this being an annual tradition. After 15 years in San Francisco, its nice to watch the fireworks without a jacket and sweater, or fear of the pyrotechnics obscured by fog.
If you have a recommendation for "The Best" place to celebrate the July 4th, please indicate in the comments below.