Travels to Hawaii: Three Days in Kailua
May 04, 2011
Before I say anything else, a piece of advice: If you don't have friends that live in Hawaii and work for Hawaiian Airlines, find some immediately (Sorry, but the persons depicted in this post are spoken for).
As I mentioned in my previous post, we were in San Francisco for two weeks converting my condo for rental. Since we had sold some of the larger and most daunting of the unwanted furniture, namely the pool table, sofa and futon, we decided to head to Hawaii for the Easter weekend to visit John and Carey.
We boarded a Hawaiian Airlines flight Friday morning, and it was my first with the carrier. We had a terrific experience. The people were warm and friendly, they served complimentary hot food and the price was unbeatable (thanks again, John). We left San Francisco at 9AM and arrived in Honolulu around 11. Carey met us at the airport, and we headed off to Kailua.
Kailua is about a half-hour from Honolulu over the Poli Highway, and boasts some of the best beaches in the state of Hawaii. Its no surprise the Obamas vacation there each Christmas. We didn't see them, or Barack's birth certificate, but we did see their picture in the Island Snow Shaved Ice shop.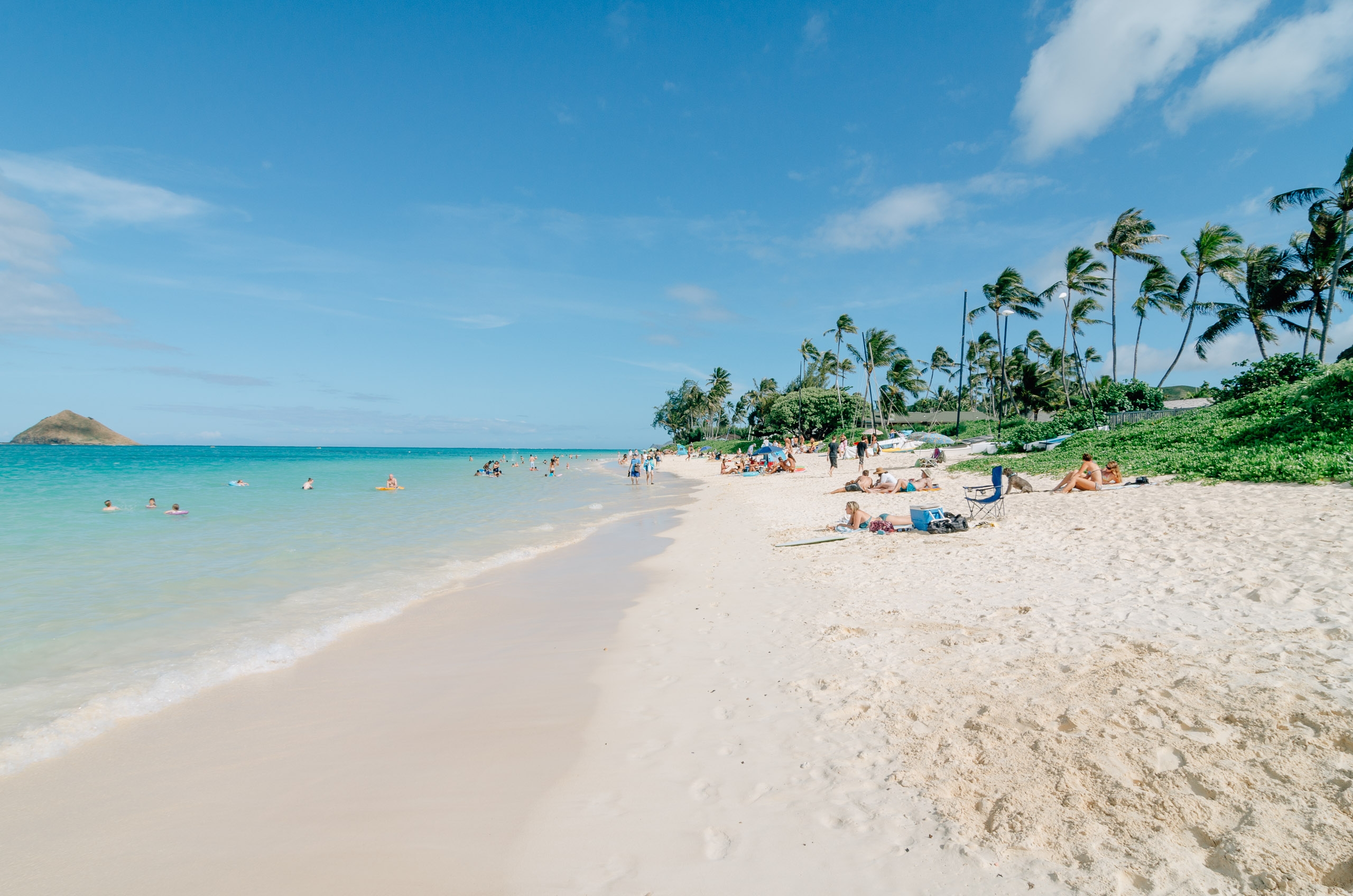 Lanikai Beach Park
We had a quick lunch at FatBoy's Drive-In, consisting of chicken katsu curry, fried mahi mahi and a "side" of loco moco. The name of the restaurant says it all. The portions were massive, and each dish is served with a mountainous side of rice and macaroni salad. After lunch, we stopped at another shop called HIbachi that makes fresh tuna poke to order, and it was one of the best afternoon snacks I've had in a while.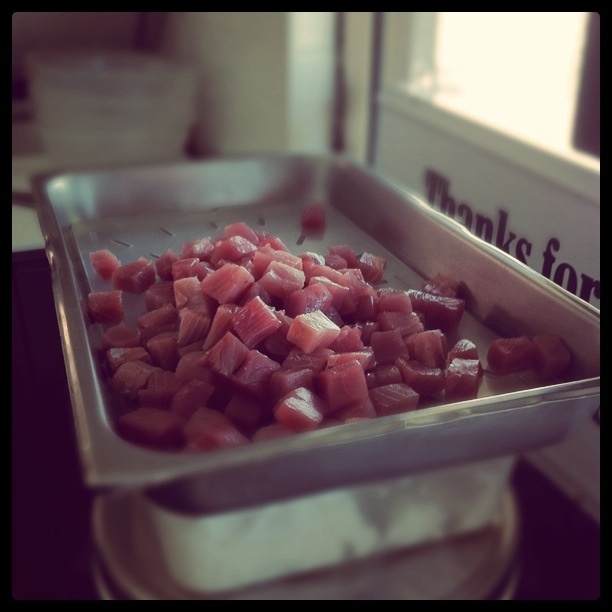 The ginger and ponzu poke under construction
Friday afternoon Carey, Jessica and I went to Lanikai Beach Park which is about 5 minutes from John & Carey's house. John had to work that afternoon, but met up with us later. You could do much worse that Lanikai Beach, with its beautiful white sand, gentle surf and a terrific view of the neighboring islands. Fresh from our flight and full of fried food, we pretty much lounged around the beach for most of that afternoon.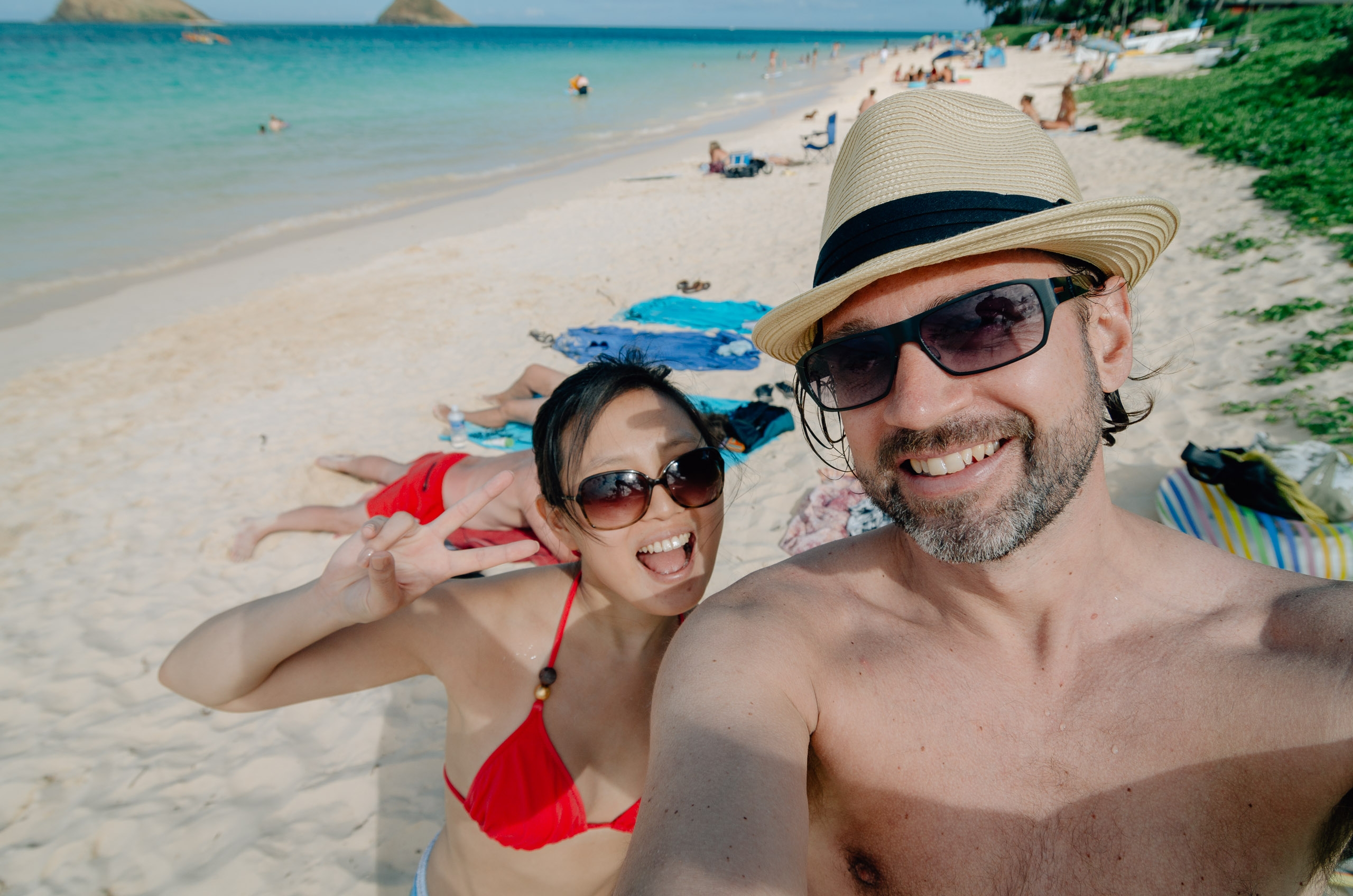 Good times pre-sunscreen and pre-sunburn
Later we met up with John and went to dinner at Haleiwa Joe's Seafood Grill, a terrific outdoor patio restaurant. Although I had the ribs, everyone else dined on what was described as pretty good seafood. I'll take them at their word. The restaurant reminded us of a place in Phuket called Ba-Rim-Pa (thanks to Peter Warner for the recommendation). They are both beautiful open-air restaurants sitting high up on a hill. The temperature ranged between 75-85 degrees during our entire visit, so it was perfect evening to eat outside (which is something I don't typically care to do because I really hate bugs).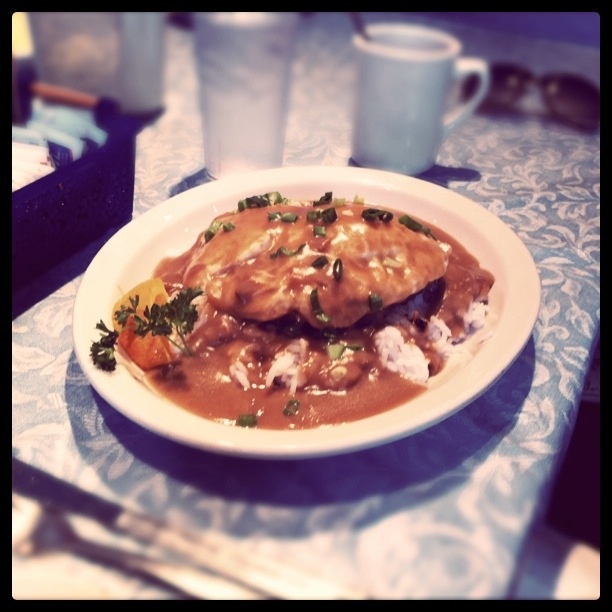 Saturday morning's loco moco, our second
Saturday we went for breakfast and our second loco moco, then headed to Kailua Beach to learn the paddle board. A paddle board is a bit larger than a surfboard, and you stand atop and navigate with a paddle. Standing is the hard part, especially for unskilled beginners full of loco moco in choppy seas. I spent most of my time falling into the water and climbing back on, rarely getting higher than my knees. Jessica did better than me, but she spent many years studying ballet.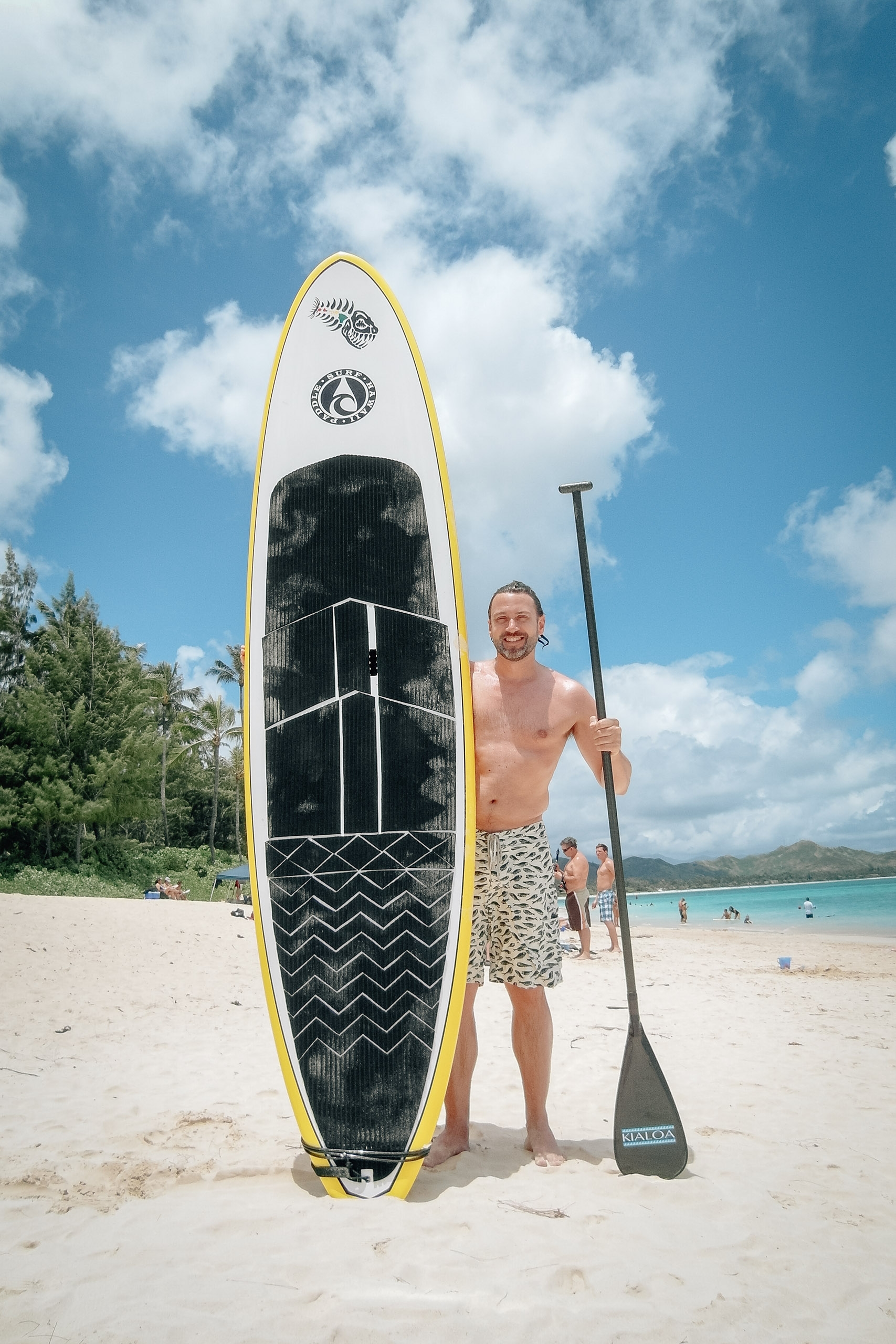 The best picture of me with this board is before I tried riding it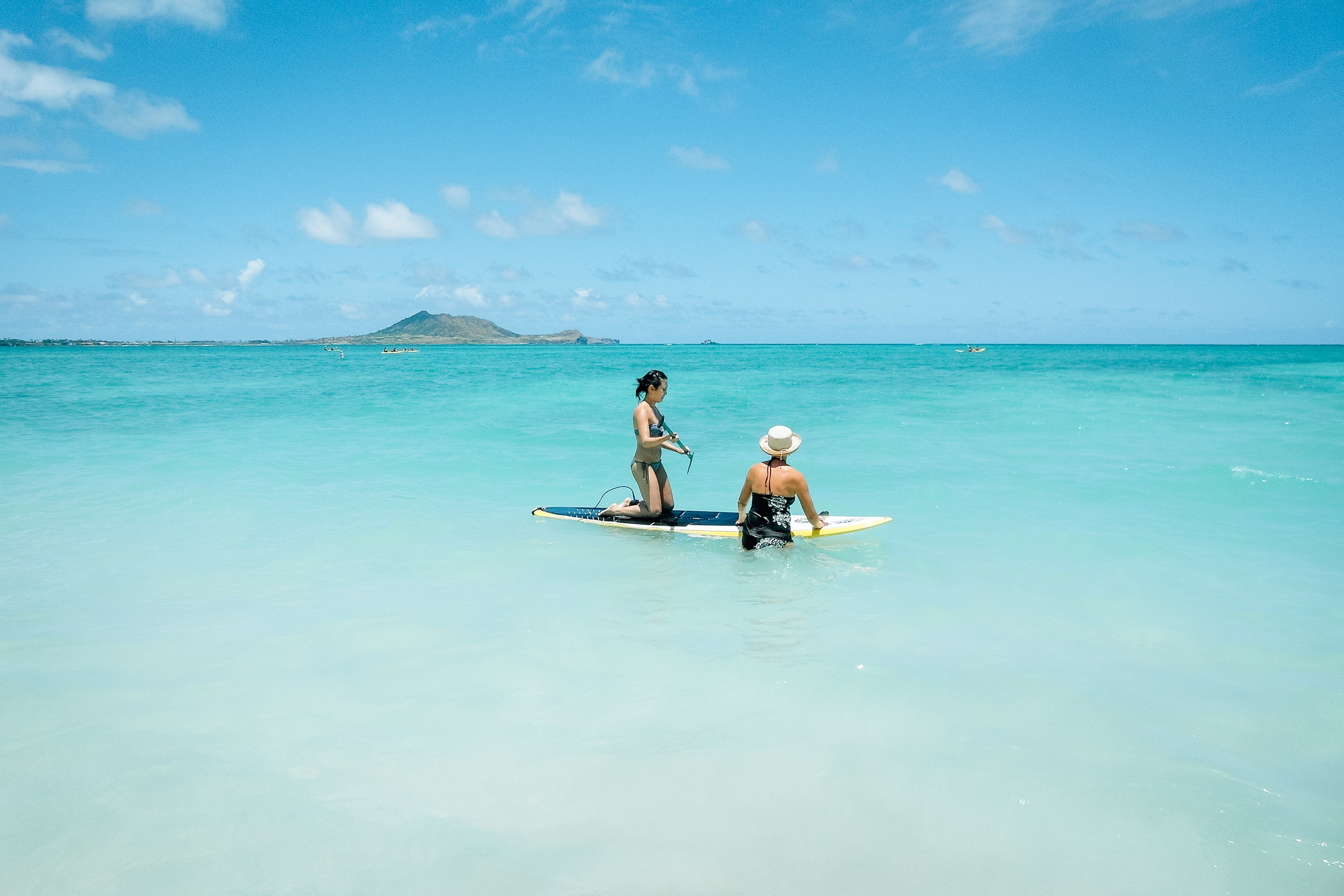 Carey coaches Jessica on the paddle board.
Saturday evening we cleaned up and headed into Waikiki for drinks at the Moana Surfrider and dinner at Morimoto. The Moana is one of my favorite spots in Hawaii. The hotel's enormous ocean-front veranda sits right in the heart of Waikiki, but has a nice, classic feel with just enough touristy ambience. They also make terrific cocktails, including the highly flammable Tropical Itch and my favorite Mai-Tai.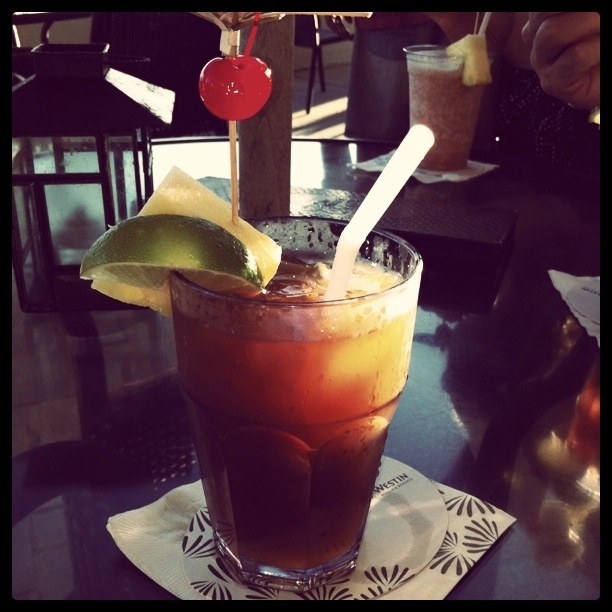 The Moana Surfrider Mai-Tai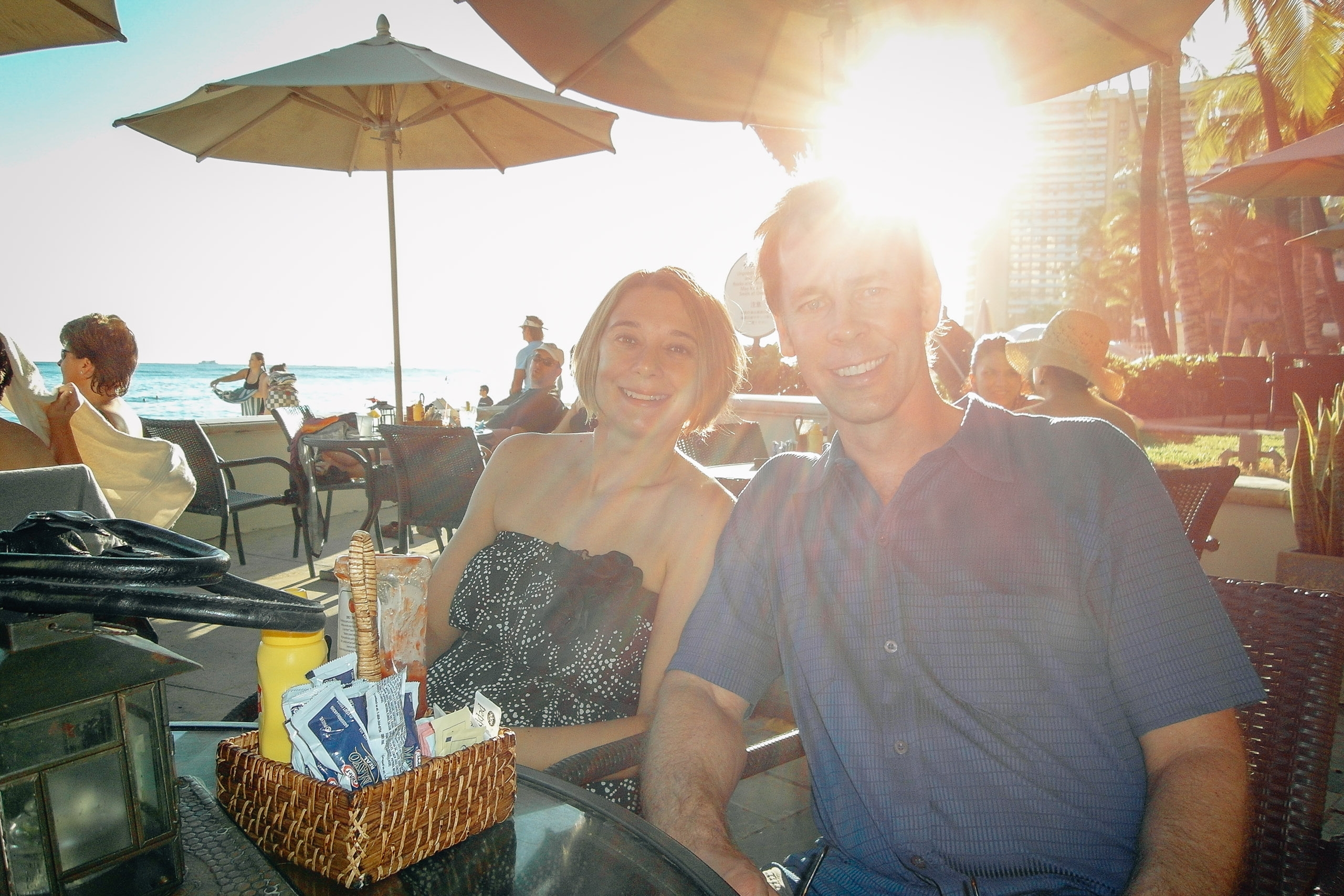 John & Carey backlit at the Moana Surfrider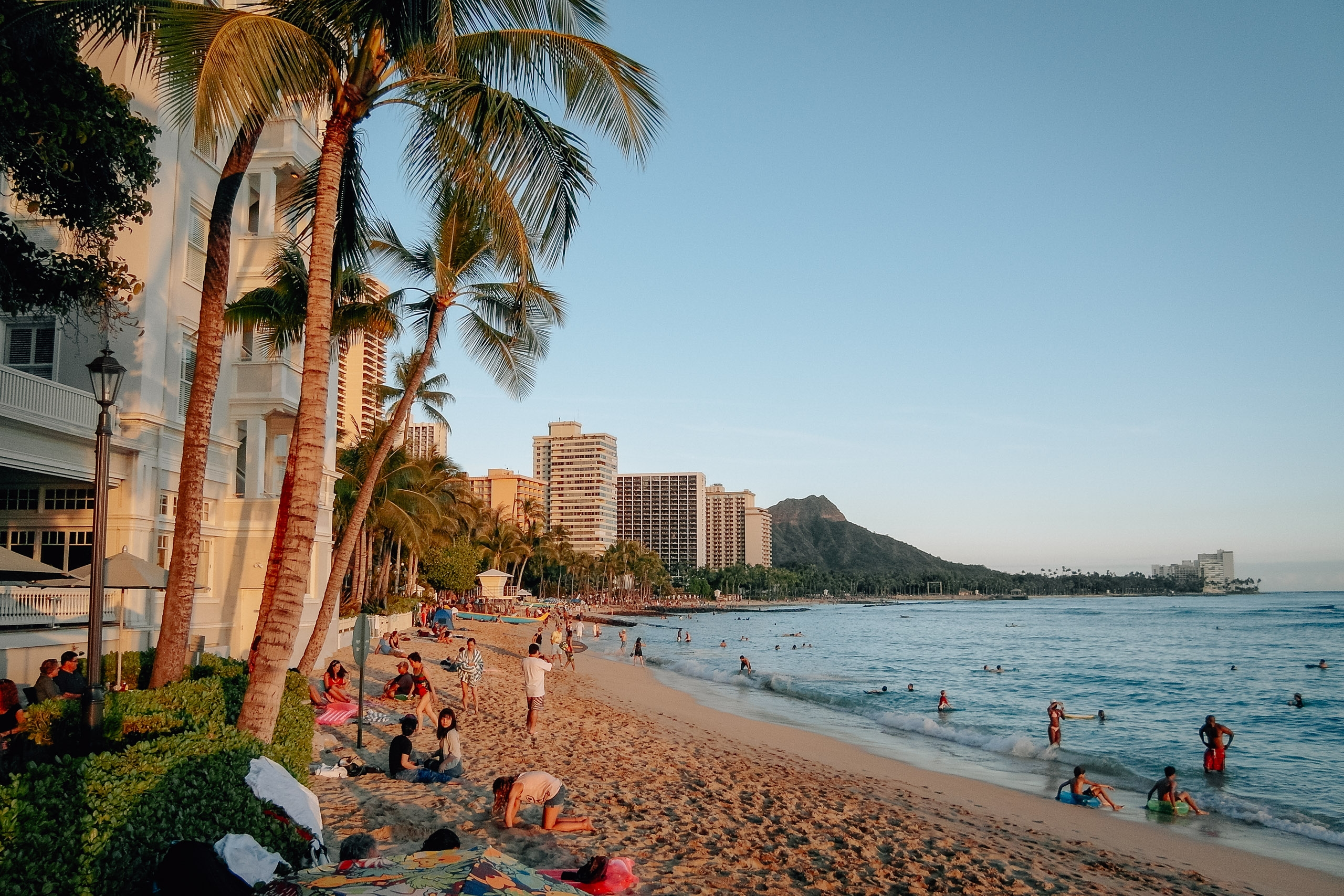 Diamond Head on Waikiki Beach
We were really looking forward to dinner at Morimoto. John, Jessica and I ate at his restaurant in Tokyo last May and had a terrific experience. During our dinner we got to know the chef, who happen to be headed to Hawaii to help open Morimoto Waikiki. Before leaving that night, he handed John his business card and inscribed a message in Japanese with instructions to
be certain
to present his card at the restaurant. We have friends who are chefs, so we know what its like to be a guest of the chef at a nice restaurant. By the time dinner came around our expectations were wildly out of control.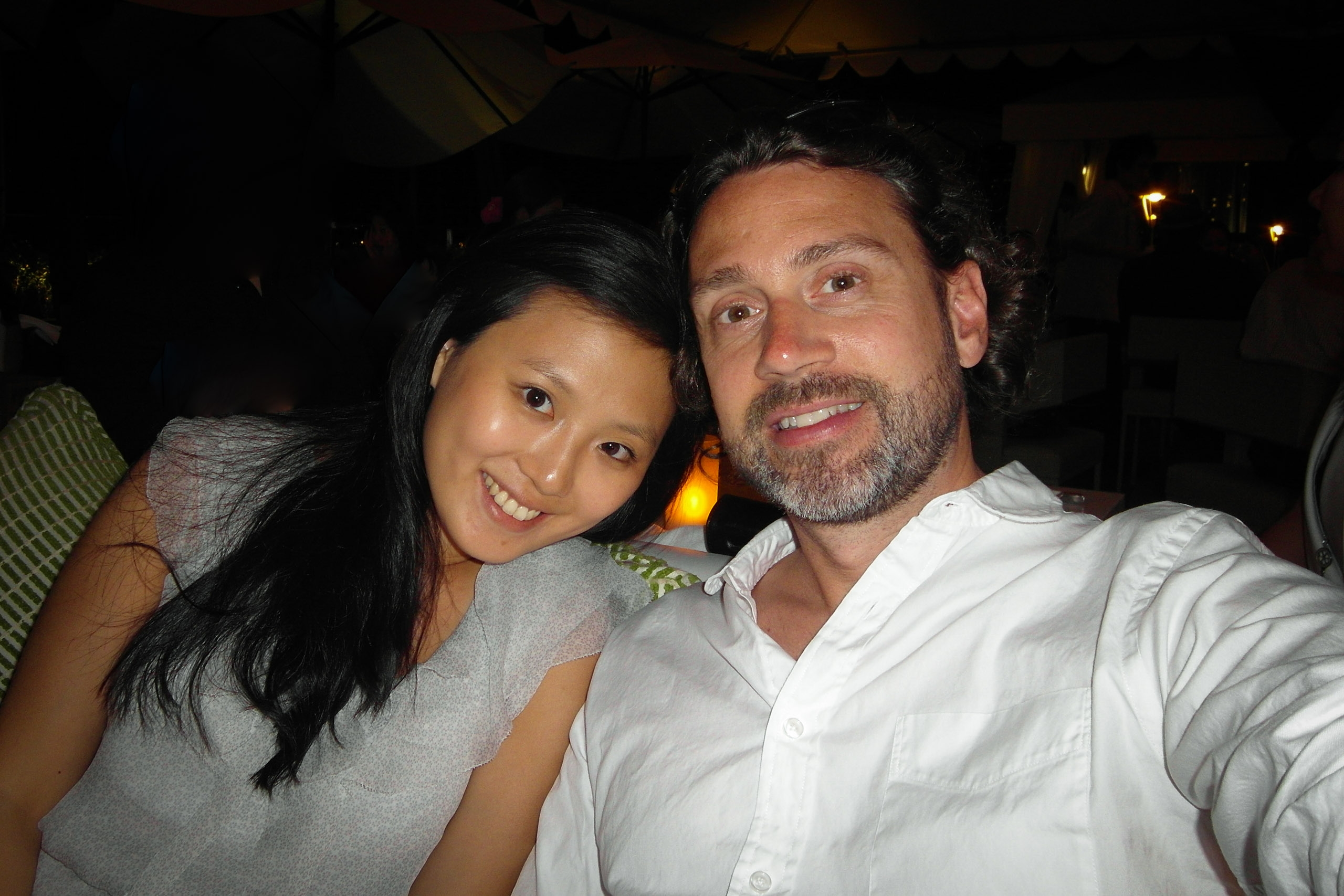 Jessica and I on the patio at Morimoto before dinner.
Either that chef wasn't very well liked, or perhaps he handed out thousands of business cards. Regardless, in exchange for the card we got a warm greeting from the Japanese hostess and that was the last we heard of that. The meal was good, but not outstanding. Personally, I think Nobu does better Japanese food in Waikiki, but it is a beautiful restaurant and the new Waikiki Edition hotel is quite nice. Note: John, Jessica and I had the 9-course omakase which consisted of 7 big hits and 2 disasters.
Sunday we got up late but just in time for Easter Baskets from Carey...I mean, the Easter Bunny. Eat your chocolate quickly in Hawaii, else it will be all over the place in no time. We made breakfast at home and played about 2 hours of Mexican Train before heading Ala Moana Beach Park. Despite my trouble keeping score, we finally determined that Jessica won the dominoes game, and won it handily.
Ala Moana Beachpark is in Hononlulu, and is very popular with the locals, especially on holidays. Despite the crowds, we parked quickly and grabbed a nice spot on the sand. We brought the paddle board as this part of the beach is well-protected by a reef and makes for easy paddling. Even I was able to do stand up a bit, although all the nearby swimmers made me anxious enough that I still spent much of the time in the water. Jessica did much better than I (again, her ballet training), even paddling to nearby islands.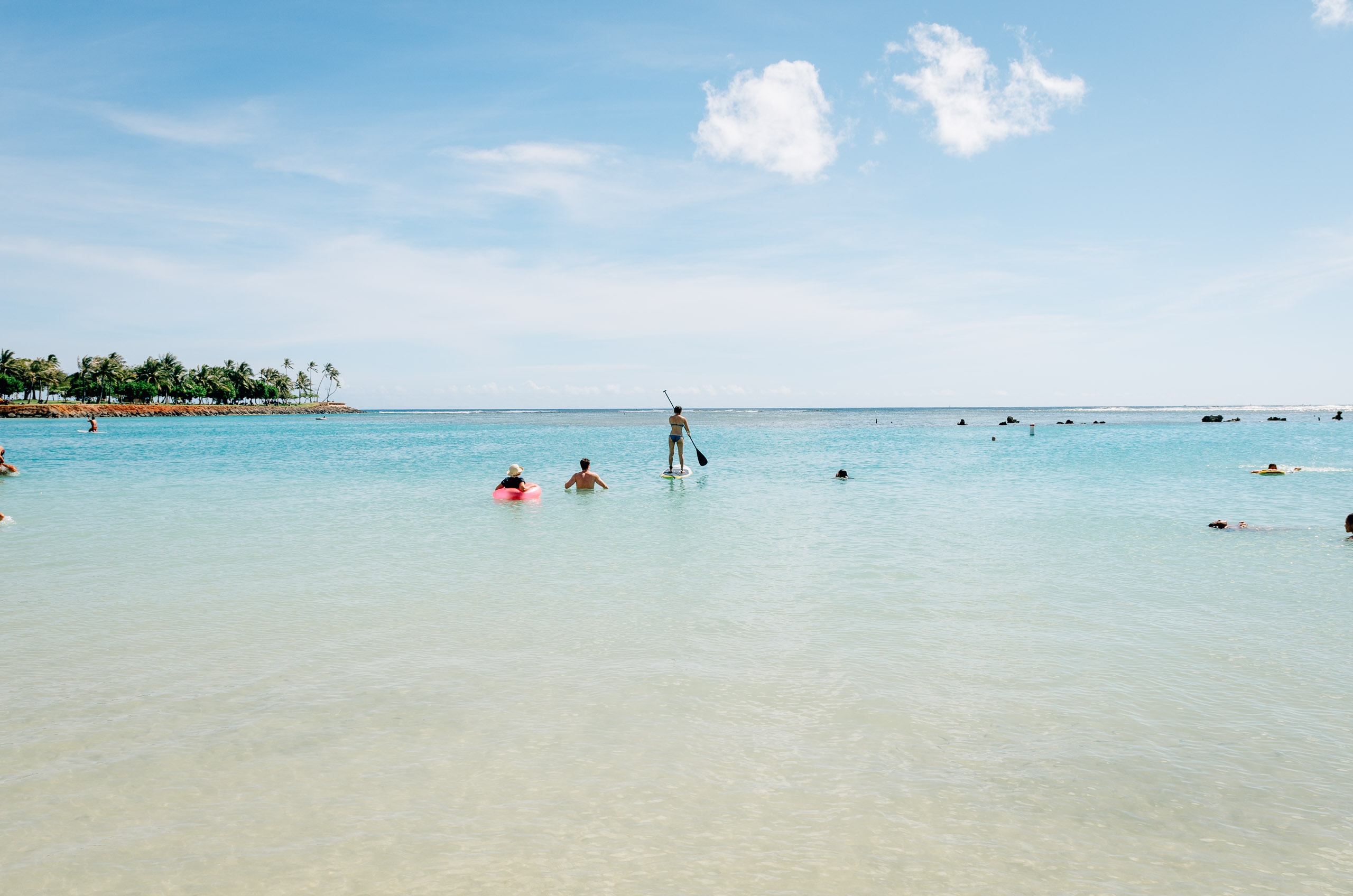 John & Carey provide last-minute instruction while Jessica paddles away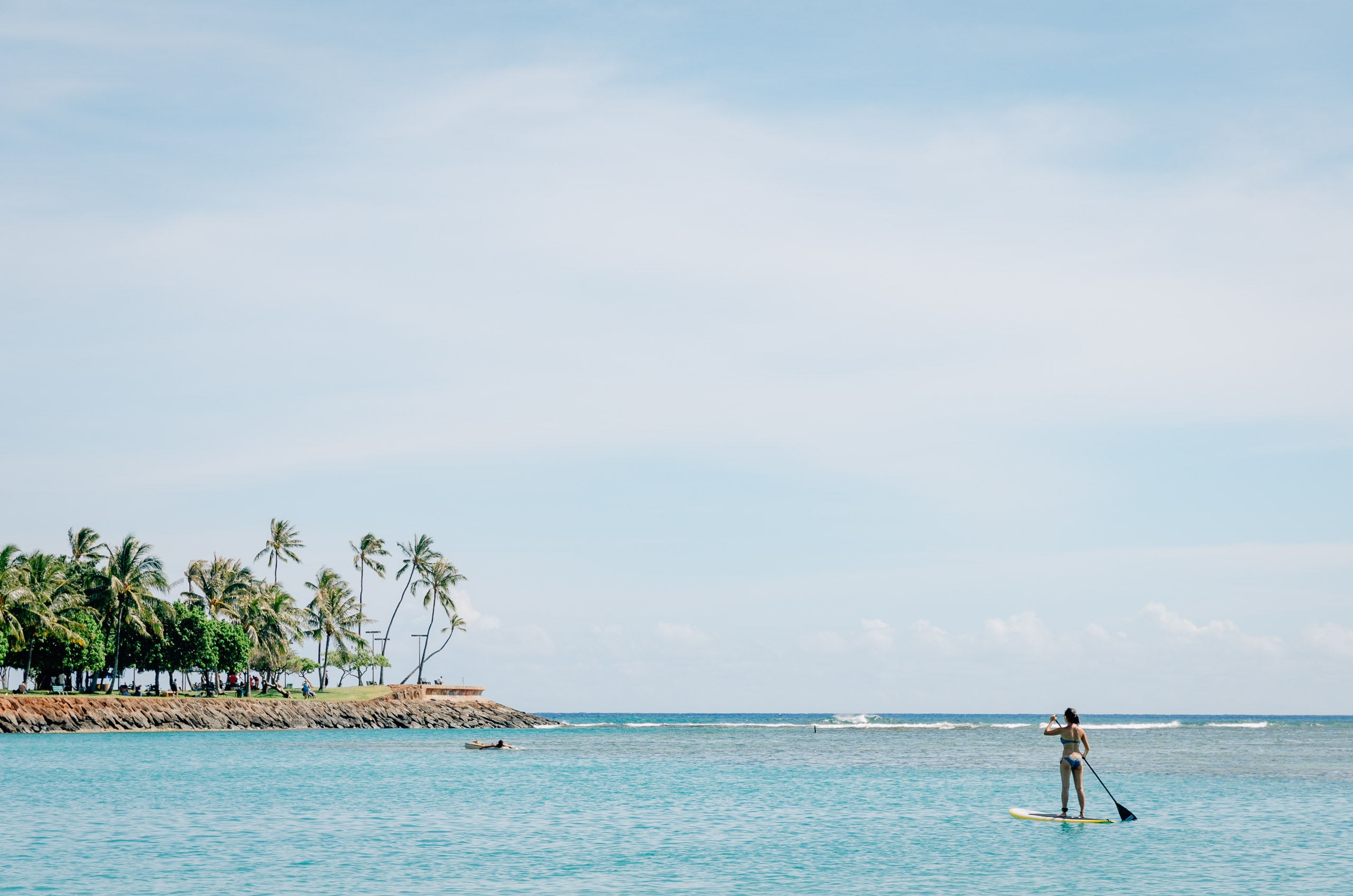 Padding Out to Sea
Jessica headed to remote islands via paddle board
That evening we showered, packed up and headed to the Kona Brewing Company for dinner. Although their beers are made on the Big Island, the Oahu restaurant serves all of their bottled, draft and seasonal beers, including their terrific Kona coffee-based porter. It was a fitting end to a terrific weekend, as John and I each ordered a sampler.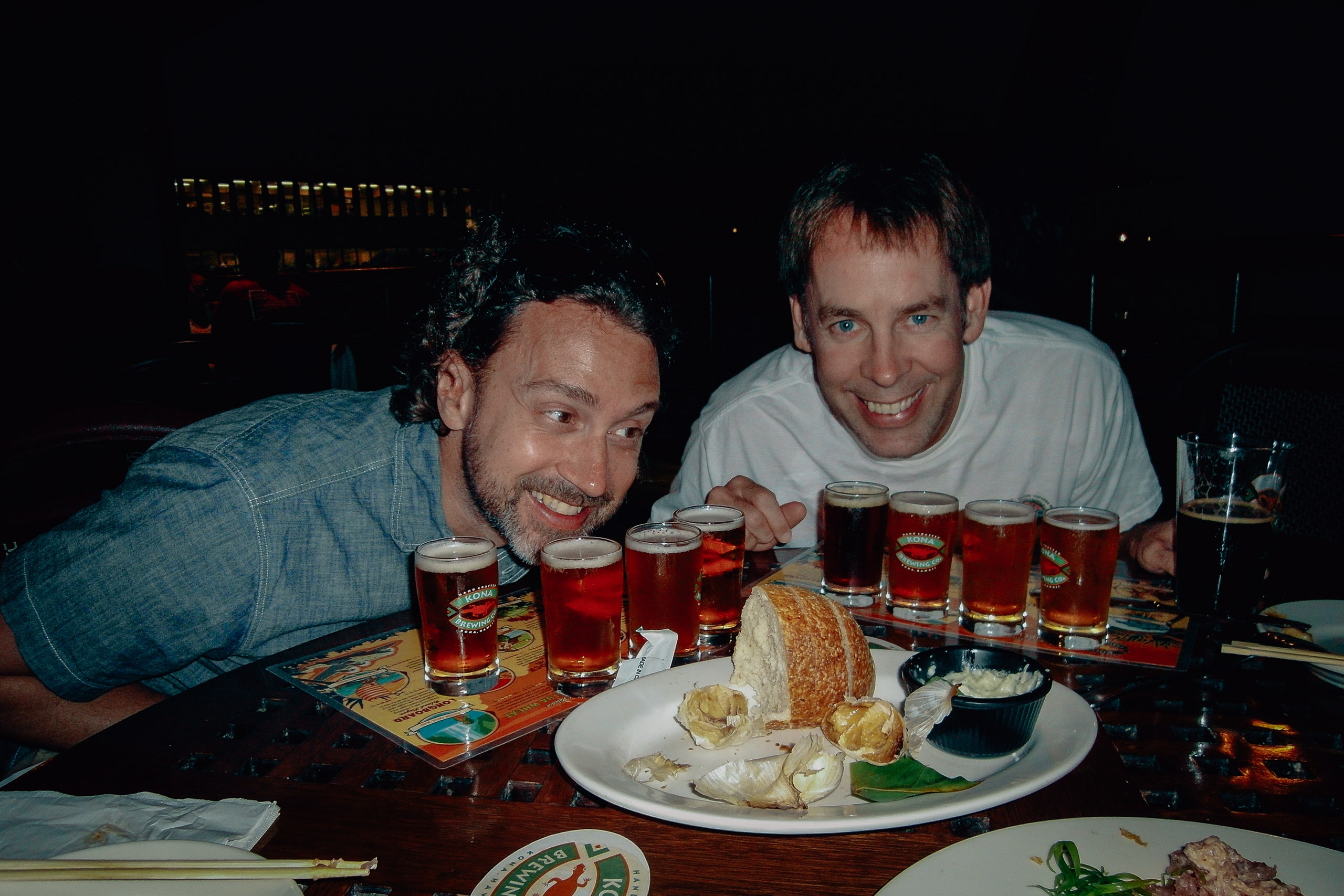 Kris and John preparing to enjoy their many mini-beers
We left for San Francisco via LAX that night around 10:30, and were back in San Francisco by 9AM Monday. An easy, enjoyable, and highly relaxing couple of days.
People often ask us what we miss most about San Francisco. Our answer: our friends, the wine country, the House of Prime Rib and the proximity to Hawaii. A flight from New York to Hononlulu is about 11 hours and terribly expensive. From San Francisco, the shortest flight from the mainland, its about 4.5 hours and there are deals to be had all the time.
We really enjoyed seeing John and Carey and staying at their home in Kailua, and we're already angling for our return trip. Until then, we'll see them and everyone else at
Yosemite 12 in July!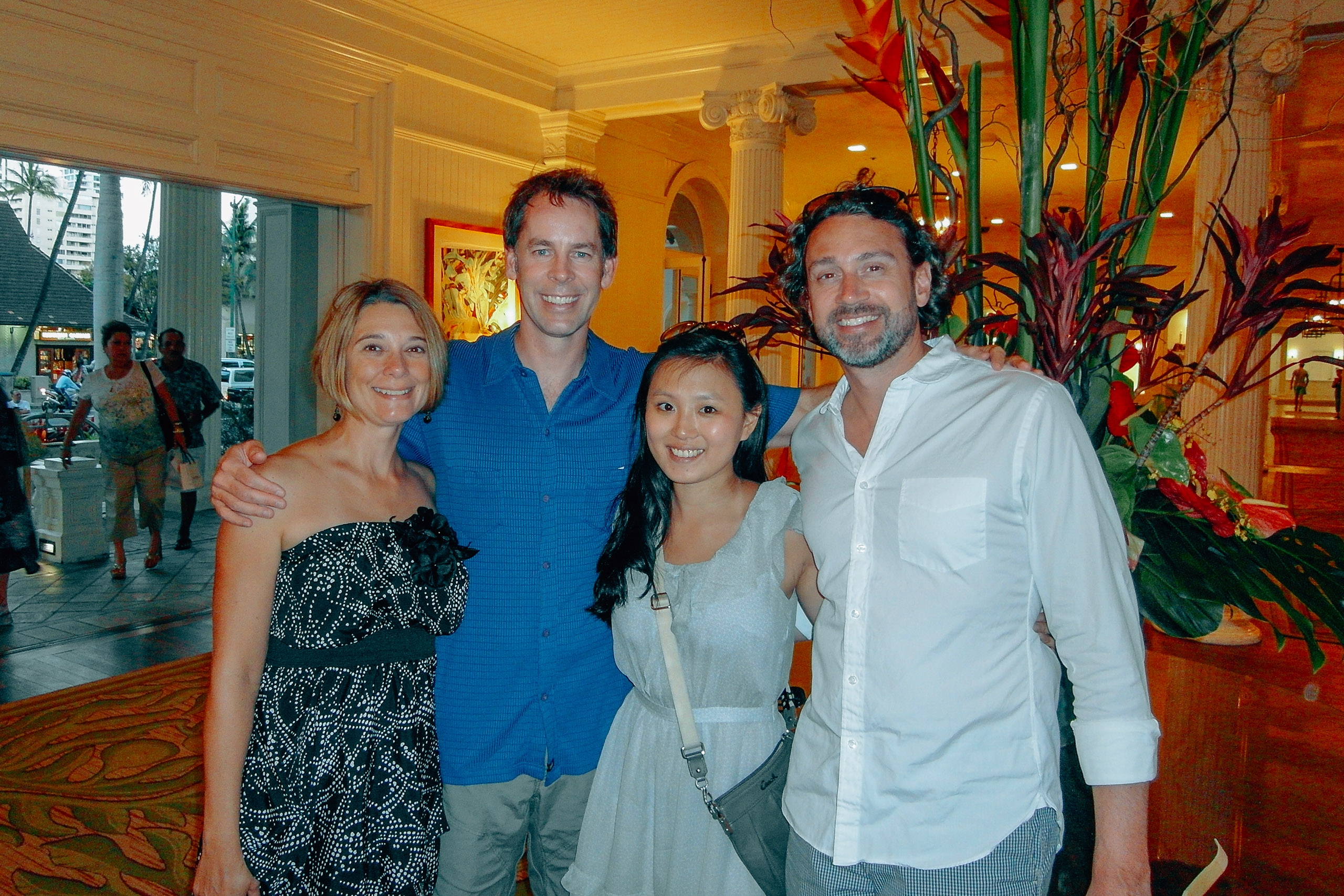 Carey, John, Jessica, Kris and the Tropical Itch backscratcher in the Moana lobby