Three Days in Las Vegas
May 02, 2011
A few weeks ago, we traveled to San Francisco for a big project. Last fall I rented my condo, and my tenant's lease was up on April 15. We were converting the condo from a furnished rental to an unfurnished rental, requiring us to empty (and evaluate) the contents of two very large closets, sell unwanted furniture including the pool table and find a new tenant for the lease term starting May 1st. We allotted ourselves two weeks for these tasks, burning up a pile of PTO in the process but getting some necessary work done. Luckily, we were able to re-lease the condo to my existing tenant who also agreed to purchase much of the furniture we didn't intend to move to New York. This took the pressure off, and allowed us a few diversions.
We booked our flights to San Francisco for April 13, but my tenant wasn't leaving until April 15. We had intended to go to Sonoma for a few days, but opted instead for a few nights in Las Vegas for Jessica's birthday, who shockingly had never been there. This was my fourth trip to Vegas, but my first in about 8 years. Things in Vegas change pretty quickly, so there's always much to see. Emerging as a major destination for world-class dining, we were excited to try some of the marquee restaurants as well. My last trip to Vegas was for Michael Sommers' bachelor party, which I'm legally barred from depicting here.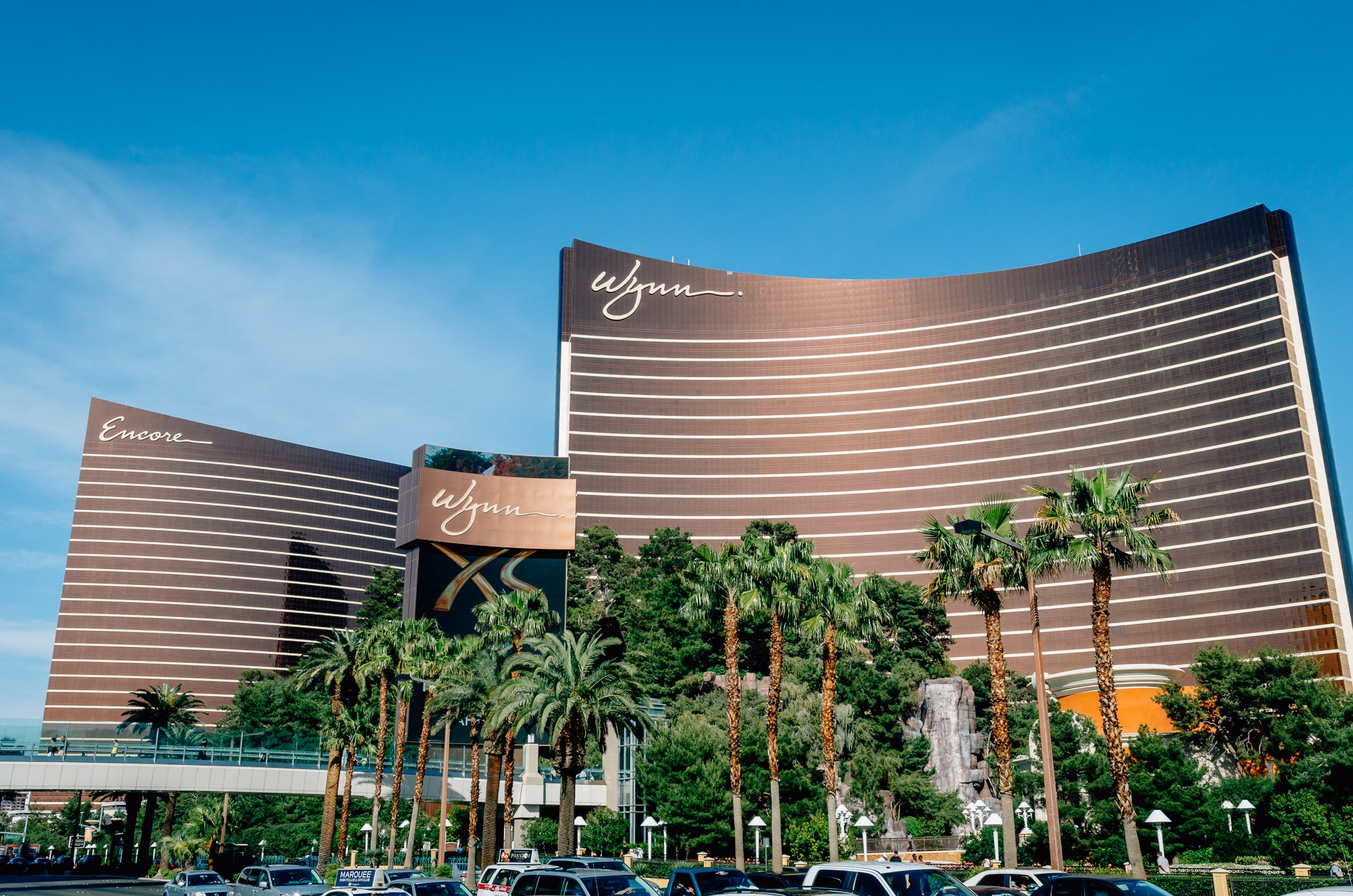 Birthday in Las Vegas - 2011-0415-KPK_5512_6289
We bought a United Airlines Vacation Package from San Francisco to Las Vegas, departing for Vegas a few hours after our scheduled arrival from Newark. Turns our flight to San Francisco was terribly oversold, so Continental offered to put us on a non-stop straight to Las Vegas, arriving a few hours earlier than planned. Additionally they gave us a bunch of Continental Mad Money for our "inconvenience" plus a voucher for breakfast at McDonald's. We were pleased with the deal, but we later learned that our luggage would arrive many hours later after our originally scheduled flight. Not a disaster, but with no swimsuits in our carry-on, the pool would wait until the following day - fortuitous as it was incredibly windy and a bit chilly that first day.
We stayed at the Encore, which is the second hotel in the Wynn complex. It was a nice place, but a bit out of the way. I was surprised how much we spent on cabs. If any city in the world could benefit from better mass transit, it would be Las Vegas. 90% of arriving passengers go to a stretch of road about a mile in length. The taxi unions are pretty powerful in Las Vegas, so I wouldn't plan on that happening any time soon (or ever).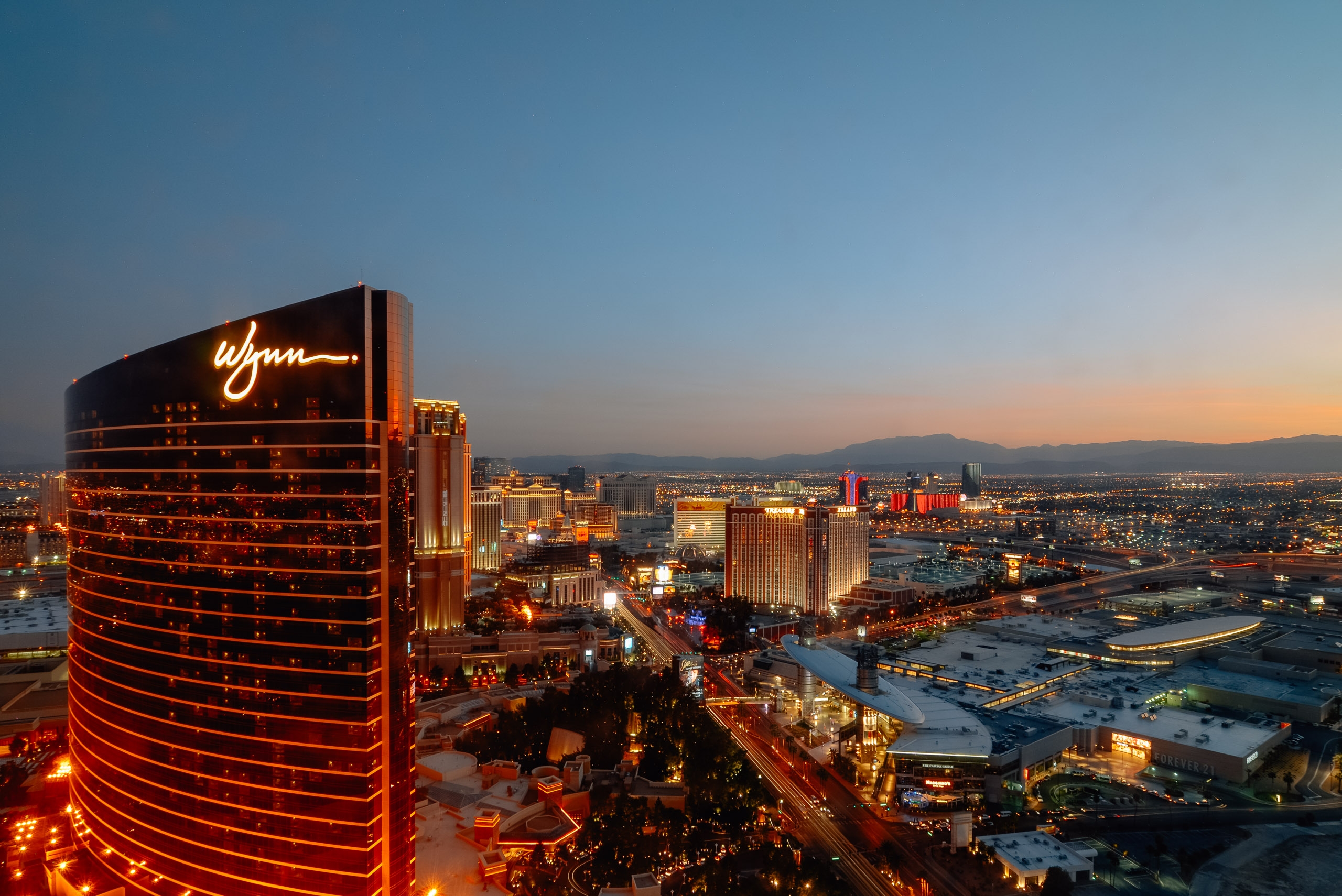 The first night in Vegas we took a lengthy and necessary nap and then hit the Wynn buffet. The buffet was great, but a buffet nonetheless. There's probably an economic inflection point where the ROI on a buffet is surpassed, and when I was younger that was easy, but these days the appeal of "all you can eat" is not that great (except for maybe the House of Prime Rib or Hill Country BBQ). Later that night we went to see the Cirque du Soleil show, "Mystere" at Treasure Island. I'm not so into that creepy gothic circus thing they have going, but the acrobatic performances were pretty amazing. If you want to see a show in Las Vegas, you probably can't do wrong with any of their performances.
There's a great scene in the movie, "Knocked Up" where Seth Rogan and Paul Rudd go to Mystere while high. Its a funny scene, and not much exaggerated - the show really is that trippy.
It was an early night as we had gotten up at 3:15AM for our flight and slept about an hour the night before. We did some gambling but it was mostly ceremonial.
The next day was all about the pool. We were speculating on the temperature, convinced was at least in the mid-80s, but it was actually about 65. With no breeze and in the direct desert sun, you can get pretty roasted even in early Spring. If you go to Vegas, bring your own sunscreen. To describe the house brand as "costly" is an understatement.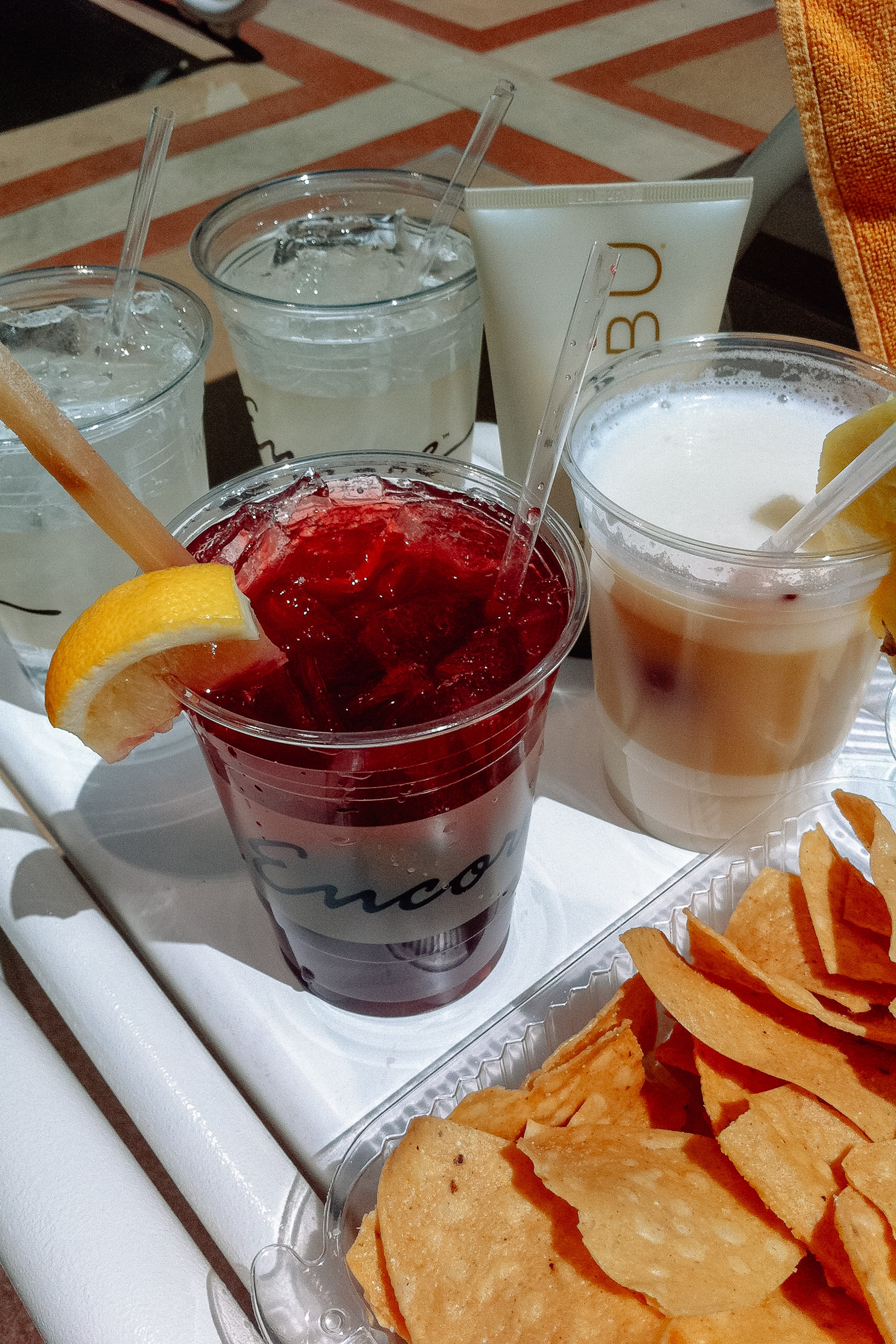 A pomegranate mojito, pina colada and some pretty tasty chips.
That night we had the first of many birthday dinners at Tom Colicchio's CraftSteak in the MGM Grand (thanks to Lana and Dean for the recommendation). Jessica had the surf & turf and I had the bone-in ribeye. Our meals were great, and I believe this is the best bernaise sauce I've had to-date.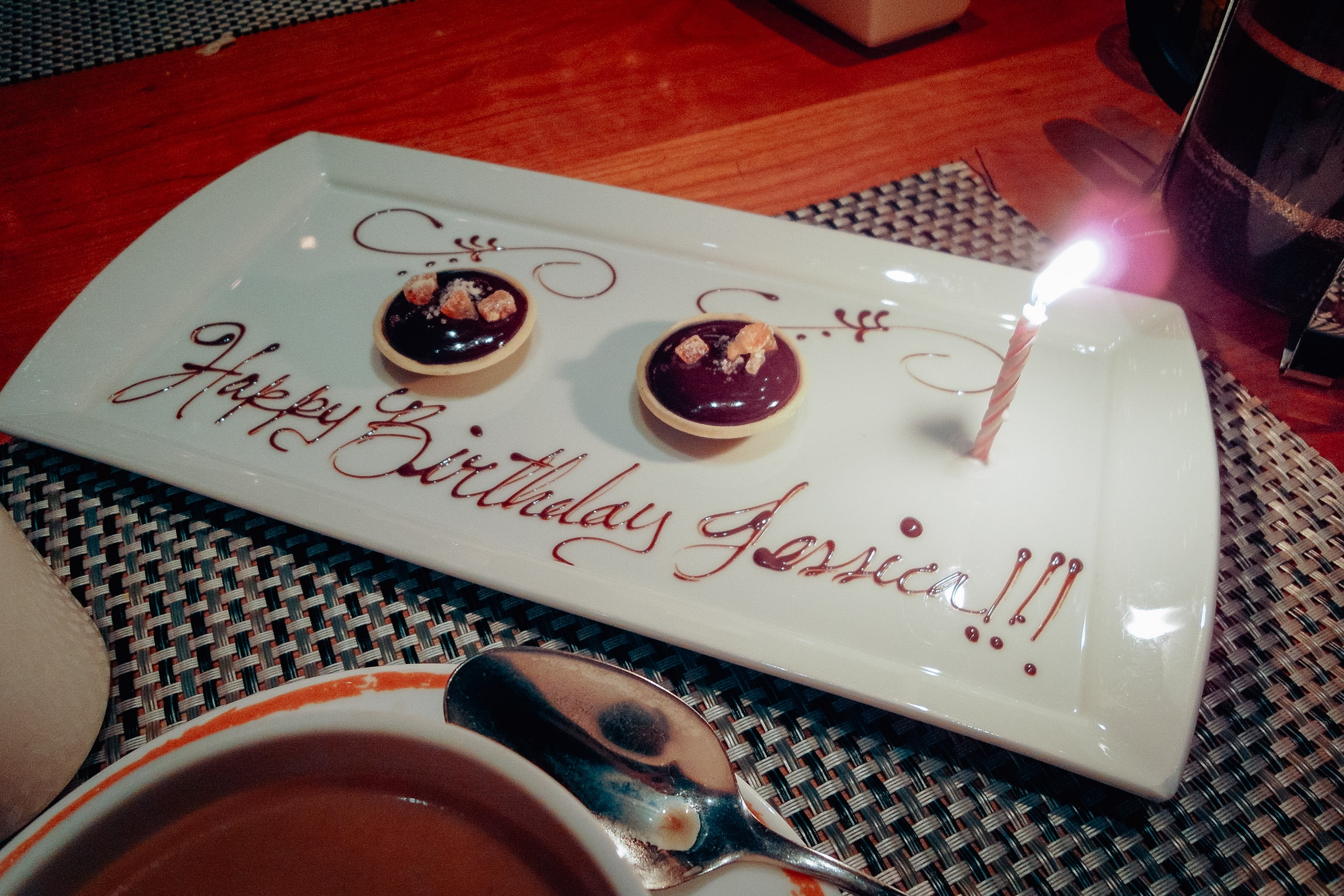 After dinner we took our obligatory cab ride to Old Vegas to check out Fremont Street. If you've been to
Reno
, its very similar. You can play blackjack for $3 a hand, and most of the slot machines are still mechanical. There's great people-watching in Old Vegas, but a few hours is sufficient. I saw one fight and a lot of really drunk people in tank-tops. We went back to the Strip that night and went to the club in the Encore.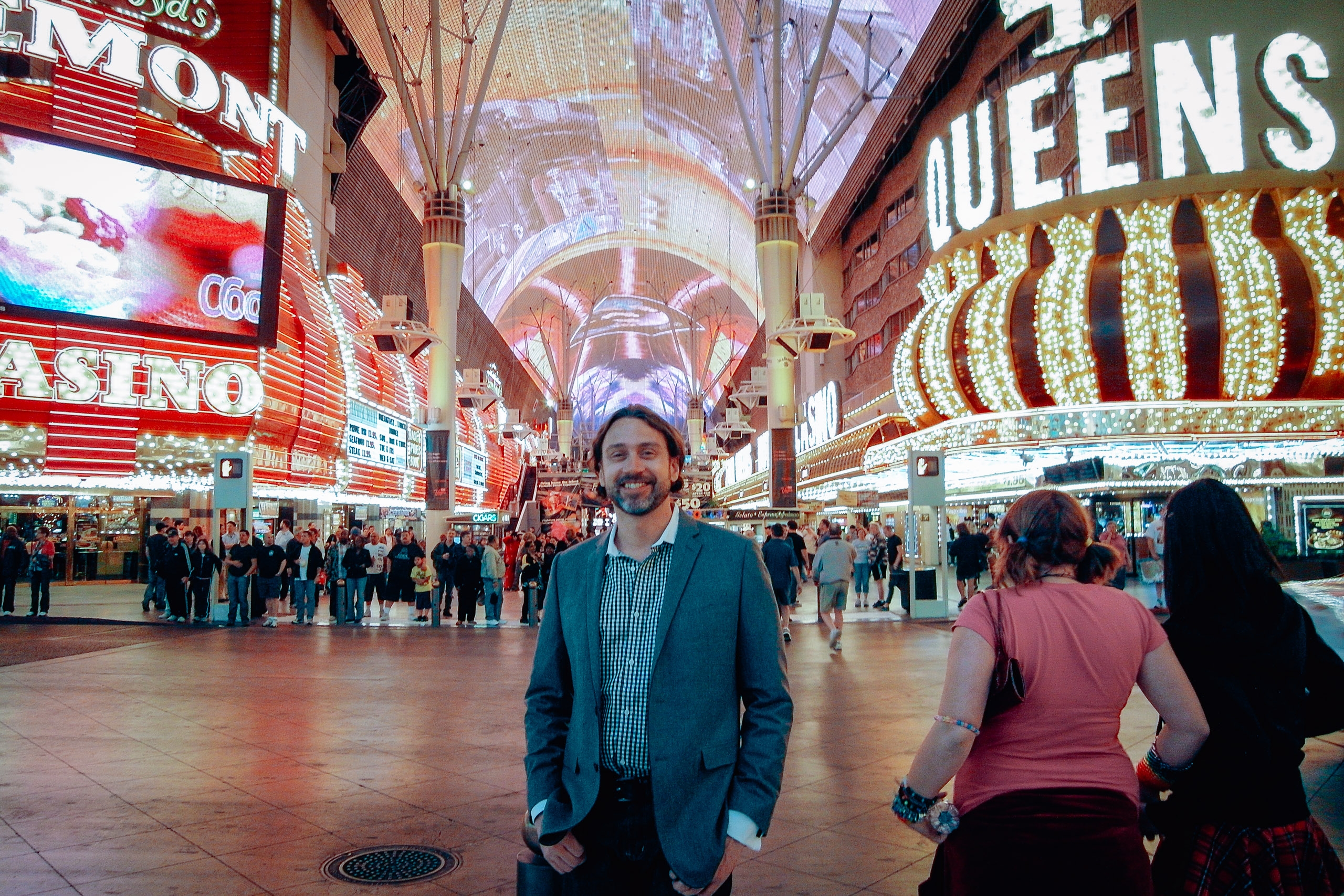 Friday was Jessica's birthday, and it started as her birthday is oft to do by tradition: champagne and chocolate cake, paired with real breakfast food. The hotel also sent us some chocolate-covered strawberries that were the size of softballs (but still pretty tasty).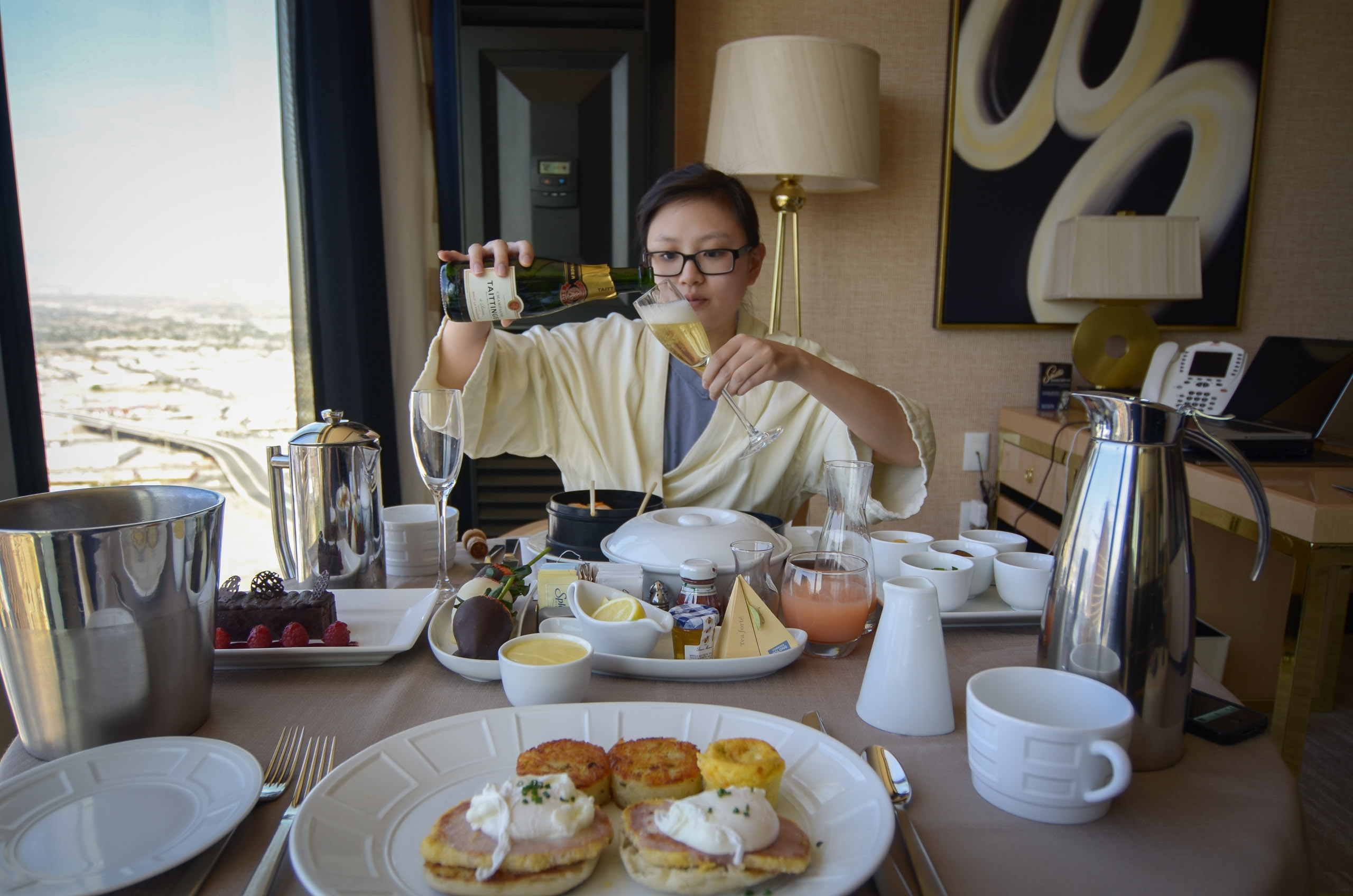 That day was spent doing many of Jessica's favorite activities: shopping, eating stone crabs and lying around the pool. There are some pretty amazing stores in Las Vegas, but not many that we don't have in New York. The Las Vegas locations tend to be pretty over the top, though, which makes for an interesting day. That afternoon we had a quick lunch at Joe's Stone Crabs so Jessica could get one of her all-time favorites: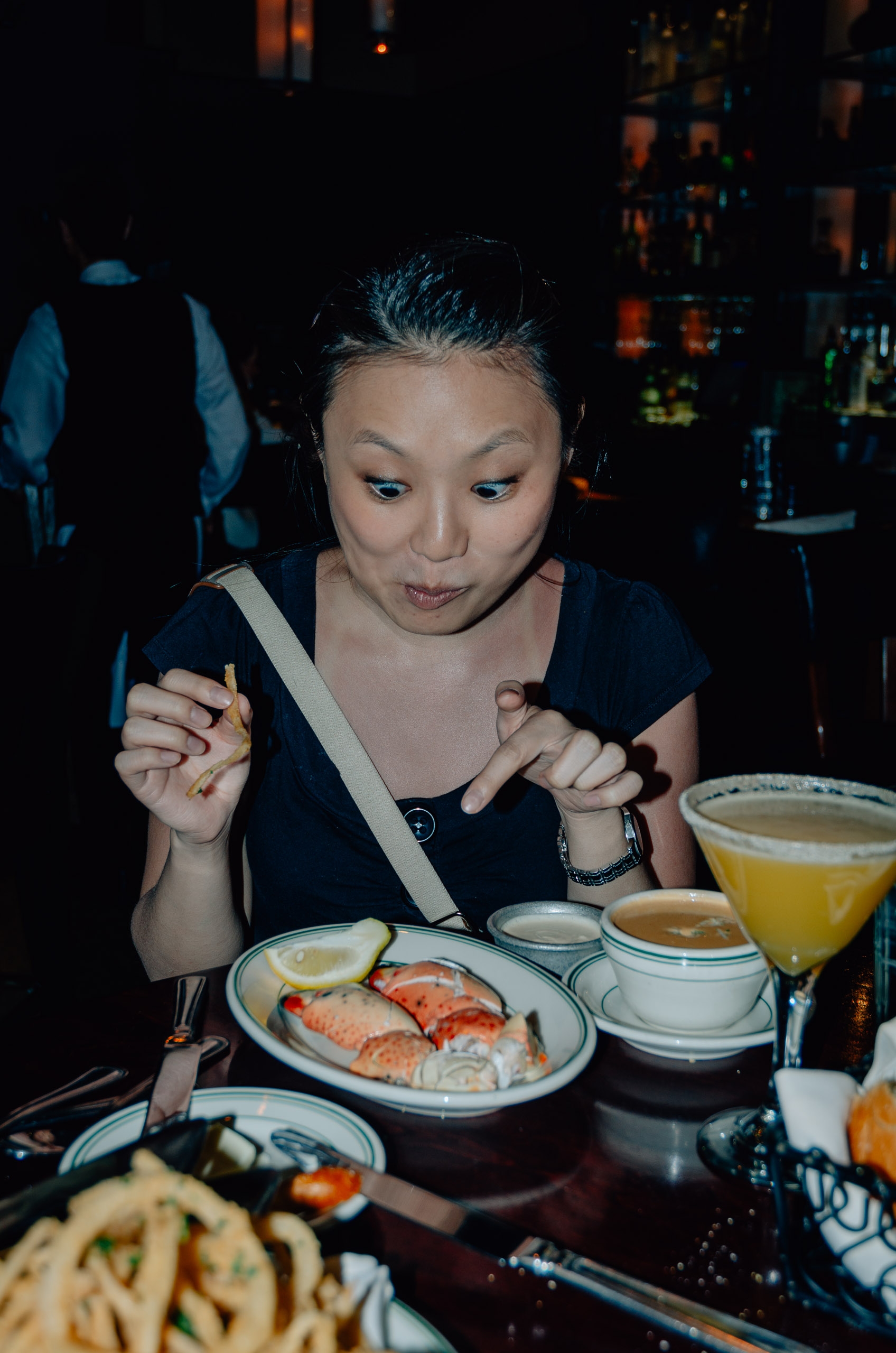 That night we had a birthday dinner at L'Atelier de Joel Robuchon at the MGM Grand. The counter seating was a bit awkward, especially when the really drunk girl was seated next to us and kept screaming into her phone, "I'm at the sushi bar!", but the food was amazing. But as good as the food was, I'm not sure I would recommend it as the overall experience seemed a bit too casual for the price. Remove the drunk girl, and maybe I'd feel differently.
We did a fair amount of gambling, but very little beyond the penny slot machines. I was amazed by the variety of machines, and how they target very specific niche demographics. A Dirty Dancing slot machine? I would never have guessed, as such a thing would be designed for Jessica and few others. I'll admit it was actually pretty fun, and many hours and several hundred pennies (thankfully, a 1 cent game) were spent. My personal favorite was the Star Wars Droid Hunt game, which actually had the exact same game play as Dirty Dancing, but featured R2D2 instead of Patrick Swayze (nobody puts C-3PO in the corner).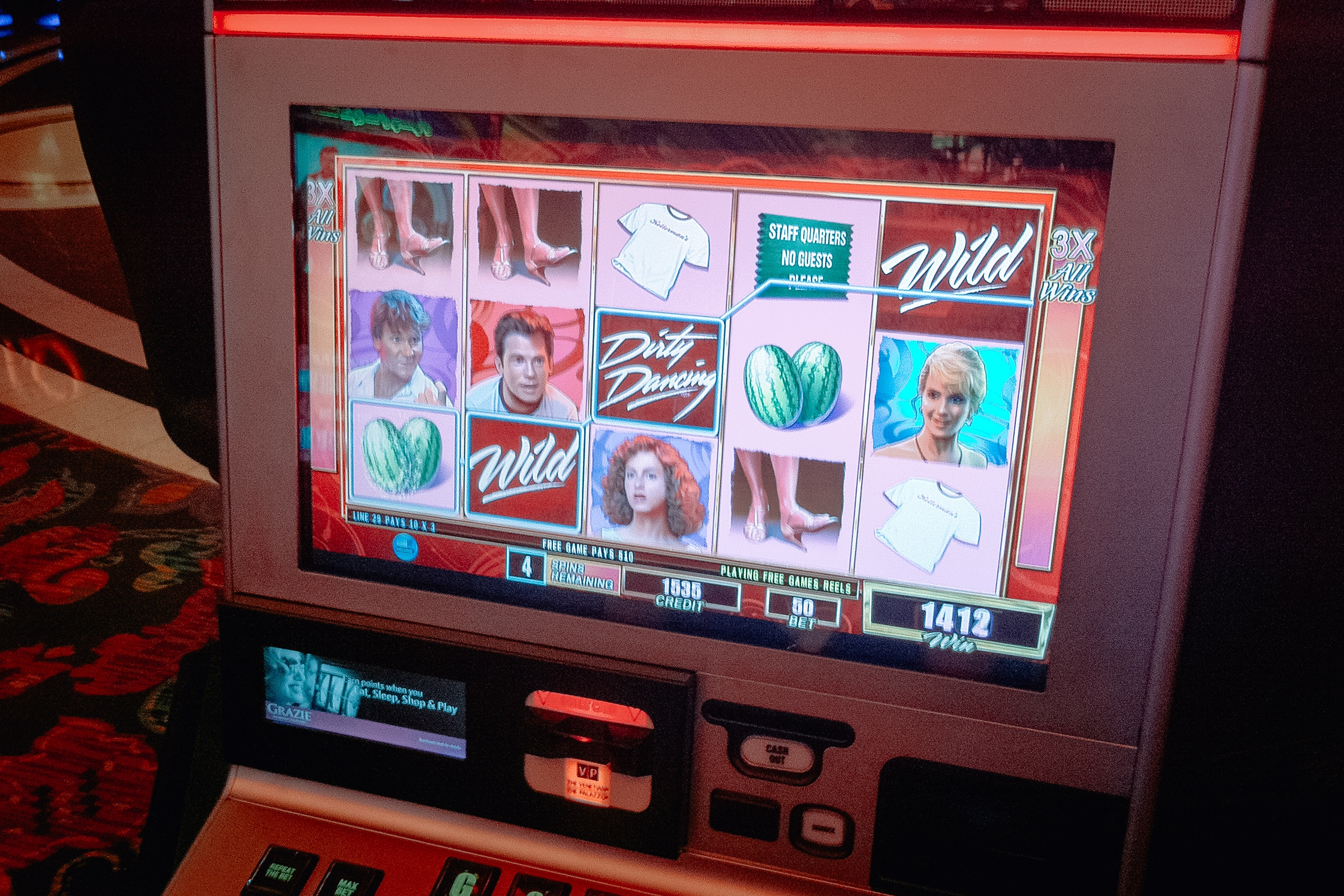 Our favorite and most profitable game turned out to be one called Rocking Olives. As the name suggests, you follow the antics of either a Spanish or Greek olive as they start a heavy metal band. A bizarre premise to be certain, but every time we we played the game we more or less broke even, which is saying alot for Las Vegas. Still, the only machine with a capped loss and predictable payout was the ATM, and even those fees were Vegas-sized - $9 to withdraw $100. No thanks, I'll go find a Wells-Fargo.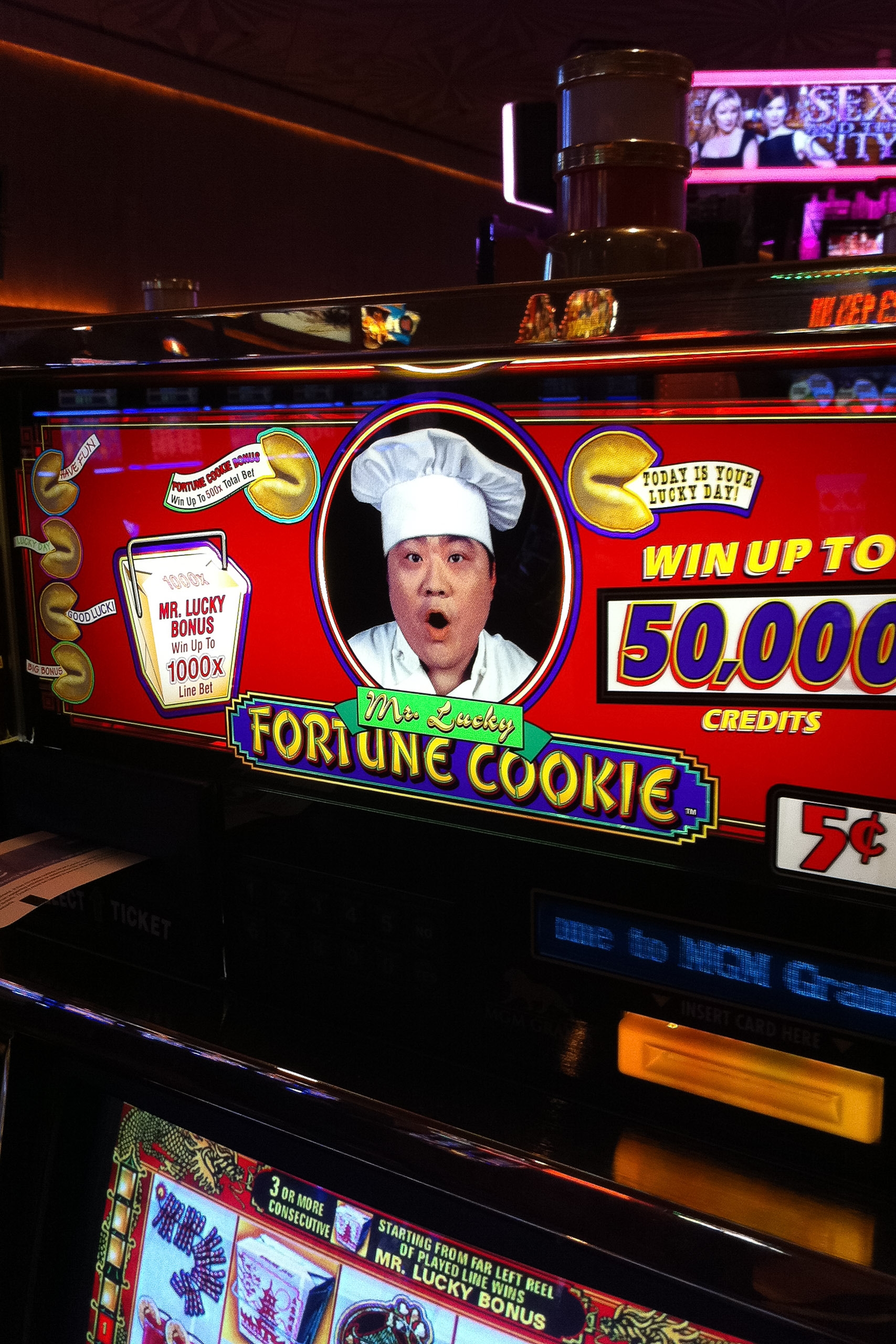 Not all the games were worthwhile, though. The game above was careful to avoid any cultural stereotypes (for example, you lost your turn if the dial turned up MSG on the payline).
As our flight was boarding to San Francisco, we played our last quarter outside our gate. We actually ran that $0.25 up to about $10 before spinning it all away and then jumping on the plane. Back in the day, Wild Cherry was my game but not anymore. I'll stick to Star Wars, Dirty Dancing and Rocking Olives from now on.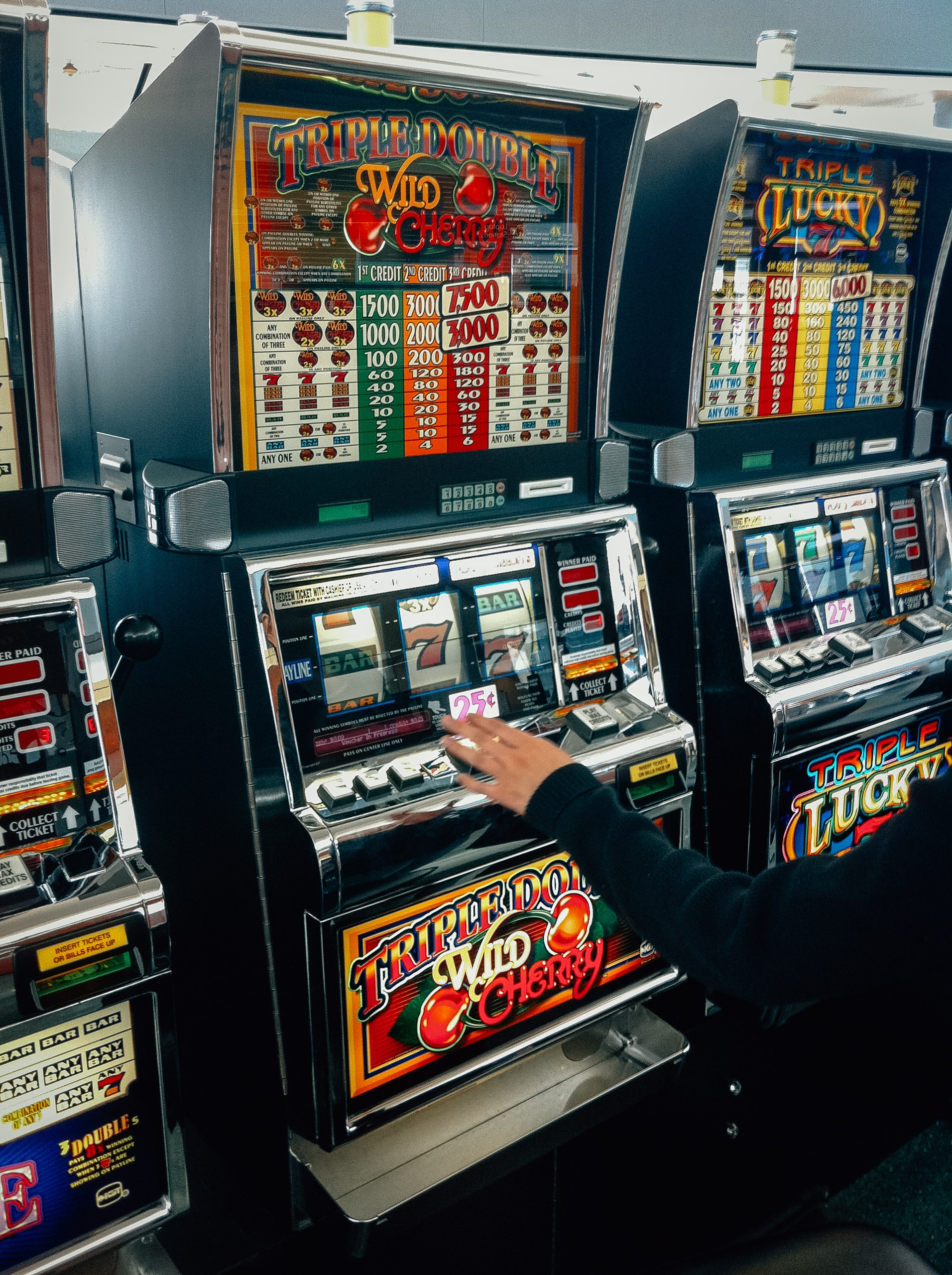 We were in Las Vegas for three days and had a great time. I used to think 36 hours was my max, but if you temper the pace and drink lots of water, you can do an enjoyable 3 days. Someone on our flight lost a bag and was next to us at the Continental baggage counter. The clerk asked how long they were in Vegas and the husband replied, "8 days". The clerk made no attempt to mask his astonishment.