Travels to China: Three Days in Shanghai
September 23, 2010
The next stop on our trip through China was Shanghai. Shanghai is China's biggest city, home to about 20 million people (there are about 14 million in Beijing). As impressive as those numbers might be, keep in mind there are over 25 cities in China with more than a million residents. Shanghai is also the most cosmopolitan city in China, and aside from Hong Kong, likely has the most international flair. While Beijing is still the capital for government, the military and the Communist Party, Shanghai wears the progressive face for China.
The Chinese government is determined to make Shanghai a global capitol, investing billions in infrastructure and development. Hong Kong may be China's neglected British stepchild, but Shanghai is now the clear favorite.
Shanghai has always played an important role in China's history, as a port of global trade with other nations in Asia and the West. Shanghai has been occupied by nearly every great colonial power, and most recently by the Japanese during World War II. Not until the establishment of the Republic and the victory of the Communist Party in 1948 were the last foreign concessions eliminated. Foreign influences remain, however, most visibly in architecture but also in urban planning, cuisine and the arts.
I neglected to mention in my earlier post about Beijing the reason for this trip. Gap's first stores in China open in the coming months and Jessica and her team were on site to get ready for the big store opening. In this photo Jessica poses in front of one of the many stores still under construction. Stay tuned for more details on Gap's big push into China.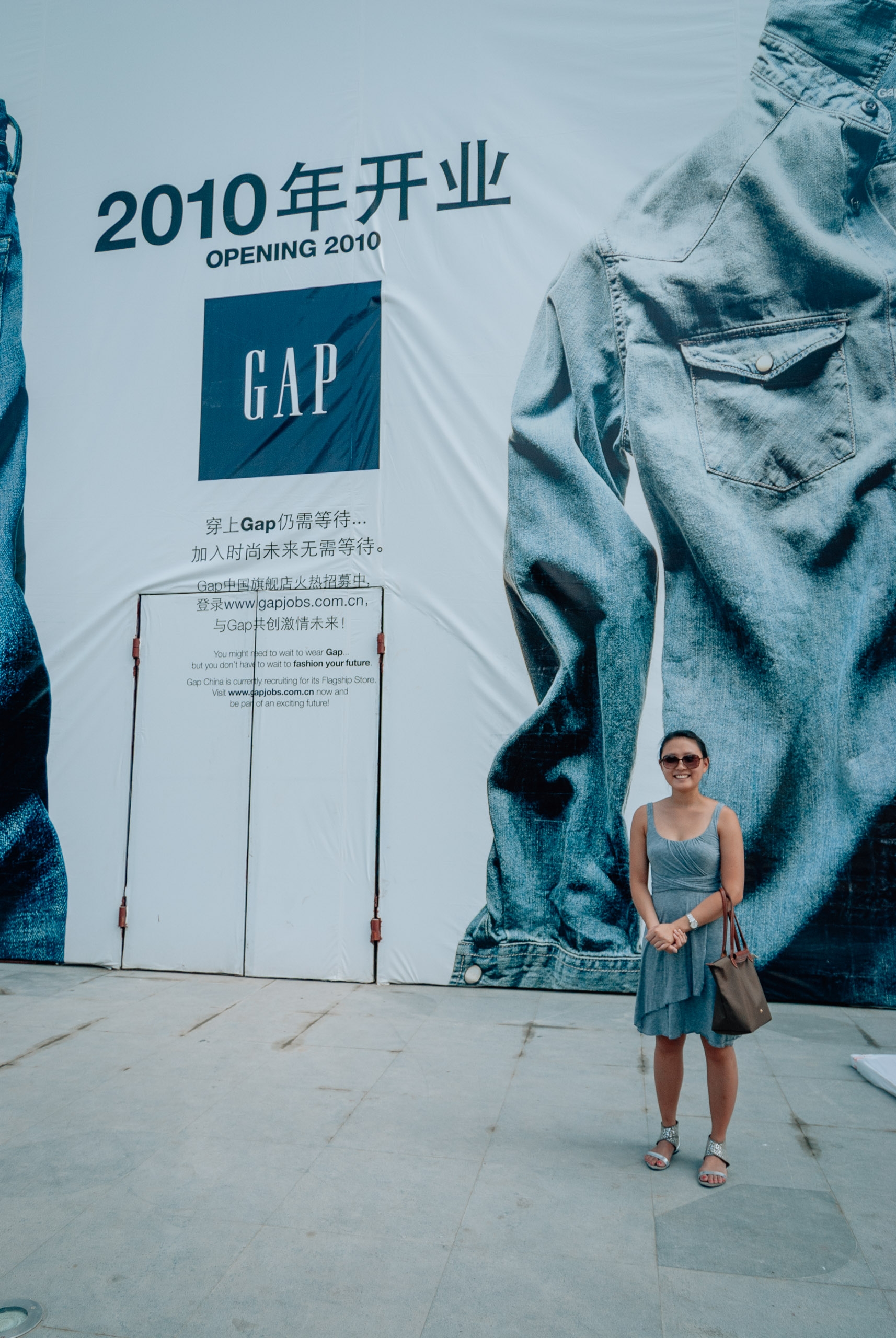 Coming Soon!
We arrived in Shanghai after an easy 2 hour flight from Beijing on Air China. The most foreign experience while traveling on an overseas air carrier is being served a hot meal by a pleasant flight attendant, even on short flights. In addition, the beer is complimentary and they're happy to serve it at breakfast.
We were met at the airport by a driver from our hotel and the ride into town was about 45 minutes. Shanghai boasts the world's fastest public transportation, a MagLev train that runs from Pudong National Airport into the City at speeds topping out around 270 miles per hour. The trip takes 8 minutes. Curiously, though, the train's terminus is in a very remote and inaccessible part of town, far away from the Pudong waterfront or the main corridor of Nanjing Road. The train's location and high ticket price (especially when coupled with the additional 25 minute cab ride) make for nearly empty trains. I was interested in riding the train out of town, but by the time you link your cab, the train and the airport times, it was much easier to just hop in a taxi. Maybe next time. Interesting to note that Arnold Schwarzenegger arrived the day after us on a trade mission from California, and he rode the train. Ostensibly he was looking at bullet train options for the high-speed line that will eventually link LA and San Francisco, a project about as well conceived as the Pudong MagLev terminus.
After we unpacked at the hotel, we headed out that afternoon for a little light sightseeing. We had about three days on our own before Jessica's work schedule kicked into overdrive, so that day we decided to do one of the Frommer's walking tours through the old part of town and the Yu Gardens.
Our first stop was a traditional snack at McDonald's. We don't eat McDonald's (much) at home, but always at least once while abroad, and always the same thing - a Big Mac, fries, Coke and an order of Chicken McNuggets. These compared favorably to their worldwide counterparts save for the fries, which were sad and stale. If the fries at McDonald's are no good, then why bother?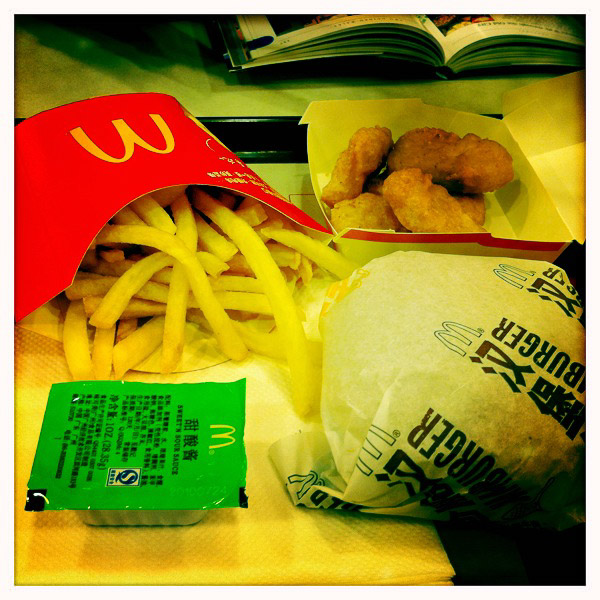 Mid-Afternoon Snack at McDonald's
The Yu Gardens are an elaborate collection of outdoor gardens, temples and walkways, surrounded by a redeveloped section of town meant to evoke Old Shanghai. For the most part the vibe works, though it has a bit of a Disneyland feel to it. There are some upscale shopping malls nearby, but mostly curio shops catering to tourists and the omnipresent Starbucks Coffee or Costa Coffee, the British equivalent. At night the entire section of town is lit up and makes for nice photos.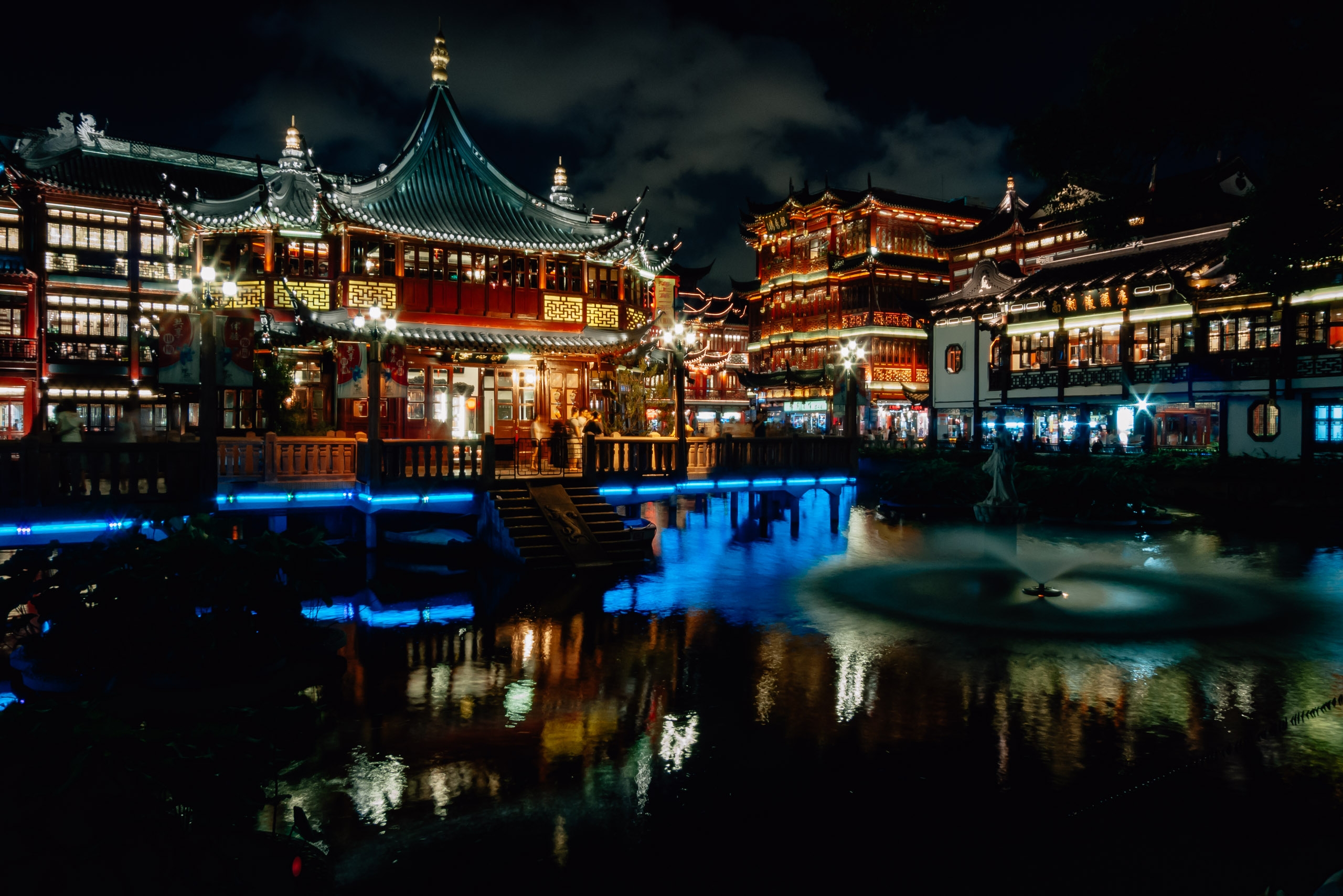 Yu Gardens at Night
We walked around for a bit and headed for a late dinner at Ye Shanghai in Xin Tian Di. Xin Tian Di is an upscale retail and restaurant district built inside a tastefully redeveloped section of old stone buildings. The area is popular with tourists, expats and visitors from out of town, but isn't as garish or obnoxious as it easily could have been. Ye Shanghai serves "upscale" Shanghainese cuisine in a beautiful restaurant. The food wasn't expensive, but pricy by China standards.
It might be tempting to think that traveling in China would equate to dirt-cheap luxury, and while much of the country is in fact quite inexpensive (and far from luxurious), definitely not so in Shanghai. We found the bars, restaurants, hotels and better shopping areas to be pretty expensive by any comparison. One need only look around at the growth of the luxury sector in Shanghai to see the enormous opportunities abounding. The reality is no one really knows where China is headed, but the potential is so enormous that companies from around the world are planting themselves firmly, and visibly, in Shanghai to hedge against missing the boat. The fact that Gap, until recently the world's largest speciality retailer (all hail Inditex), is nearly unknown to the Chinese consumer means there exists a huge and opportunistically level playing field. You might think you can't afford to open a boutique in one of Shanghai's many high-priced luxury malls, but you most certainly cannot afford not to.
After getting up early to catch our flight and walking in the suffocating heat and humidity, it was not a late night. Tuesday we had a big day planned.
Tuesday we planned on walking the expanse of the city. We started toward People's Square in the middle of town toward our first stop, the Shanghai Urban Planning Museum. Museums tend to talk about the past, but this place is all about the future. Within these walls lie the master plans for Shanghai by 2020, and by all accounts they appear to be exactly on schedule. By 2020, Shanghai expects to grow its population by another 5 million people, and will invest in the transit and housing initiatives to get ahead of the planned growth. A 1:500 scale model on the 5th floor meticulously shows every existing and planned building that will be in place in 2020. The model itself is pretty impressive. There are a number of other exhibits that talk about advances in transit, housing, green building and waste removal. A 3D digital movie flies visitors over virtual Shanghai 2020.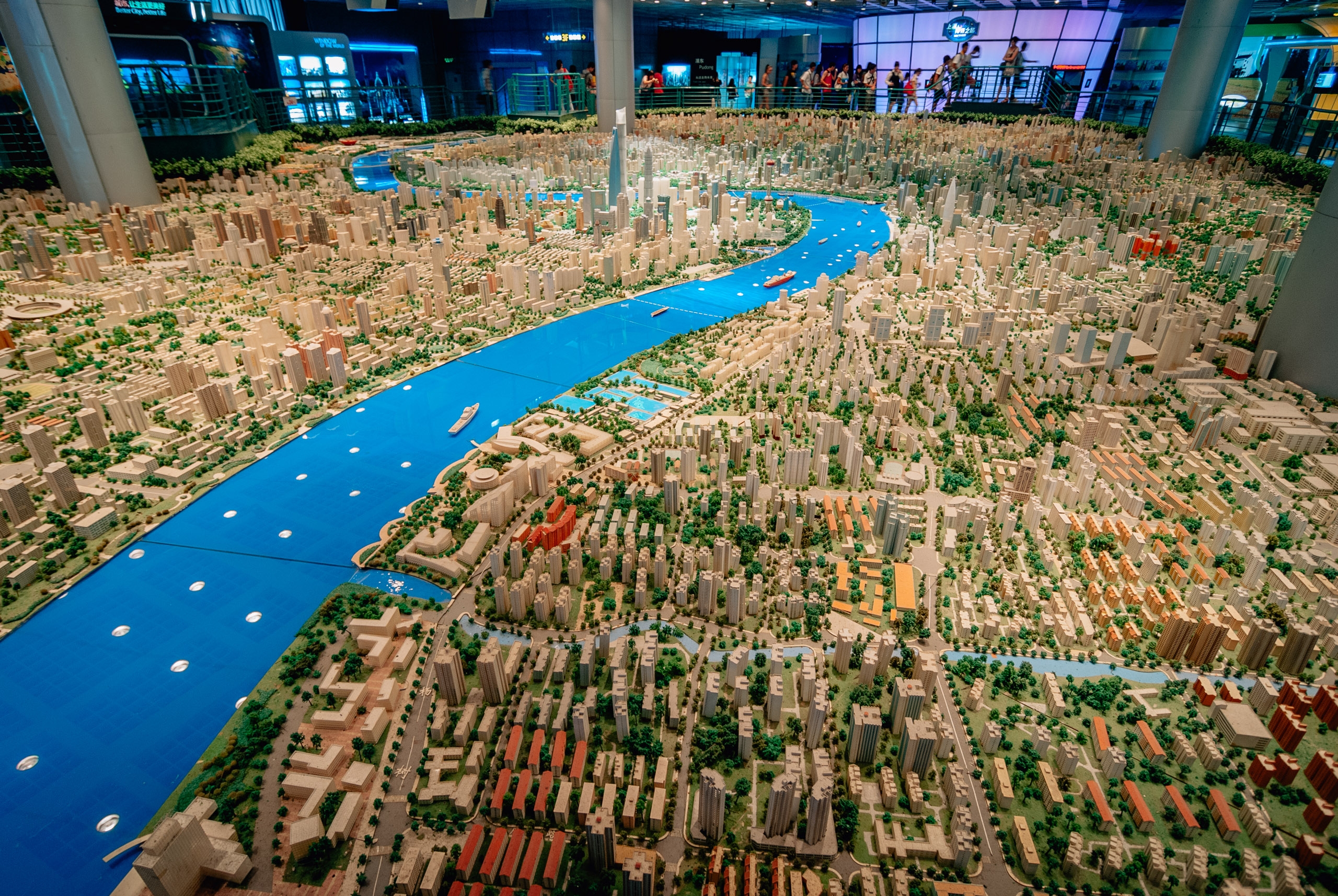 The Shanghai Urban Planning Museum Scale Model
China has two things going for it in its quest to make Shanghai a world capitol: the will and the money. In addition to buying US debt, China's been able to invest its enormous trade surplus in infrastructure projects and further stimulate its economy. Concerns have been raised that China is being overbuilt and is riding high on a bubble much like the US was in 2008. Hard to say. The Olympics in 2008 and the World Expo in 2010 have both brought tremendous development and overseas tourists, and China has met these opportunities by investing heavily in both Beijing and Shanghai.
The cost of this development is hard to see as a visitor. To me, Shanghai was clean, shiny, orderly and well positioned for the future. Much of this I suspect was due to the Expo, as people I know and trust visited here recently and found it to be rather dirty. In its haste to put on a friendly face for visitors, much of Shanghai's old world charm is at risk.
A great example is Wujiang Road. Once a dingy tin-pan alley of street food, pubs and family restaurants, it was deemed "too old" and "too unsavory" for such a prestigious location off Nanjing Road. The road's buildings were torn down and replaced by Wujiang Entertainment Street, a nice-looking but boring outdoor mall consisting of Starbucks, Dairy Queen, Watson's (an Asian Walgreen's) and, soon, a Carl's Junior. Unable to rise above the gentrification, I went to the Dairy Queen and got an Oreo Blizzard. It was awesome, and they even served it upside down.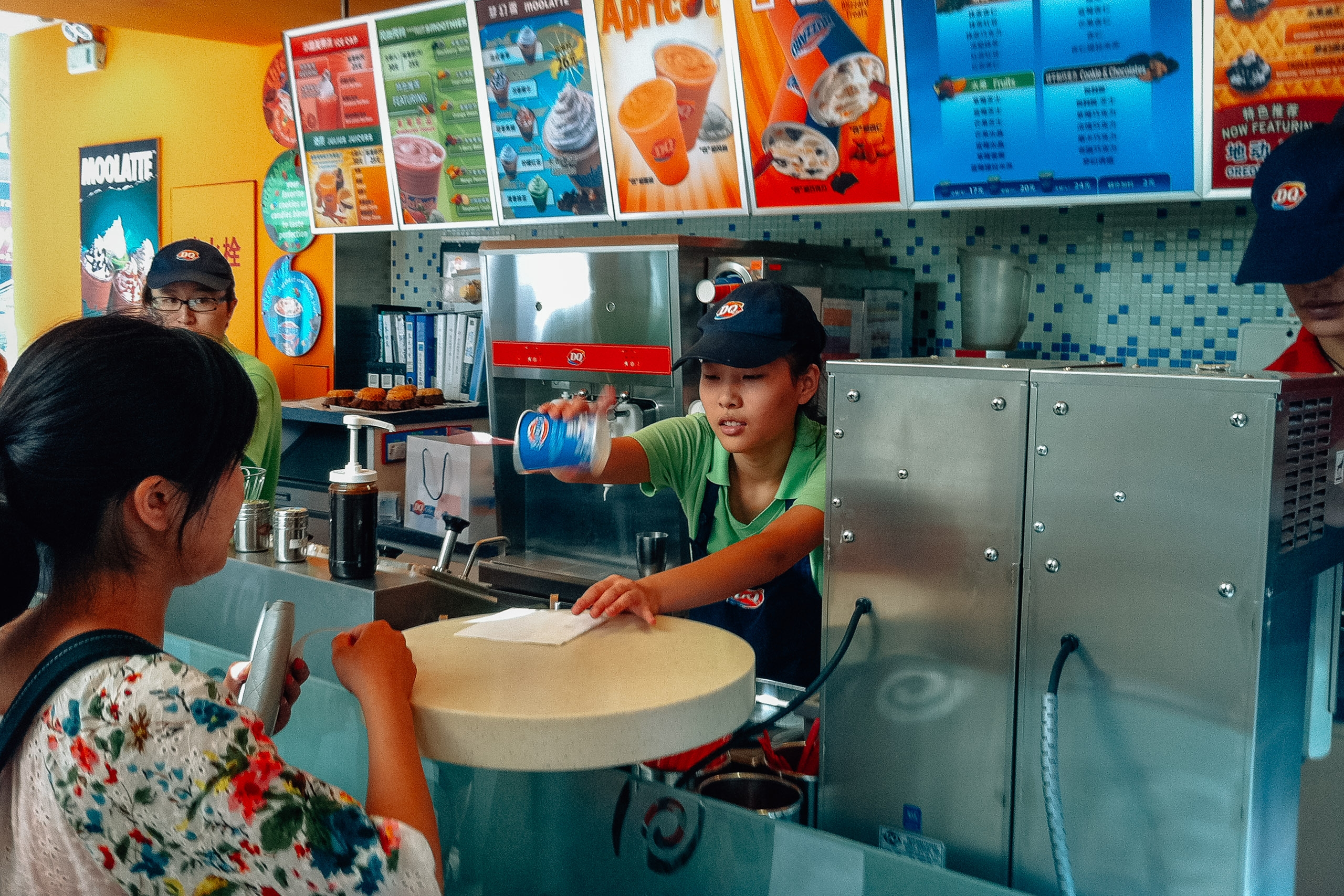 Development sometimes comes at the expense of owners, with property being seized by corrupt city officials who in turn sell to developers for a handsome profit. This may sound outrageous, and it is, but in a country without an objective and transparent legal system or scrutinous press, it's an unfortunately one-sided transaction. Of course, in a Communist system, nobody really owns property. Just because you or your family have lived there for generations doesn't mean that house is yours. Desperate and out of options, some displaced residents protested the only way they could: by setting themselves on fire. In China's race toward the future, they don't appear to be too weighed down by who might get left behind.
After the Urban Planning Museum, we walked further down Nanjing Road (one of the main thoroughfares through Shanghai) where it turns into a large pedestrian mall. It was nice to be able to walk freely on the road without constantly watching for traffic. Chinese drivers are aggressive and no one should feel entitled to a right of way, pedestrian or otherwise. That being said, traffic was mostly civil (nothing compared to the madness of the streets of Vietnam. To this day I've seen nothing like Hanoi).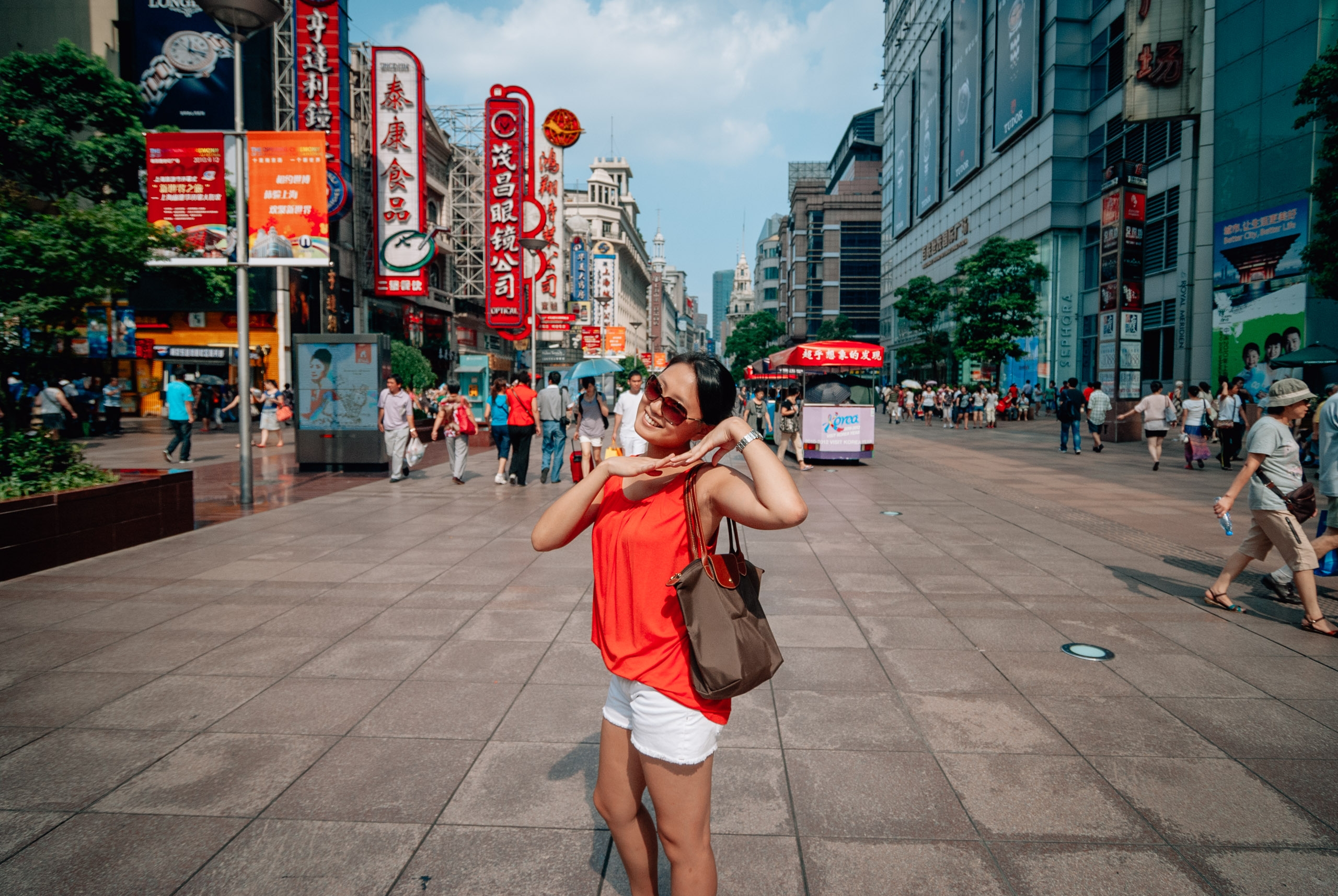 Strolling along Nanjing Lu Pedestrian Mall
Our next stop was the famous waterfront called the Bund. The Bund is a row of meticulously designed and maintained colonial and art-deco buildings lining the Huangpu River. An elevated sidewalk provides great views back toward the Bund and across the river toward Pudong. Pudong is the emerging business and finance center in Shanghai.
Shanghai is home to the tallest building in Asia, the Shanghai World Financial Center, and will soon also be home to the tallest building in the world as well. Interestingly, the urban planning museum depicted Pudong as a flat, featureless and unoccupied strip of waterfront land. In reality, hundreds of thousands have been displaced to build what is shaping up to be an impressive skyline.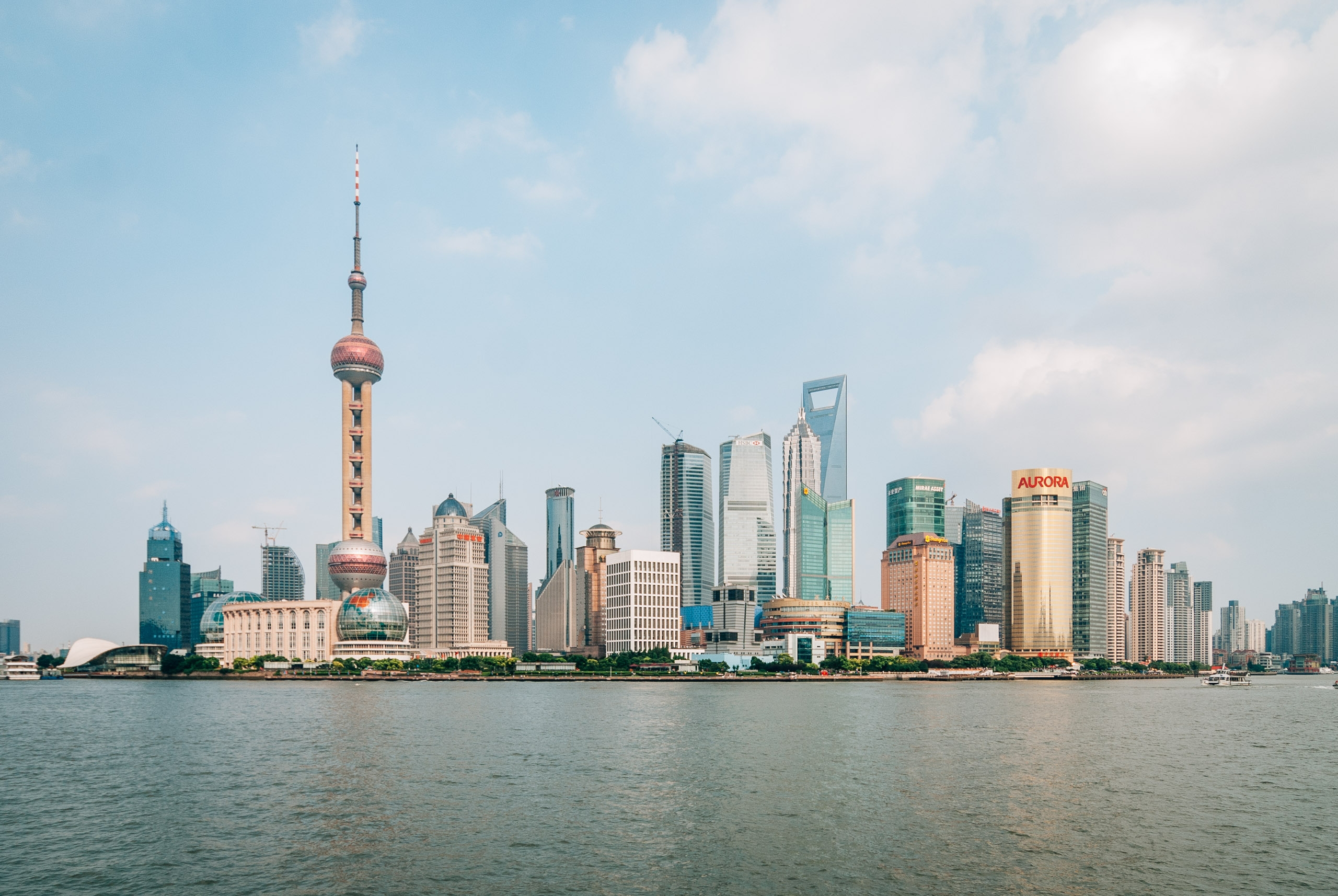 View of Pudong from the Bund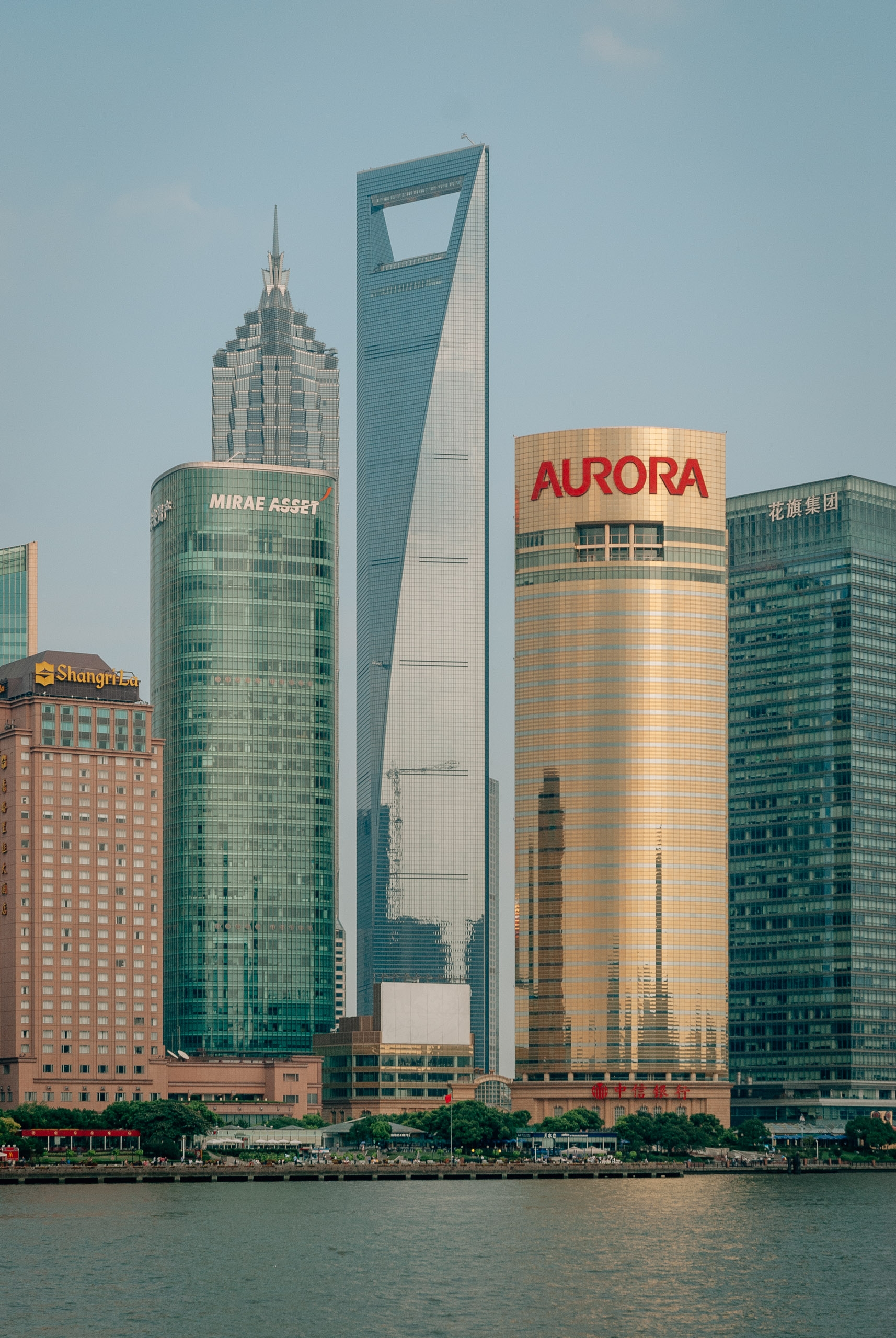 The World Financial Center in Pudong
The most iconic landmark in Shanghai has to be the Oriental Pearl Tower. Built in 1994, it was the tallest structure in China until the construction of the World Financial Center in 2007. Mostly an antennae, the tower houses fifteen observatories, a revolving restaurant, conference facilities and a 20-room hotel. Personally I'm not a fan of the Oriental Pearl Tower. I find its overall appearance tacky and dated, reminiscent of much of the now-discredited Soviet architecture that still litters the city. However, it is unique, and when you see the Tower, you immediately think of Shanghai. The Eiffel Tower in Paris and Transamerica Building in San Francisco were both hated when first built, so ask me in 20 years.
The Oriental Pearl Tower in Pudong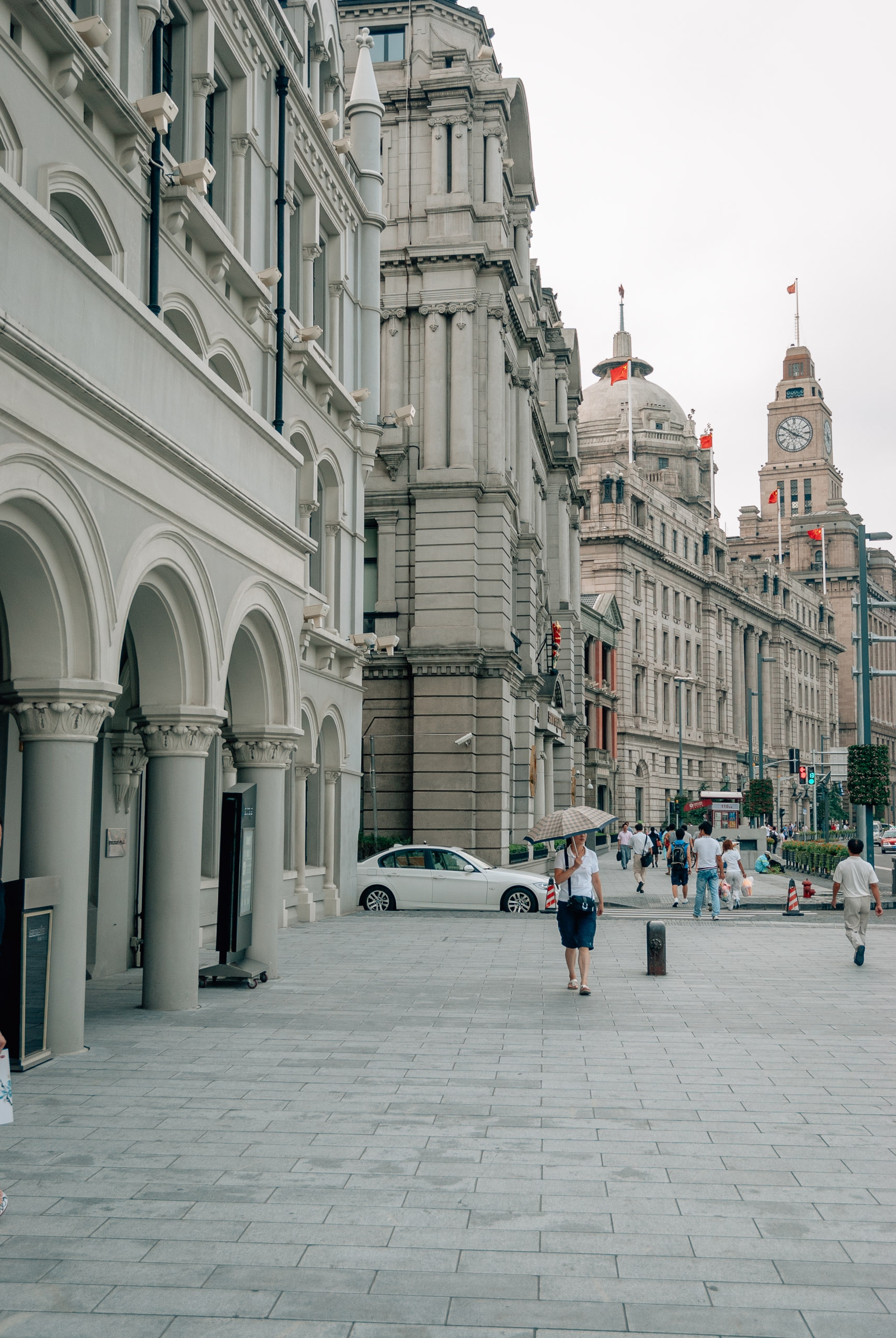 The Colonial-Style Buildings along the Bund
We walked down the Bund and crossed the river via something called the Shanghai Sightseeing Tunnel. My only guess is this attraction was the brainchild of some hallucinogenic drug-addicted nephew of a connected government official, because there's really no other way to explain why this bizarre thing exists. It is essentially a subway car that passes through fog machines, lasers and apparently Christmas lights, all to a new-age, spoken-word soundtrack. I've embedded a video of the ride here, but it's a dreadful 4 minutes. It may not blow your mind, but it will blow your $10. Of course, I highly recommend it. Otherwise, you can take the subway for $0.45.
We emerged from the psychedelic tunnel on the Pudong side and headed for the Shanghai World Financial Center, which the locals call the Bottle Opener and for good reason.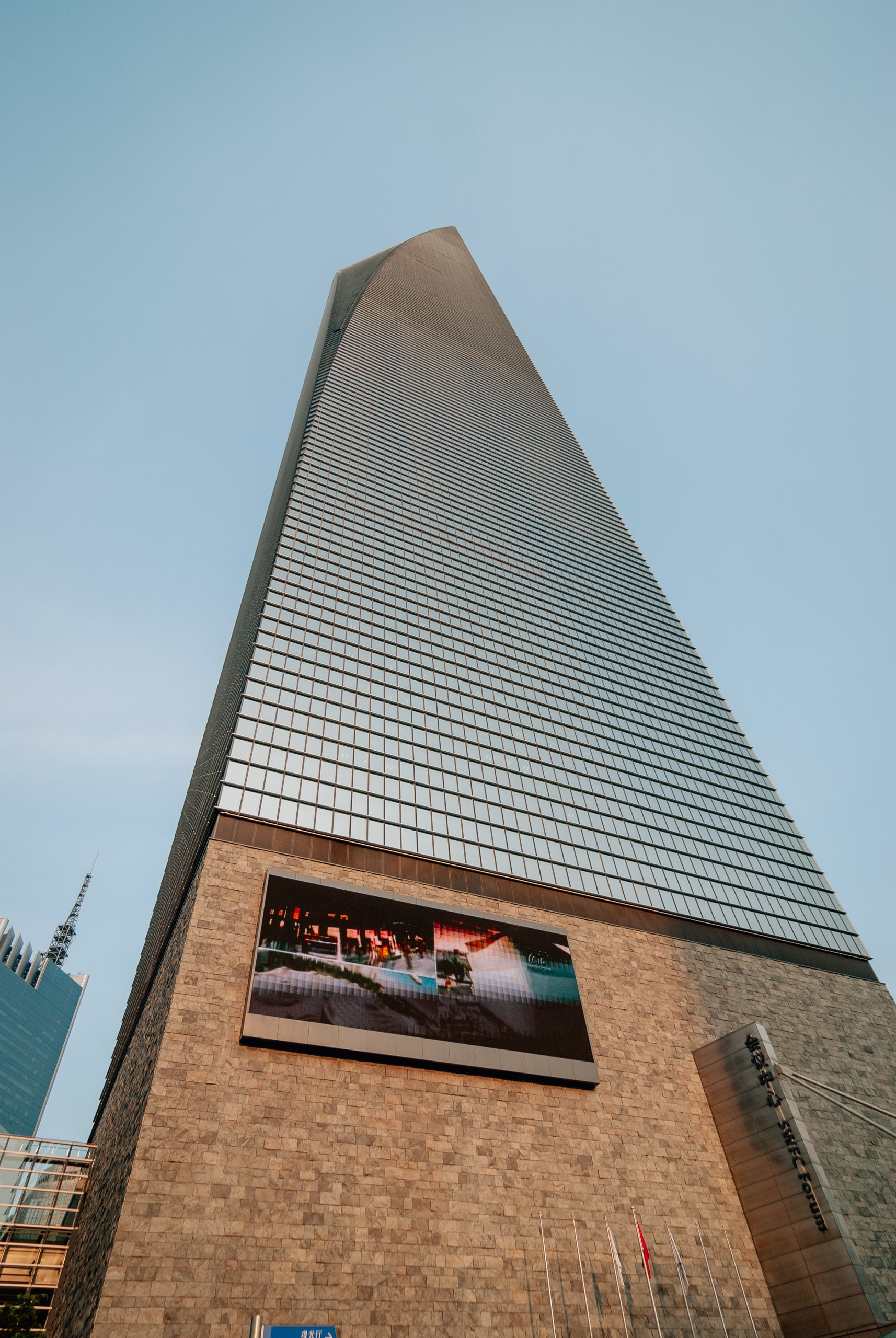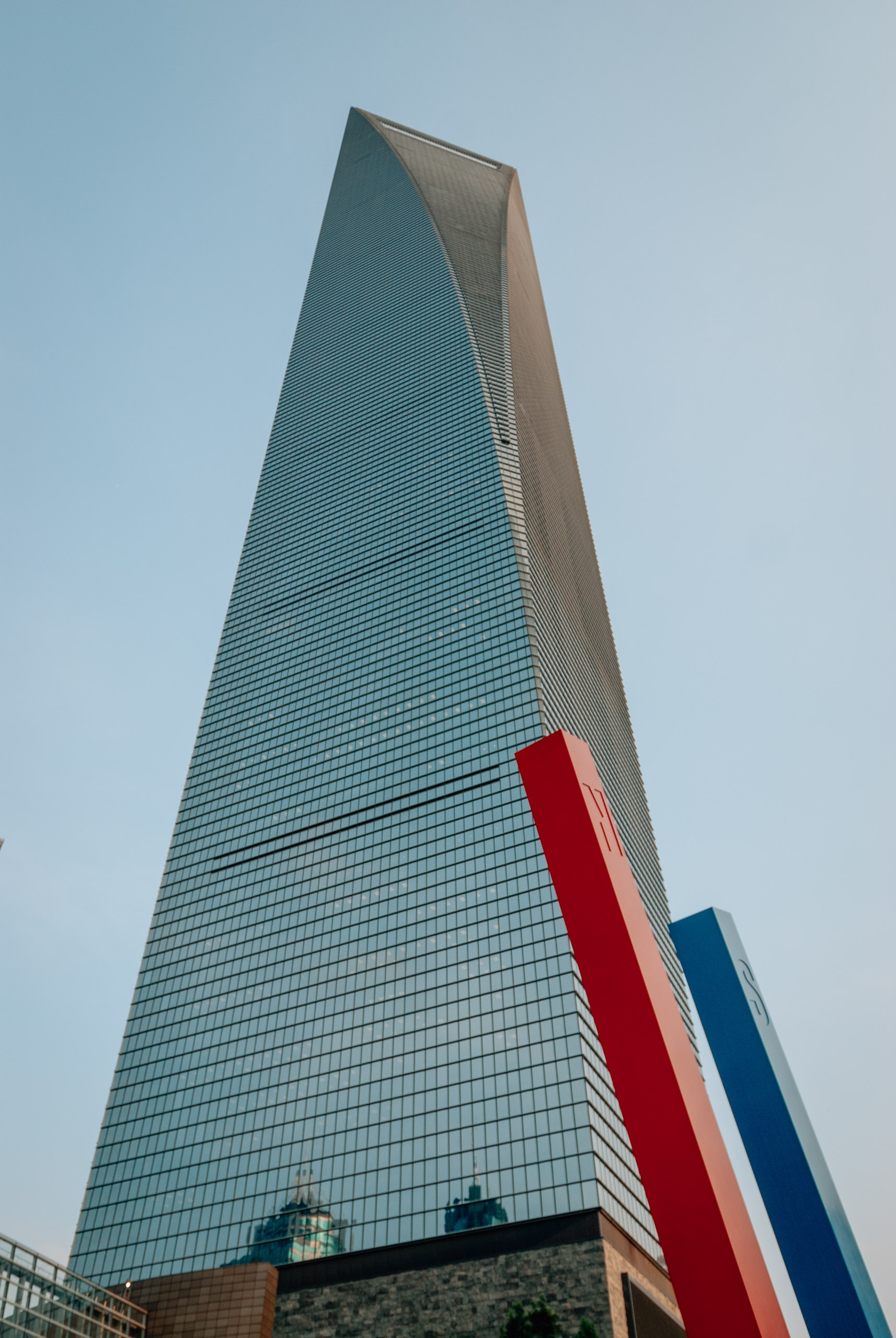 The Shanghai World Financial Center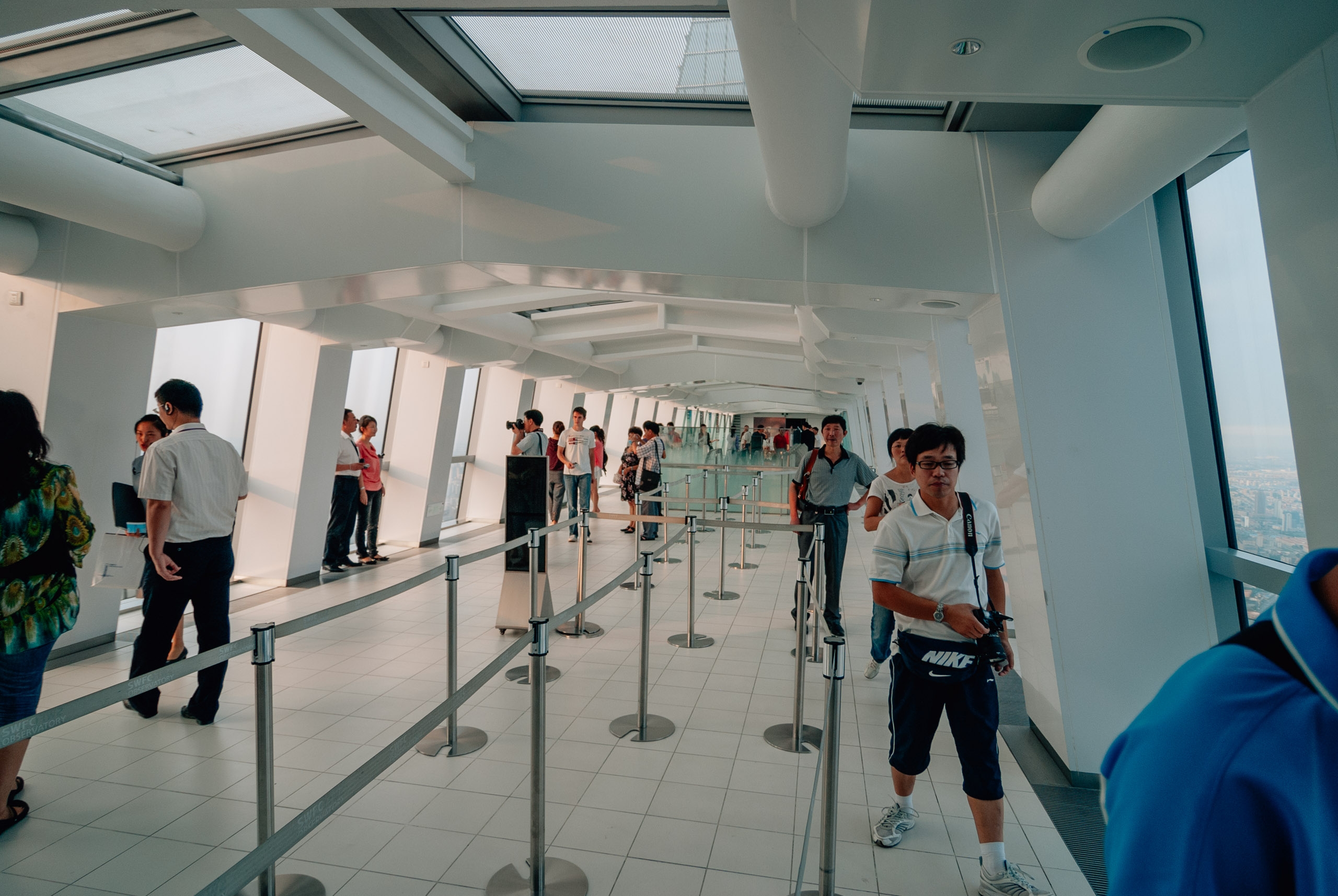 The Lower Observatory with its Operable Roof
The SWFC has three observatories, one on the 90th floor, one on the 94th floor and one on the 100th floor, making it the highest building observatory in the world (at 474 meters). Further, the 94th floor observatory has an open roof (weather permitting) while the 100th floor observatory has a glass floor. Watching people tip-toe around and over the glass floor was pretty amusing. I admit, it was a bit unnerving to be standing on a half-inch piece of glass 1,555 ft above the ground.
The World Financial Center is the second tallest building in the world, taller than Taiwan's Taipei 101 (we visited there in 2007), but slightly shorter than Dubai's Burj Khalifa, though the SWFC's observation deck is still the highest. The Park Hyatt Shanghai, on the 79th - 93rd floors, is the highest hotel in the world, just surpassing the Grand Hyatt Shanghai in the adjacent Jin Mao Building (which, incidentally, looks a lot like Taipei 101).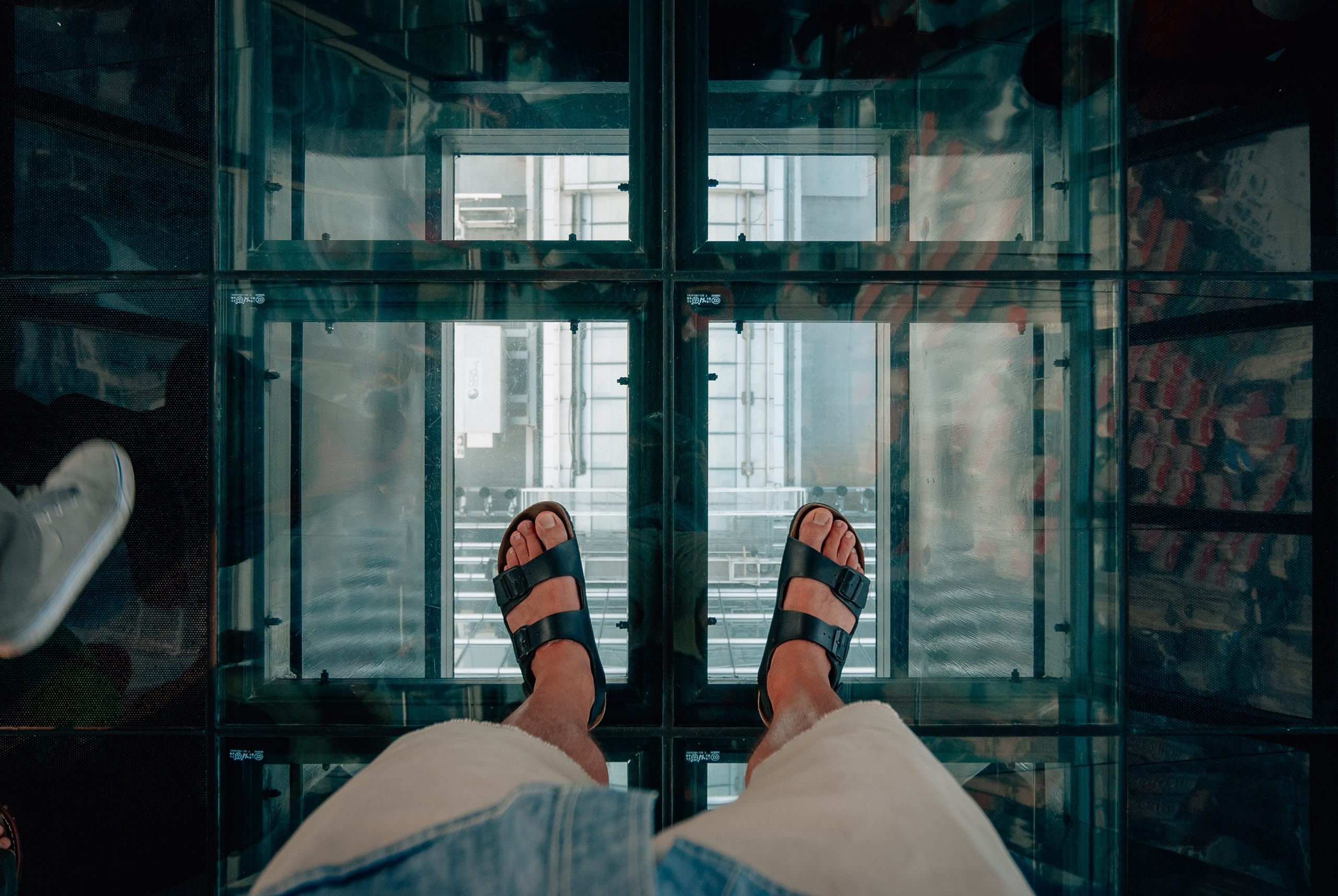 The Glass Floor of the Shanghai World Financial Center Observatory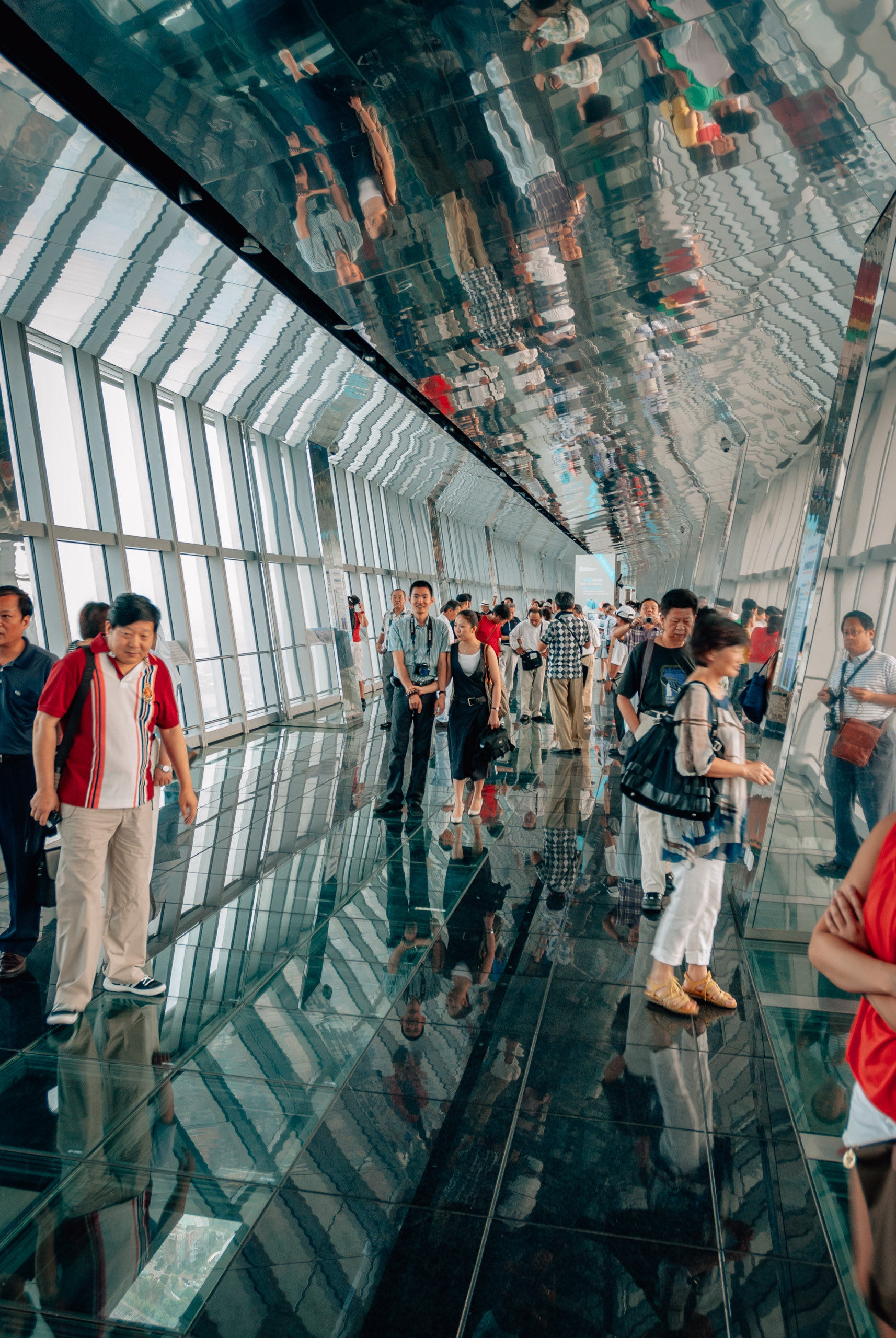 The Glass-Floored Observatory in the Shanghai World Financial Center
We got to the top around 5:00 and decided to hang out a while and watch the sun set as best we could. The haze and pollution cause it to get dark long before sunset. At 7:00 the lights of the Bund and the Oriental Pearl Tower come on and make for spectacular photos. Night time is a popular time for sightseeing and it was so crowded up there it was difficult to take pictures without throwing a few elbows. Between everyone's camera flashes and being jostled about, only a few were worth keeping.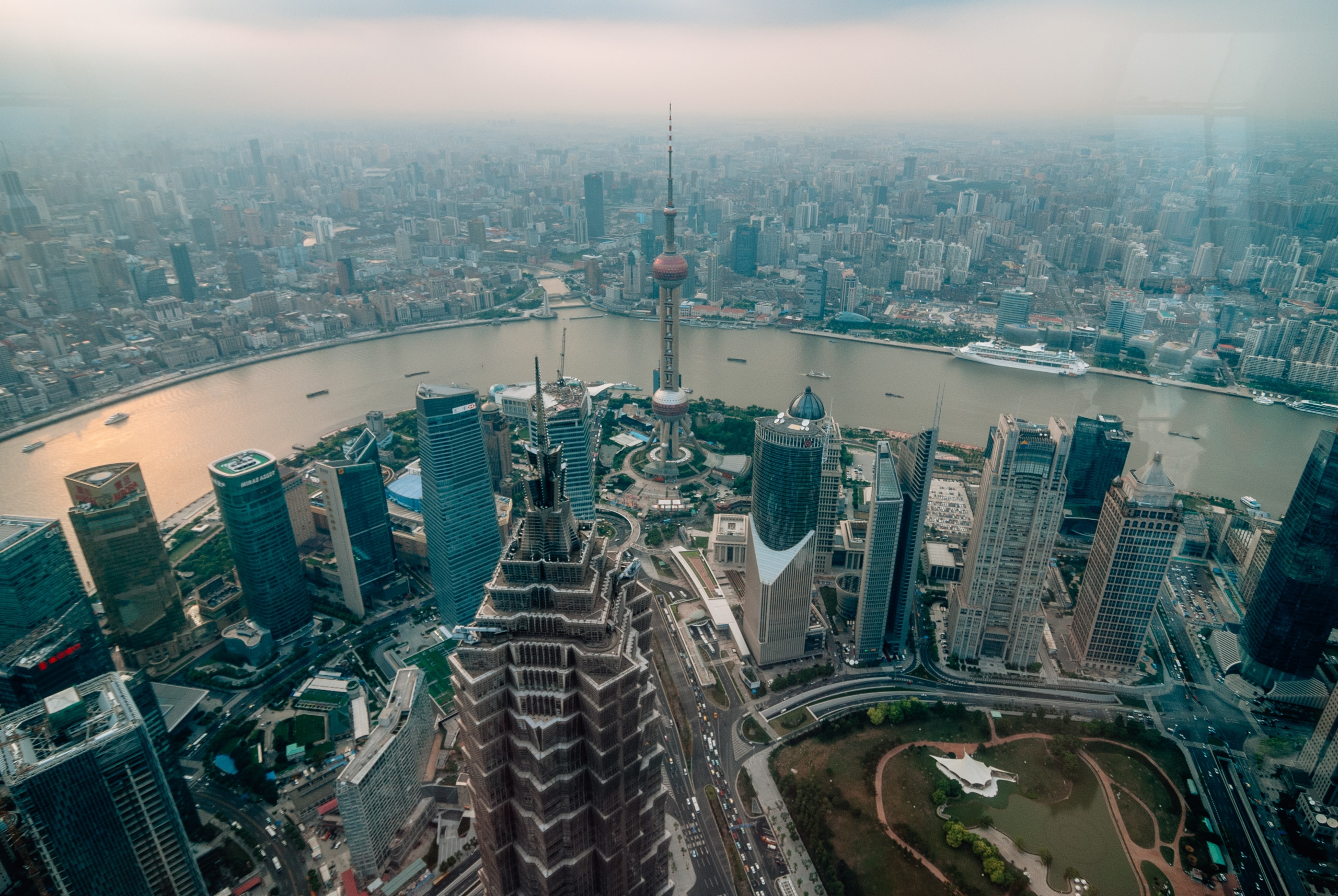 The Afternoon View from the Shanghai World Financial Center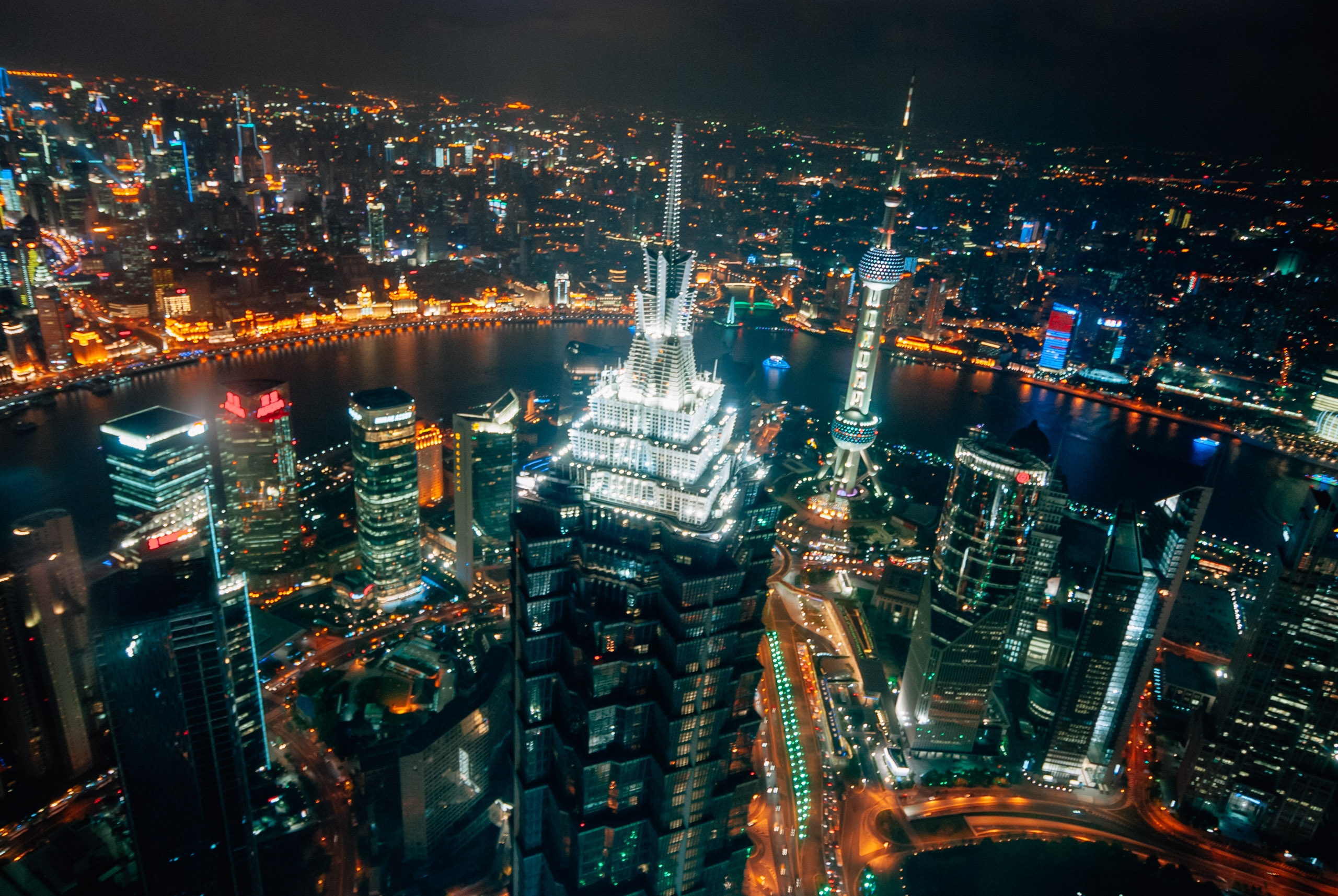 The Night View from the Shanghai World Financial Center
That night we had dinner in the basement of the SWFC at Din Tai Fung, a Taiwanese dumpling restaurant that specializes in incredible soup dumplings. Having skipped lunch that day, we were quite famished and devoured pretty much everything in sight. We walked back to the subway for the ride back to the hotel around 10:30. The last few blocks were a real challenge as the jet lag, exhaustion, lack of eating and exhilaration of the 100th floor glass observatory took its toll.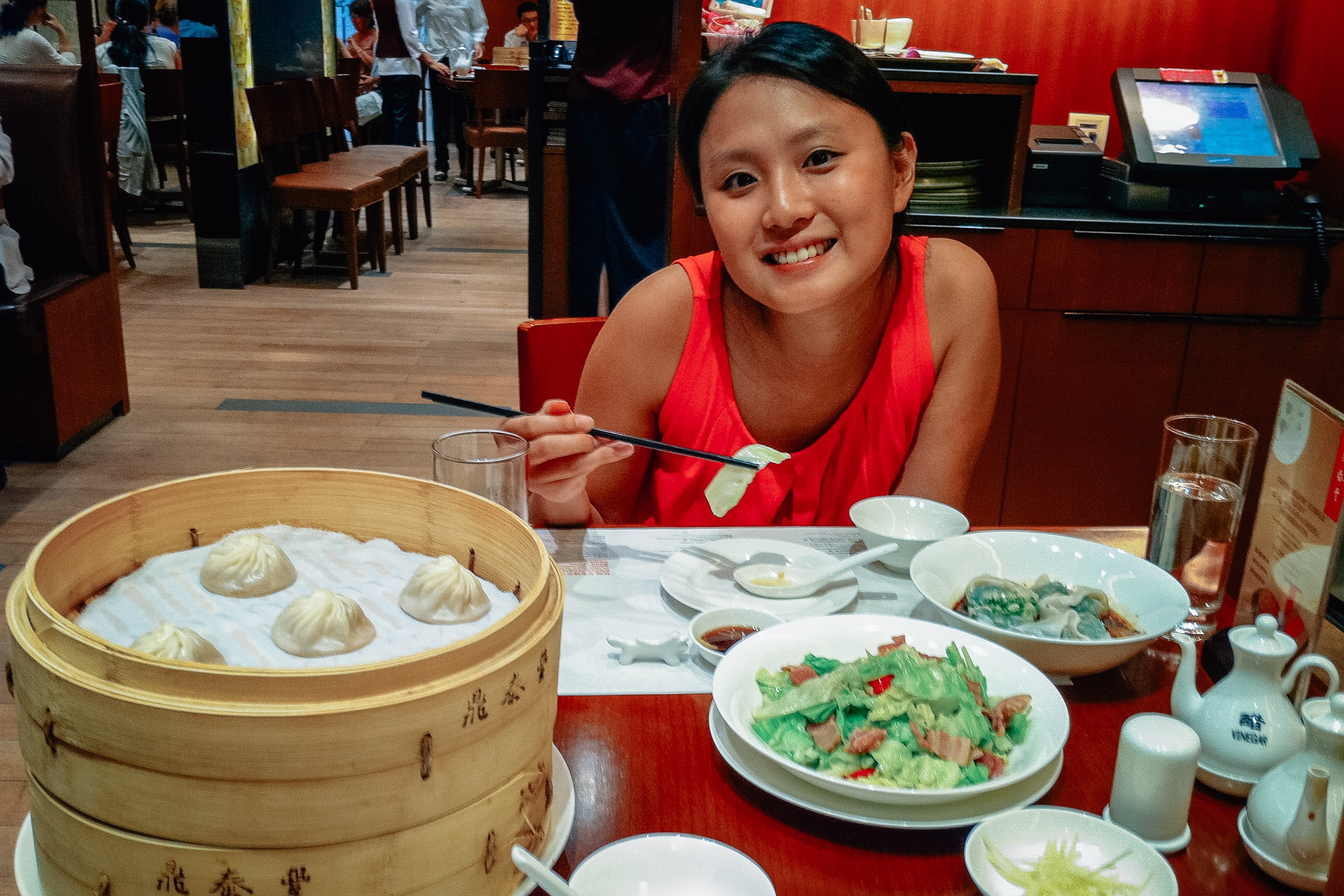 A Sleepy yet Ravenous Dinner at Ding Tai Fung
Wednesday was decidedly lower key. We toured the French Concession, the old French part of town, and paid a visit to the site of the First National Congress of the Communist Party of China, ironically blocks away from luxury shopping and a gorgeous new Jaguar dealership. Very little of that original Marxist doctrine can be found in China today.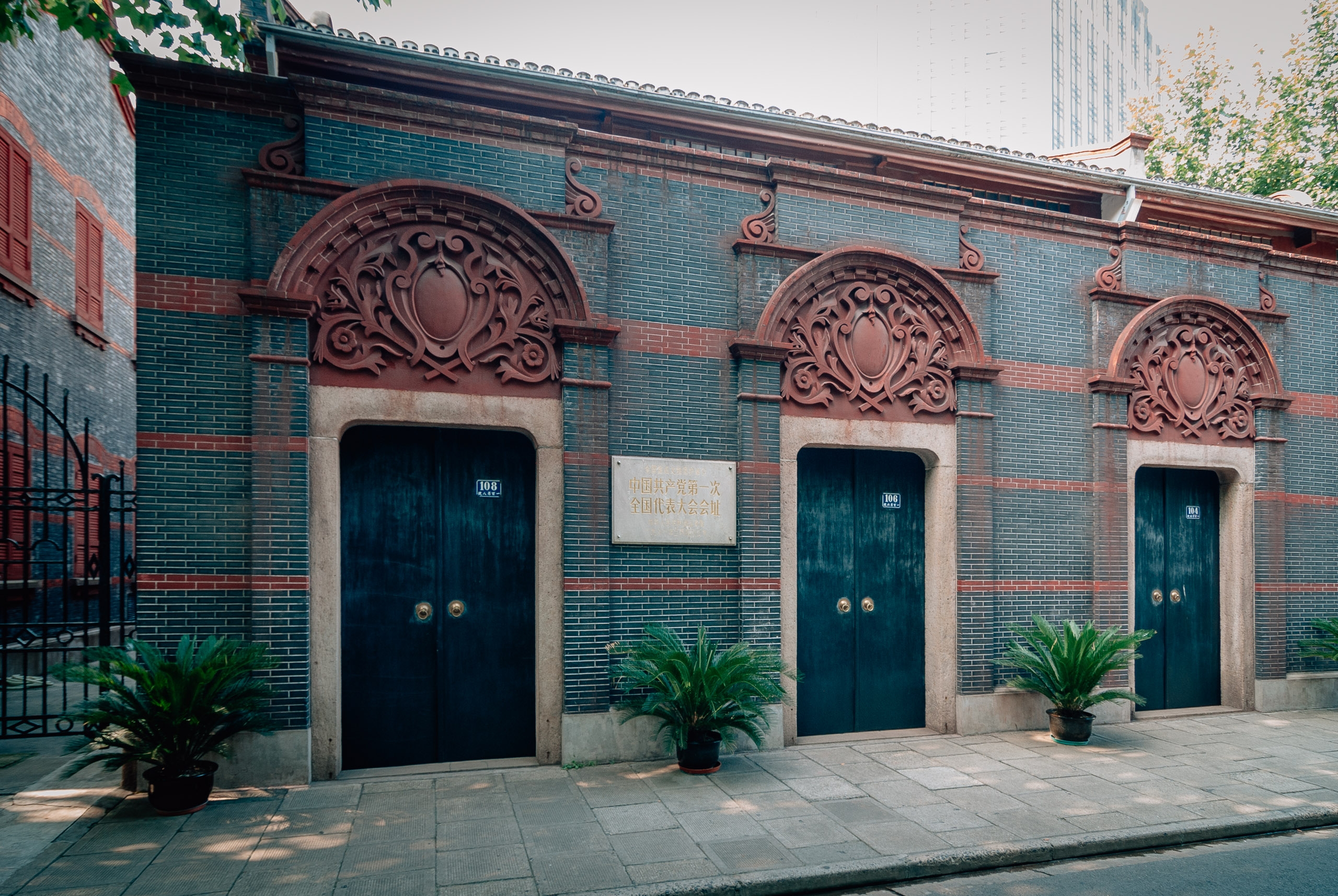 The Site of the First National Congress of the Communist Party of China
That night we gave our aching feet a rest and had room service in the hotel. Jessica had to get up early the next day for her meetings, while I was planning to see some of the museums, the World Expo and a handful of other sights around town. In our first three days we got a terrific feel for the City, its layout, its attractions and of course its food. I would definitely recommend a visit to Shanghai, and I have a feeling I'll need to go a few more times in the next couple of years as the pace of change will likely be staggering.
If Shanghai is any indication, this is shaping up to be the Chinese century.
Coming up:
read about my travels to Cuba, Iran and North Korea at the World Expo
.