Travels to Japan: Two Days in Kyoto
July 08, 2010
A glaring oversight on my part, I realized that I never finished my entries on our trip to Japan, which by now ended about two months ago. I guess time flies when you're doing other things, but at any rate here's the rest of the story, though I'll try to be more succinct.
Wednesday morning we got up early to catch our train to Kyoto. I had been to Kyoto three years prior, and highly recommend it as a must-see for visitors to Japan because of its historic and cultural significance, and the ease by which you can travel there from Tokyo.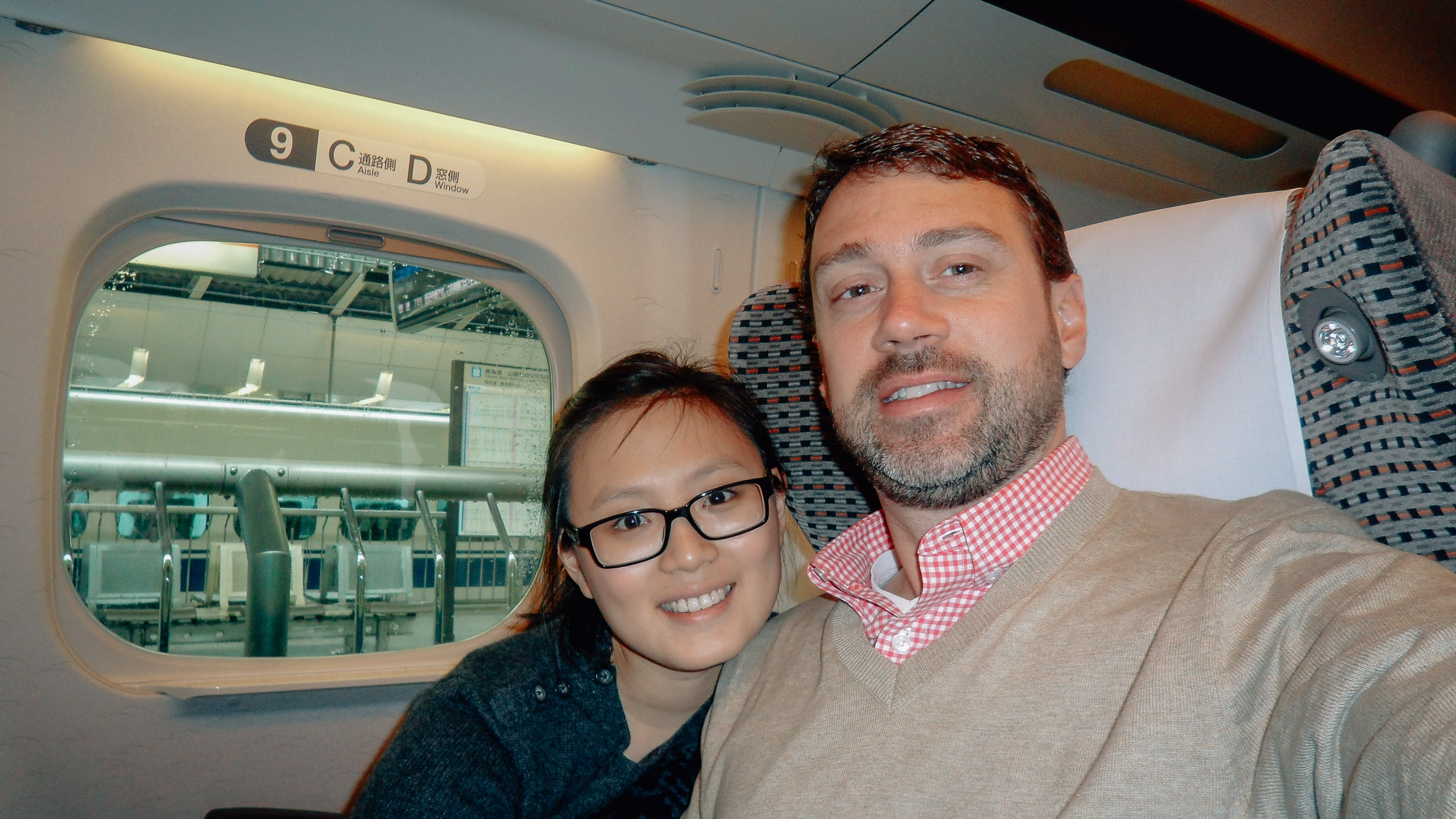 Onboard the Shinkansen to Kyoto
Kyoto was the capital of Japan for nearly a thousand years until moving to Tokyo in 1869. Kyoto is also one of the few remaining cities of Japanese antiquities having largely been spared from the extensive Allied bombing campaigns during World War II. Visitors to Tokyo will notice the modernity of the city, having nearly been leveled during the 40s. However, Kyoto and Nikko are home to a majority of Japan's UNESCO's World Heritage Cultural sites.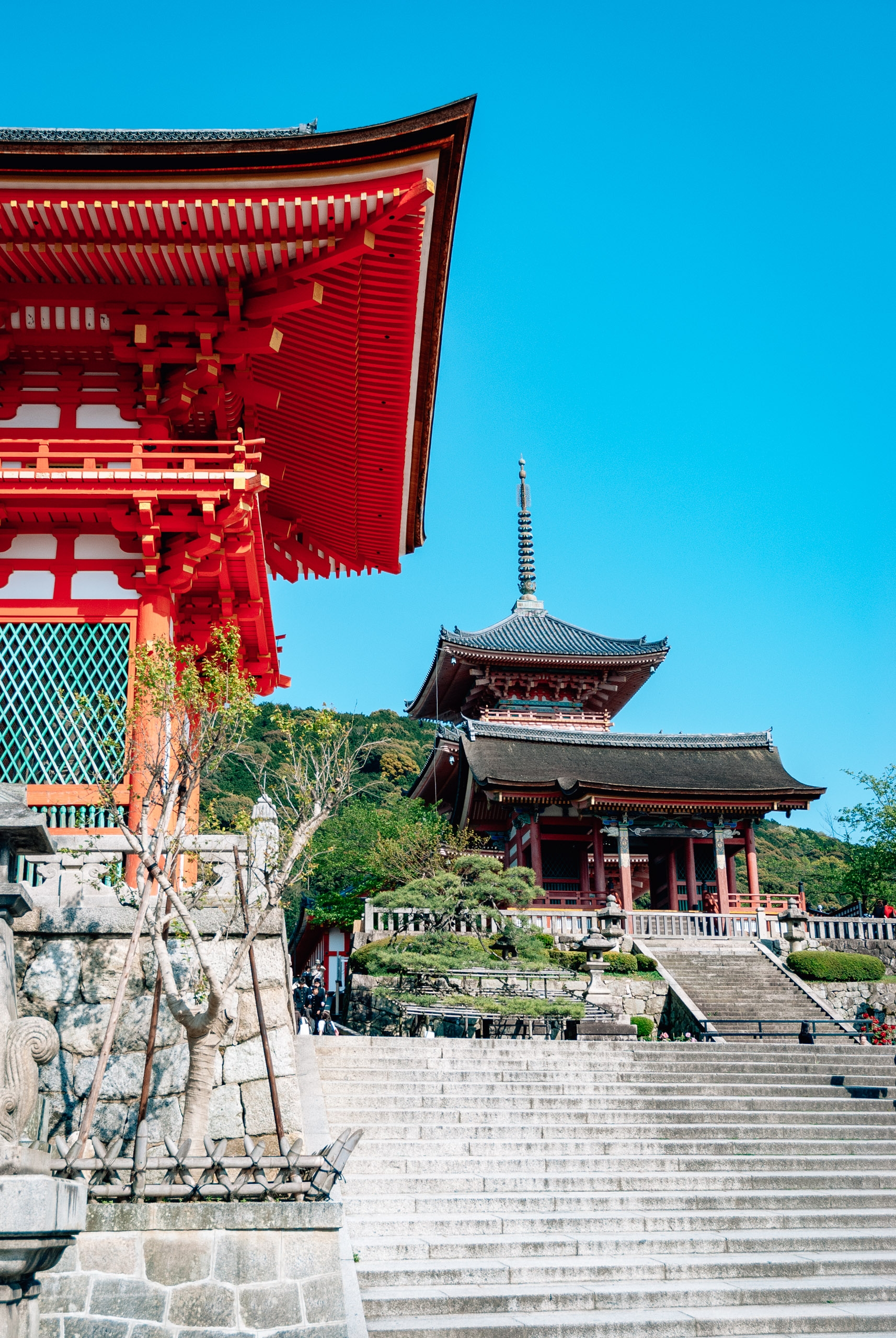 The Kiyomizu-dera Shrine
The trip to Kyoto is an easy 2-hour ride on the Shinkansen, Japan's 200MPH bullet trains that run from Tokyo Station to Kyoto Station, stopping only 4 times. Tickets aren't expensive, though we opted to try the Green Car service which is analogous to Business Class on an airline. It was nice, though the train's WiFi service was impossible to fathom.
We arrived at Kyoto Station around 10:30AM and hopped a taxi to our hotel, the Hyatt Regency Kyoto. As it was Golden Week in Japan, a national week of vacations akin to Spring Break, the hotel was pretty booked and there were tourists everywhere. We set out on a walking tour from our hotel that covered the Kamigano Shrine, Kiyomizu-dera Shrine the massive Kyoto mausoleum and some of the winding shopping streets along the hillsides.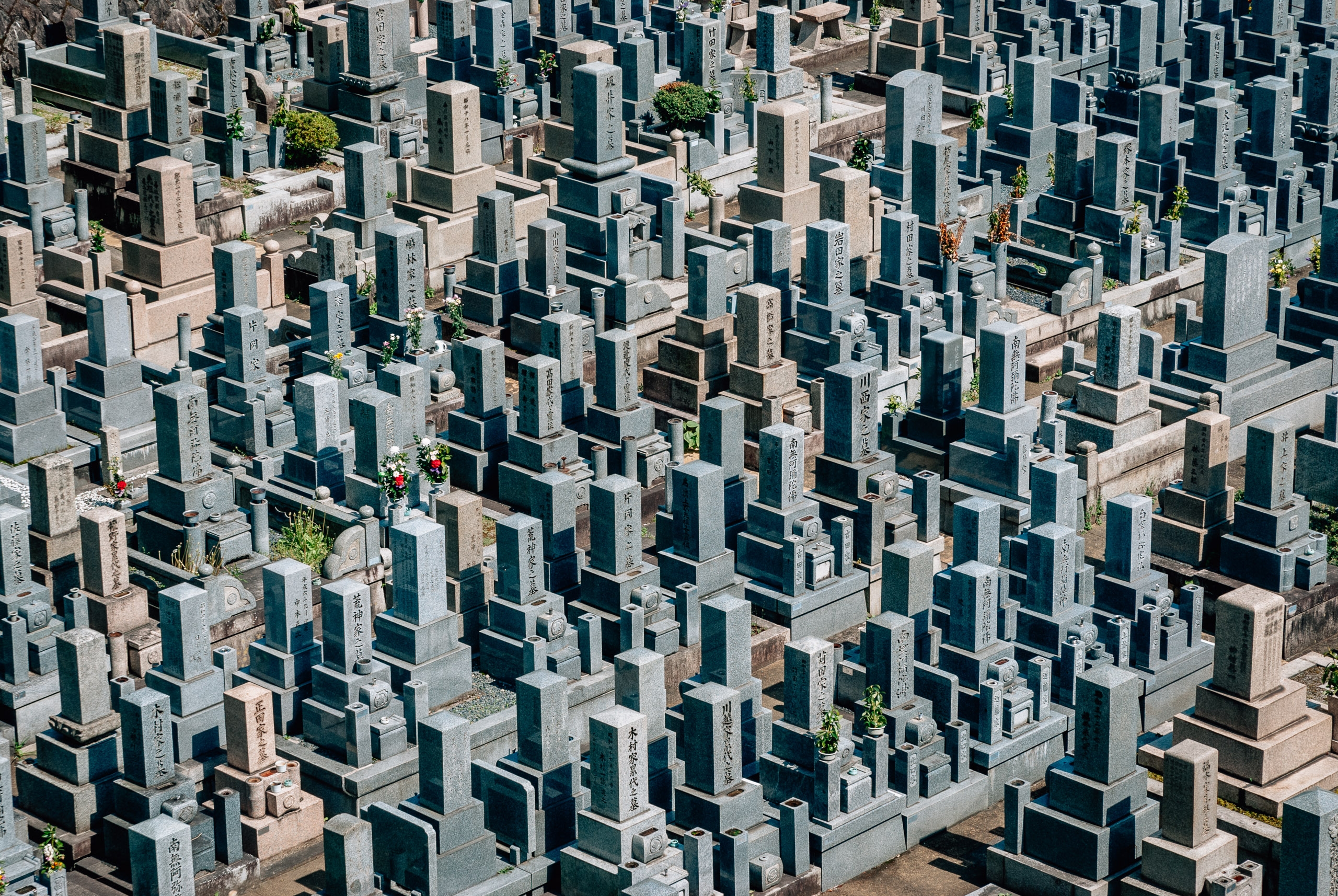 I see dead people.
The Kiyomizu Temple
The Kiyomizu Temple complex is a massive wooden structure atop a hill above the mausoleum. Its one of the largest wooden structures in Japan (the largest being right by our hotel, over 800 feet in length and built without the use of single nail). An active Buddhist shrine, its one of the most popular tourist draws in Japan. A natural spring at the bottom is supposed to grant good fortune to anyone who drinks its waters. We figured we'd either get good luck, diarrhea or both.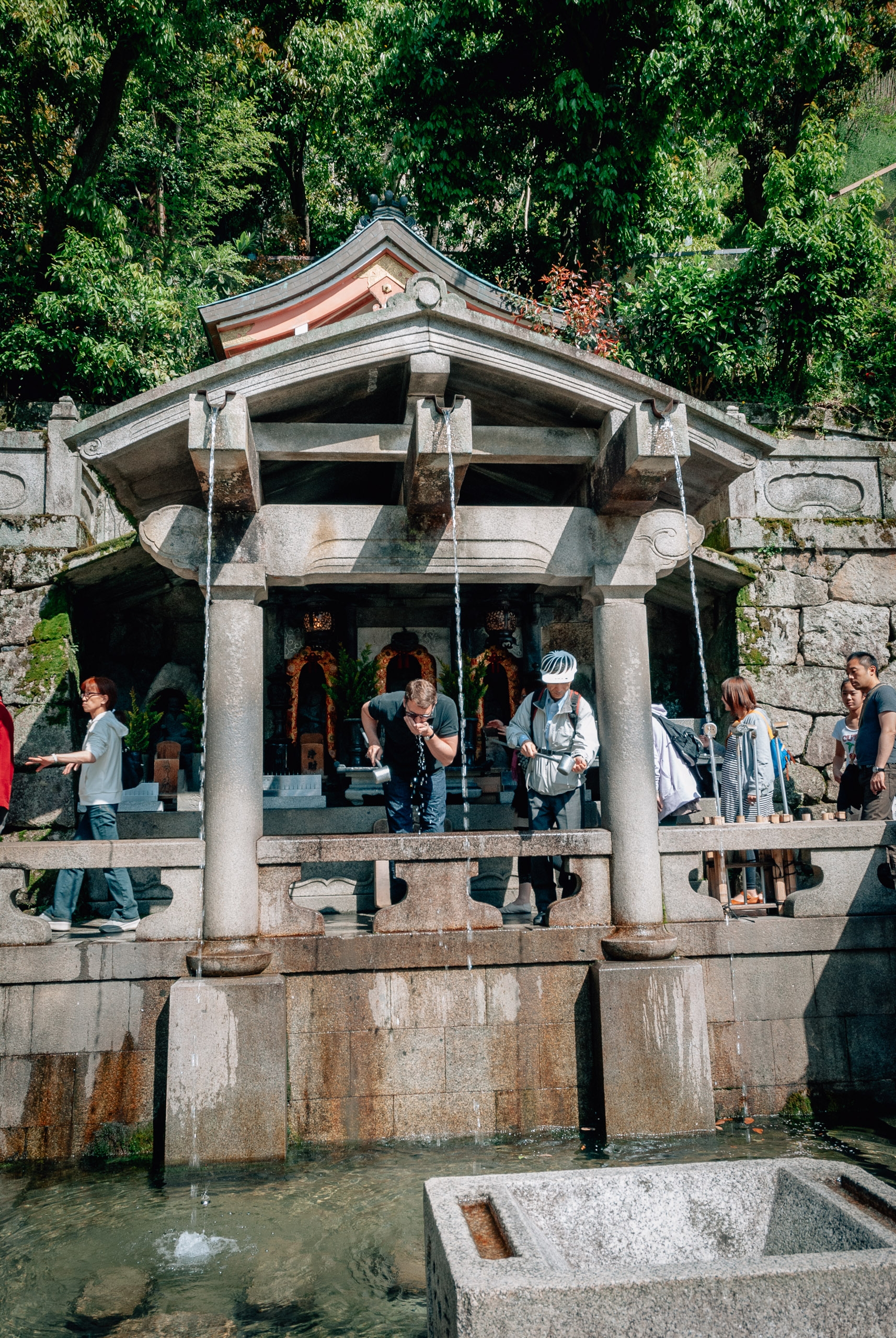 Kris takes a drink for good luck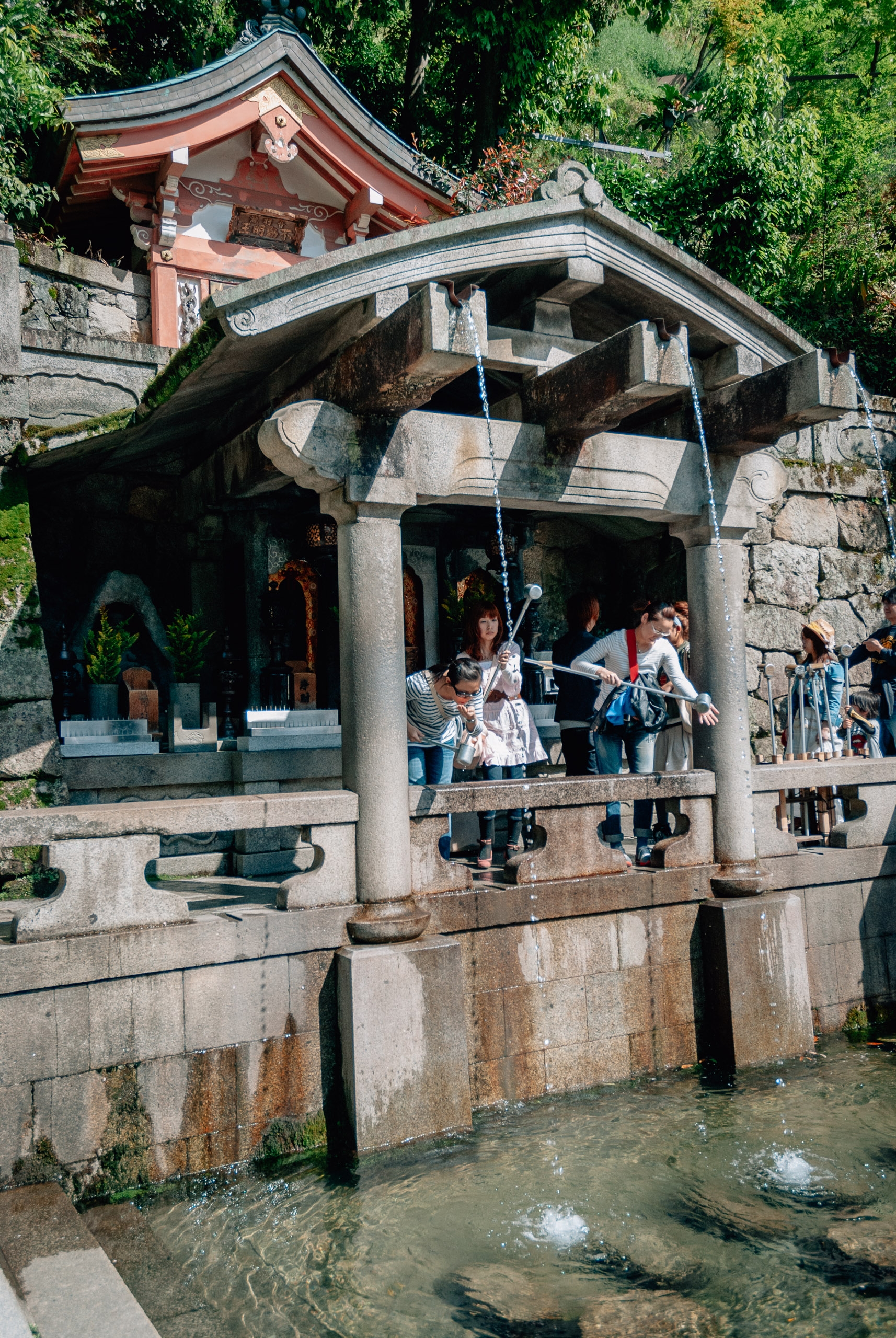 Jessica was reluctantly talked into doing the same
We walked along the hillside and through the winding streets back toward our hotel, seeing many interesting temples along the way. That night we ate in downtown Kyoto at a restaurant called Shabu-sen, which as you might predict, serves shabu shabu. We opted for the premium Japanese beef and the all-you-can-eat option. Several hours later we ventured back to the hotel, pretty much spent for the evening.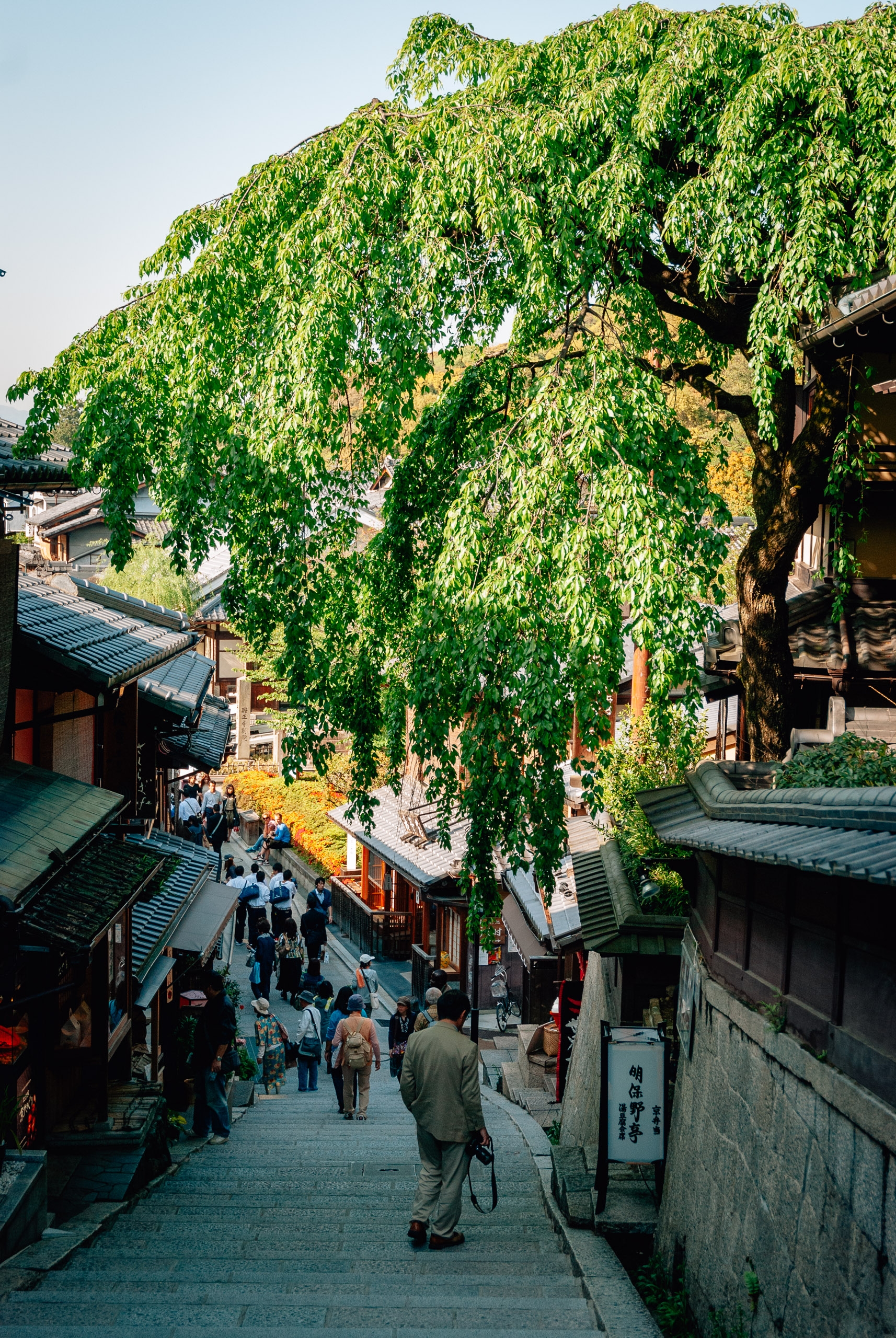 The winding hillside streets below Kiyomizu
The next morning we got up early to head over to the northern end of town to see the Kinkaku-ji Temple, otherwise know as the Golden Temple (its actually covered in gold, thus the name). Kyoto has an excellent bus system, with lines specifically designed to ferry tourists to the many sites in the city. We thought we were boarding such a bus, but in fact ended up taking the cross-town local. About 75 agonizing minutes later, we arrived at our destination. The bus was hot, extremely crowded and seem to stop about every 150 feet.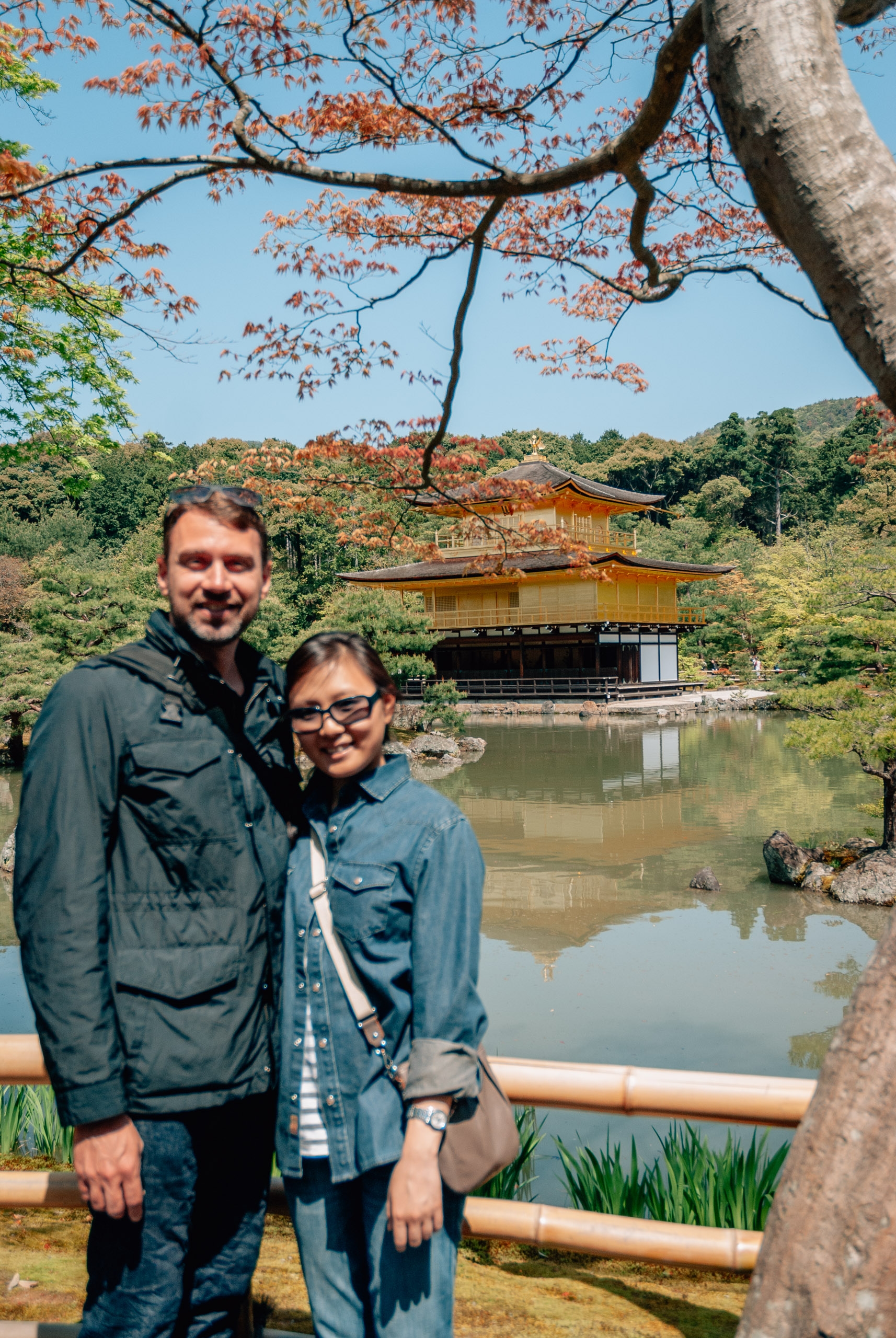 A passer-by took this slightly out-of-focus picture of us at the temple.
The Kinkaku-ji Temple is a sight to behold. In any weather, any time of day, the building is stunningly brilliant. Its disappointing to learn the this purported centuries-old building (originally built in 1397) was in fact burned to the ground by a disillusioned Buddhist monk in 1950, and re-built in 1955. In 1984, preservationists decided to cover the building in gold leaf as its lacquer finish was too hard to preserve. Its an interesting decision, but the result is remarkable.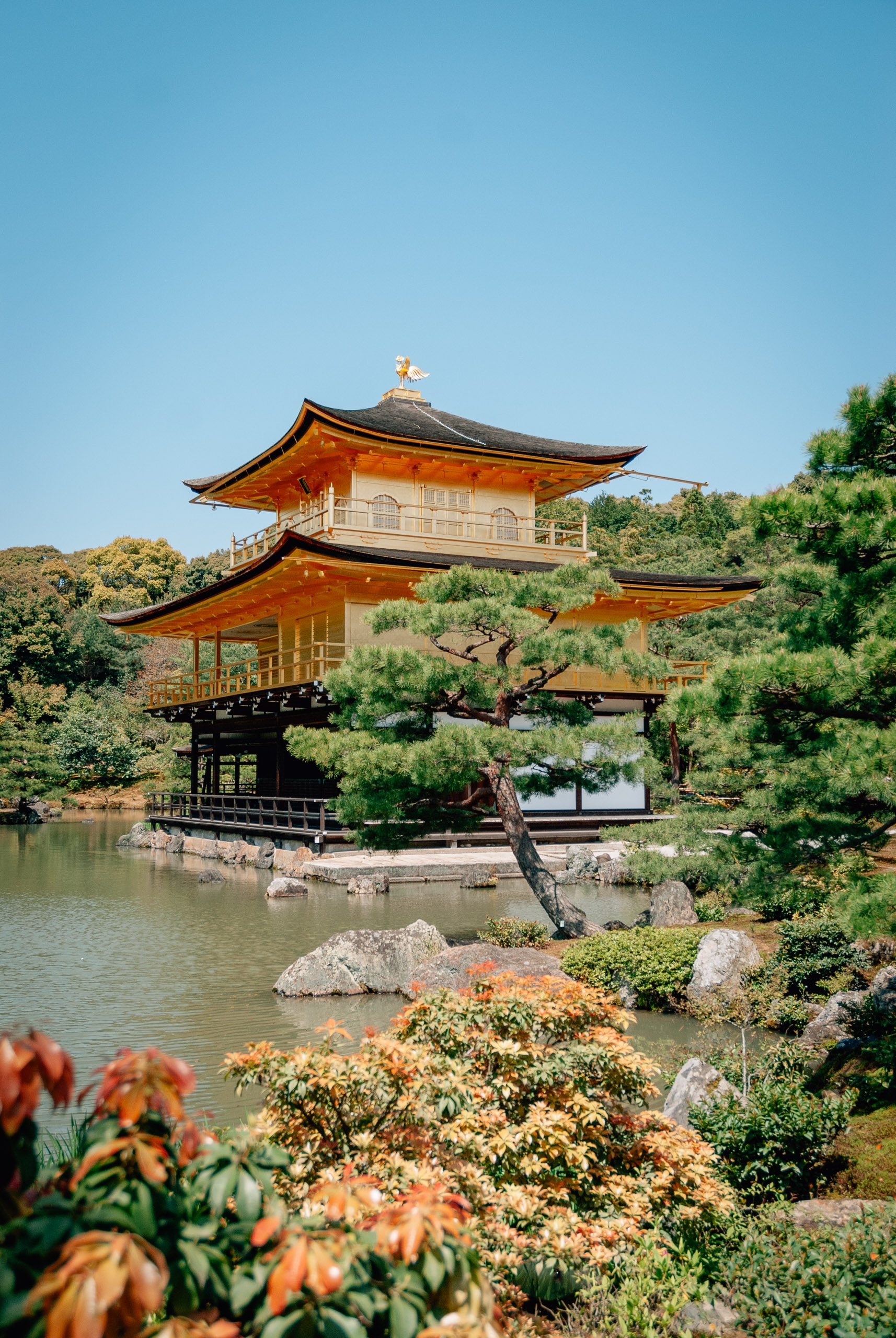 The Kinkaku-ji Temple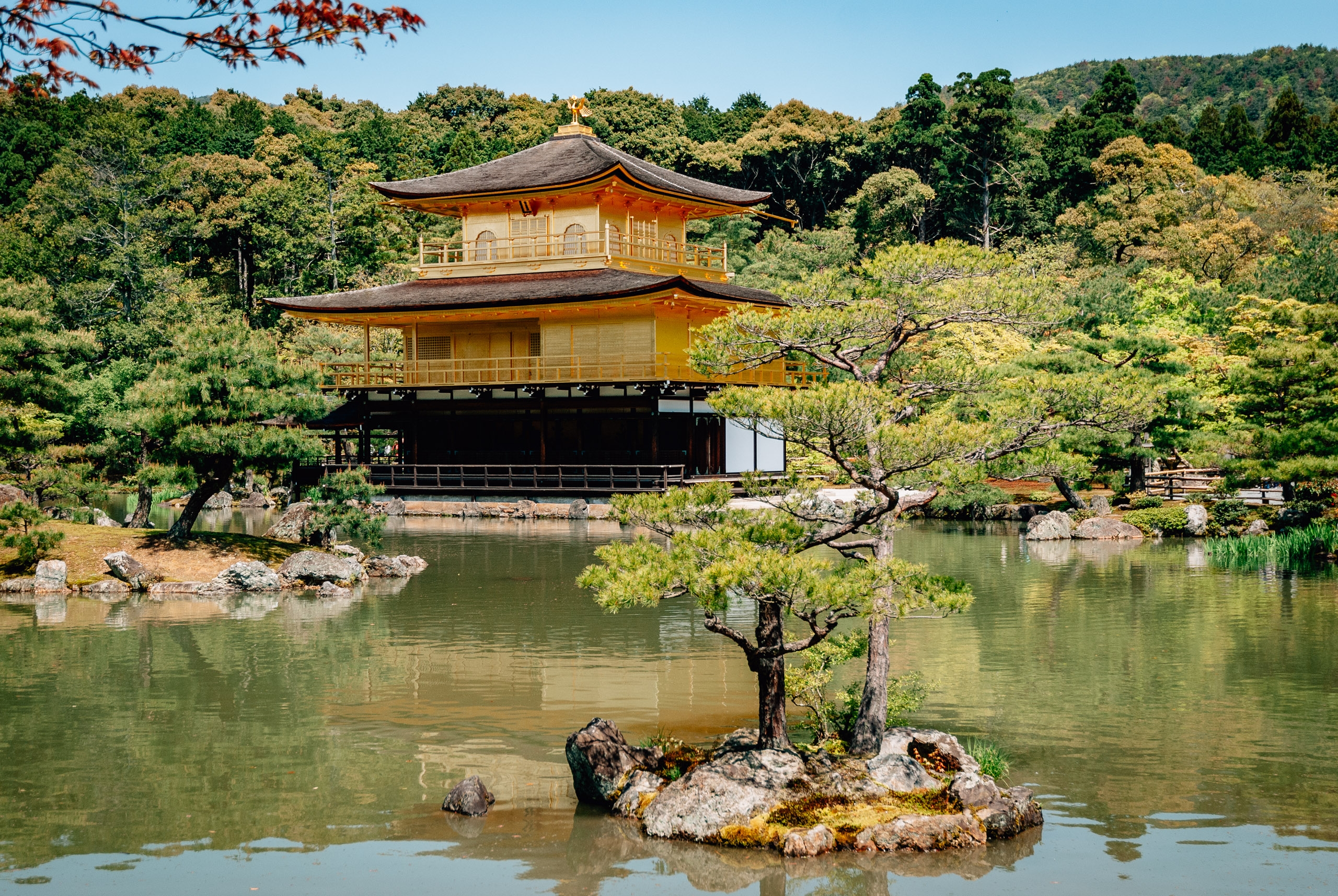 The Kinkaku-ji Temple
From there we walked about a mile to the Ryoan-ji Temple, home to the famous zen rock garden by the same name. The garden consists or raked gravel and an arrangement of 15 moss-covered boulders. Its layout is such that from whichever angle viewed, you can only see 14 boulders at any one time. The thought was that only through enlightenment can you see all 15. This fact doesn't keep people from trying, contorting their bodies in every which way in an effort to see all 15. The garden is remarkably understated, leaving many Western visitors scratching their heads and wondering what the big deal is. Clearly they didn't see all 15.
The Ryoan-ji Zen Garden
From there we hopped a taxi back to our hotel to pick up our luggage and catch our return train to Tokyo. We arrived at Shinjuku station around 4:30 and got somewhat lost trying to get to our hotel, but made it around 5:00. There we met up with John McDermott who had just arrived from Hawaii. We headed off to the baseball game, a contest between the Yakult Swallows and the Hanshin Swallows. We dined on curry rice and beer (passing on the famous fried eel). That evening tragedy struck when my pocket camera found its way out of my pocket and into a full cup of beer. This is the last photo taken with that camera. A moment of silence please.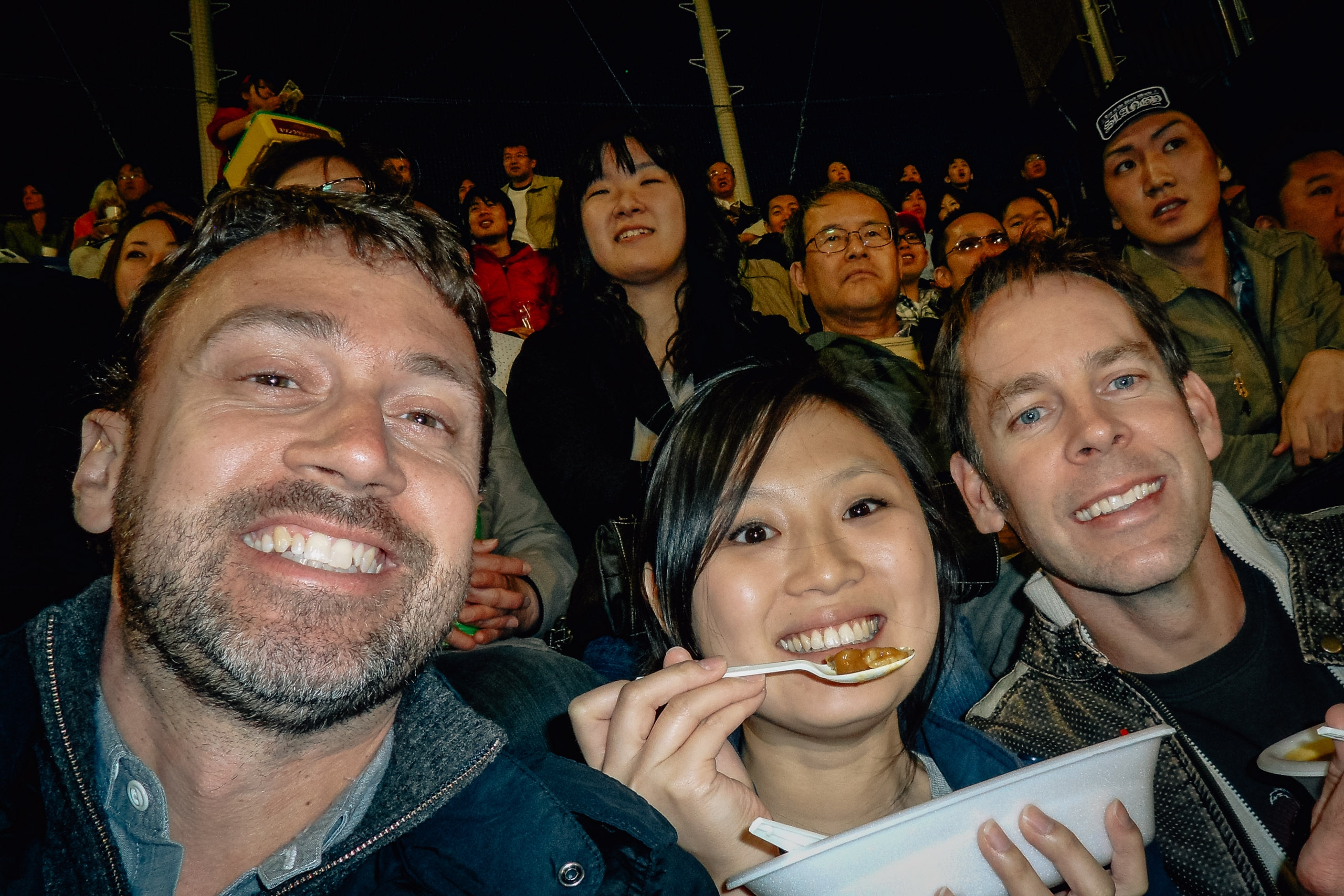 Take us out to the ballgame...