Greetings from Olympic National Park
September 21, 2007
The last stop on this portion of my North American park tour is Olympic National Park. I say "this portion" as I intend to visit other parks in California, but will return home in between to rest, sleep on a bed, enjoy a roof and catch up with friends.
Olympic National Park is located on the north-central portion of the Olympic Peninsula, in northwestern Washington State. Although the park is quite close to Seattle as the crow flies, getting there can be a bit tricky, requiring one to navigate around Puget Sound. In fact, traveling south on I5 from Vancouver BC, I asked Google how to get from Belllingham, Washington to Olympic and was told, "no route"; the Google maps equivalent of, "You can't get there from here."
Turns out you can get there from I5, but you have to take a ferry. Arriving at 11:00 PM after driving non-stop from Alberta, Canada, I had to find a nearby state park for overnight camping and would take the 6:30 AM ferry to Port Townsend. The ferry takes about a half hour and costs around $11. If you plan on taking the ferry, its pretty convenient and not a hassle at all. Your alternative would be to drive down to Tacoma and go around, which would take about 3-4 hours depending on traffic, and Seattle has some of the worst traffic in the US.
Because of its separation from the greater Seattle area, the Olympic Peninsula is still pretty quiet and quaint, a handfull of idyllic little coastal towns line the road, and 8 Native American reservations are located in the area. Combined, you can enjoy New England-like small town scenery, and casinos. While I was there, Makah Tribe hunted and killed and gray whale in defiance of federal and international bans on such activity. The subsequent furor began drawing protesters into the area as I was leaving.
There are three main draws to Olympic National Park: the coastline, the variety of forest lands and the Olympic Range, a rugged range of coastal peaks topped by the literary-sounding Mt. Olympus, at 7,980 feet. Mt. Rainier is Washington's tallest peak at almost double this height, but the weather on Mt. Olympus can be wildly unpredictable and daunting to even the most experienced climber. This challenge draws a number of visitors each year.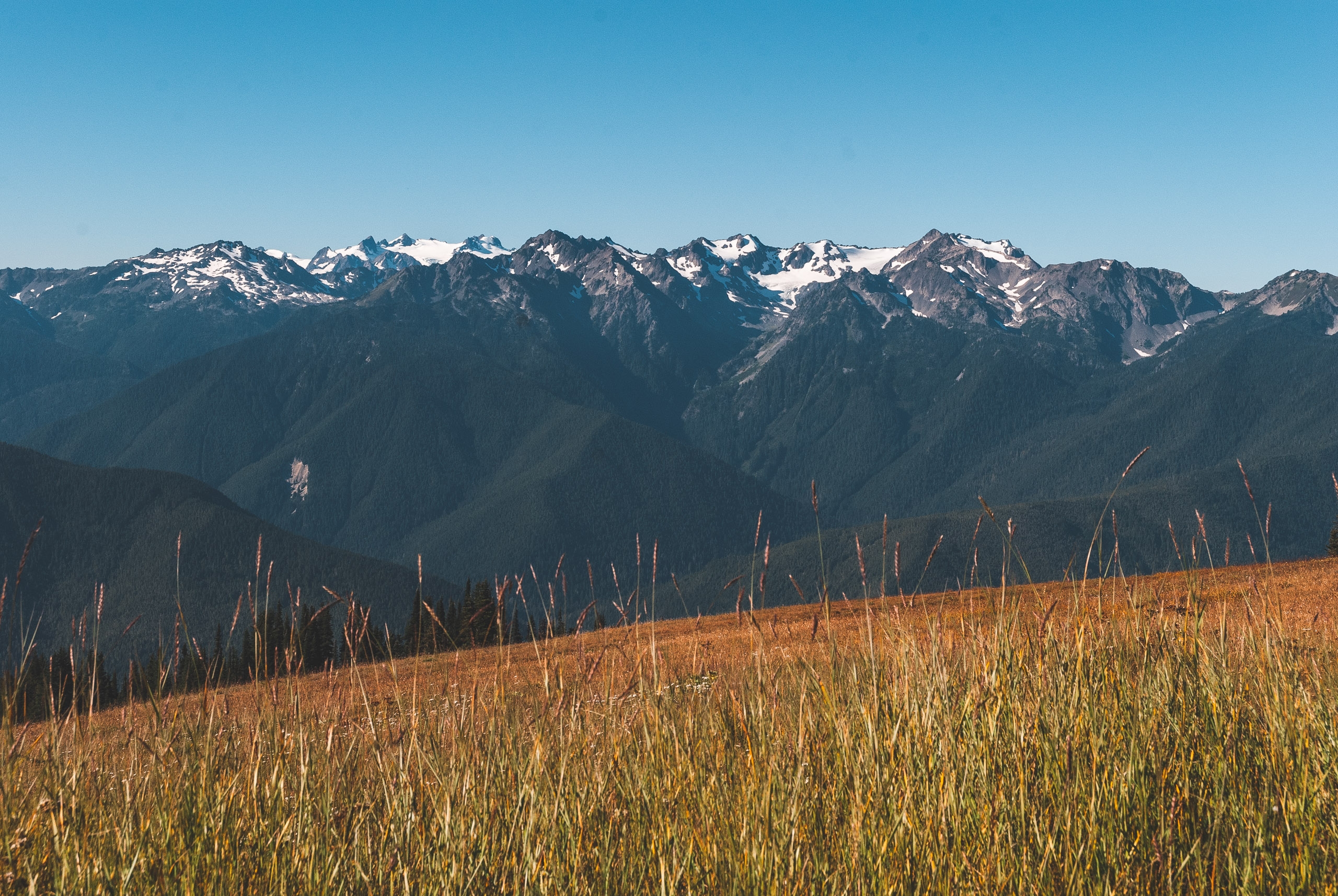 The snow-covered peaks of the Olympic Range
My first stop was Hurricane Ridge, a wind-swept summit that affords panoramic views of the Olympic Range to the West, Vancouver Island and Canada to the North and Eastern Washington, surprisingly to the East. If you have a good pair of binoculars or a powerful zoom lens, you can see downtown Vancouver, British Columbia about 2 hours north of this point. From here you can do a series of easy day-hikes to various peaks and enjoy the views. This point is popular at sunset, but the sun sets behind the Olympic Range so dusk comes early.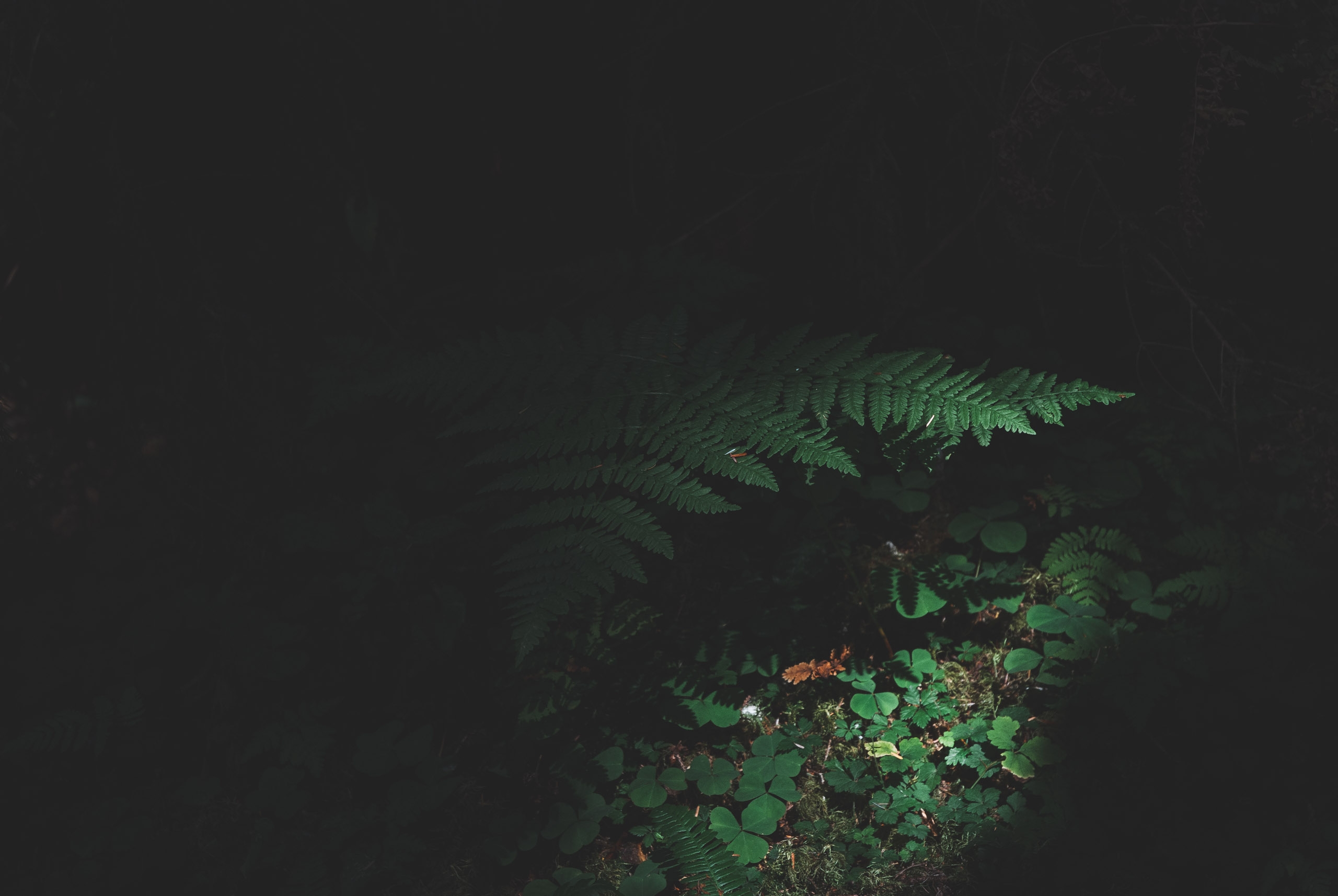 Giant ferns covering the floor of the Hoh Rain Forest
My second stop and of interest to me was the Hoh Rain Forest. Parts of Olympic get as little as 40 inches of rain, while other parts, not far away, get over 250. The Hoh Rain Forest is one of the latter, and is an immaculately preserved grove of almost tropical trees, ferns, moss and old growth timber. The landscape is pretty surreal. Its the sort of place that if you stopped moving for more than a few minutes, you too might be covered in moss. It was perfectly sunny the day I visited, but on a typically foggy day the effect is even more enhanced. I did a few hikes in this area, and stopped to make lunch under the towering trees.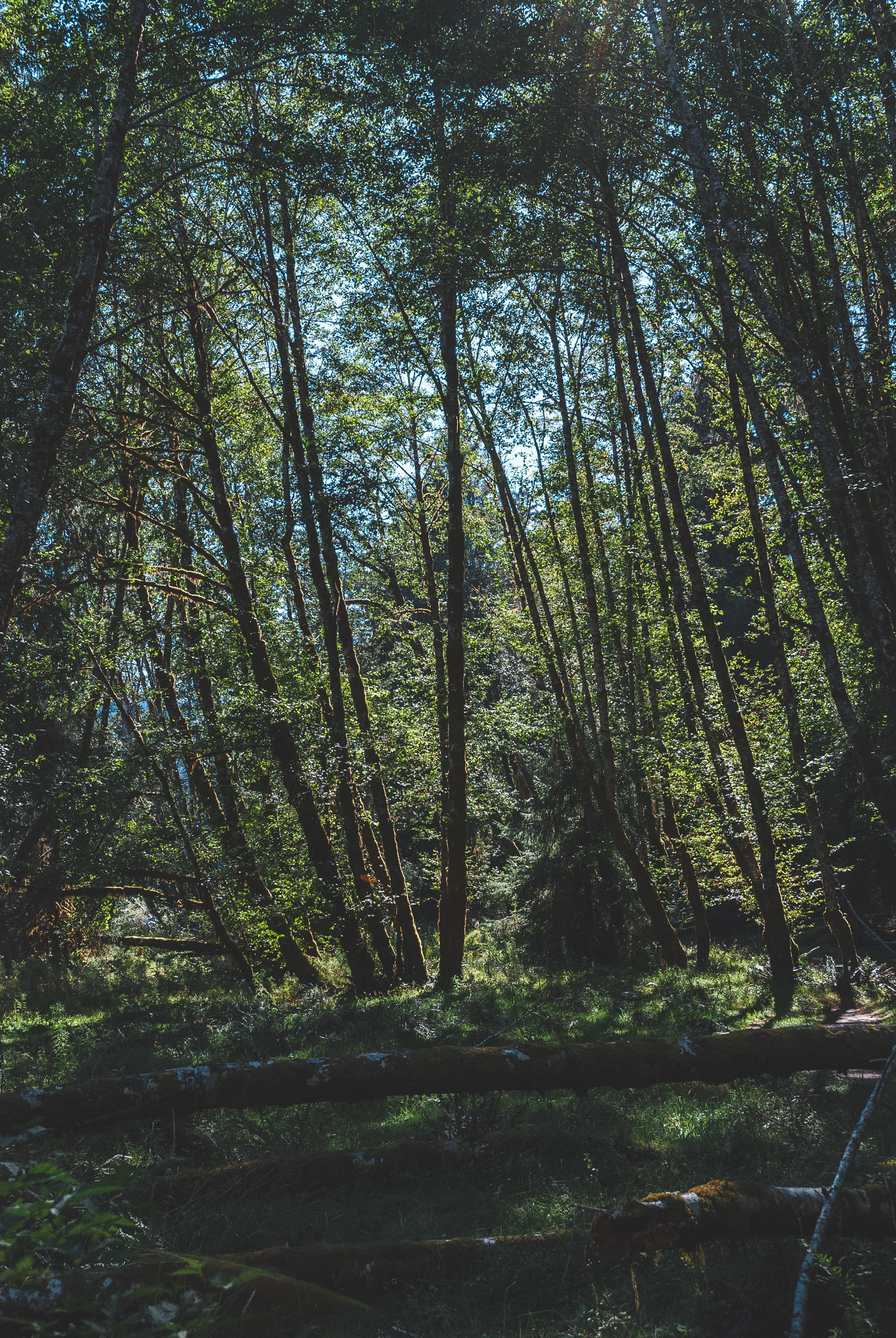 Tangled trees in the dense rainforest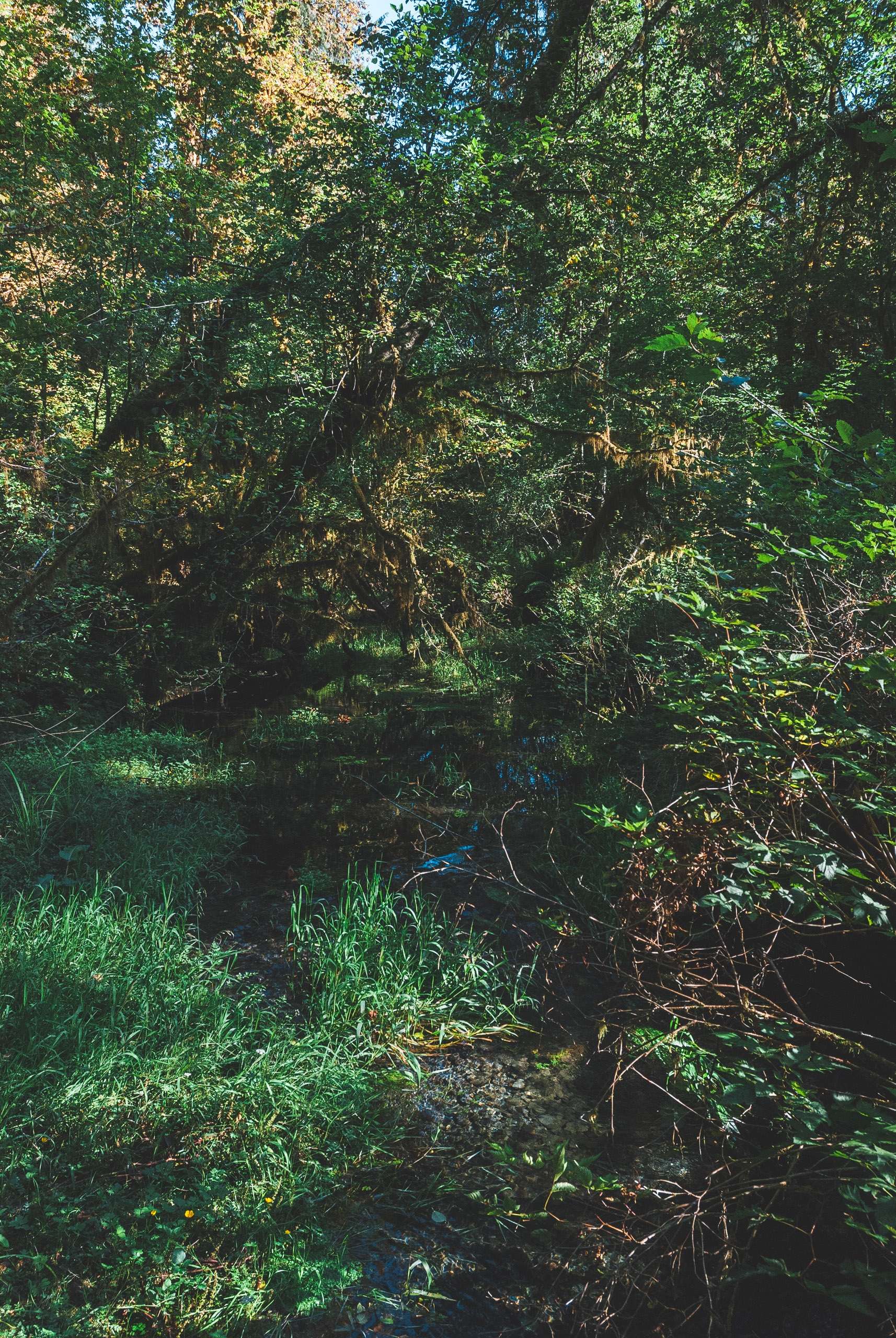 Thick vegetation covering the rainforest floor
My third stop that day was the coast. The park is separated by large swaths of State-owned and managed timberlands, but the boundary of the park does include nearly the entirety of the Olympic coastline. Here large growth timber grows right adjacent to the beach. During intense storms, the surge can sweep into the forest, falling large trees whose sun-bleached carcasses line the shore. Parts of the beach are fine and sandy, while others are rocky and jagged, and are comprised of towering limestone islands reminiscent of those I saw in Thailand and Vietnam.
I made my way to Rialto Beach, one of the more scenic stretches of coastline. From there, I hiked about 3 miles up to a series of rocky islands to watch the sunset. It was a fitting end to this part of the trip, dead quiet, dead calm with hardly another soul around. Although the summers in Washington are typically clear and pleasant, the coast can be foggy and cold much like San Francisco. This night was perfectly clear, and although the sun set around 8:00, the sky remained a brilliant yellowish-orange for at least another two hours.
On my way back to the car, I chatted with a woman, Dianne, vacationing from Florida, just outside of Ft. Lauderdale. At one point she mentioned she worked for DHL, at which point I asked if she knew
Steve Brooks
. To her amazement, and mine, they are coworkers. Small world, indeed.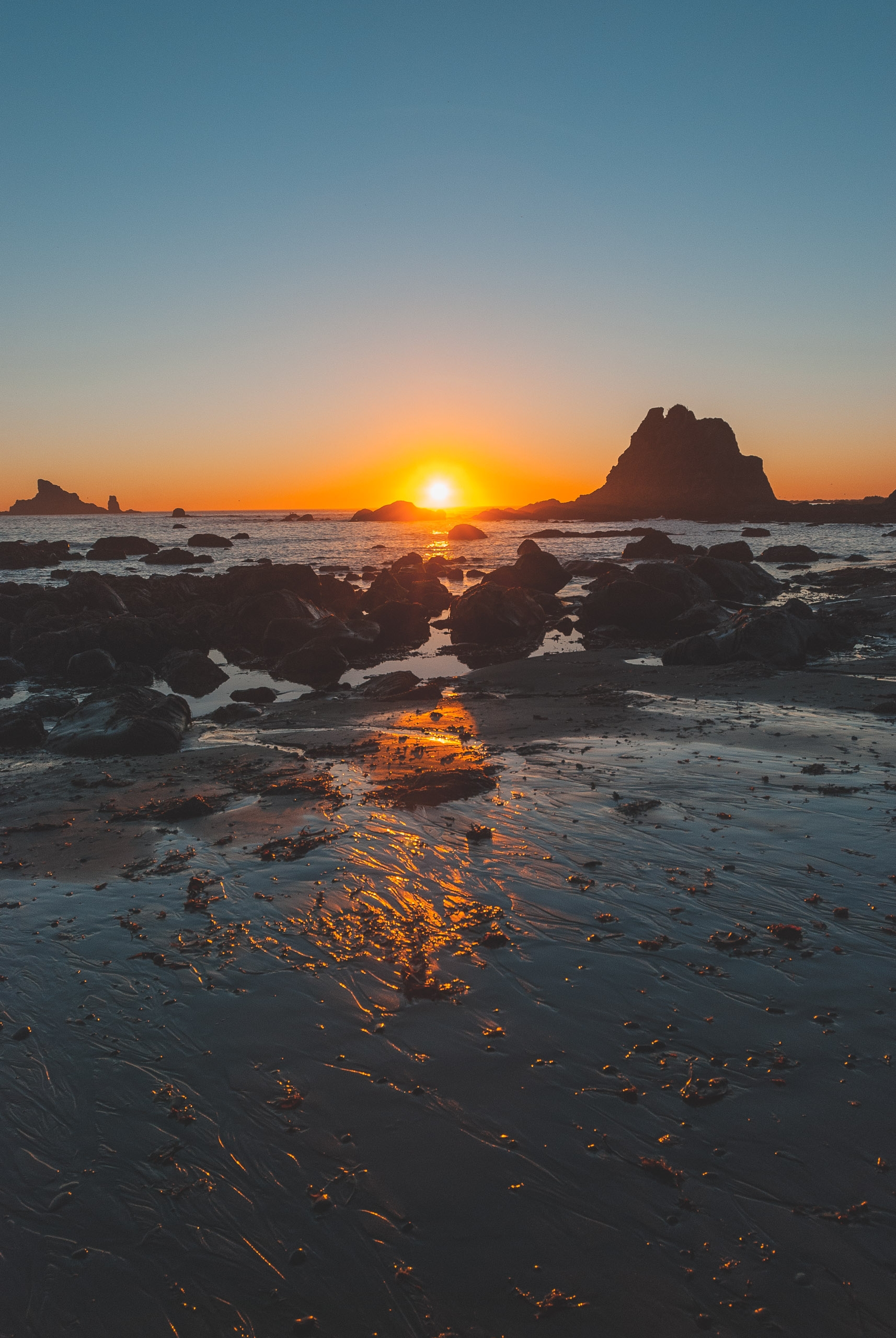 The sun setting over Rialto Beach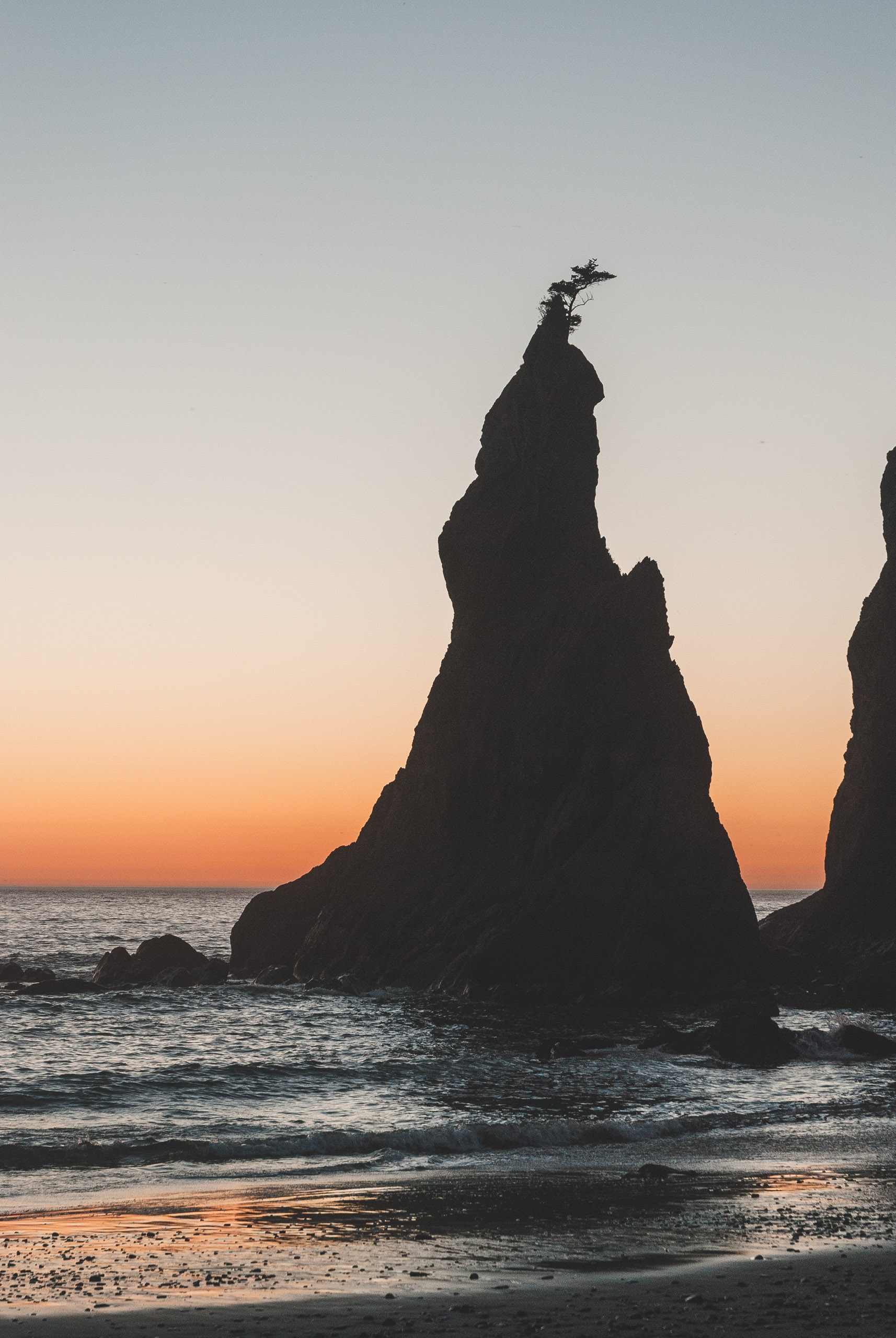 Long after sunset, the sky continues to glow orange
I traveled a little over three weeks, and put 5,438 miles on my Honda CRV, whose "Maintenance Required" light came on somewhere around Calgary. Annual park pass in hand, I have a number of others to visit over the coming months, so stay tuned for those. Until then, signing off.