Greetings from Banff National Park, Alberta, Canada
September 18, 2007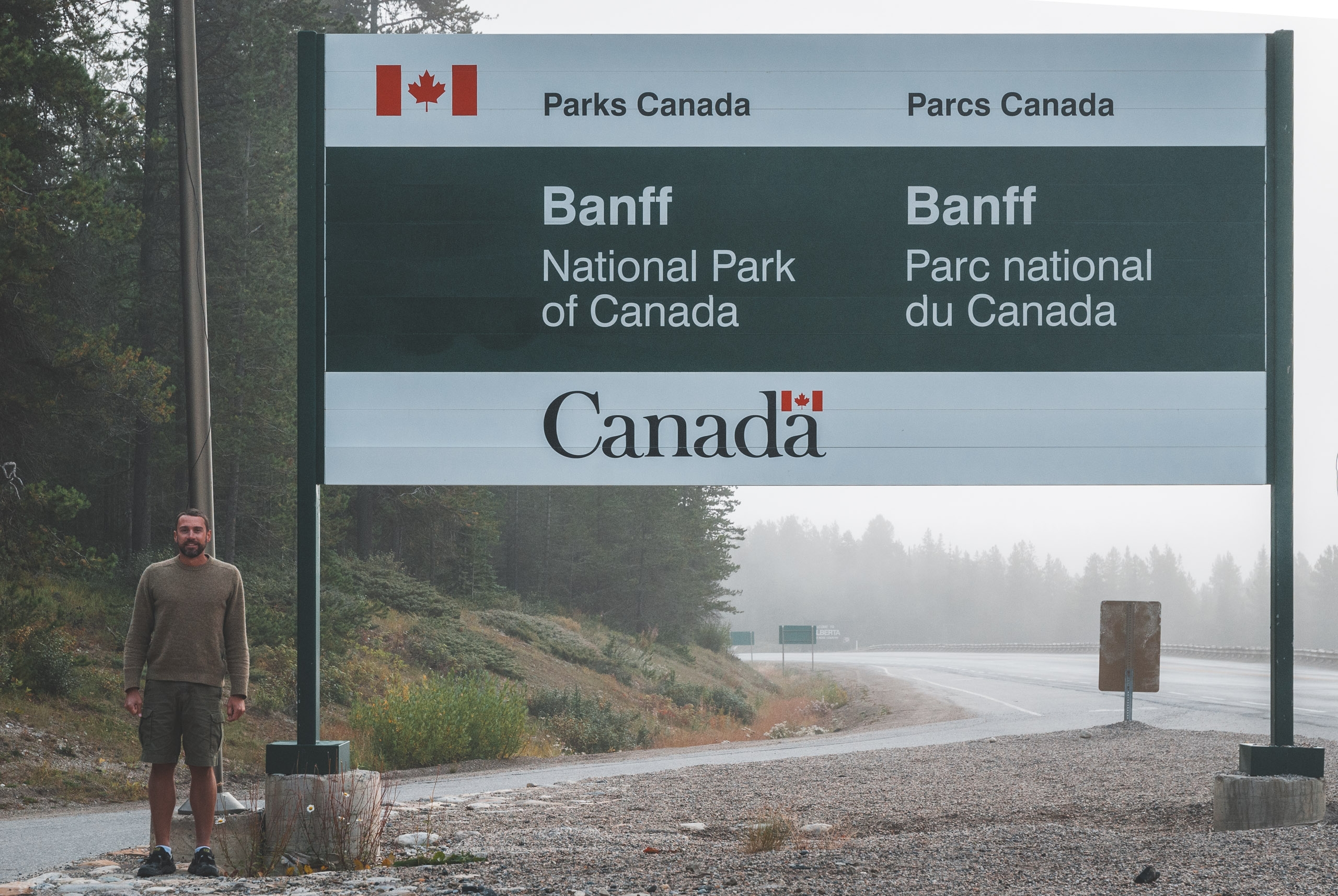 The next stop on my tour of Canadian National Parks was Banff. Banff is located about 90 miles west of Calgary on the eastern flank of the Canadian Rockies, along the trans-Canada highway, Highway 1. Banff is adjacent to three other popular Canadian parks, Japser, Yoho and Glacier. Whether you're visiting the park or not, west-bound drivers on Highway 1 are required to pay a park entrance fee, but this gives you access to Banff, Jasper and Yoho parks, and also gives you access to Icefields Parkway, a Saskatchewan-bound highway traversing high mountain peaks, alpine lakes and lots and lots of glaciers. Entrance fees at Canadian parks are by-person, not by vehicle as in the US. They typically run about $7-10, about half the cost of a popular US park. Yeah, socialism.
Driving in Canada wasn't that tricky except for doing the mental math on my speed. In Alberta, they don't use the highway numbers on the map, but refer to main roads by name that only locals seem to know. For example, Highway 1 west from Calgary is "Banff Trail" but you won't see that name on the map. Also, gas is expensive! I paid about $1.50CAD per liter, which equates to around $5.00 per gallon.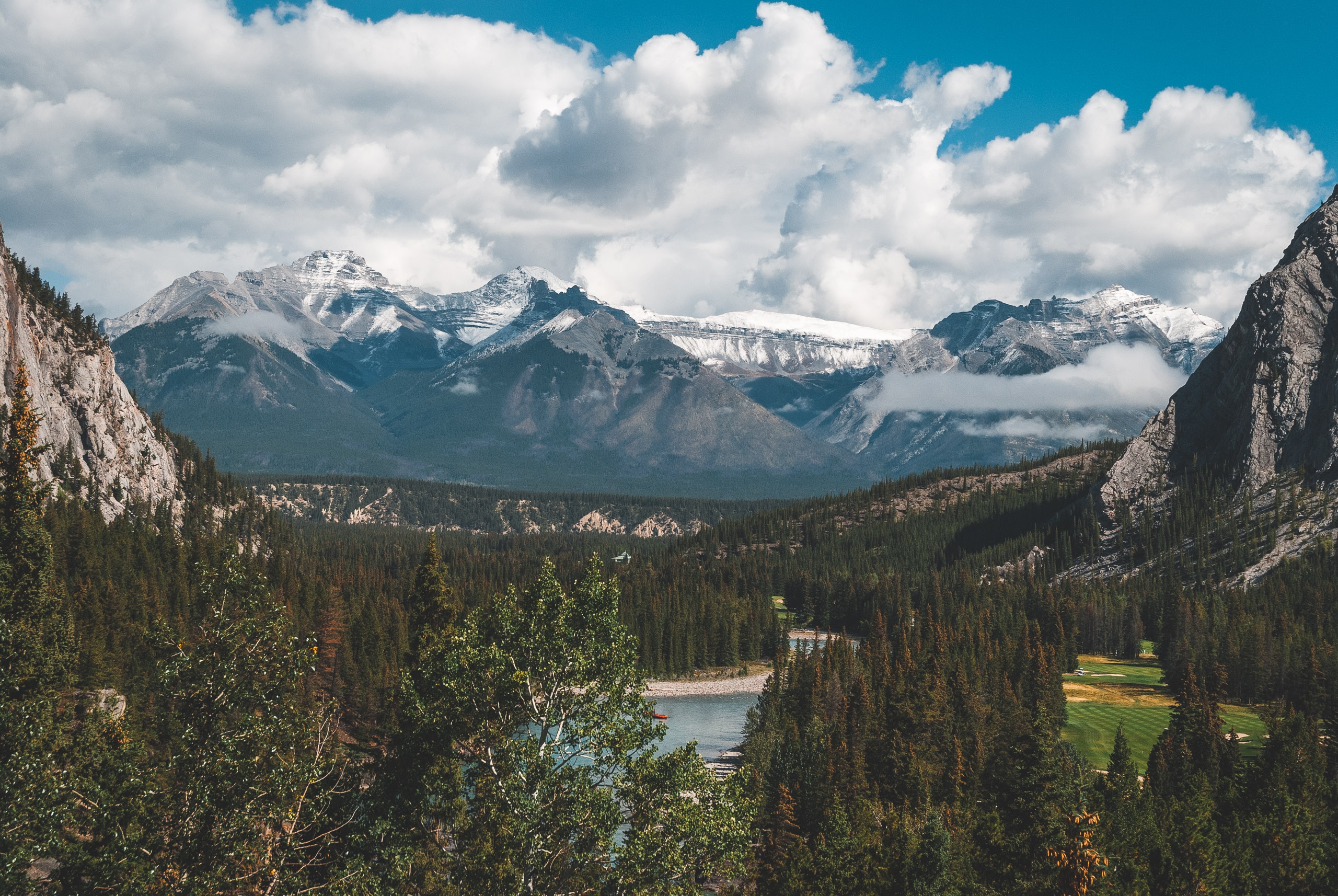 Banff Springs Valley, and the Banff Springs Golfcourse
Banff is an incredibly popular park, receiving close to 4 million visitors per year. Exceeding visitation to Yellowstone, Banff is one of the most-visited parks in North America, exceeded only by Yosemite National Park in northern California. Per my previous post, this was my second visit to a Canadian National Park. I had noted some differences while visiting Waterton, chief among those the level of free-market development that emphasized recreation and entertainment over preservation. This difference was shockingly more apparent in Banff. Driving into the city of Banff to the park's visitor center, I realized I had been to harsh on Yellowstone and its visitor facilities. Banff has a bustling downtown, full of shops, bars and restaurants. They even have a Gap store. Curious indeed. I went to the visitor center to inquire about points of interest and potential day hikes. I waited in a Disney-like line that weaved back and forth until I was able to talk to a park employee, who was really trying to pin me down on what kind of tour I wanted to go on, or if I wanted a map of interesting day-drives. I suppose this is the automotive equivalent to a day-hike. Contrast this to most US parks where you can talk to a friendly and knowledgeable ranger, who is typically very helpful at recommending any manner of activity according to your interests and abilities. I picked up some information and drove around the area a bit, seeing the brochure's main points of interest.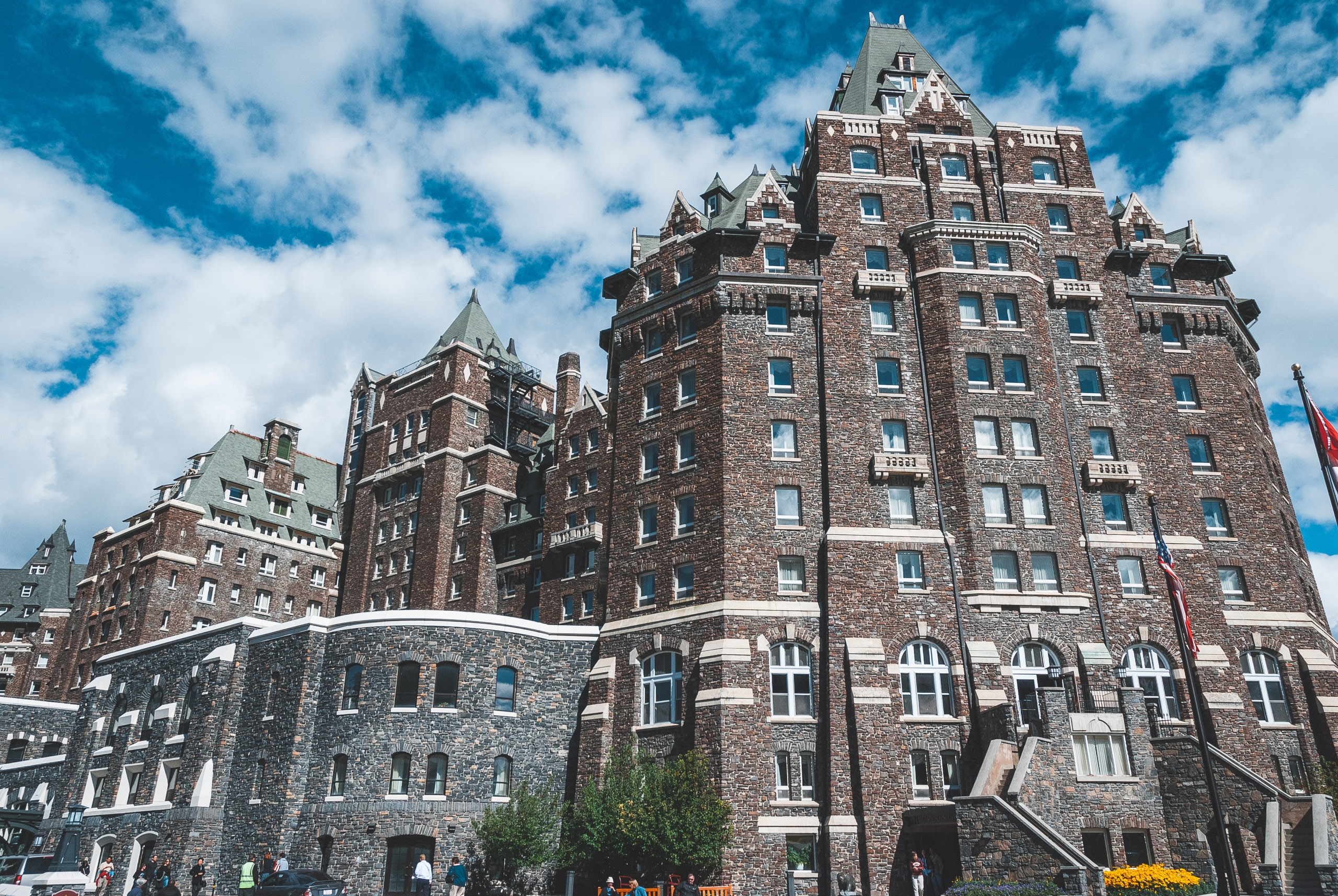 The historic Fairmont Banff Springs Hotel
Before I sound too critical, I would certainly posit that the Canadian Rockies are beautiful. Tall, jagged peaks surround the valleys with numerous rivers, lakes, waterfalls and springs. It snowed the night before I arrived and the peaks were covered with snowpack while the valleys were still lush and green. In the area of Banff, besides eating at Tony Roma's or the Spaghetti Factory, you can also visit the 5-star Fairmont Banff Springs Hotel. Situated above a well of natural springs, the hotel was originally built as a convalescent destination for visitors to take advantage of the purported healing powers of the area's natural mineral waters. When it opened in 1888, the hotel was the largest hotel in the world, and rooms were let for about $3. Today they go for about $400 Canadian, which ironically is about $3 US. The hotel is interesting in that it likens a giant European castle, has a number of fine restaurants, a conference center and 27 holes of golf. All of this is worthy of a 5 start resort, I'm just not used to seeing such facilities in a national park.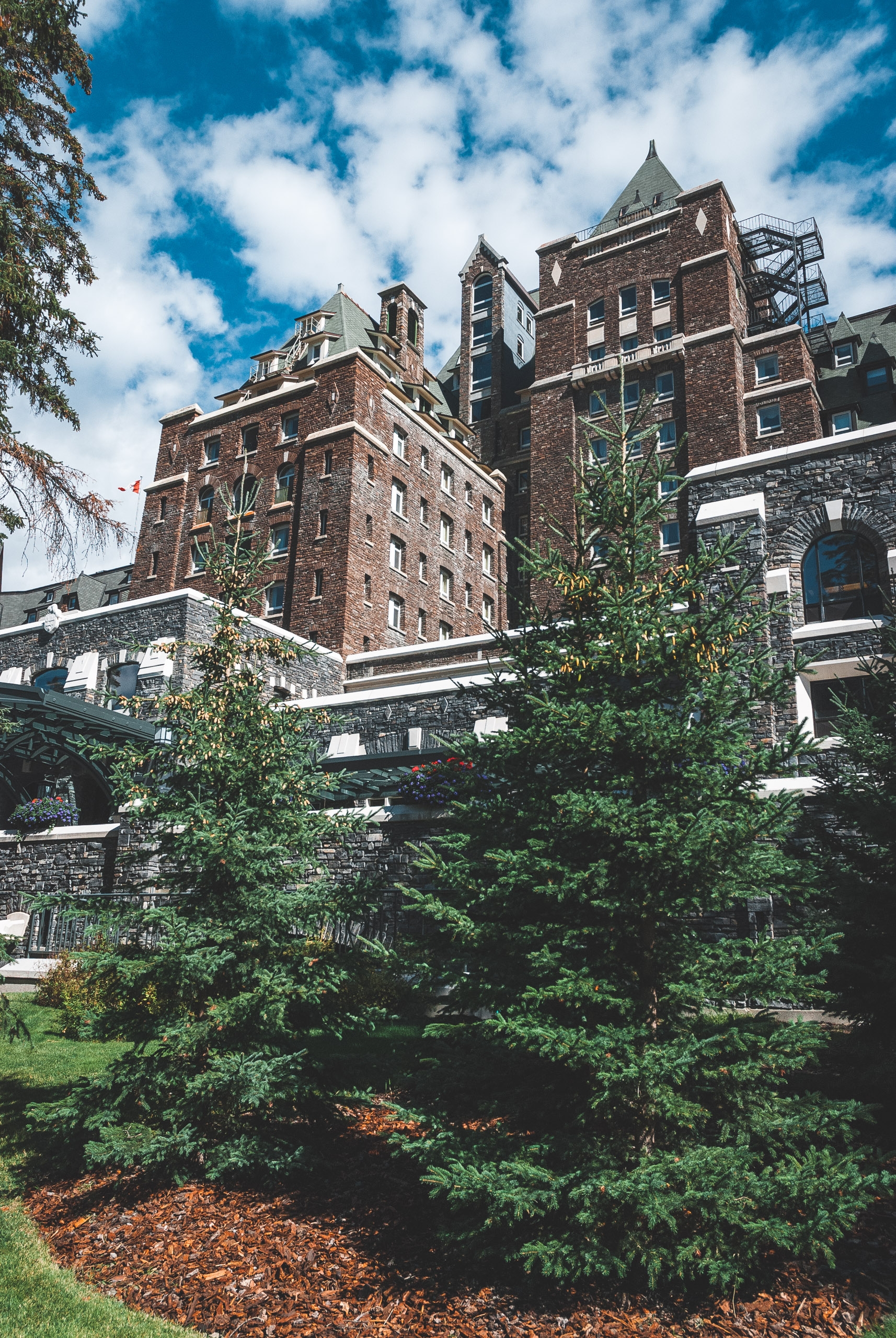 The Banff Springs Hotel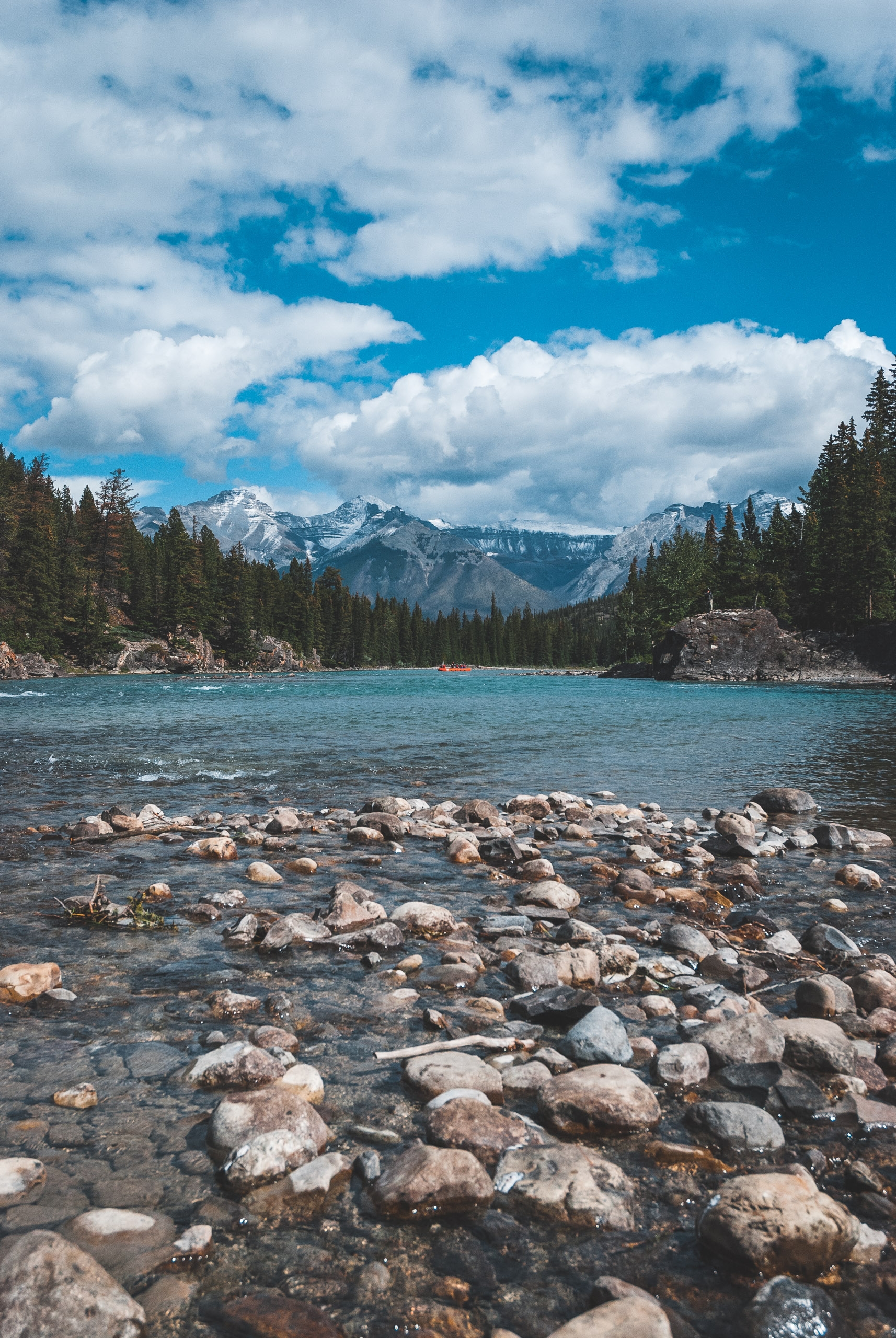 Banff Springs
I left the town of Banff and headed North and West toward Lake Louise, a moraine lake sitting at the foot of several large glaciers. Along the way, there wasn't much to easily see. The main park road is in fact the trans-Canada highway so pulling over to see sights or take pictures can be risky when traffic is moving at 110 km/h. Arriving at Lake Louise I found that in addition to the lake is the village of Lake Louise, another touristy town of souvenir shops and restaurants. Facing the lake itself affords remarkable views of the glaciers hanging precariously from the steep peaks over the lake. Turn 180 degrees and you'll see the 5-star Fairmont Chateau Louise, another enormous hotel-resort built 100 yards from the lake. To be fair, the original structure was a product of the Canadian version of the Works Progress Administration, designed to create jobs during the Great Depression. That original structure burned to the ground decades ago and the newly-built Fairmont structure stands in its place. The resort seemed nice, but I didn't see much of it.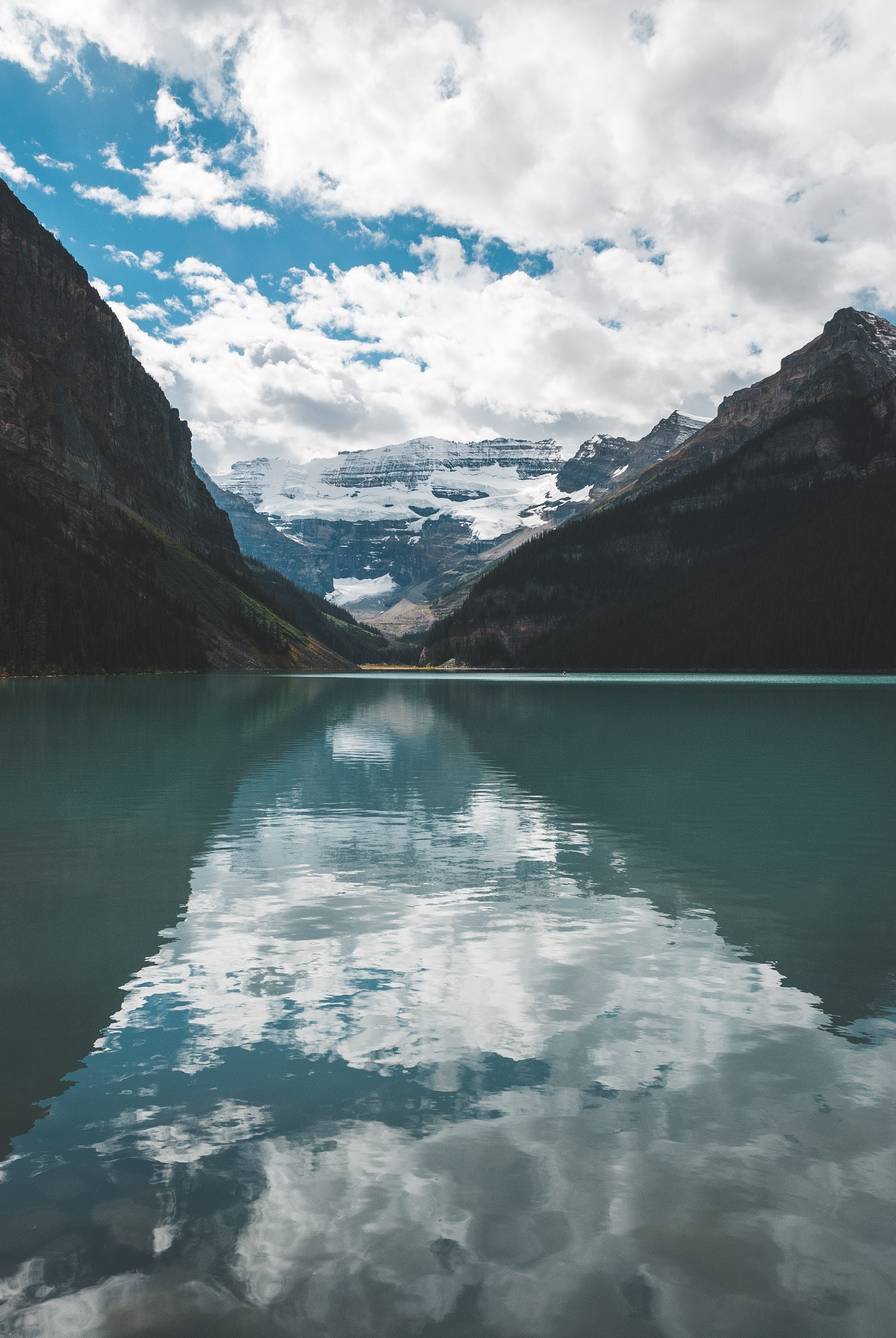 Lake Louise and the glaciers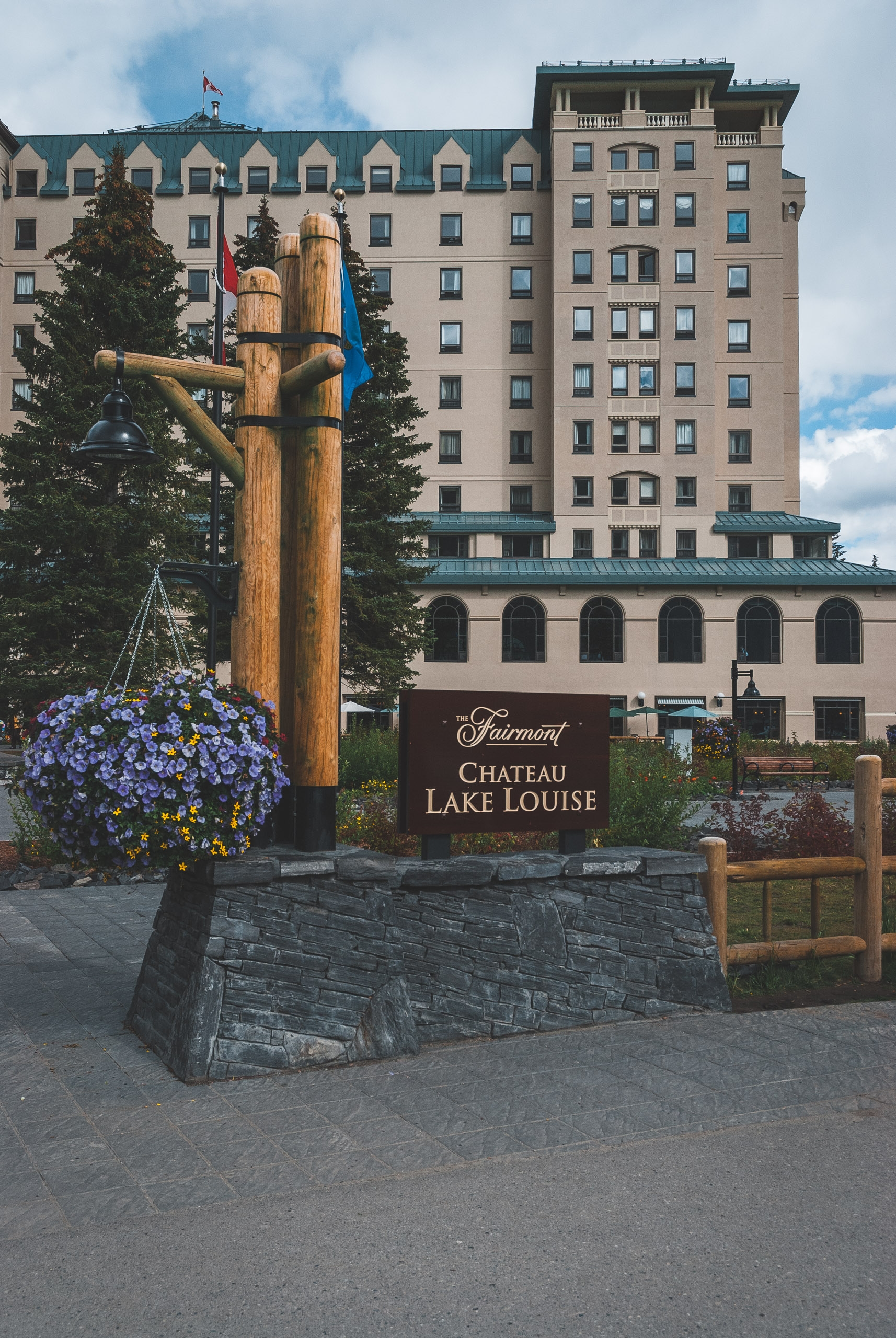 The Fairmont Chateau Lake Louise
From Lake Louise I headed north along Icefields Parkway and was able to put most of the crowds behind me. Along the way there are a number of interesting turnouts and short hikes to see more glaciers (I like glaciers, if you can tell), waterfalls, etc. A few highlights along the way were the Bow Pass Summit, the hightest point in the park overlooking the Northern section of Icefields Parkway, Peyto Lake and the Crowfoot Glacier. Hiking up to the lookout, it started to blizzard and snowed for a good 25 minutes. The novelty of snow when wearing shorts wears off quickly. Another interesting site was the Mistaya Canyon. Glacial runoff has carved such deep and narrow canyons into the surround rock that much of the river is entirely underground. You can hear and feel the roar of rushing water underneath, but you'd be hard pressed to actually see it. Only from selected vantages can you peer down these hundred-foot box canyons to see 35 degree water moving about 75 mph. Going for a swim is not recommended, and thus I did not.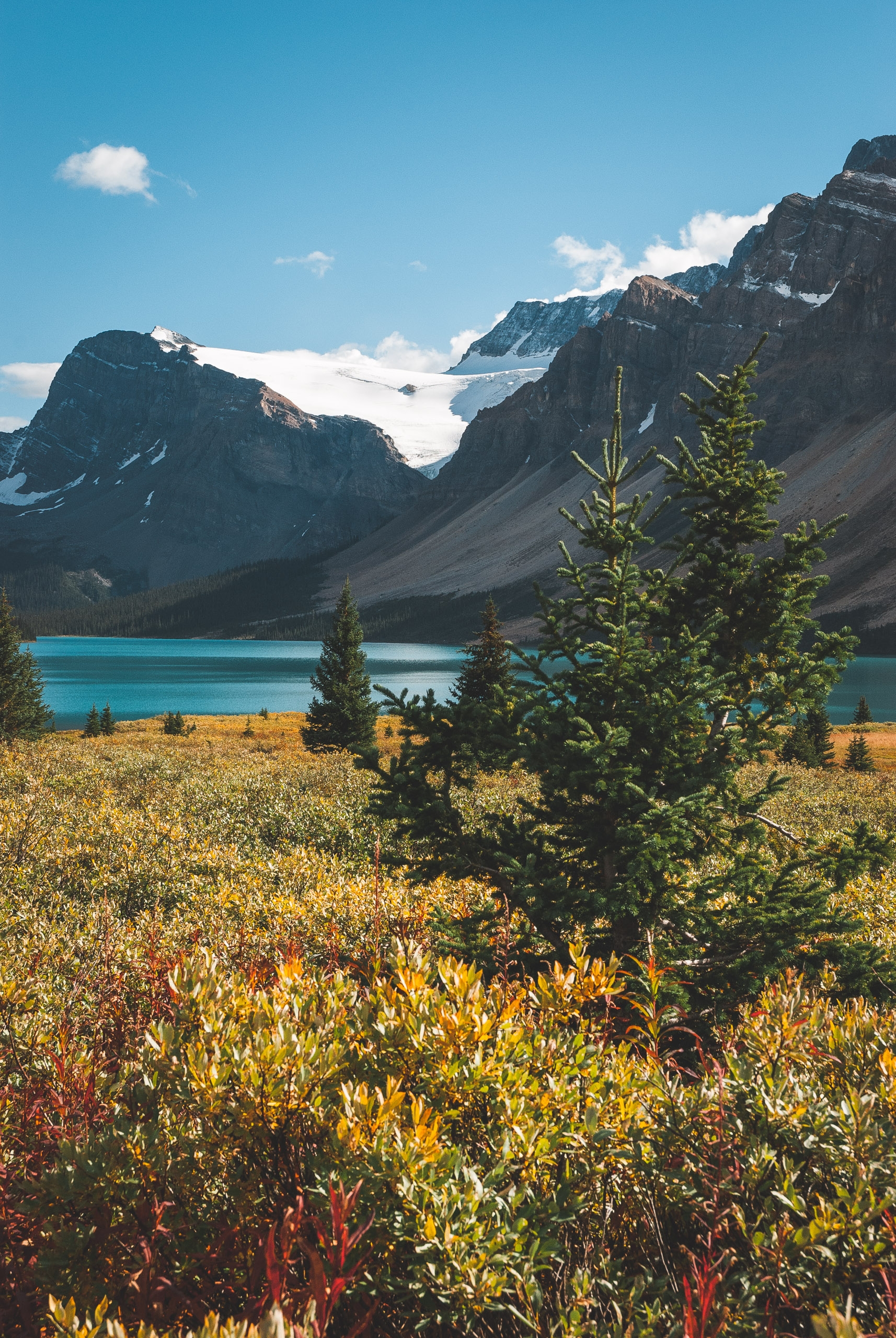 Valley on the way to Peyto Lake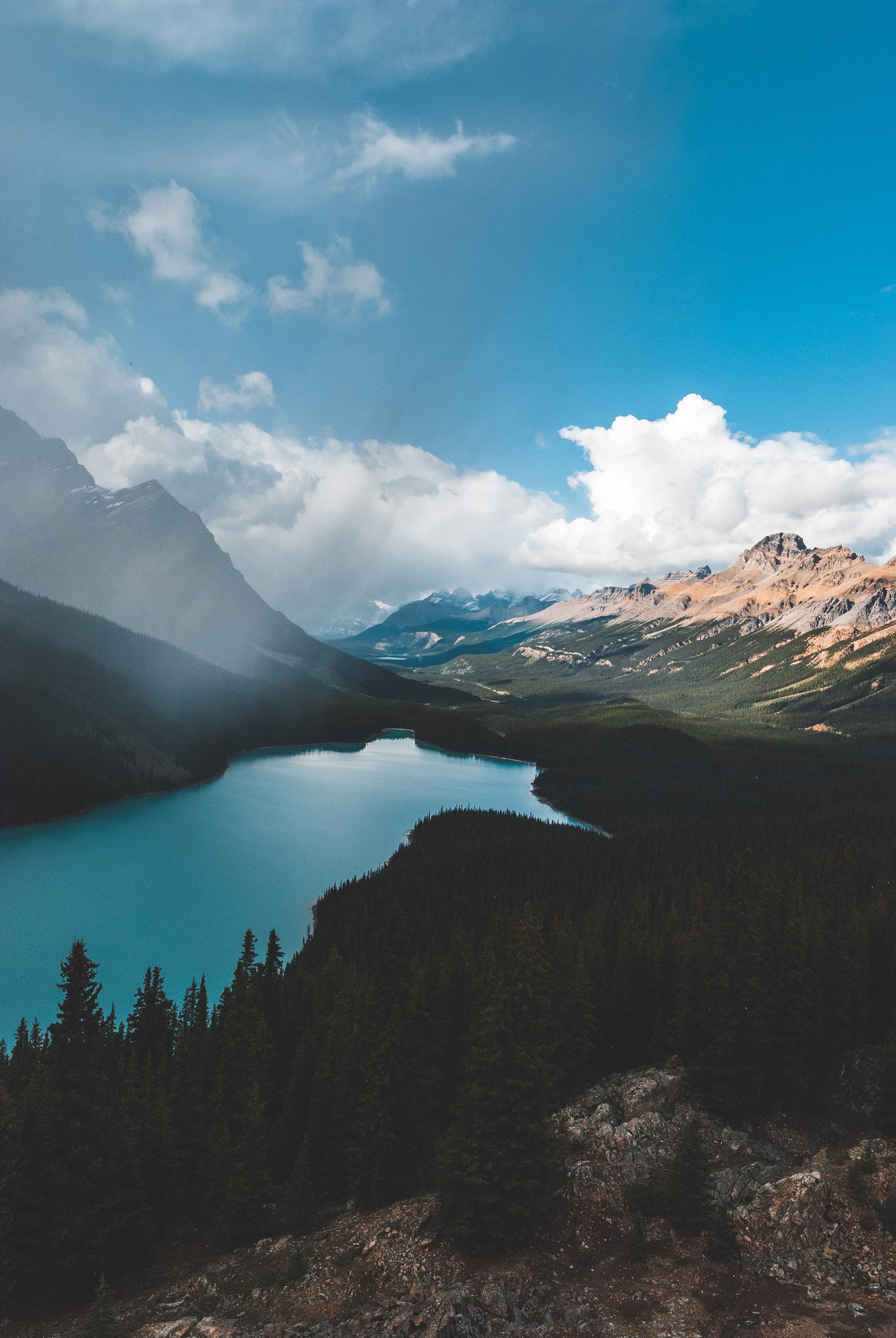 Early Fall snow blowing in over Peyto Lake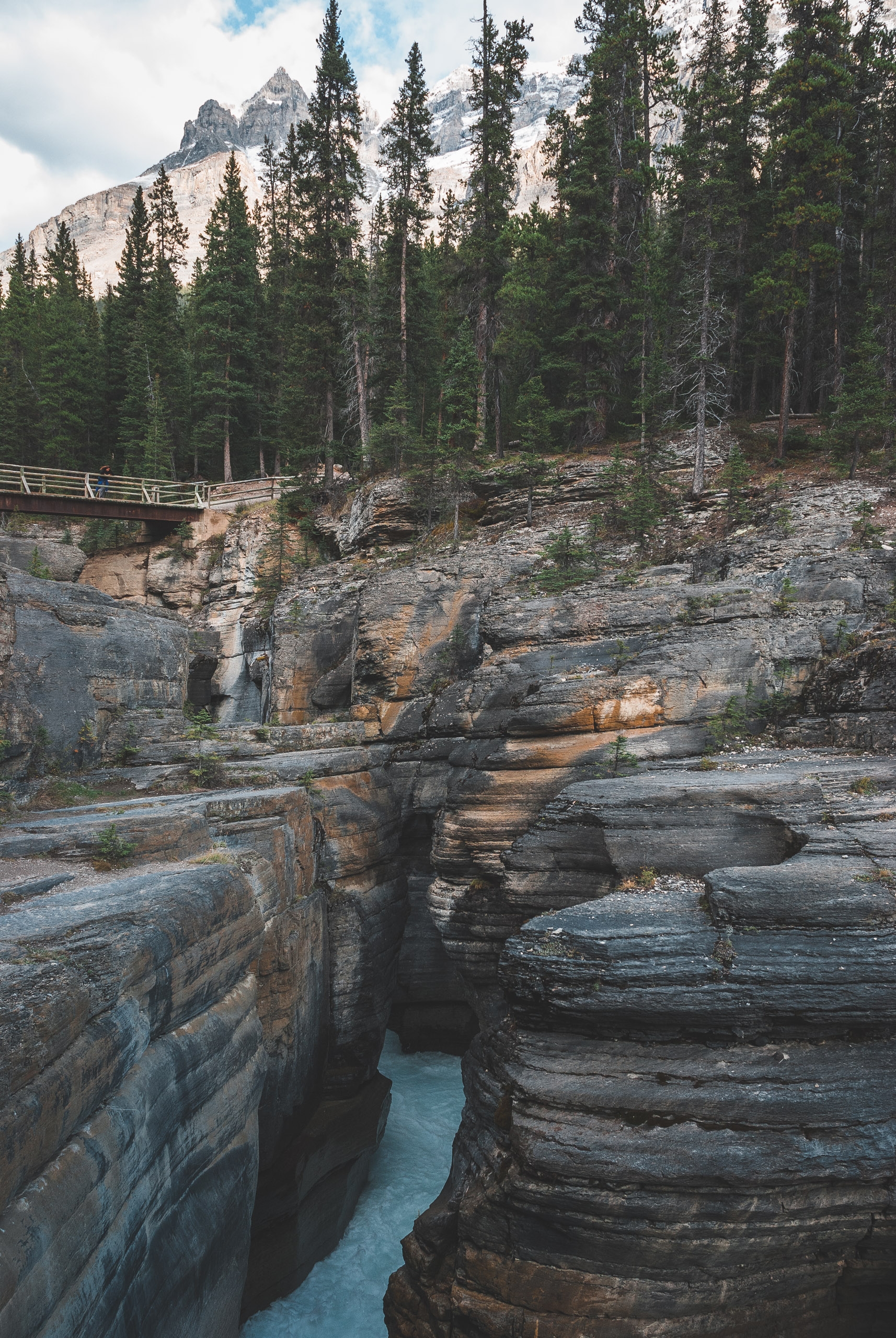 Mistaya Canyon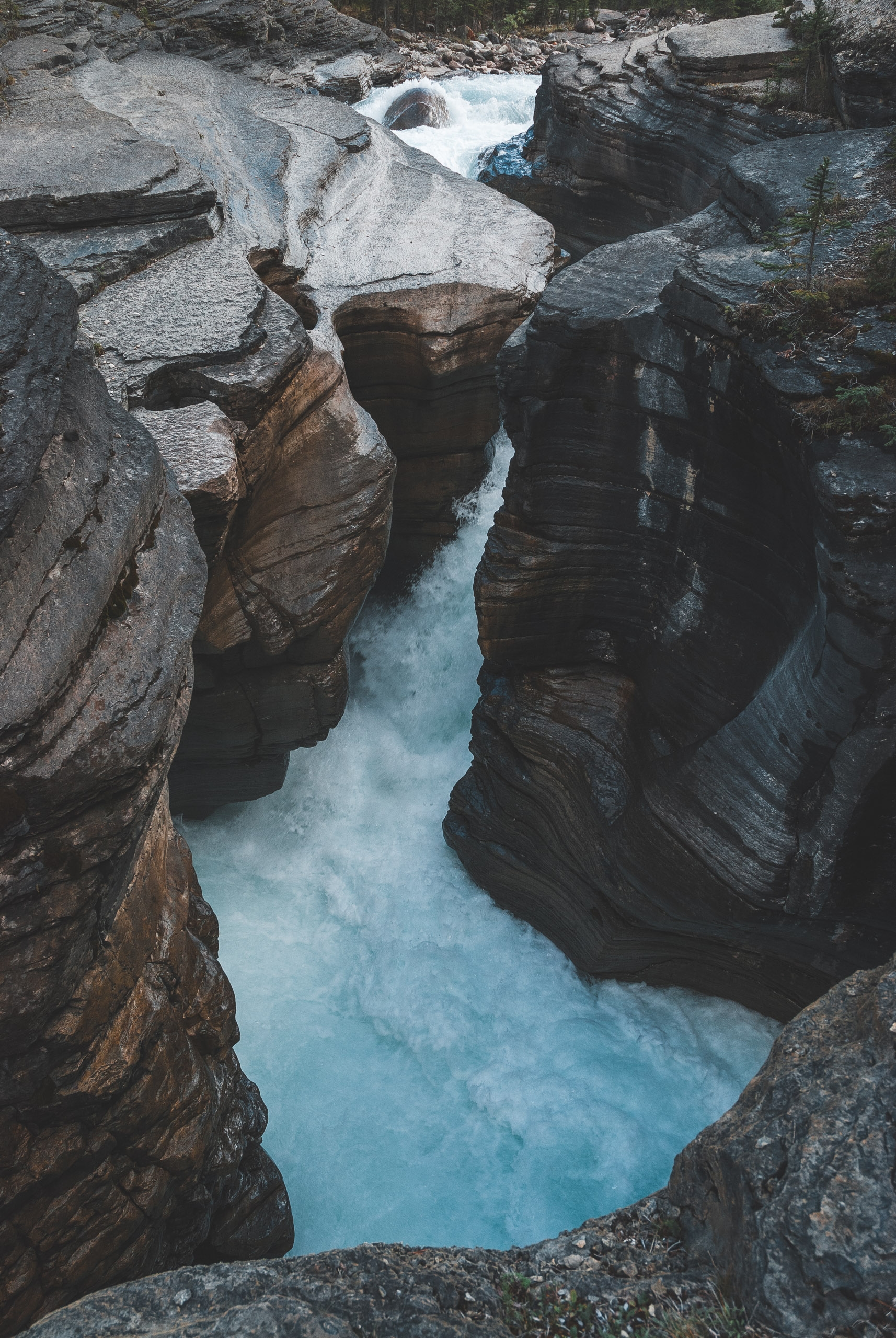 The deep box canyons of Mistaya
The next day I did some modest treks around Jasper and Yoho, but ended up cutting my visit short. I wasn't disappointed by Banff as much as I was surprised at what I saw there. I went back and did some research on Canadian national parks and their mission. The Parks Canada Act reads much like the US Organic Act of 1916, focused on preservation of wonders of nature and ecology. However, in practice these principles have been implemented and interpreted very differently. Not until the Parks Canada Amendment Act of 1988 did Canada really begin to prioritize preservation and ecology over development, recreation and entertainment. It will be difficult if not impossible to undo the environmental impact in areas like Banff, but hopefully these new rules will be a useful guide for developing further, or not, other park areas. I would go back to Banff, as it seemed like a lot of fun. But I would go with a different context and mindset. It reminded me of places like Aspen or Telluride, fun little resort towns with vibrant nightlife and entertainment, surrounded by amazing landscapes. If you visit Banff with naturalist objectives in mind, be prepared for crowds, and do your homework ahead of time to avoid hanging out at Starbucks until the next IMAX presentation of "Oh, Canada."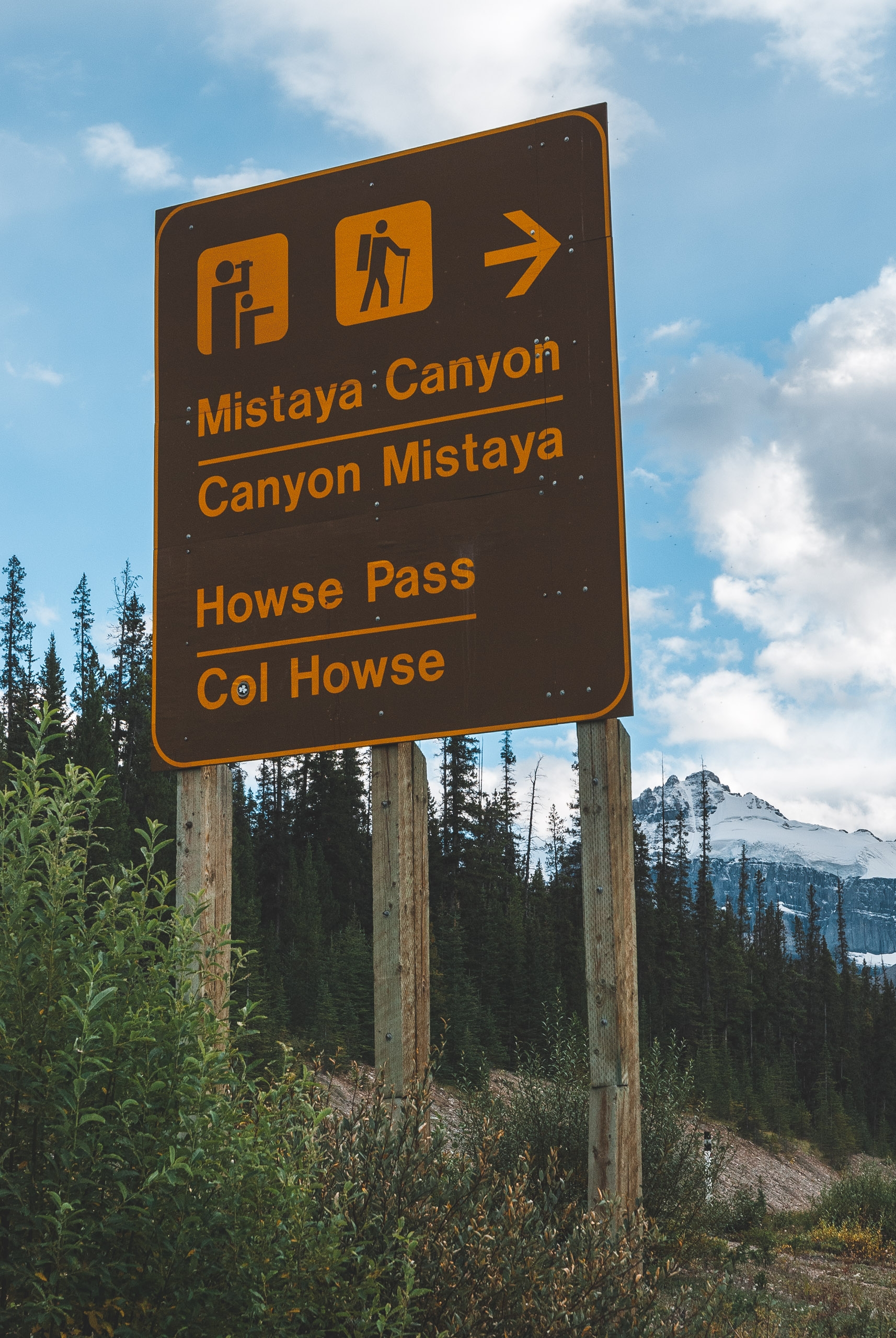 Apparently French is just English backwards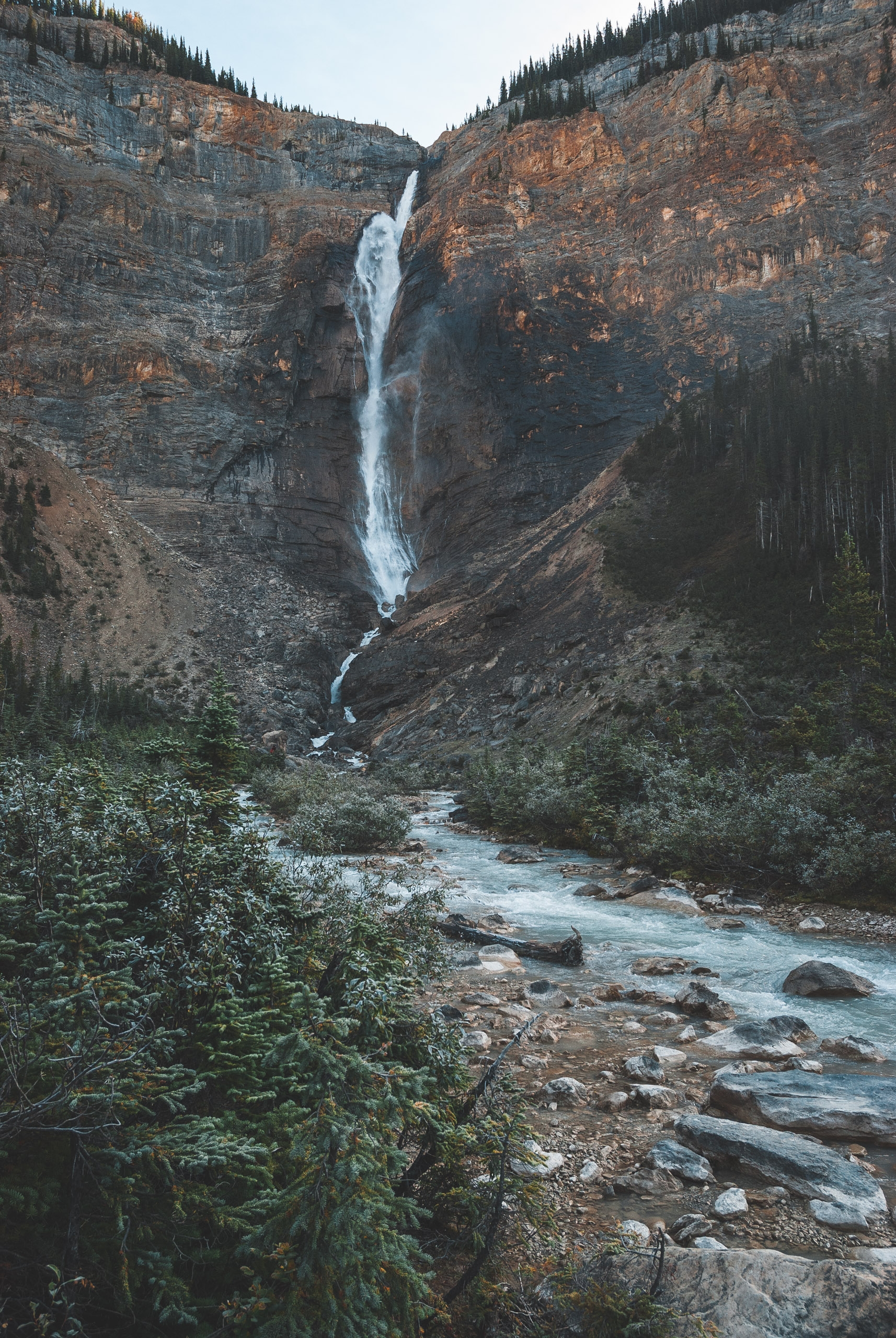 Takakkaw Falls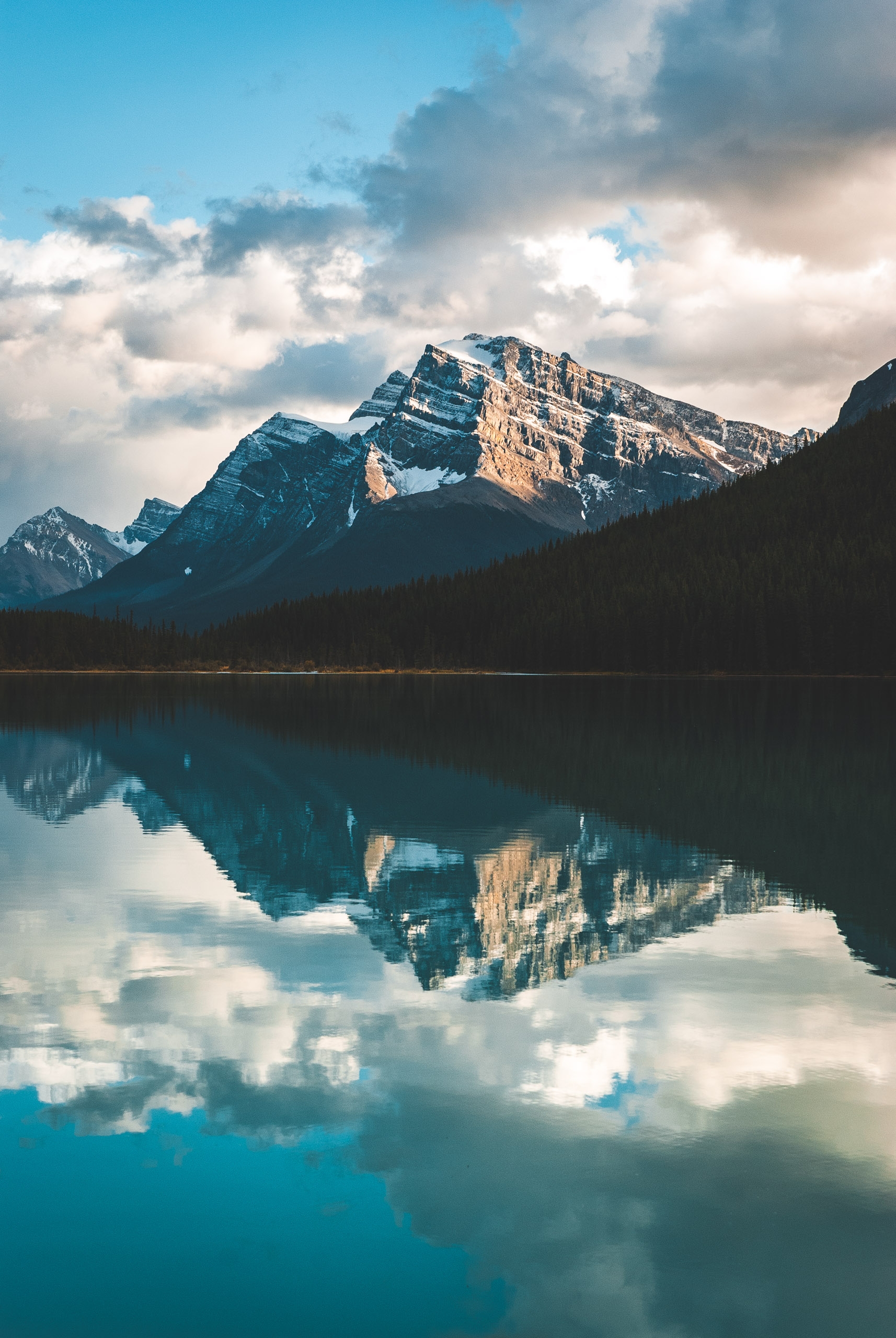 Another photo of Hector Lake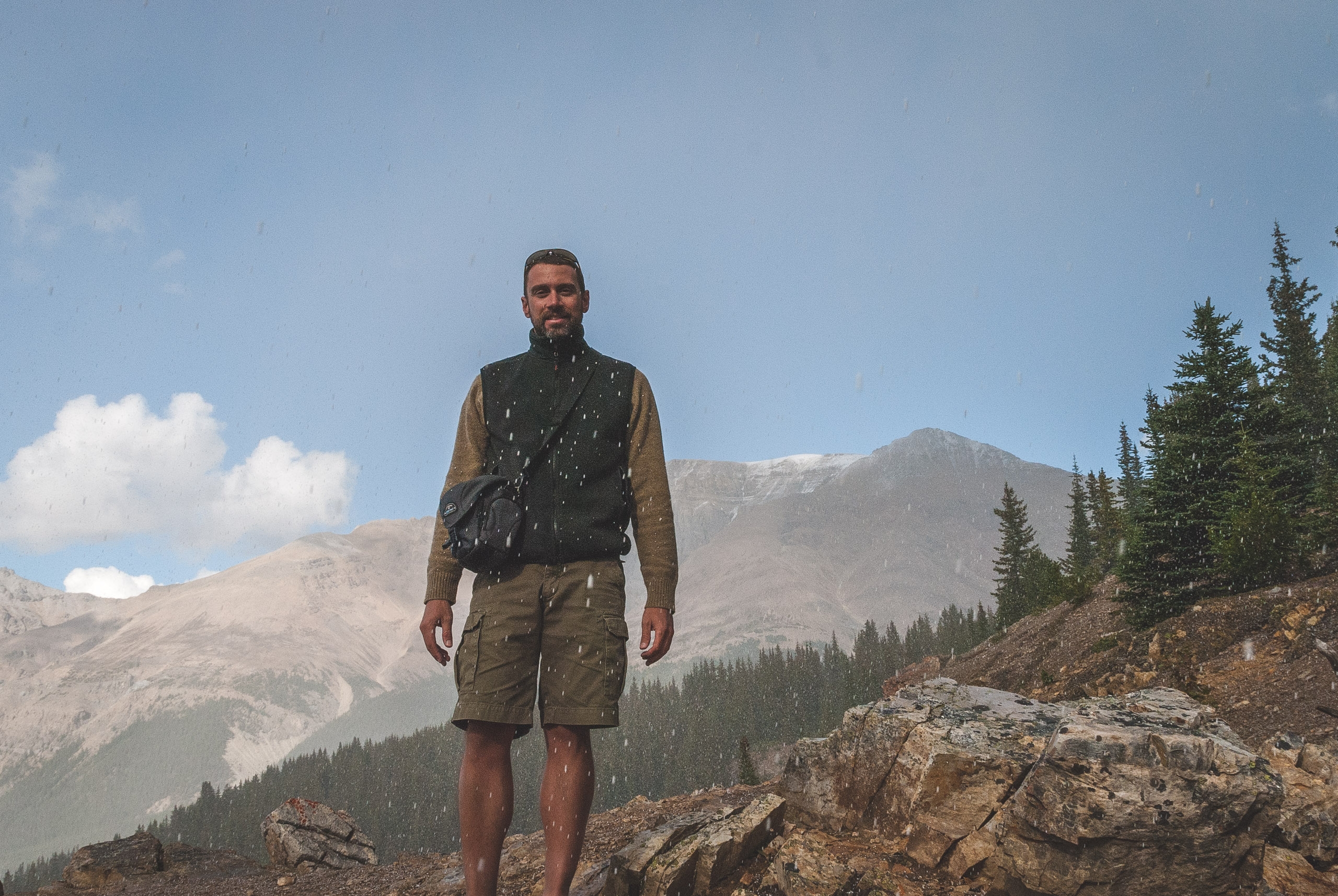 Me enjoying some late summer snow.
Visit the official Banff National Park website