Enjoying Taiwanese hot pot at Taipei 101
At this point I don't have much else to add about my trip to Southeast Asia (including Taiwan and Japan, which aren't technically in that area but you get the picture). I had planned on writing two more posts about general impressions of Vietnam and another on hotels and such, but lost interest and have moved on to other things.
I'll continue to add photos to the site, but I have turned off the notifications so check back from time to time to see the new photo albums.
I had a great trip, and 5 weeks for this round one was just enough. I meticulously planned pretty much every day of this trip, which I know comes as a surprise to many of you. Planning it out helps me enjoy the travel as I'm not sweating the details while on the road, but that approach isn't for everyone. One thing I did not do was plan enough down time. I think you need at least one throwaway day a week in which do you don't really plan to do anything. Find a hotel with a decent pool, sleep until noon, lounge all day and catch up on sleep. Thailand was good for about 5 days straight of R&R, but I needed more of that in between.
A few other things I learned along the way:
1. Everyone knows this, even me who forgot, but call your credit card company before you leave and tell them where you're going. My card got turned off in Hong Kong and it was a REAL pain in the ass to get it turned back on. They have an international collect number which I called several times until I got someone friendly to speak with.
2. Buying flights on a local or regional carrier is almost always cheaper at the counter or at a small travel agent than buying tickets abroad or on a site like Expedia. Expedia wanted $250 to go from Bangkok to Phuket whereas my tickets were $42. However, the discount airlines are point-to-point only, which means if you're connecting you are responsible for transferring your own bags so leave enough time to collect them at baggage claim, re-check them at the counter, clear security and make your next flight. Also, they have a 15kg weight limit which I didn't see anyone meet. I paid $55 in baggage penalties for $60 tickets, but still cheaper than the Big Airlines.
3. You'll almost always get the best exchange rate from an ATM, but beware of the bank fees. Also, be aware of currency issues such as the fact that the Vietnamese Dong can't be traded outside the country, and is worthless when converting back to USD (In fact, the Vietnamese Dong is the second least valuable currency in the world - take that, Zimbabwe!) I was running around airport buying crap to use my currency. On the plus side, at 16,000 to the dollar, for about $60USD you can be a millionaire!
4. I've tipped more in the week I've been back than in the 5 weeks I was traveling. Tipping is generally not expected in taxis, hotels or restaurants, except for loose change when served at a table. In poorer countries, the hotels will ask you not to tip the staff. If you've ever seen bellhops fighting to carry someone's bag you'll understand.
5. Beer is almost always cheaper than bottled water, and the brewing process ensures it will always be safer than tap. These are pleasing coincidences that allow you to easily justify beer with breakfast, beer at McDonald's, beer anytime you might be tempted to drink water (except when brushing your teeth. I don't recommend that). The Vietnamese are obsessed with beer, and Hanoi has dozens of terrific German, Czech and Bavarian beer gardens selling some of the best beer I've had in years - pennies a glass.
6. Washing your clothes on the road is easier than carrying a lot, but asking the hotel to do your laundry is typically more expensive than buying new. I took way too many clothes, and ended up wearing my black shirt most of the time as the photos suggest. I also came to loathe my suitcase; its too big, too hard to pack and it started coming apart. The suitcase is going in the trash. When my dad travels, he puts a clean pair of boxers in his shirt pocket and is good for 10 days.
7. Asian hotel rooms are usually tricked out with pretty much any personal product you might need. Toothbrush, toothpaste, hairbrush, razors, etc., plus all the usual accouterments. When my luggage was lost, this was extremely helpful. I once stayed at the Bryant Park hotel in New York and left my toothbrush at home. There was a card in the bathroom cheerfully offering to supply such items. I called housekeeping, and the guy said, "Sure, that will be $15." I walked two blocks to Duane Reade instead.
8. You will see dozens of vendors selling counterfeit items like handbags, watches and sunglasses. This stuff doesn't really interest me, and its disturbing to read about these trends. Counterfeiters have vastly expanded their enterprise to include other premium items such as liquor, cigarettes, candies and even airplane parts. Never order a top-shelf brand like Jack Daniels or Johnny Walker unless you're in a reputable hotel or restaurant. Its scary to think what might be lurking in that batch of Vietnamese bathtub bourbon (see my note about beer above).
9. Almost any guidebook will advise against traveling to Asia in July because its hot, and its the rainy season. My impression is that its probably hot all the time, and the rain was never really an issue. It might not have always been sunny, but it wasn't raining so much you couldn't do anything. The big advantage is that everything is typically cheaper, and the tourist crowds are almost non-existant. If you do your research online and call hotels directly, you can definitely negotiate some great deals during the off-season. (The high season is October-February, and gets insane around Chinese New Year).
10. Finally, if you want to take good pictures, get a good camera. There's a now-famous picture of me with all my gear hanging all over me. My used to tell me, "If you want to bring it, you have to carry it." I took over 3,000 pictures, most of which are being discarded but its easier to sort them out later than travel back and shoot them again.
Anyway, that's all I have to say about traveling. Many thanks to those who provided recommendations ahead of time, and to those I met along the way: Joyce, Sam, Matt, Michelle and my good friend and part-time travel partner, Jessica.
Braving the dengue-laden mosquitoes of Angkor
Signing off, see you around.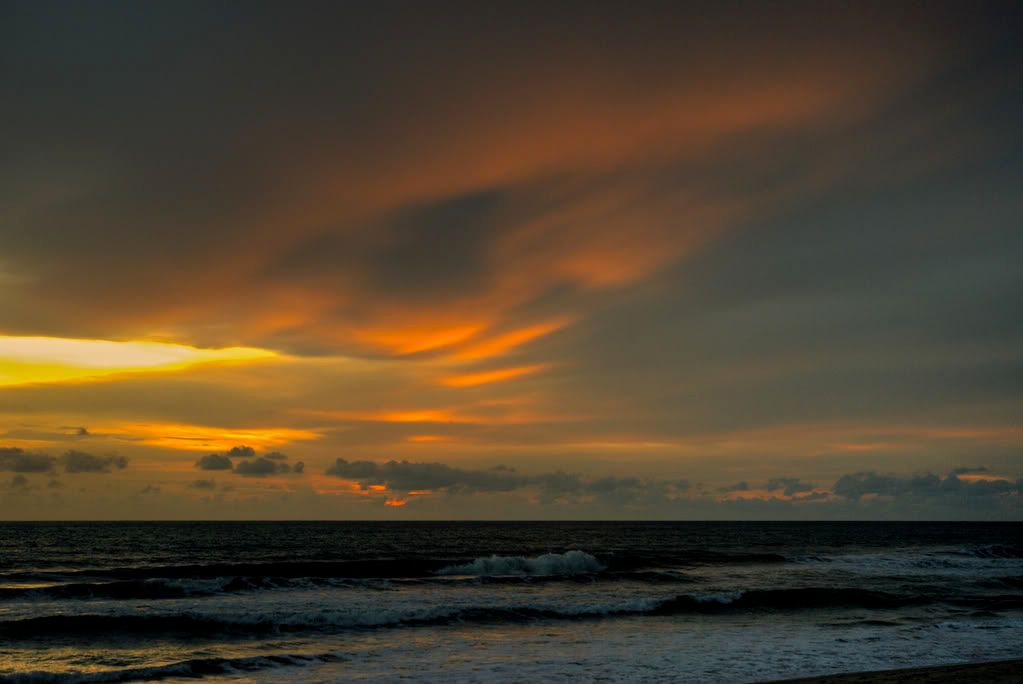 Sunset over Phang Nga, Thailand